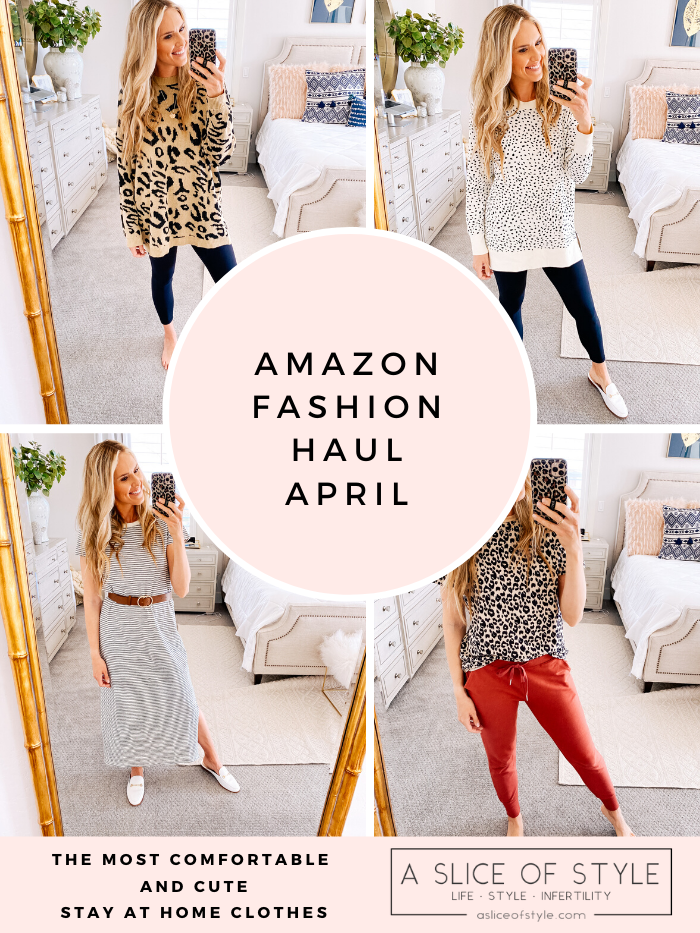 Click here to see all of my Amazon haul finds!
I curate an Amazon haul each month of my favorite fashion items, and this month might be one of my favorites because there are SO MANY amazing basics! I've rounded up some of my favorite Amazon haul picks that are comfortable yet still make you feel put together while at home all day! These are some of my all-time favorites, and I hope you guys love them too! As always, you can see my full Amazon favorites list HERE that I am always updating 🙂
April 2020 Amazon Haul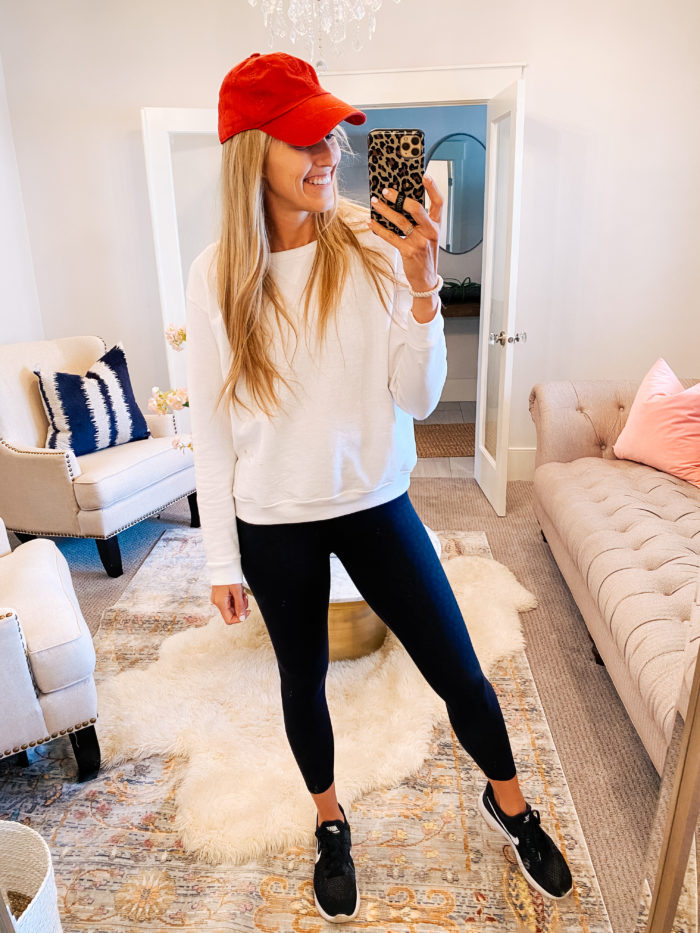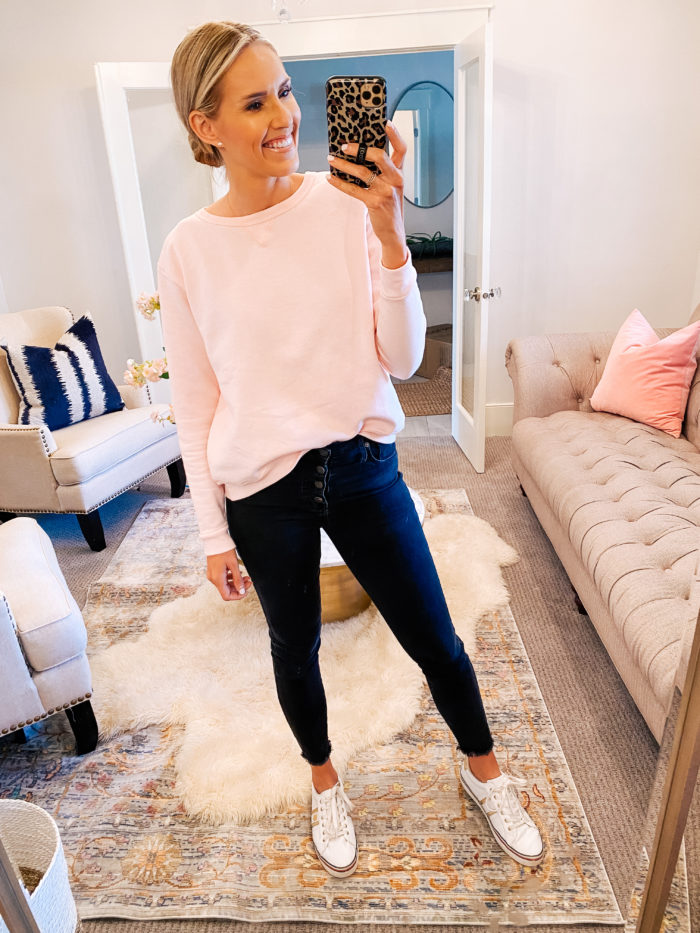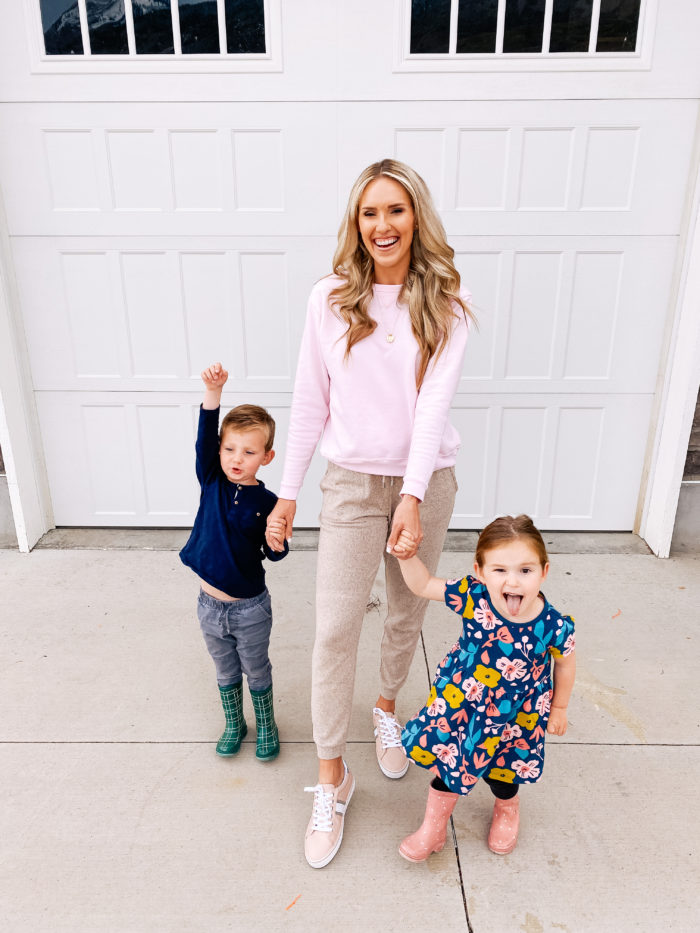 This cute white sweatshirt is only $9! It's super comfy and very lightweight. I love paring it with either jeans or joggers. I would recommend sizing up 1size – I'm wearing a medium. Here's the same sweatshirt in the beautiful light pink color! I've shared these Tommy Hilfiger white and pink sneakers with you guys before, and I still love them just as much! They are a great fit – they don't squeeze your toes and they're super comfy. They run true to size! Goldie's dress is also a favorite of mine. It comes in a set of 2 – this set is striped and floral. They have a lot of other pattern options too! Runs true to size – Goldie is wearing a 3T.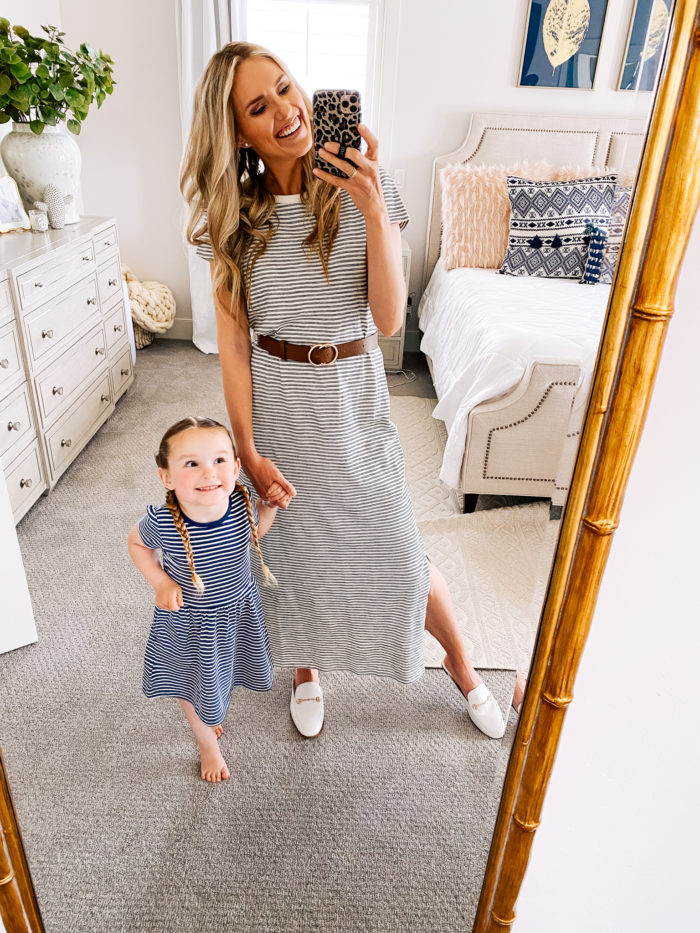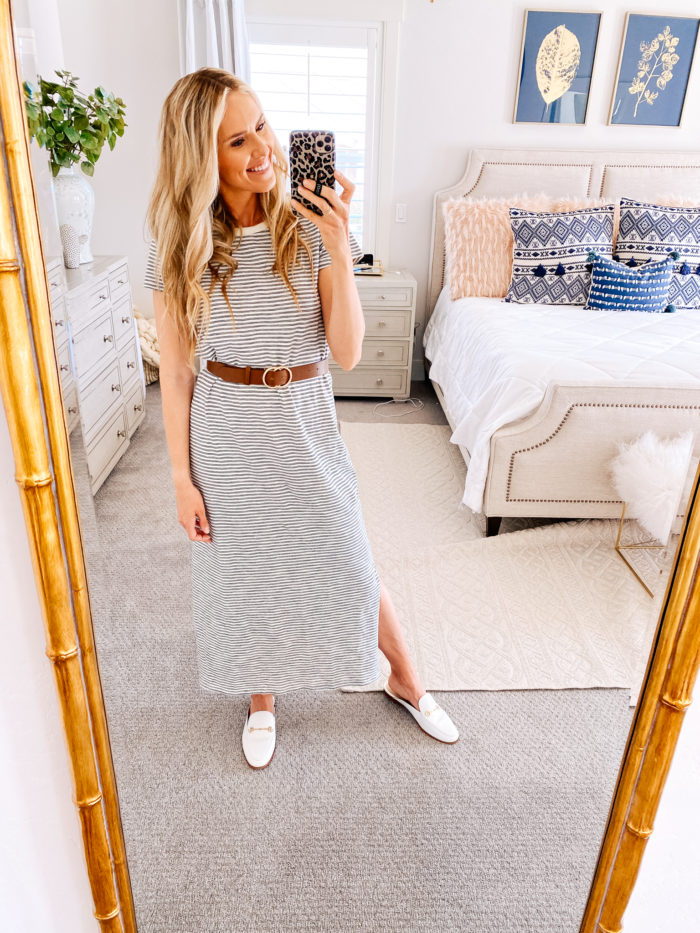 The striped dress is incredibly comfy. I'm wearing a small, but without the belt it would be a little big, so I would recommend sizing down. The belt also comes in black and would be great to pair with plain or solid color dresses too! It's a great way to add waist back to your outfit!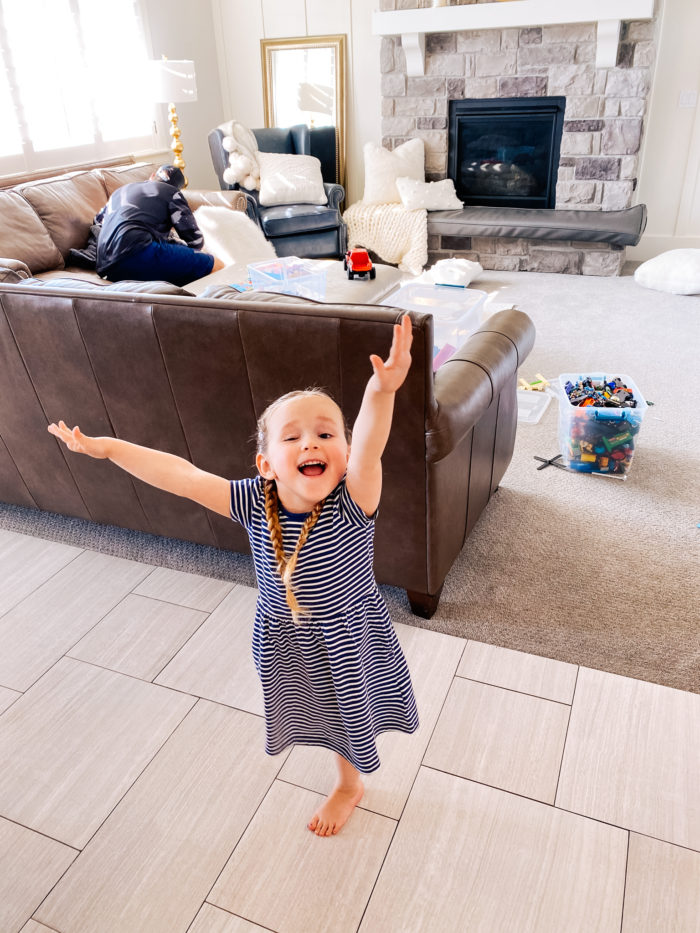 Goldie's floral dress is the one that comes in a pair. This one came with the floral dress! We love them!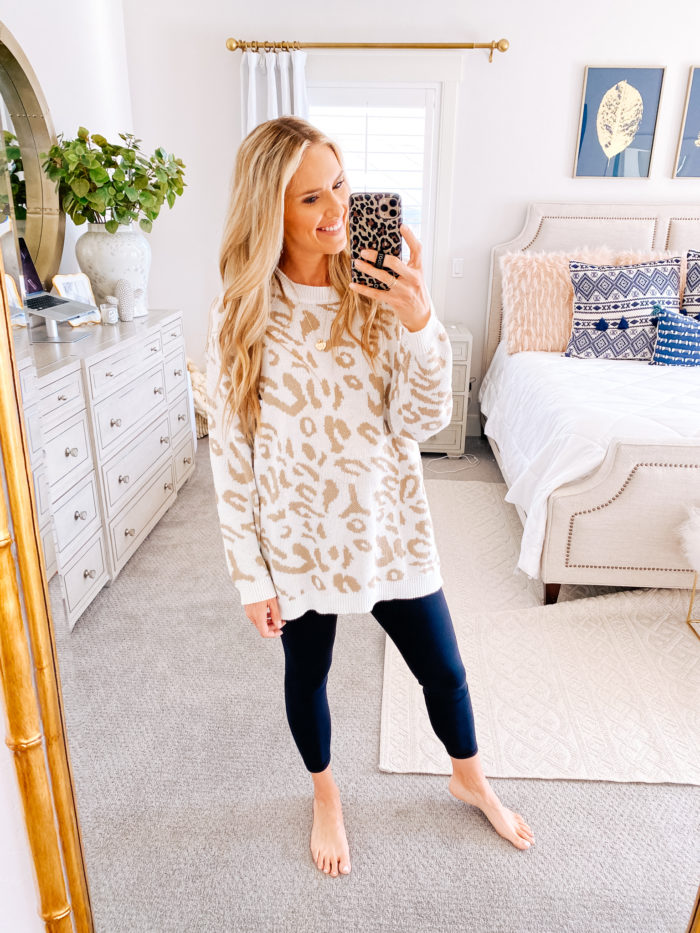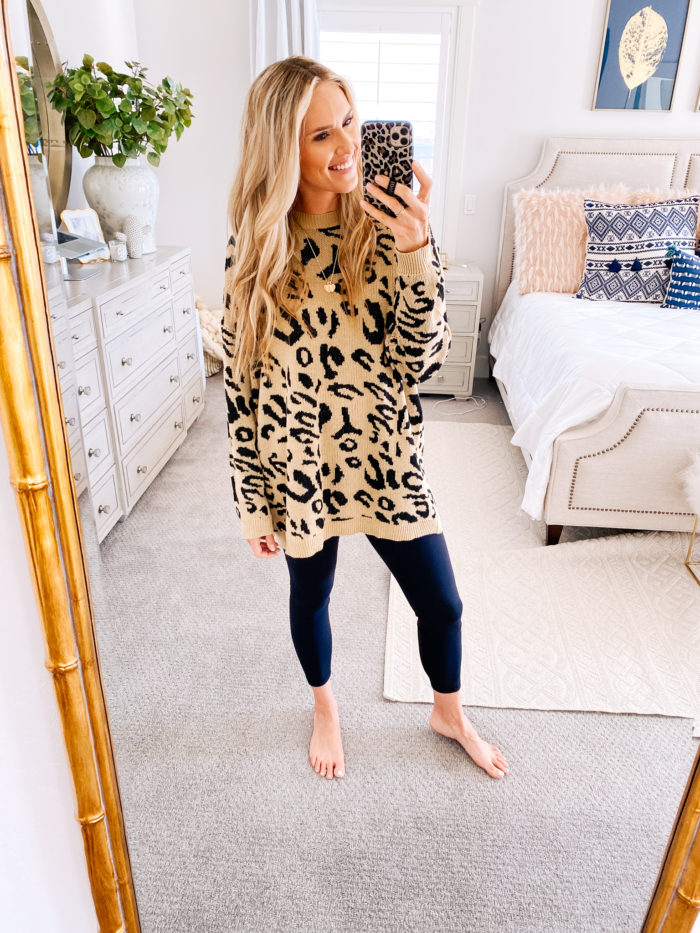 These leopard tunics I've had since last fall. They're comfy, and great to pair with leggings. I still feel put together while being super comfy at home! These leggings are also incredible. They're the same leggings (with pockets!) that I wear when I go on my bike rides. They are great to work out in, and I also love pairing them with tunics to wear around the house right now. They run true to size – I'm wearing a small. Here are some more of my favorite leggings!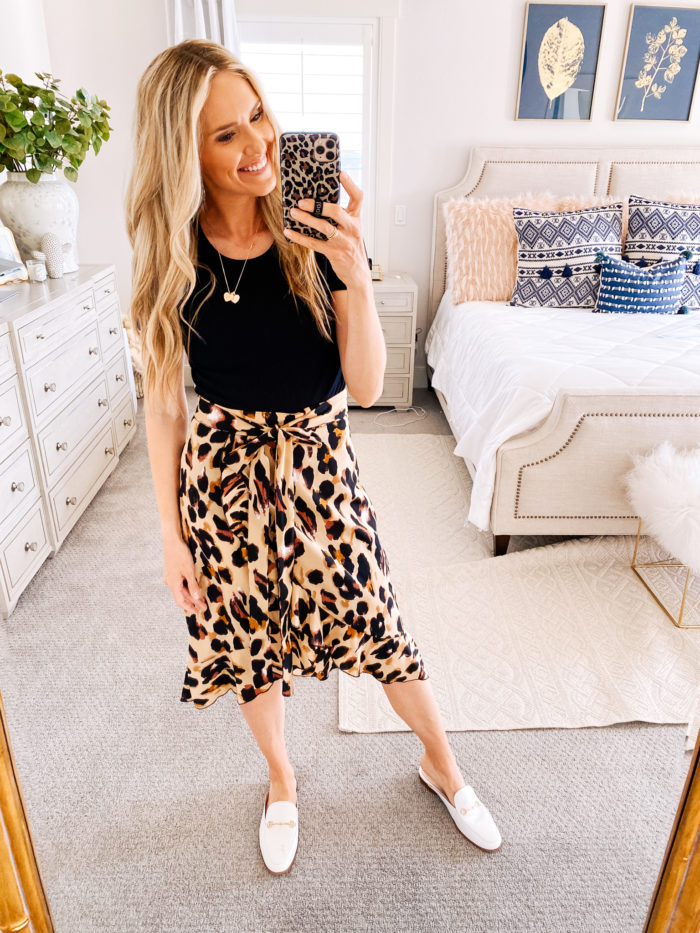 I bought two of these necklaces. They come in all different letters of the alphabet. I have my kids initials on each one!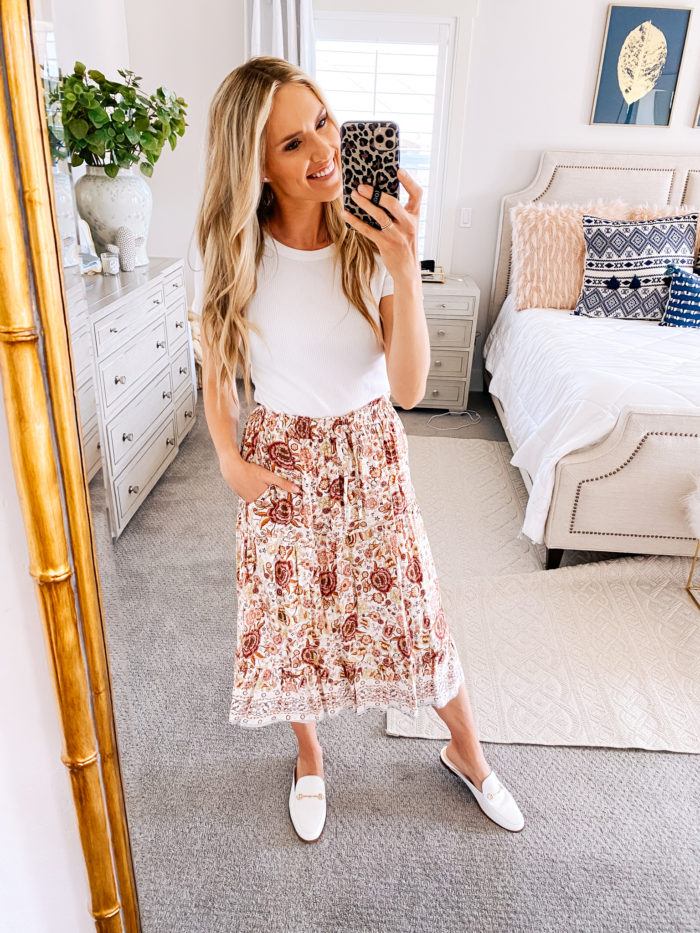 I love this leopard skirt! I would order 1 size up – I'm wearing a medium. It has a super cute high-low hem line. It's a great skirt to feel pulled together while still feeling very comfy. The floral skirt runs true to size. I love the high waist, length, and pockets. This is another great comfy skirt to wear at home! The white slides are really comfy, run true to size, and are one of my favorite brands! They are very high quality. Investing in a great pair of basic slides is awesome because you can use them in so many different ways! These ones are very versatile.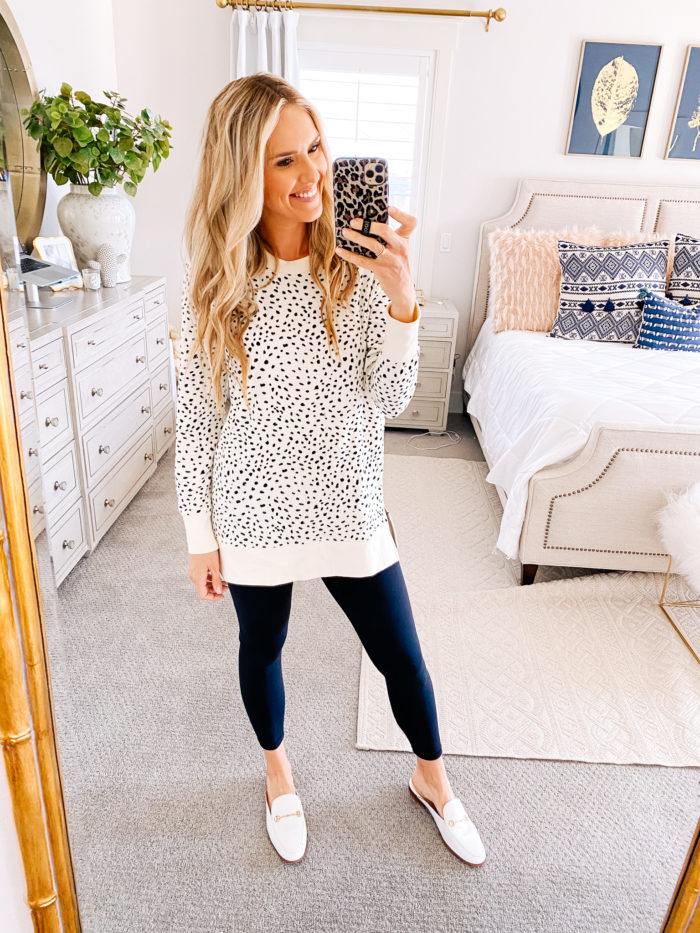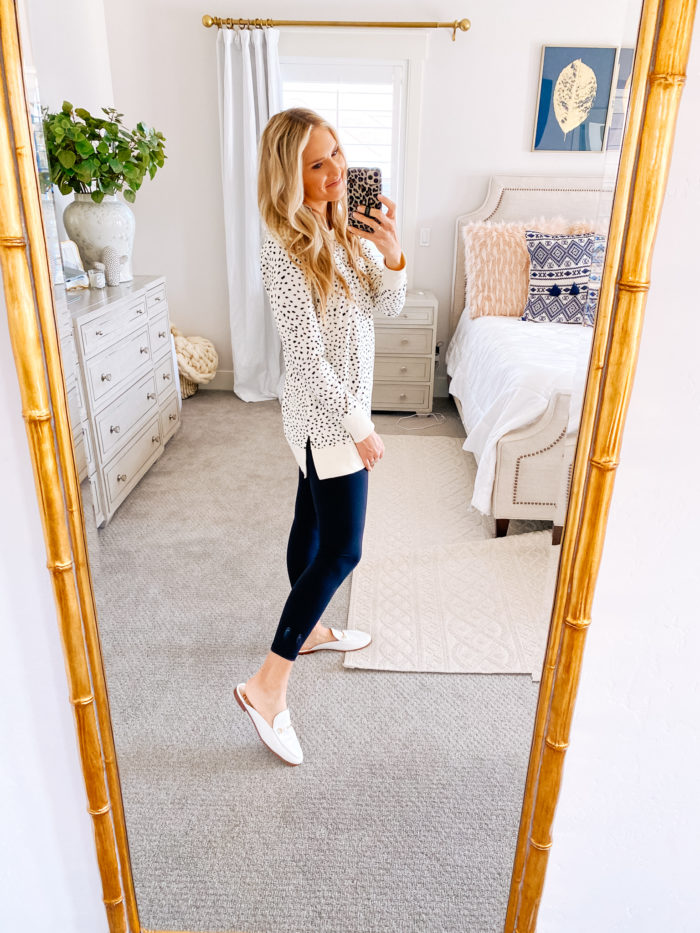 This white and black tunic is so cute and cozy. I love that it's long and great to pair with leggings!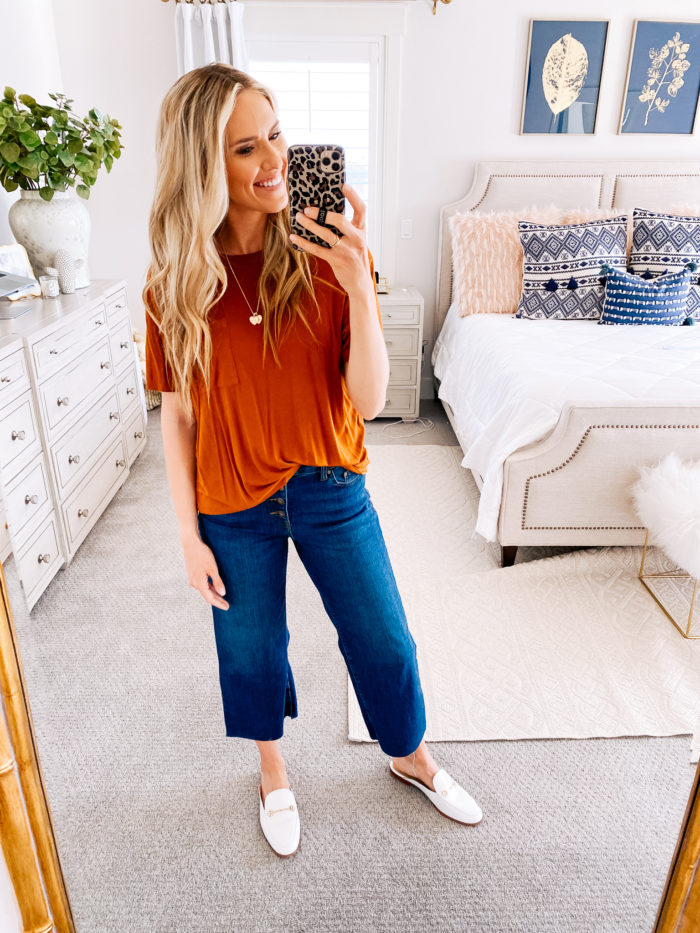 This orange t-shirt I have in several colors! It's my favorite crew neck t-shirt. They have great color options, and the material is so soft and stretchy. It also washes well! The jeans are really comfy as well. I love the high waist and button front! They run true to size.
I've had this leopard t-shirt since last summer. I love the high neck line! It washes really well, and is a really cute fit to pair with either joggers or jeans. I'm wearing a medium, so I'd say size up 1 size depending on how you want it to fit! I have these joggers in black as well and I love the high waist, slim fit legs, and pockets. They come in the best basic colors!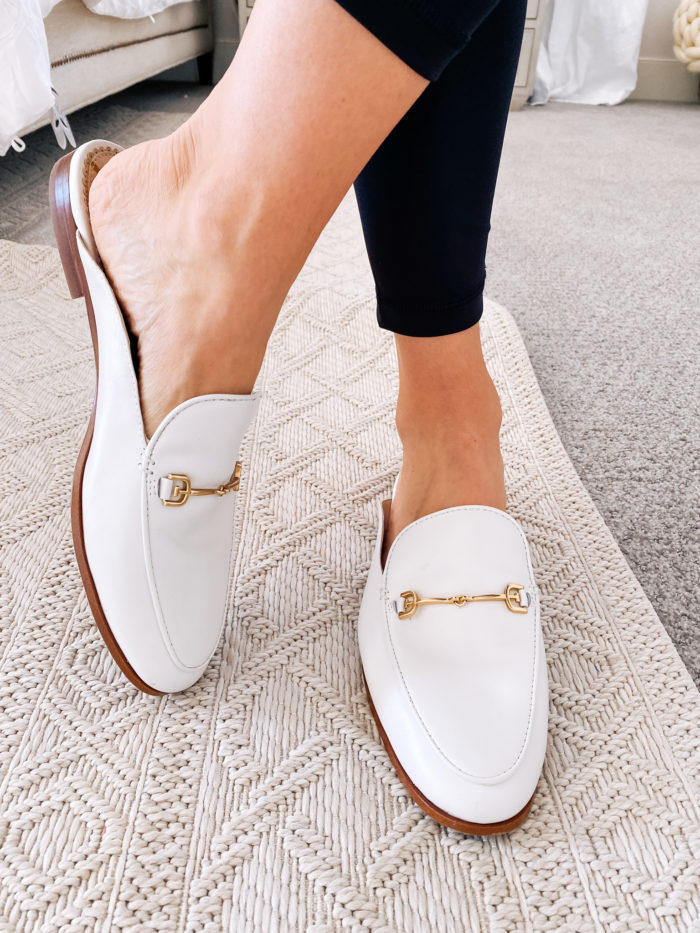 Which of these Amazon haul items do you like the most?  Let me know in a comment below!