I am sitting here at my computer in complete awe because I have straight up never heard two children whine as much as Harris and Goldie have whined in the last 24 hours. I'm actually impressed. I didn't know they had it in them.
Whew!!! Breathe in. Breathe out. I'm not going to go crazy. If you say it, you manifest it into your life. I'm not crazy. I'm patient. I'm calm.
Okay, my friends, I have had several people email or message me about what I eat on a typical day. This changes slightly on a day to day basis so I can mix it up, of course, but I'm pretty consistent when it comes to eating healthy. I always have been! If you read this post, you know that I have always had to be careful about what I eat. I was never the young girl who could eat fries and Oreos all the time and remain thin. That just wasn't me and I'm actually grateful for it now, although I wasn't (nope, not one bit) when my friends could eat so many cookies and I couldn't! I was forced to develop good eating habits at a young age so I was never surprised or had to change my diet when my metabolism started to slow down.
This is what I eat on a typical day:
BREAKFAST: I ALWAYS eat breakfast and never, ever skip it. It's pretty much the first thing I think about when I wake up in the morning, and according to my mother, it always has been. As a baby, I would throw a fit if she would try to change my diaper before feeding me. I'm pretty much the same now, although Tyler isn't impressed when I throw a fit, so I do my best to reign it in. I always make sure to eat some carbs in the morning to fuel my workout, plus I just love eating carbs so that ain't one bit hard. This is a typical morning:

2 Tbsp chocolate PB2 – this is powdered peanut butter where they take 85% of the fats and oils out of it so you mix it with water and it's a lot less calories but still really, really tasty
Light multi-grain English muffin – these are really tasty! They are only 100 calories
Sometimes I add sliced bananas to my English muffin and PB2. We get crazy around here.
2 organic eggs, typically scrambled but sometimes boiled and when I boil them, I typically only eat the egg whites because I don't love boiled egg yokes
I got the "PB2 + bananas on a bread" idea from my friend Carli Williams who has an incredible 14-day meal plan. I love following it simply because it's EASY and the food is delicious. It's can be so hard and frustrating to continually come with what to eat each day, so her plan gives you some great ideas that are healthy and that taste great. I have been so happy with it! I always take a look at it when I want to mix things up or need fresh ideas, or simply don't want to brain use my brain power to decide what to eat. My brain power is spread thin some days. Use code "Jenica" to get $5 off!!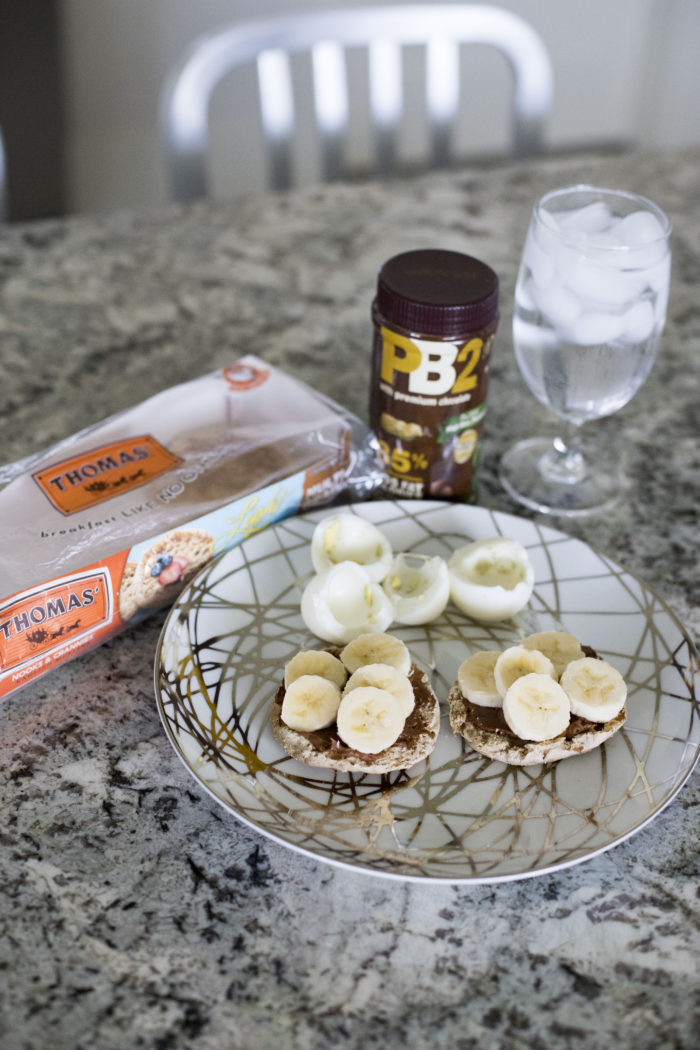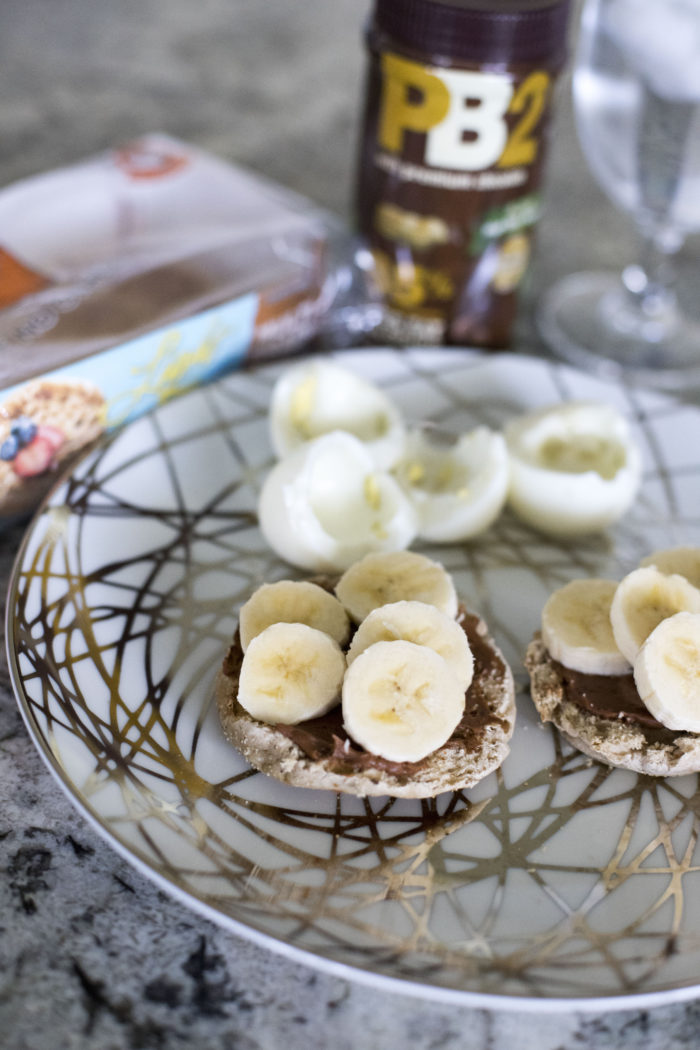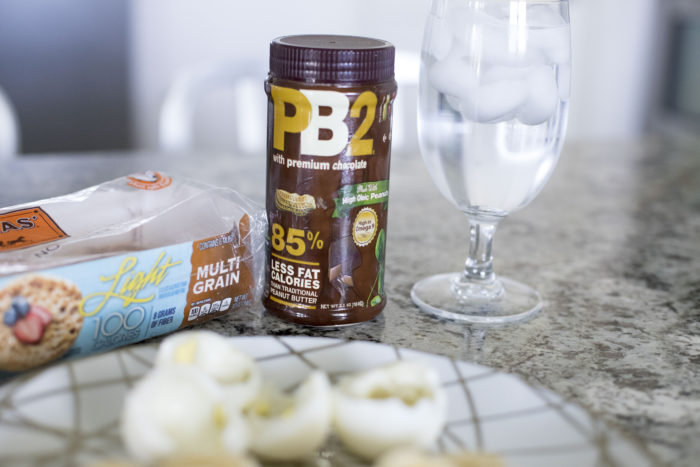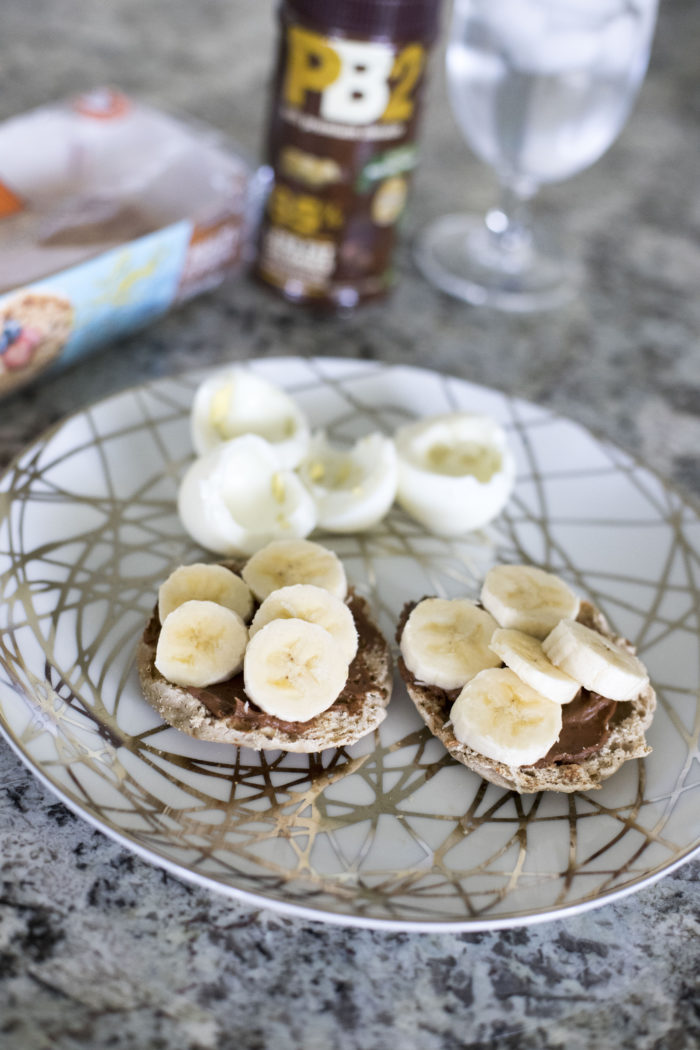 2. DURING MY WORKOUT: I love taking a product called Advantraslim mixed with water during my workout for two reasons – 1) It gives me the boost I need to work out really hard and 2) It helps curb cravings for 3-4 hours so I feel more in control to choose good food choices. My favorite is the grapefruit flavor. Use code partner39 to get 39% off at checkout!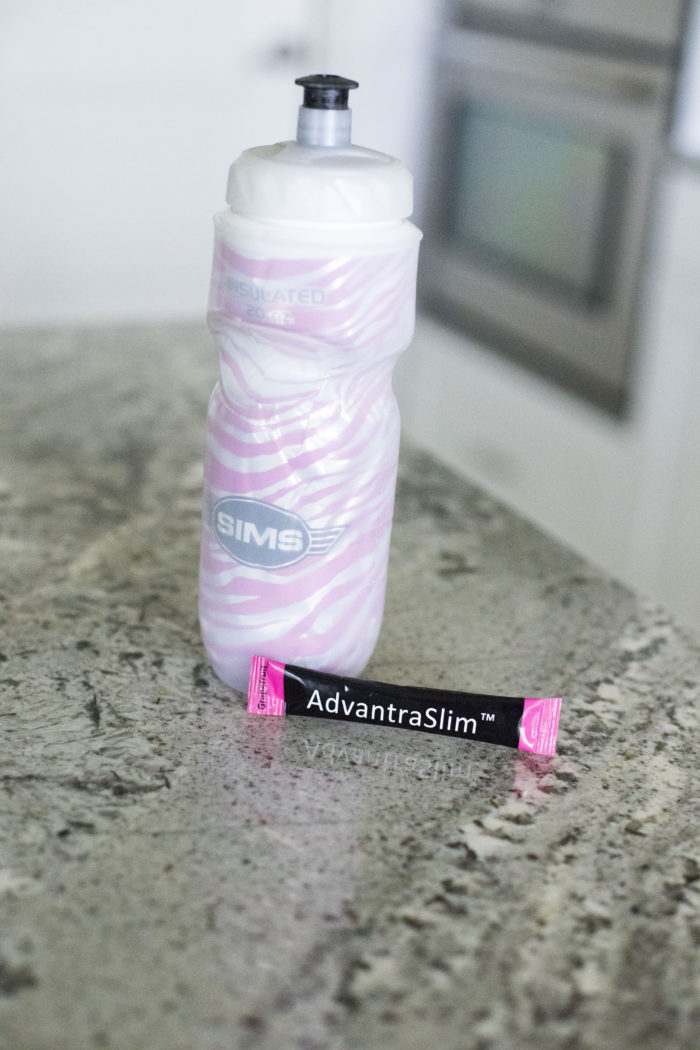 3.  SNACK: After I work out (and even if I don't), I need a snack between breakfast and lunch. I LOVE this blueberry protein from WMNutrition for several reasons. It's dairy and gluten free so everyone can have it, it comes in 98 calorie easy-to-use packets, and it tastes like a blueberry muffin. I like carbs, so I consider a blueberry muffin a dear friend of mine. Use code partner39 to get 39% off at checkout! My typical mid-morning snack is either:
Almond milk mixed with 1 packet of blueberry protein with a shaker bottle like this pink one
1 packet of blueberry protein mixed with 2 handfuls of spinach, water and half of a frozen banana.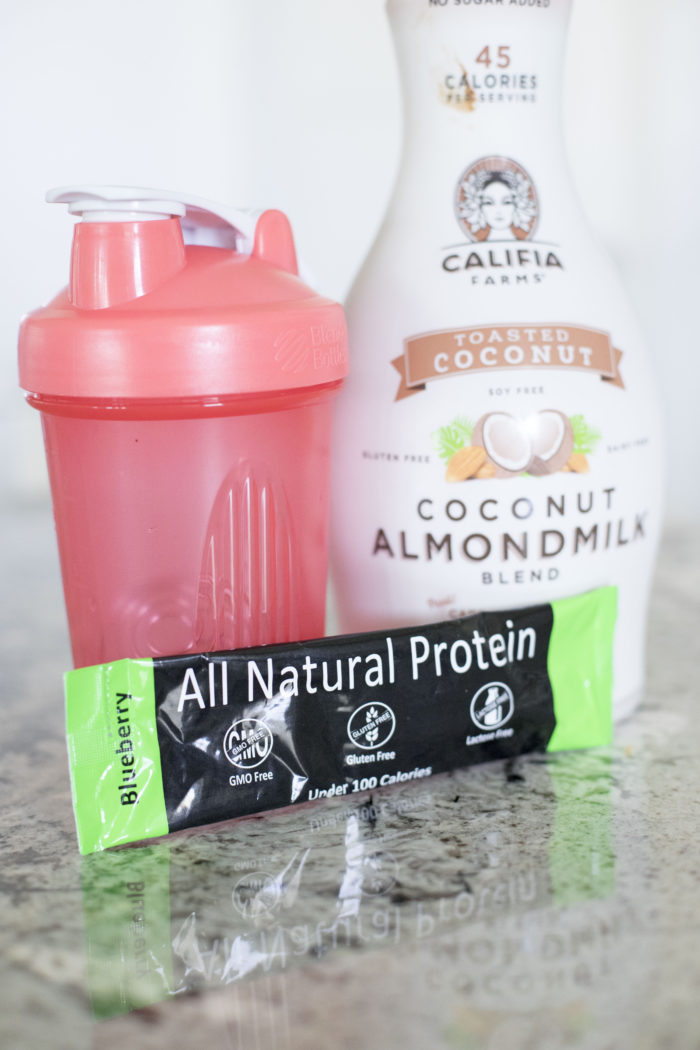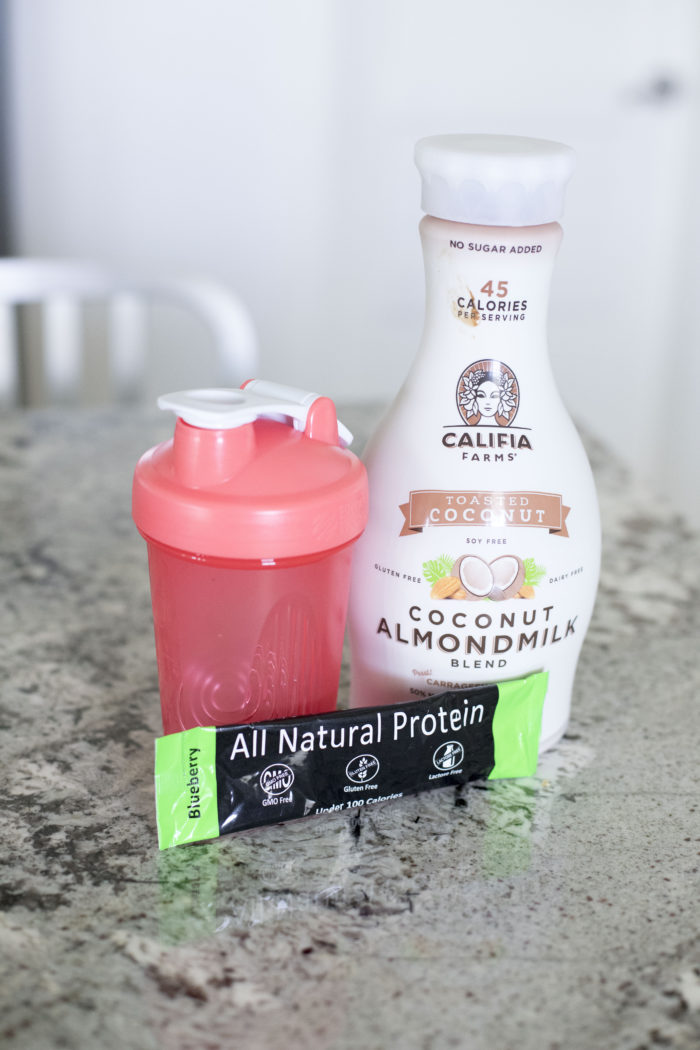 (There was no pretty way to photograph this green drink. It's a witch's brew)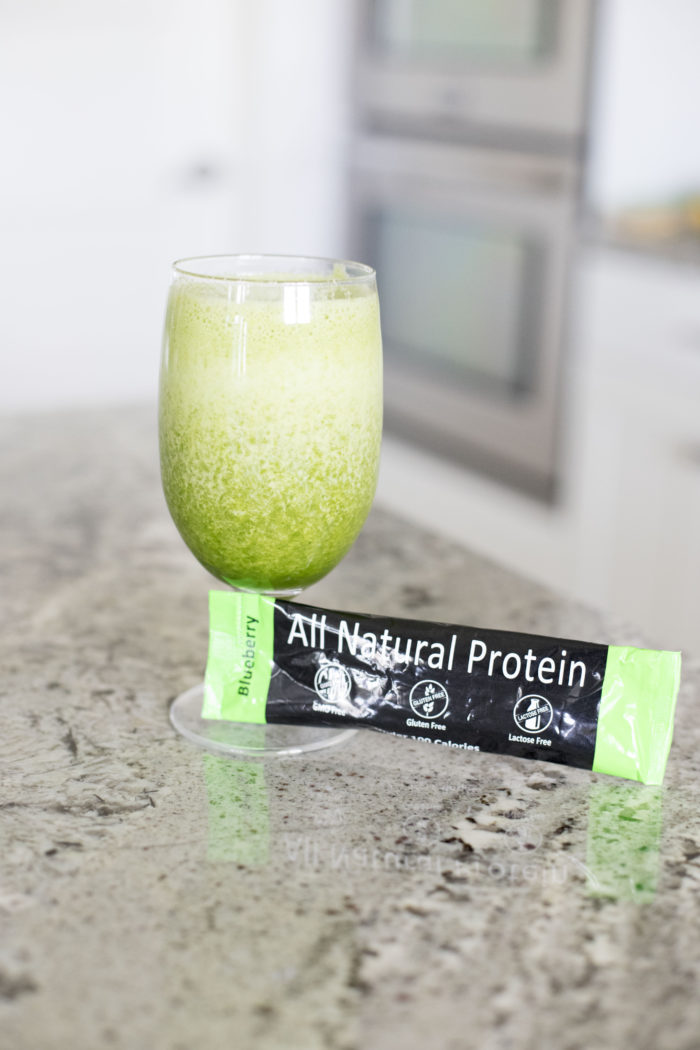 4. LUNCH: I pretty much have a salad for lunch every single day. My tip is that I ALWAYS make at least 2 salads if I have everything out and I'm chopping up the veggies. I hate chopping veggies, so if I'm doing it, I want it to go a long way. It's so easy to eat something fast and unhealthy if you don't have a healthy lunch ready. I can't tell you how high I have jumped for joy every time I realized I had a salad waiting for me in the fridge and that I don't have to make lunch for myself that day, but it's really, really high. That I can assure you. The only thing to note is not to pre-mix any of the ingredients that are more wet that may get the salad soggy, for example, tomatoes. My favorite salad ingredients are:
Either red leaf lettuce or butter lettuce
Mushrooms
Red bell peppers
Snap peas
Shredded carrots
Salad toppins' (yes, that's the name of it ha ha…it's a little bottle by the salad dressings with nuts and crunchiness…)
Cashews
Black beans
Deli meat
Kraft Fat Free Zesty Italian dressing. It's only 15 calories for 2 Tbsp and I love the way it tastes!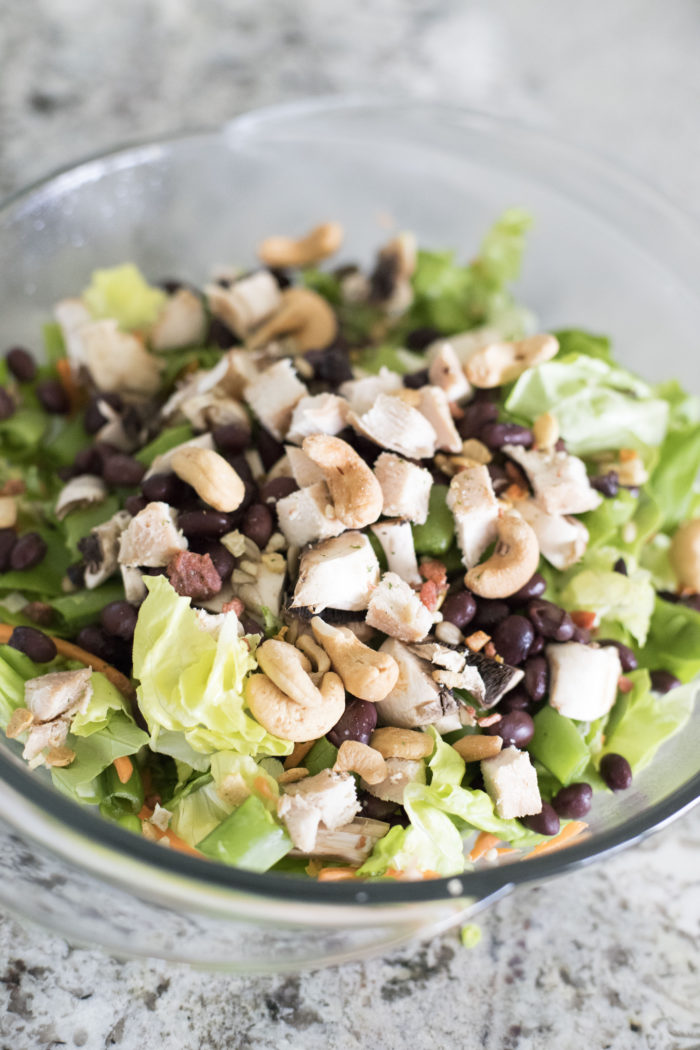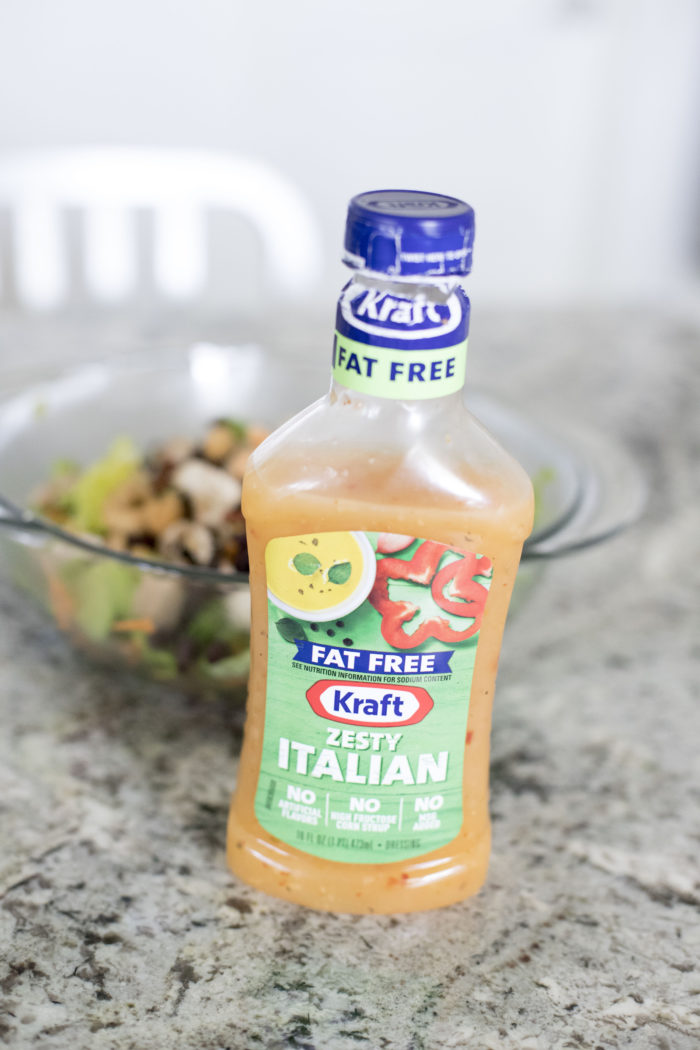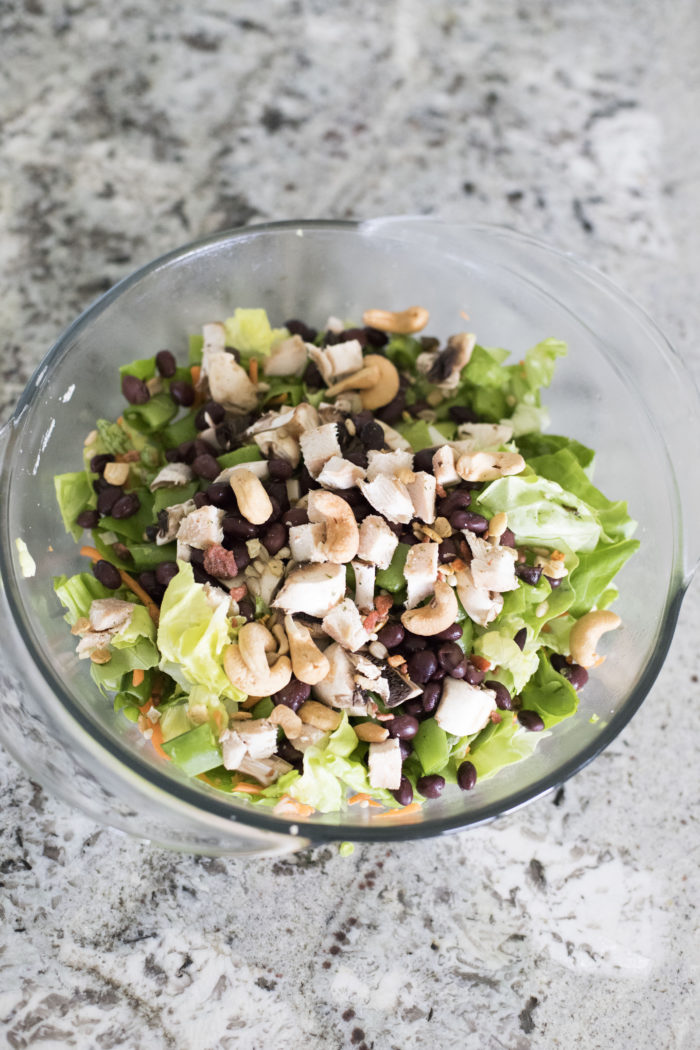 5. SNACK: Asking me not to eat a snack between lunch and dinner would be like asking a sumo wrestler to choreograph a ballet. Possible, perhaps, but it's not going to be pretty. In fact, it might get really, really ugly. I forgot to photograph this snack, but I like to dip an apple in 2 Tbsp of PB2, have another smoothie like above, eat one of these protein bars (YUM!! I buy them at Target), or have a Kirkland signature protein bar.
6. DINNER: Dinner is probably the meal that varies the most at our house because eating the same thing every night seems boring, although somehow a salad isn't quite as boring every day for lunch. I typically have a bit of heartier dinner. The one pictured below didn't have a salad, but I like to make a salad for dinner, too. I was too tired that night though because I had my grandpa over for dinner and I was trying to make it while grasping the twins from the edge of death at every turn (smashing their fingers in between any object possible, pulling chairs onto themselves, the list goes on…) It was like a marathon. So, the moral of the story is that we do the best we can. This is what I had for dinner this night:
Salmon baked in BBQ sauce (I buy the wild caught salmon from Costco)
Brown rice and quinoa (there are great packets you can buy at Costco in the grains section) mixed with cauliflower rice
Dave's killer bread with Smart Balance Light (found in the butter section at the grocery store) sprinkled with garlic salt, parmesan cheese and then broiled in the over until it was toasted. Burnt around the edges. NO ONE TOLD ME I HAD TO BE PERFECT.
Garden tomatoes (grandpa brought those! Grandma would be proud)
(Note: this looks so unappetizing. I dare you to photograph salmon and make me want to jump through the computer to eat it. May the odds be ever in your favor).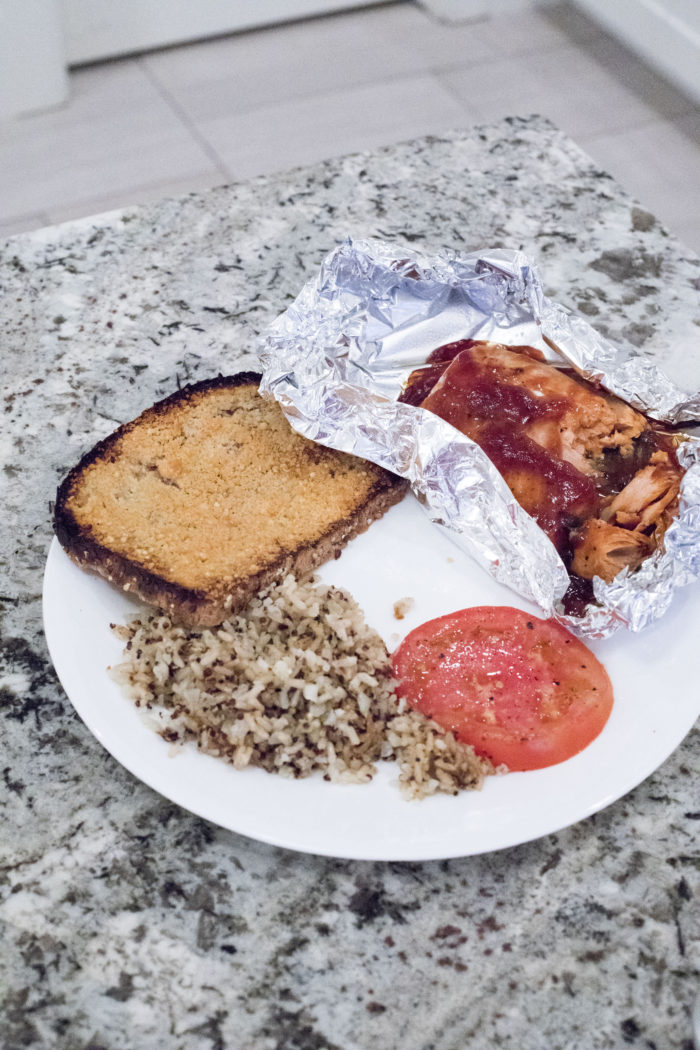 7. DESSERT: I always have a small snack or dessert 1-2 hours after dinner. I love this part of my day and I look forward to it all day. Sorry not sorry. I love food. My favorite dessert/snacks are:
Boom Chicka Pop – my favorite kinds are the sea salt popcorn or the light sweet and salty kettle corn (I accidentally bought the normal kettle corn here…boo!) They are both 35 calories per cup so I measure out 3 cups. I love this popcorn with all of my heart and all of my soul. It owns me.
Diana's Bananas – there are dark chocolate covered or milk chocolate covered frozen bananas and they are 130 calories. If I'm wanting something cold and sweet, these are perfect and I was surprised at how absolutely delicious they were. I buy them in the ice cream section at my local grocery store.
True Lime black cherry limeade – the black cherry is my favorite but there are so many other good flavors, too! I pour it in a plastic cup with lots of ice (I legit have no idea why I like drinking it in a plastic cup but it is so much more satisfactory than a glass cup).  These drinks are sweetened with stevia so they are natural and they are only 10 calories. My most common snack at night is 3 cups of the sea salt popcorn and a cup of True Lime black cherry limeade. It hits the salty spot and the sweet spot.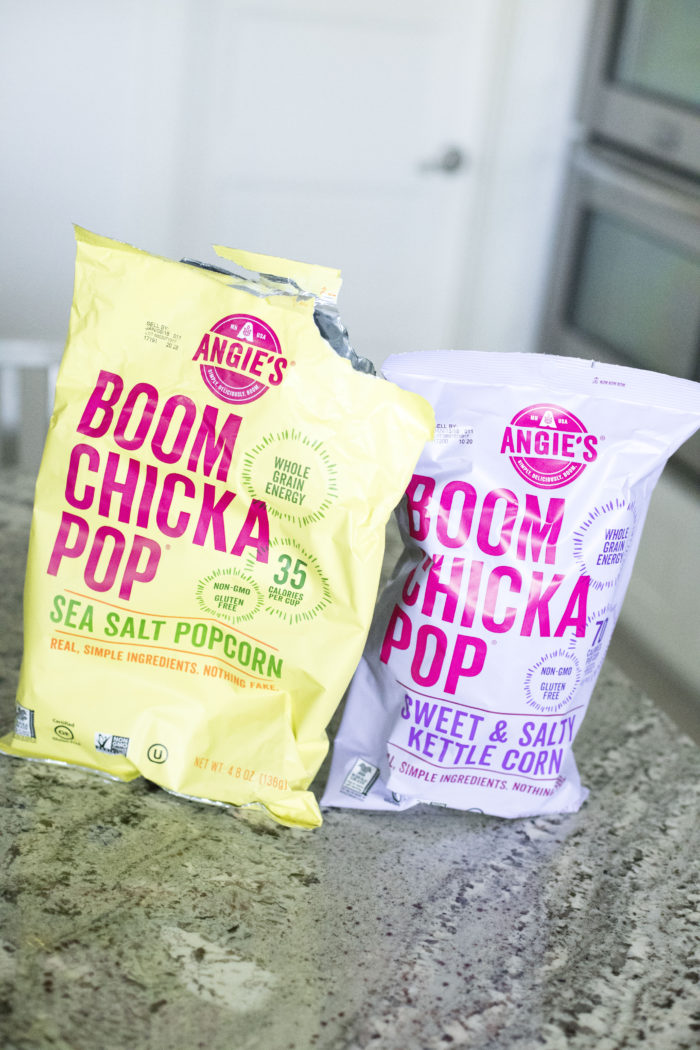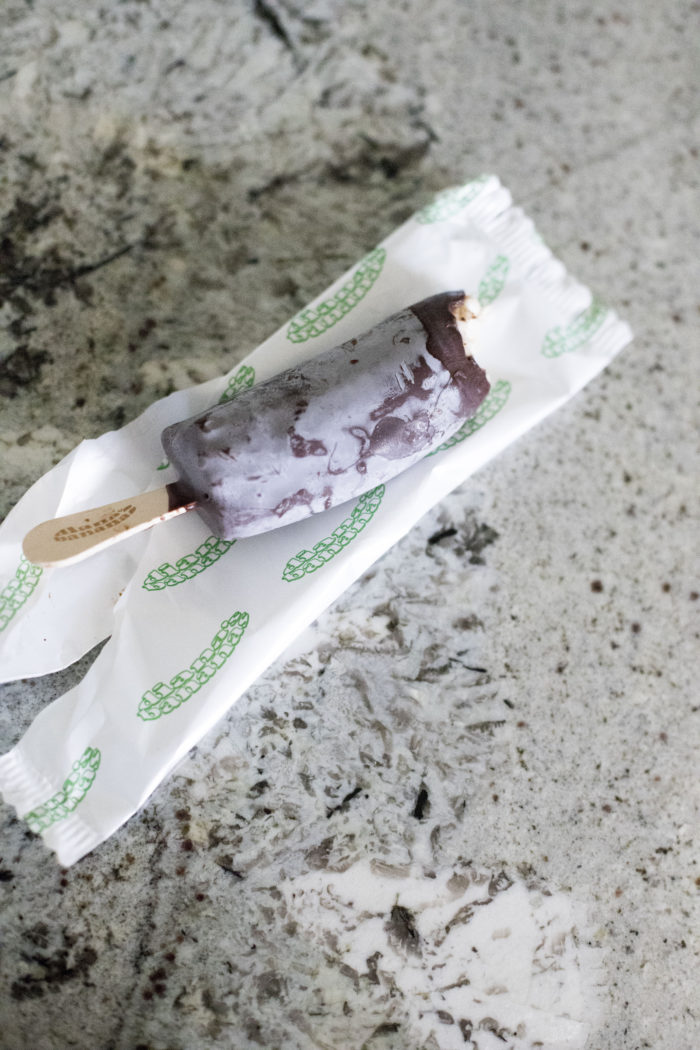 Remember to use code "Partner39" at checkout at WMNutrition to get 39% off any of their products! I have loved incorporating these products into my daily routine because they are natural and they help me live a healthy lifestyle easily. That's the key. I do not need any complicated-ness of any sort at this stage in my life. The twins ensure that I have enough complicated-ness. They got that down. Especially today.
They also have a really motivating Pinterest board that I have been LOVING!!! Go here. They have fitness tips, tips on quitting Diet Coke…I'm loving it!
Let me know if you have any questions, my babealicious friends!
This post is brought to you by WMNutrition, a brand that I love and use every single day!