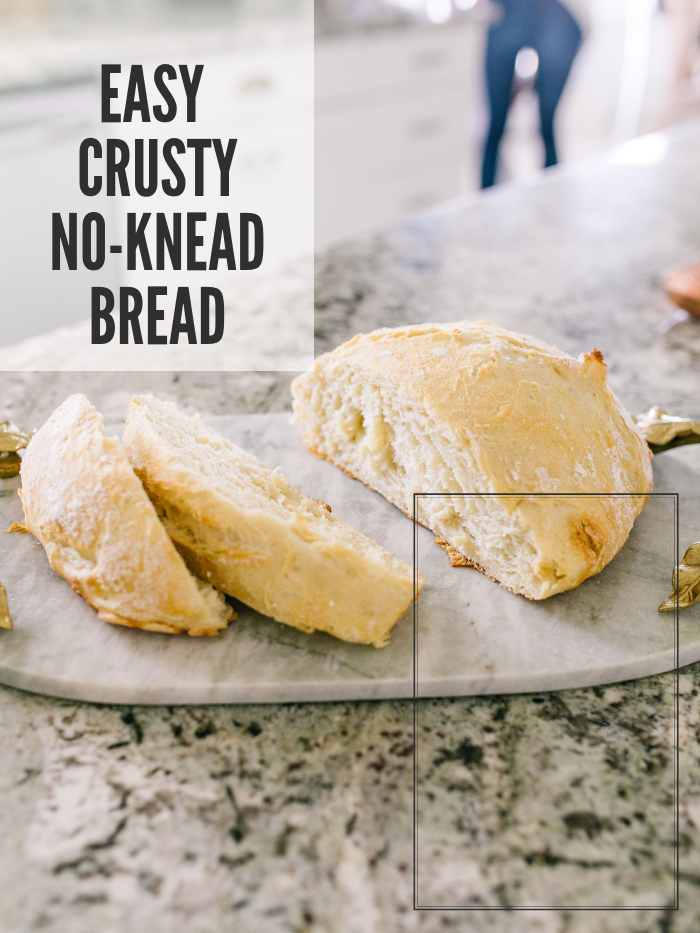 Shop all the Essentials for this No Knead Artisan Bread Recipe: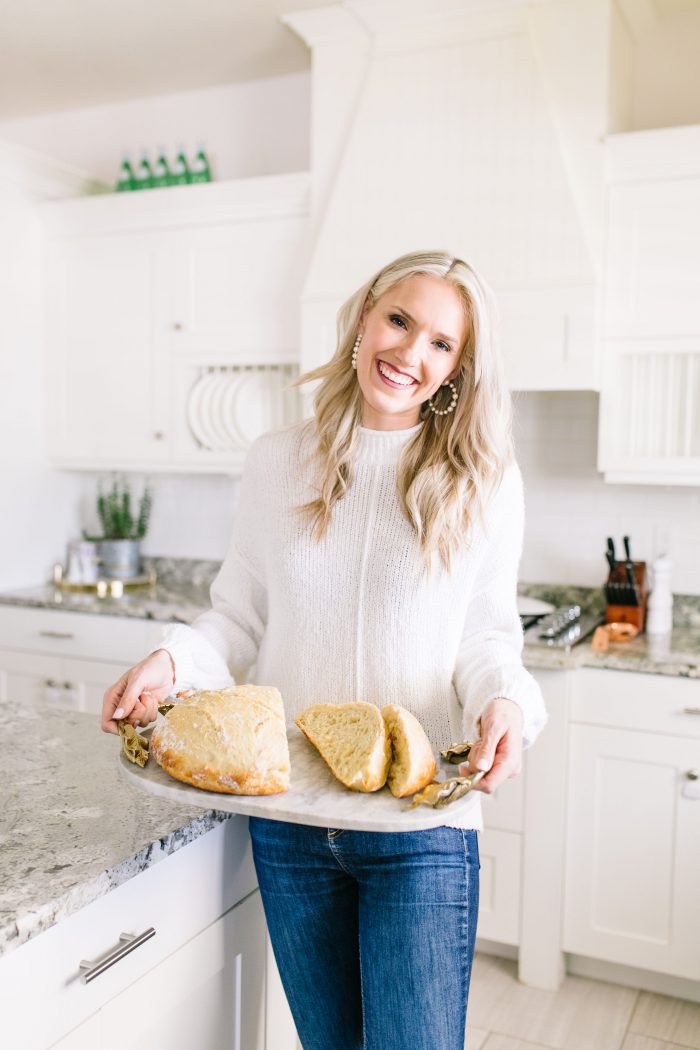 This easy crusty no knead artisan bread recipe is SO good!!
When I bring it anywhere, everyone LOVES it and it honestly looks a lot more impressive than it actually is because it's so incredibly easy to make. You will need a round dutch oven to cook this bread with. I have the Le Creuset dutch oven because it's so pretty that I like it keep it out on stove, but I also bought this dutch oven that is a lot cheaper and it works just as well. AND I just bought this dutch oven from Amazon and it's incredible, too! AND even less expensive! Trust me, it's worth it to buy a dutch oven just for this bread!! BUT you will also use it for soups and other great cooking as well.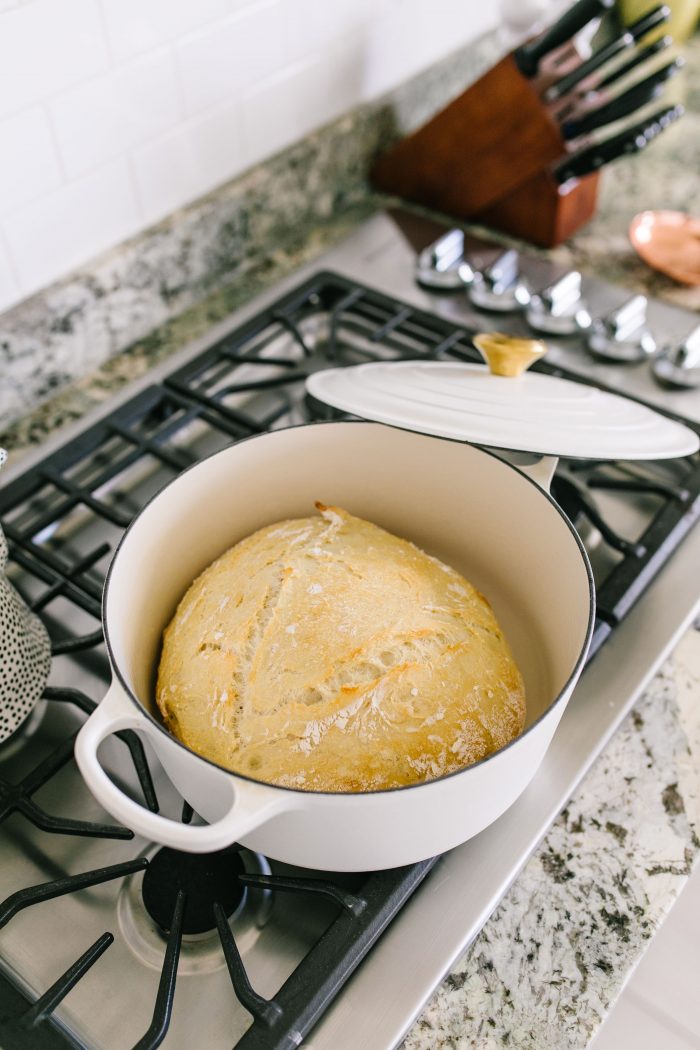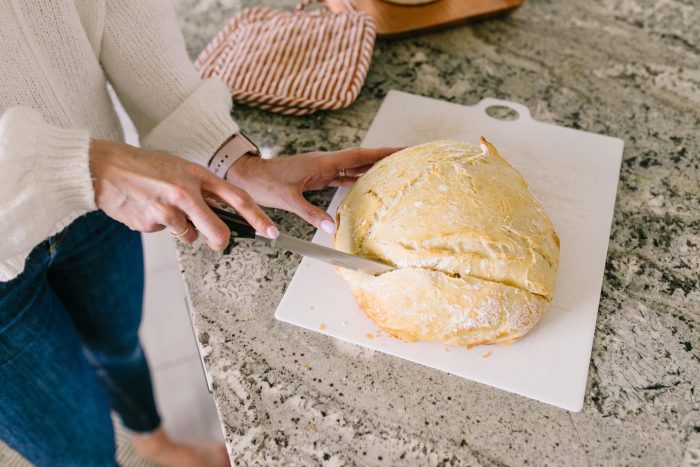 Shop all the Essentials for this No Knead Bread Recipe: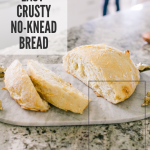 Easy Crusty No Knead Artisan Bread Recipe
Ingredients
4

cups

all-purpose or bread flour, more for dusting

1/2

tsp

instant or rapid rising yeast

2

tsp

salt

2

cups

water at 70 degrees
Instructions
In a large bowl combine flour, yeast, and salt. Add 2 cups water, and stir until blended; dough will be SUPER sticky. Cover bowl with plastic wrap. The original recipe that I adapted this from said to let the dough rest at least 14 hours, and preferably about 18 or more, at warm room temperature, about 70 degrees. I, however, have found that it only needs a few hours to rise, so you can make it in the morning and then when the surface is dotted with bubbles which is about 8 hours (this is all in the next step), you can fold the dough a few times, and let it rest for 30 minutes before cooking (SEE NEXT STEP...the point is, it definitely does not take 14 hours, and I actually prefer it to sit a lot less than that because I like my bread a little more dense and thick).

Dough is ready when its surface is dotted with bubbles. Tear off a piece of parchent paper and set it next to you. Lightly flour a work surface and place dough on it then sprinkle it with a little more flour. Using just enough flour to keep dough from sticking to work surface or to your fingers, fold it over on itself once or twice, then gently and quickly shape dough into a ball, seam-side down. Place dough on parchment paper and let it rest for 30 minutes as oven heats up.

Heat oven to 450 degrees. Put a 5-to 7-quart dutch oven pot in the oven while it heats. When oven is heated, carefully remove pot from oven and take off the lid. Gently lift the dough with the parchment paper and set it all inside the pot. Shake pan once or twice if dough is unevenly distributed; it will straighten out as it bakes. Cover with lid and bake 30 minutes, then remove lid and bake another 10 to 15 minutes, until loaf is beautifully browned. Cool on a rack. It's best to slice it when it has cooled down a bit so it doesn't smush together!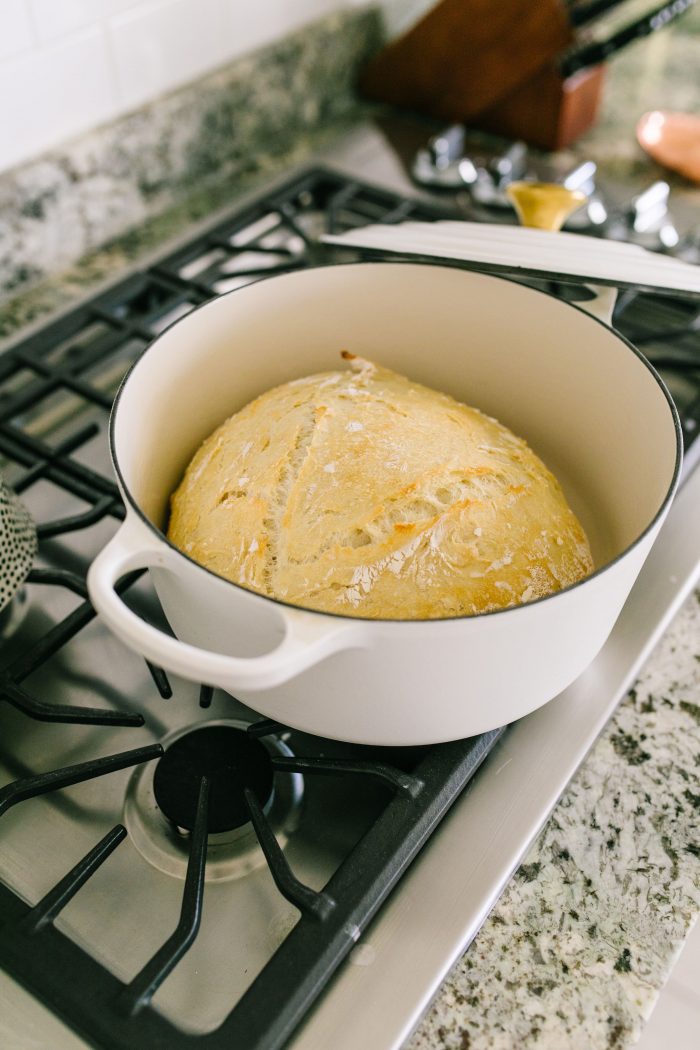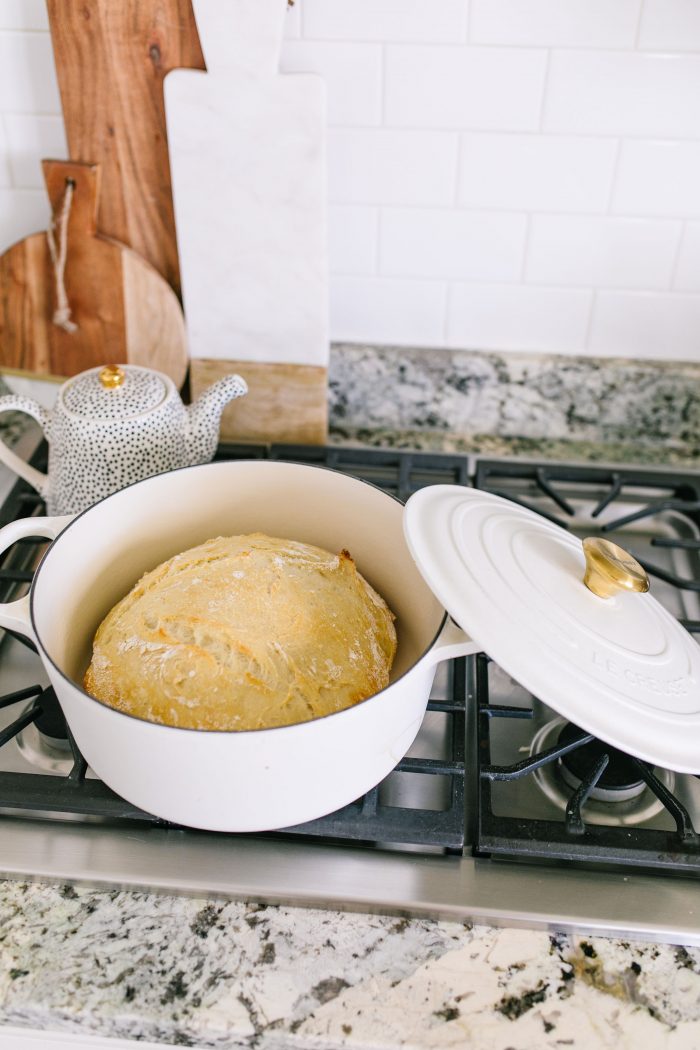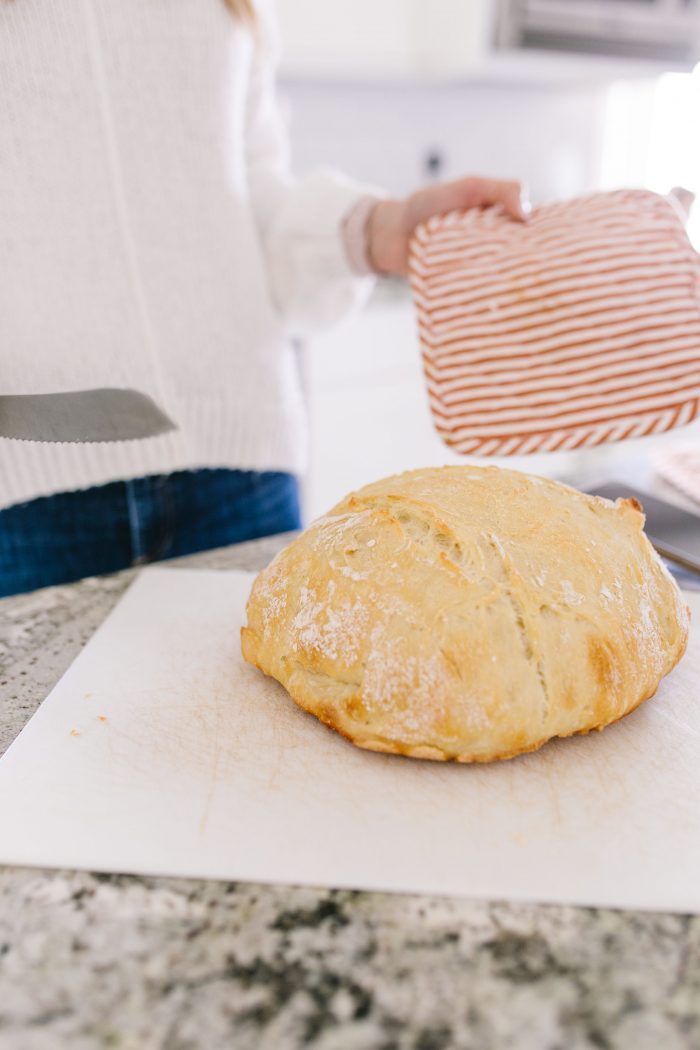 Shop all the Essentials for this No Knead Bread Recipe: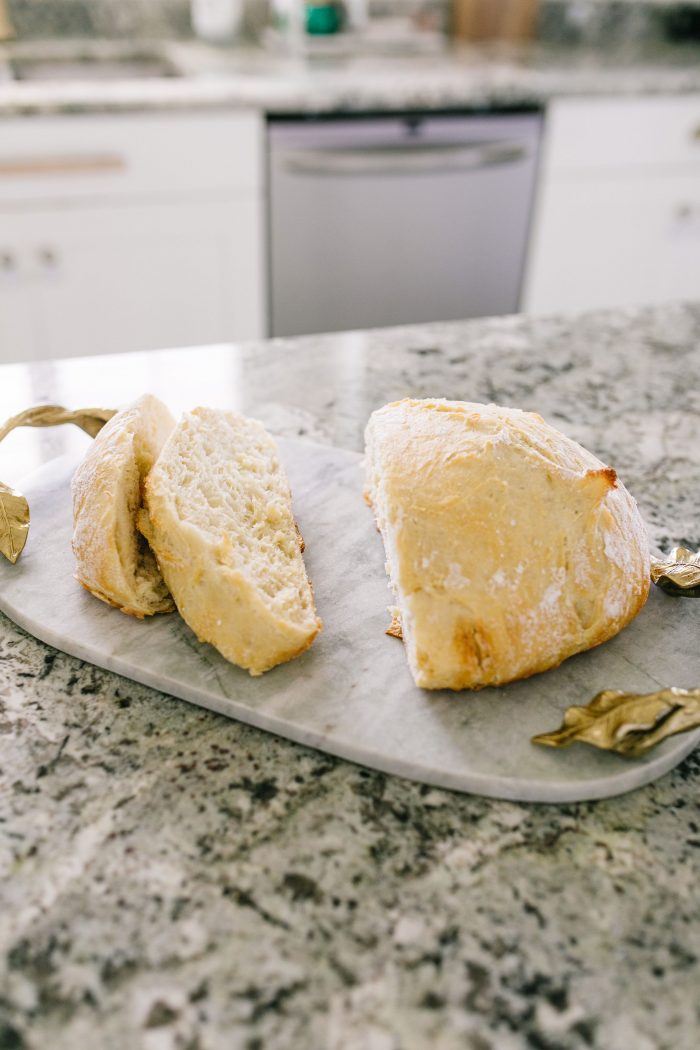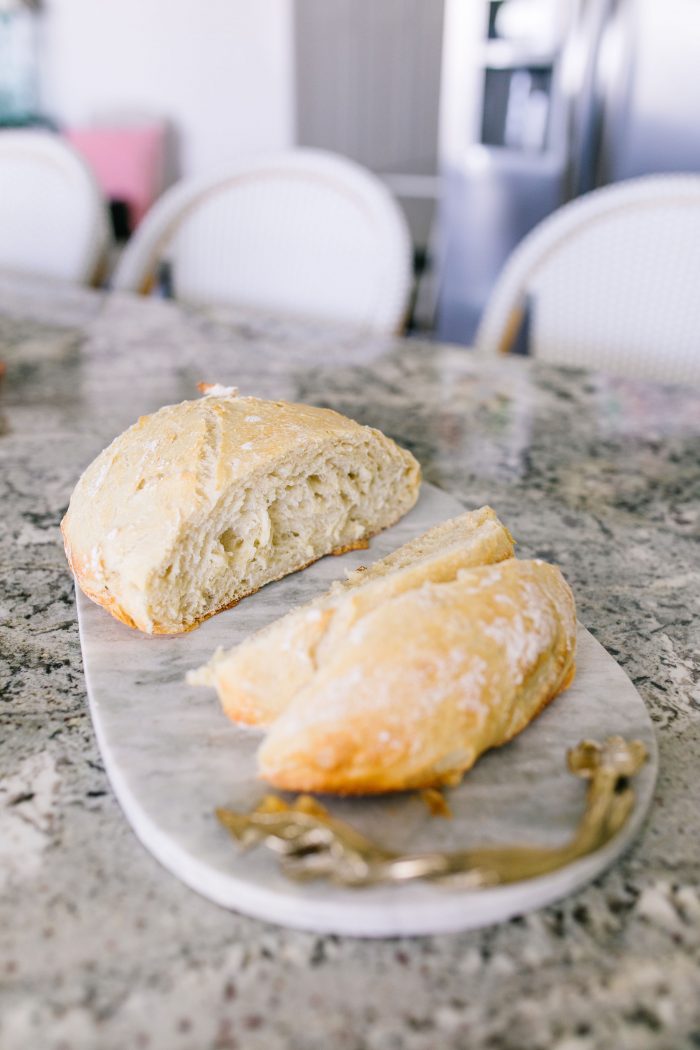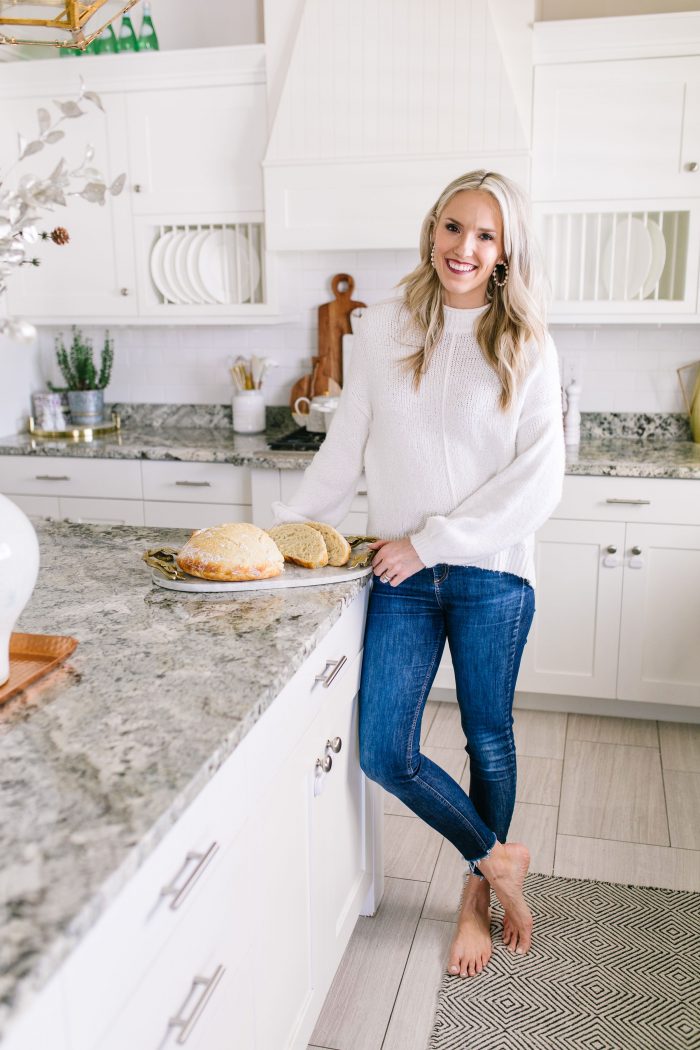 Shop all the Essentials for this No Knead Bread Recipe: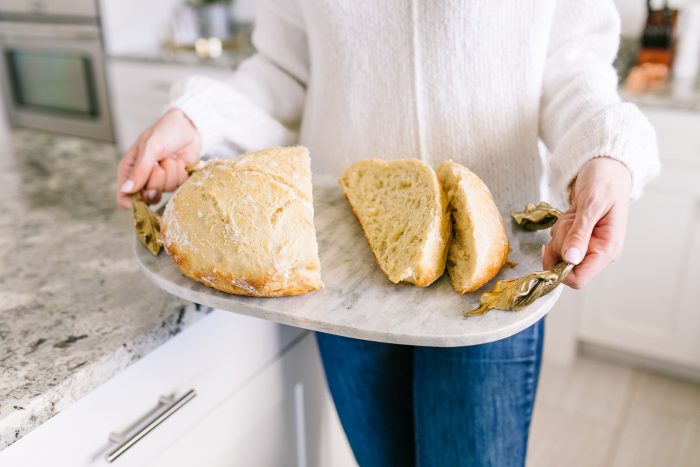 Shop all the Essentials for this No Knead Bread Recipe: