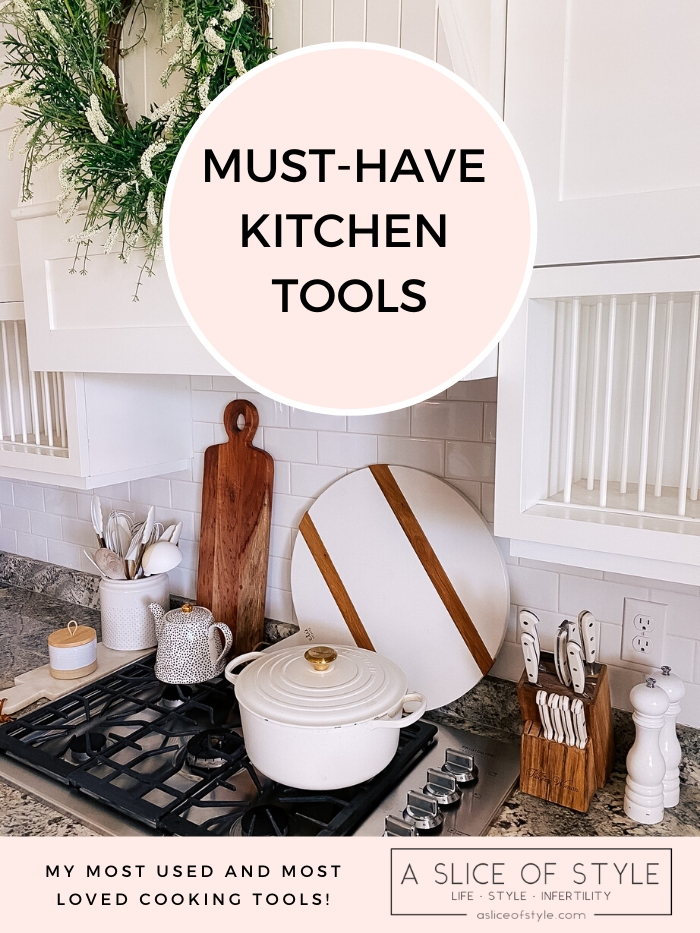 It's no secret that I love to cook! Being a mom of twins makes life a little crazy and busy sometimes, so I love trying out new gadgets and tools that help make my life easier. This is a roundup of some of the best kitchen tools and cooking items that have made things so much easier for me… without sacrificing quality or taste! In fact, some of these make my food taste even better.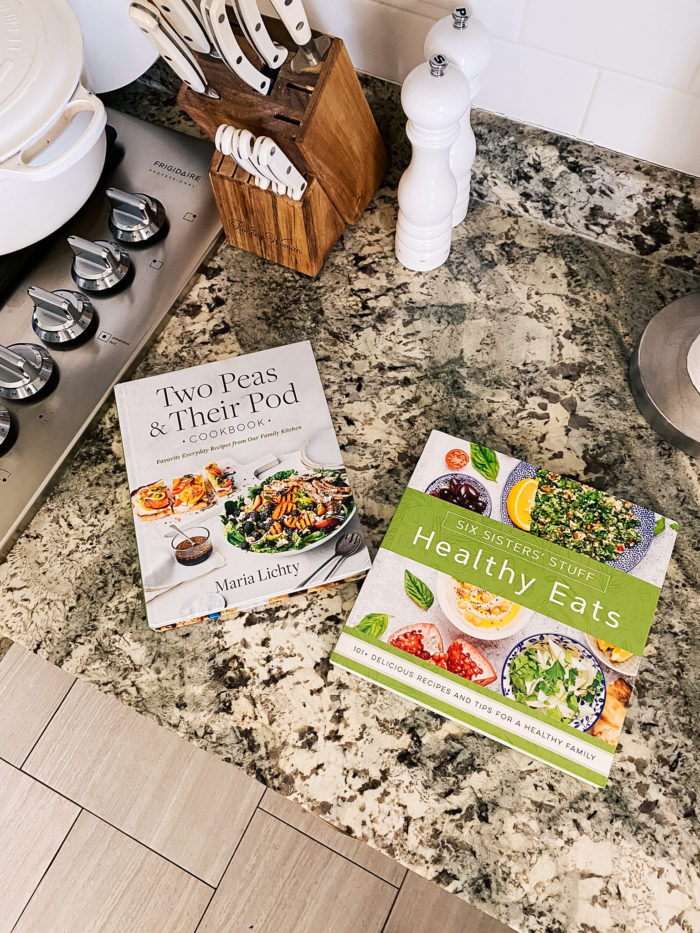 My friend Maria writes a blog called Two Peas and Their Pod, and I was SO excited when she came out with a cookbook because I've been a fan of her recipes for years! The recipes are UNREAL, but still totally doable! Here is the link for Two Peas & Their Pod and here is the link for another great cookbook, Six Sisters' Healthy Eats! They are both full of amazing, delicious food that is also healthy. I share recipes from both of these cookbooks on my stories pretty often because they are just that good.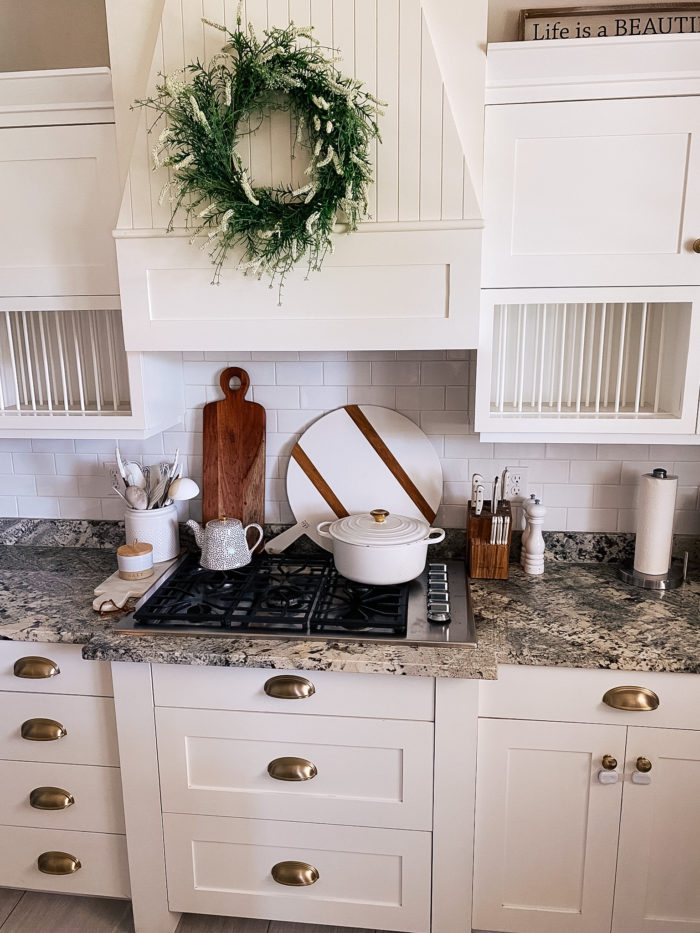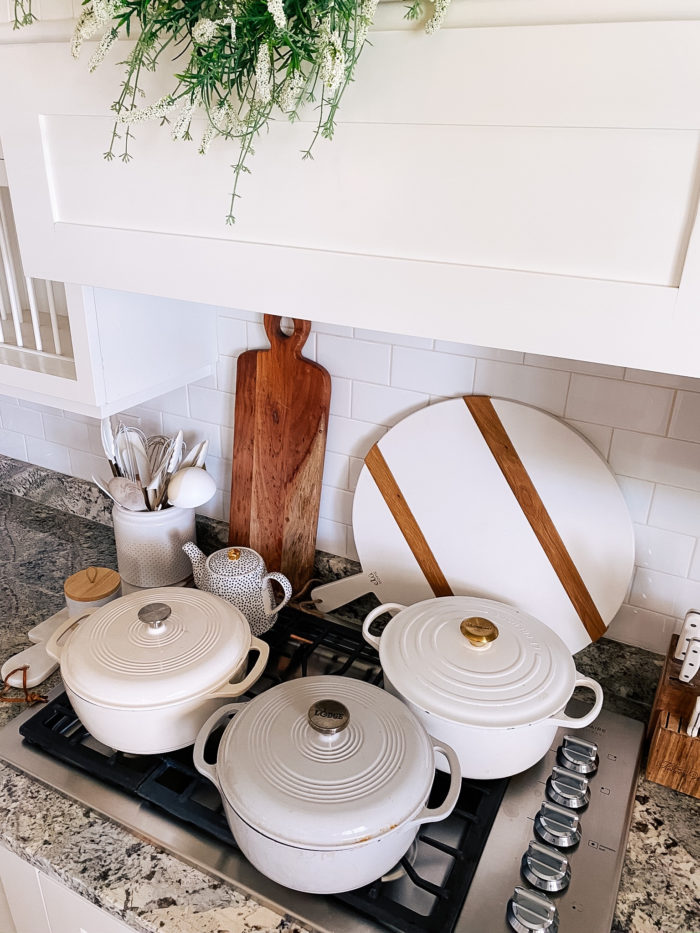 I recently shared my Easy Artisan Bread recipe, and so many of you have loved it which makes me so happy! It's definitely worth it to buy a dutch oven, even just for this bread. I have a few different kinds of dutch ovens! The Le Creuset is the most expensive, but it's great for bread and also soups. It's also great because it keeps food warm for a long time! The Lodge brand is a really great, more affordable option. I also love this one for under $50 from Amazon!
My knife set is from Walmart, and I love that the knives work really well and are cute at the same time. This set matches my decor much better than my other knife sets have! I was skeptical about the quality of these at first because of how great the price was. But they really are SUCH great quality at such an amazing price point!!
SHOP MY FAVORITE KITCHEN TOOLS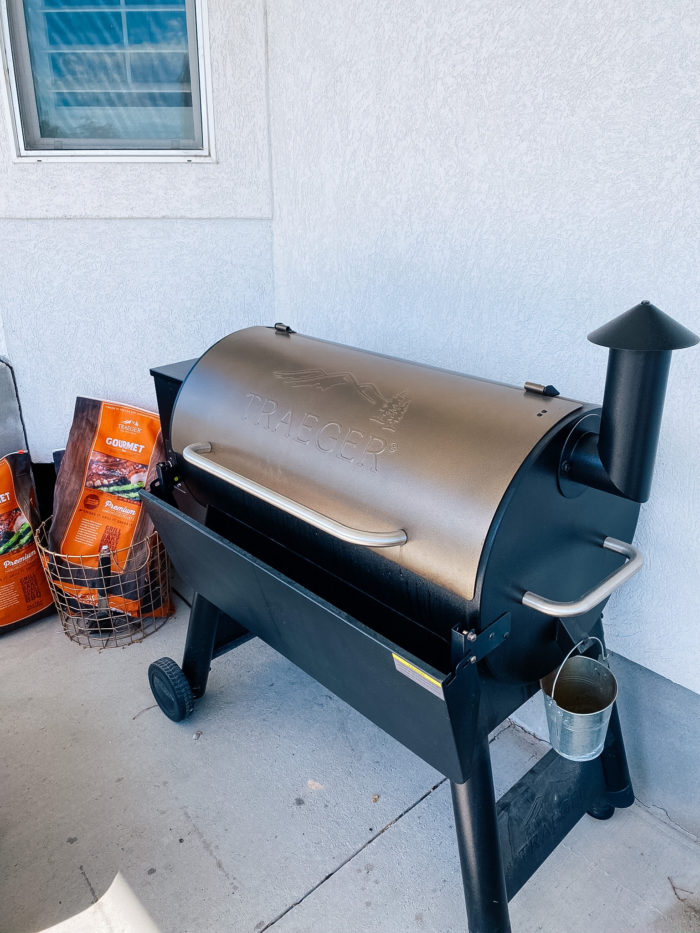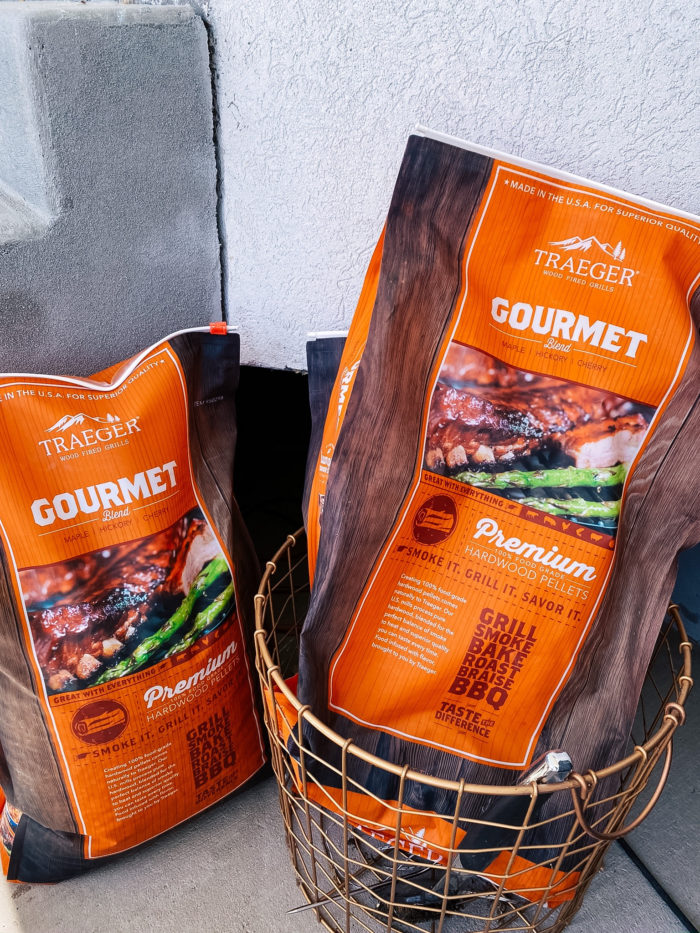 If you've followed me on Instagram for very long, you know I love our Traeger Grill!! It gives your food the yummiest flavor, and it really isn't difficult to learn to use. I highly recommend this to everyone! We buy the hardwood pellets from Traeger, and they help to give your food the most amazing smoky flavor. Something that's really nice about the Traeger is that I can prep dinner in the morning and put it in the fridge, and then just throw it on the Traeger once it's dinner time! I'm all about things like this that make dinner time easier while still tasting AMAZING.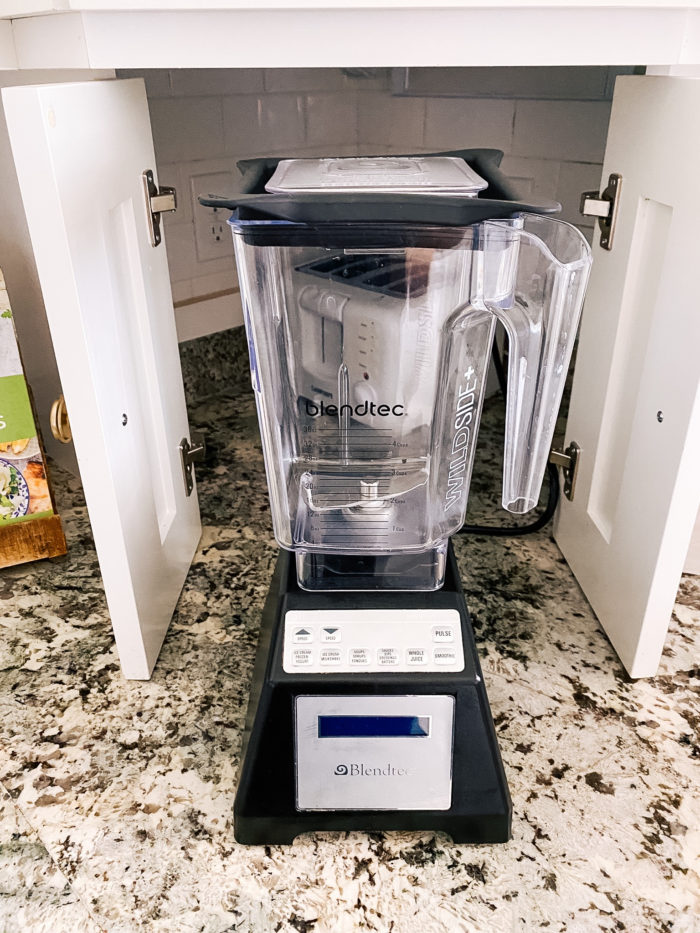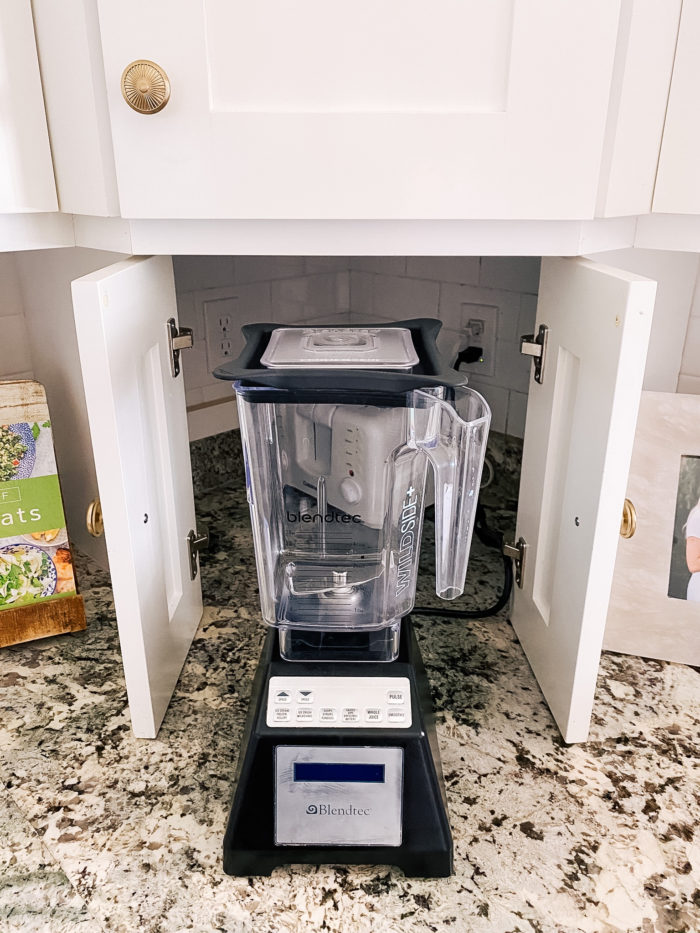 The Blendtec is more pricy than a lot of other blenders you can find, but the quality is unbeatable in my opinion! We love making smoothies and shakes, and the Blendtec does the trick. If you have been following along with my health journey lately, you know that I am doing a cleanse right now because of Epstein-Barr virus. I'm on a 28-day cleanse where I'm only eating raw fruits and raw vegetables to try and help with my energy levels! My Blendtec is a total staple for me during this cleanse!!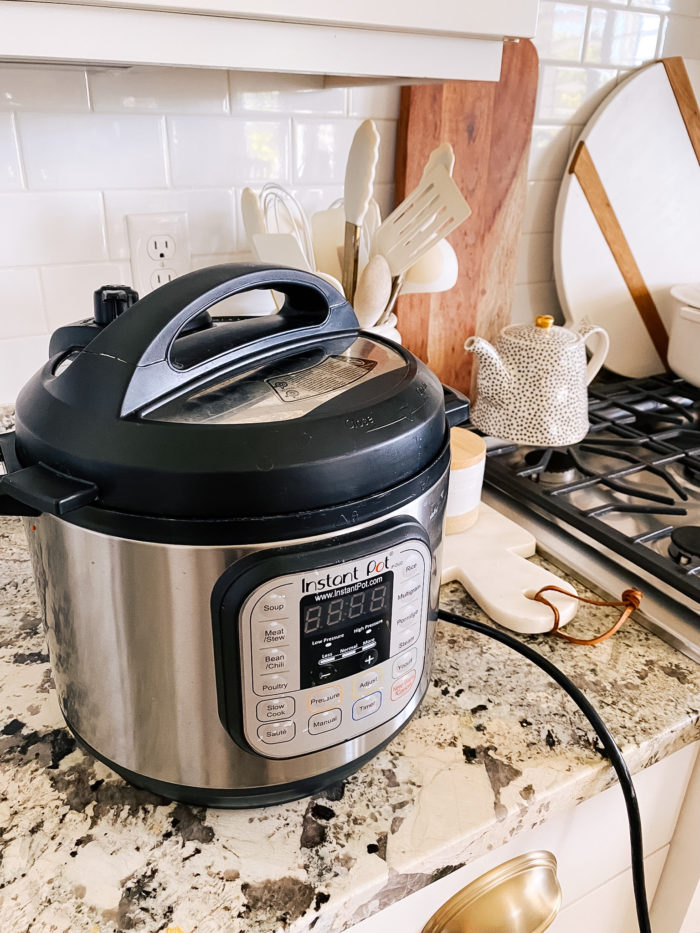 I recently shared my Instant Pot chicken recipe with you guys, (check it out here!) and it is seriously such a time saver for me. It doesn't take long at all to cook chicken in the instant pot, it's delicious, and I can use it for the rest of the week in my salads! I also love the instant pot for making quick, perfect boiled eggs. I did a blog post on that here! The Instant Pot is so perfect for making easy and delicious meals! This is the Instant Pot we have and I'm obsessed with it. It makes cooking a million times easier because on days when you don't plan in the morning, you can cook last minute and still have a delicious meal!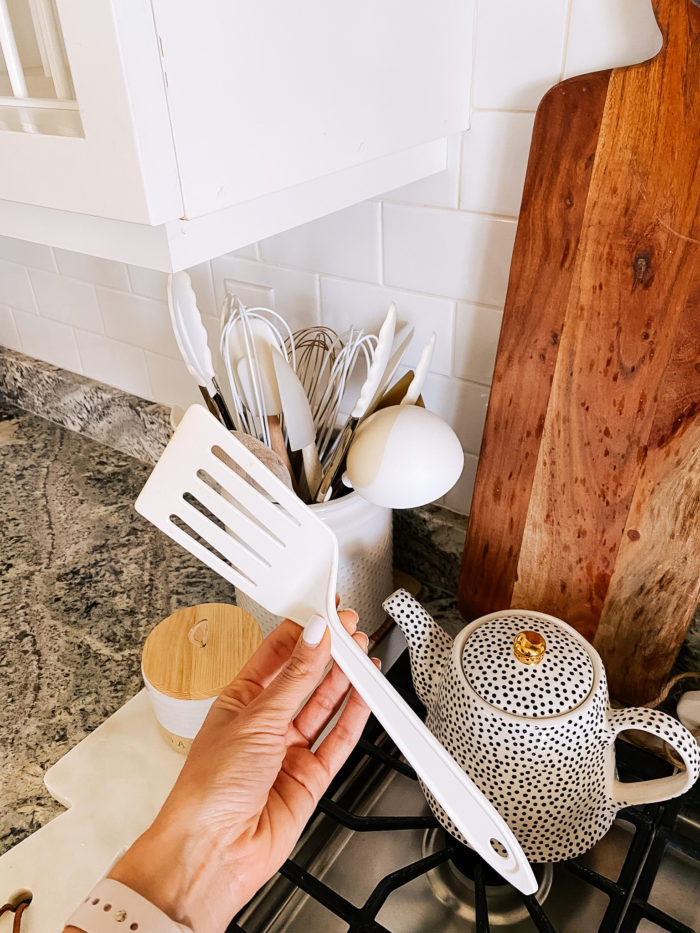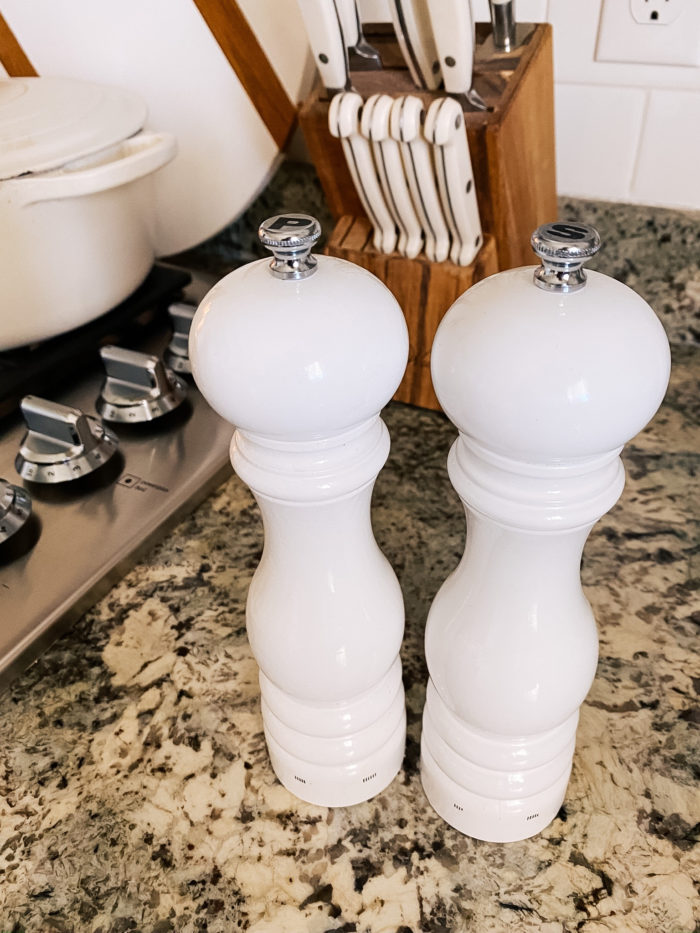 I love these salt and pepper shakers because they are so cute and have worked great for us! I love that they match the rest of my kitchen decor!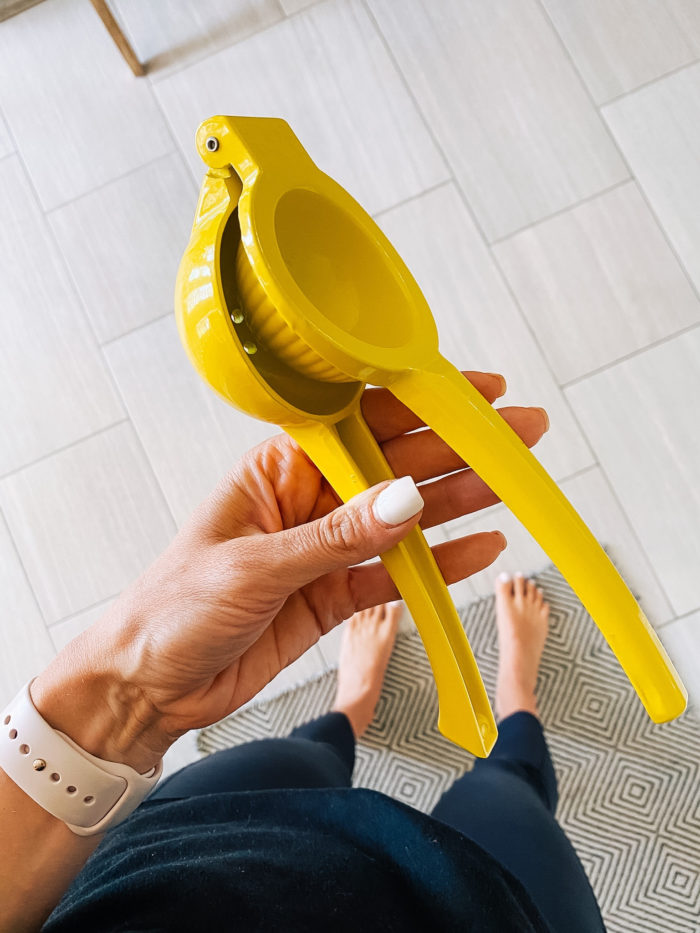 Some kitchen tools are so simple, you wouldn't think twice about them. But this thing is a game changer. Let me tell you why! It's really good quality, easy to use, and inexpensive. I use it to squeeze half a lemon into cold water every morning, and it's such a refreshing way to start my day. If you add a few drops of Stevia, it actually tastes like lemonade!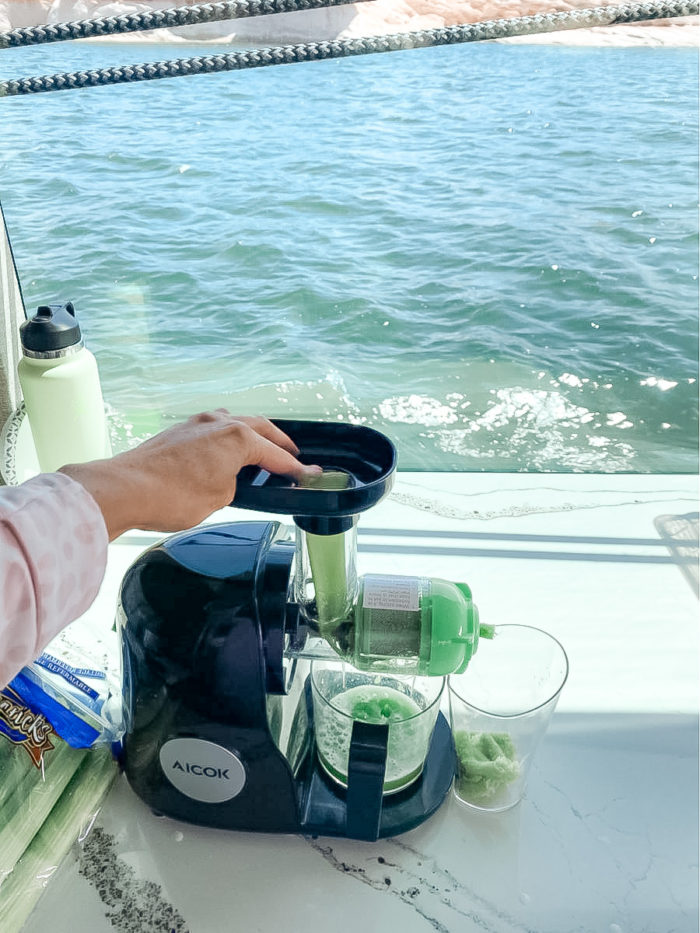 I took this picture on a house boat on our family trip to Lake Powell last week! So as you can tell, it's really easy to take with you places.🙂 It's great for on-the-go because it's compact and easy to transfer. I have been using it for celery juice, and it's so easy and fast to make with this juicer! You can find this and some of my other health-related favorites from Amazon here!
This is the BEST veggie chopper that I found on Amazon! I used to have a different one and I like this one so much better. It's cheaper too – it's only $24 and I'm so happy with it. Also, it makes chopping onions so much easier because my eyes don't burn. I'd call that a WIN! And also I'm not at risk for chopping my fingers off. Definitely a win in my book.
I don't like to eating large pieces of lettuce, so I am obsessed with my salad bowl/chopper combo. It turns my salads into the perfect bite size pieces! It's such a simple tool, but a total game changer (like so many other things in this post!). It's also a really great price! This is the best, easiest, most cost-effective way to improve your salad game!
This is my favorite little meat/potato masher. Someone recommended it to me around Christmas time when I asked for the best unique gift ideas, and I absolutely love it. I use it all the time for ground beef! I wish I knew who it was that recommended it, because I OWE YOU big time. It's much easier to break up hamburger meat than with a spatula! Also, totally affordable – it's only $9!!
What do you think are the best kitchen tools?  Let me know in a comment below!
CHECK OUT MY KITCHEN DECOR HERE
CHECK OUT MY INSTANT POT CHICKEN RECIPE HERE
CHECK OUT MY INSTANT POT BOILED EGG RECIPE HERE
CHECK OUT MY EASY NO-KNEAD ARTISAN BREAD RECIPE HERE