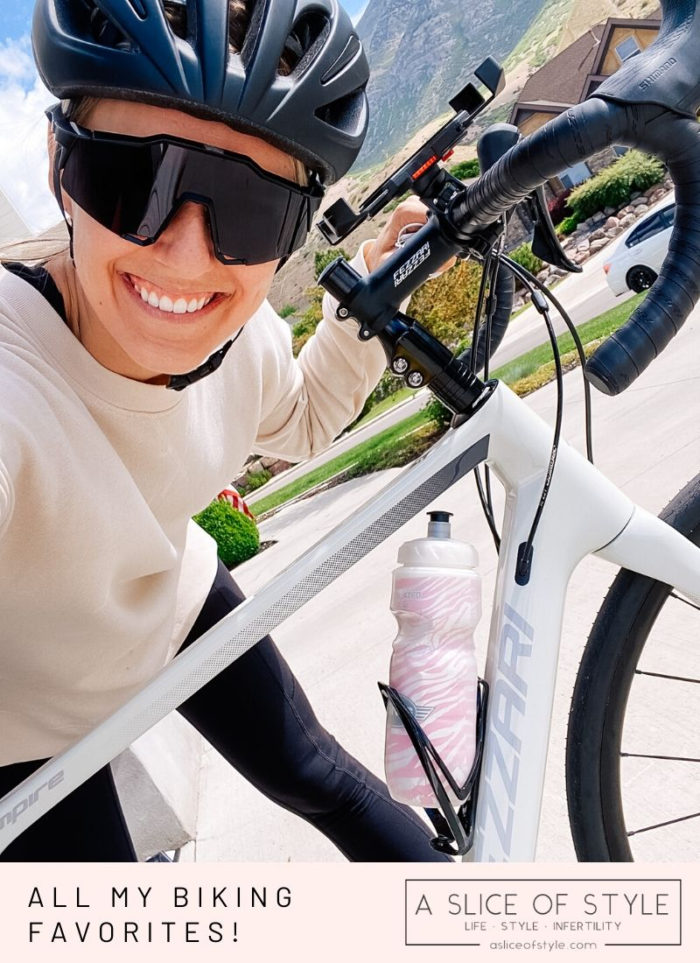 I originally started biking because I had a broken toe and couldn't do many other forms of exercise… I never knew what a blessing in disguise that broken toe would end up being for me! Biking has become one of my very favorite workout activities and a highlight of my day. It gives me time to think, listen to podcasts, get some fresh air, and get a good workout in all at the same time. I post about my bike rides pretty frequently, and I have gotten a lot of questions lately, so I thought I'd answer them all here for you! Hopefully this is helpful for you if you're interested in getting started, and if you have any additional questions leave them in the comments below!
SHOP my biking favorites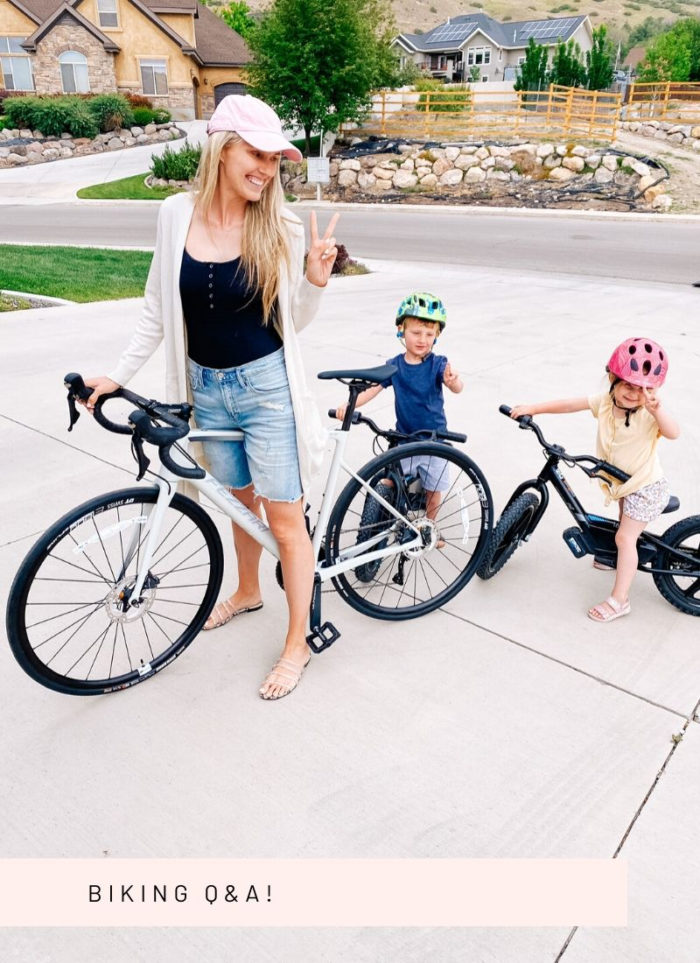 If you are a newbie with no gear, how much would it cost you to get started? I would say it ranges from hundreds to thousands, it really depends on what you want and what type of bike you get! This Fezzari Empire Elite is the one I have! They have other great basics as well. Tyler has used the Fezarri brand for years and swears by it, which is why I switched over from my Trek. The price range is pretty wide, so it really just depends on what you want. You can use the code "Jenica50" for a $50 accessory credit when you buy a bike from Fezarri; that can go toward a helmet, pedals, etc.!
How did you get started? Any recommendations for starters? I got my bike and then my husband bought me a helmet and some glasses. I just grabbed my phone, my headphones, some Nikes and workout clothes and went out riding! My recommendation is to not feel like you need all new everything in order to get started. And you don't need to buy clothes specific for biking to ride! Just use your regular workout clothes to get started, and see if you like it!
Mountain bike or hybrid? (for trails and paths) Tyler recommends a mountain bike for dirt trails. For paved roads, a hybrid is great!
Do you wear special shorts or undies to pad your booty? I personally do not wear special shorts or underwear! I usually ride about 13.5 miles and I'm fine without them. The first few times it did hurt, but I got used to it, so I don't feel like I need anything! If I was getting sore from the seat, I would probably try these padded shorts. They have great reviews!
Have you ever gotten saddle sores from biking? No, I haven't! The furthest I've biked at one time was in a race and was about 20 miles. So I haven't had to deal with that!
What kind of seat do you have? Ideally one that doesn't cause a lot of pain! I just have the standard one that comes on the Fezzari Empire. It's been great for me!! When I first started biking it made me kind of sore, but I think that probably happens with any seat – the more you ride, the more normal it is and it stops hurting! That has been my experience🙂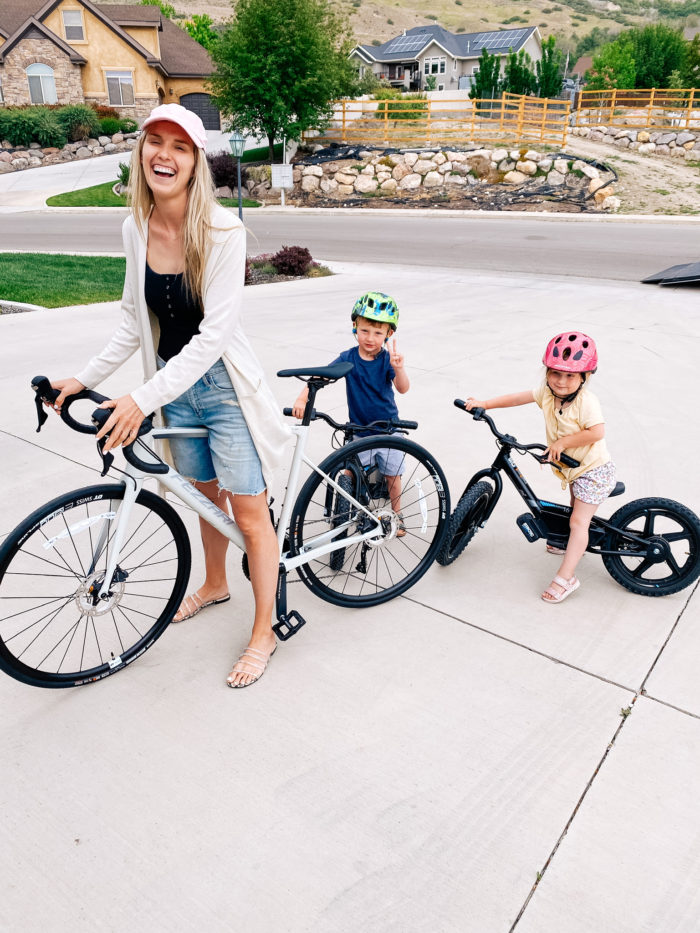 Are you afraid of passing cars? I always freak out! YES. I am definitely afraid of passing cars, which is why I only ride on the Murdock canal trail. It goes for miles and miles in Utah Valley!
Where do you learn the rules of the road? I only ride on the canal trail, so I don't have much experience with biking on the road! I did find a good source here if you are local to Utah.
My last bike was pink with streamers… how do you use gears? Typically, the left bar handle will have 2 separate gears, and then you can switch between those gears on the right handle. Every bike is different, but you can play around with the gears until you get the hang of it!
How to learn to use clip-less pedals without dying, and the best ones to start with? I don't use clip-ins! Most people I know who've used them have gotten in an accident. These ones stick to your shoes a little bit, so they help keep your feet on them! You can also get caged pedals. I'm just not a fan of clip-ins!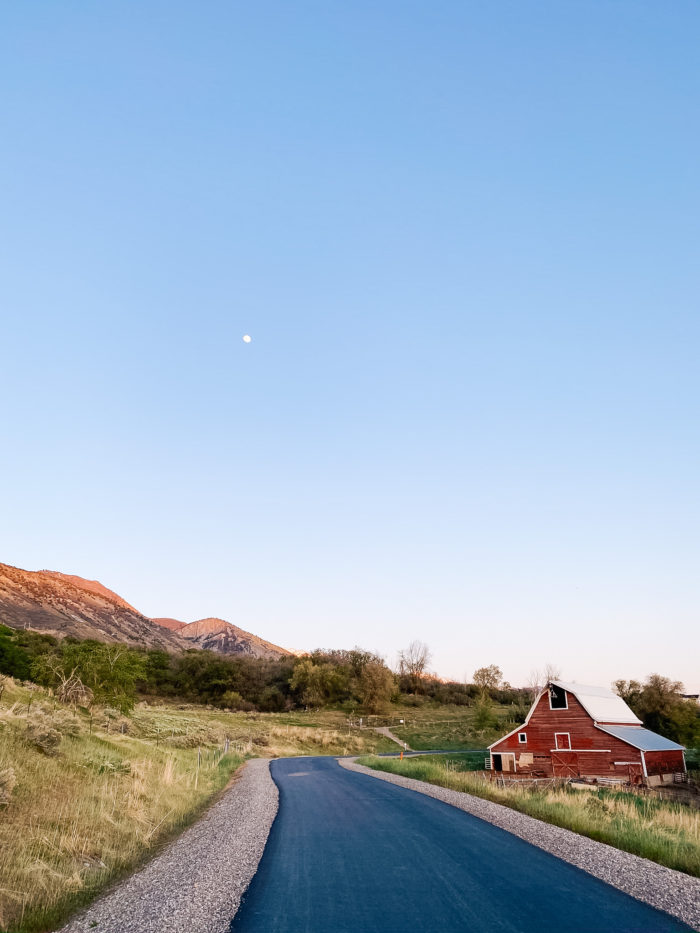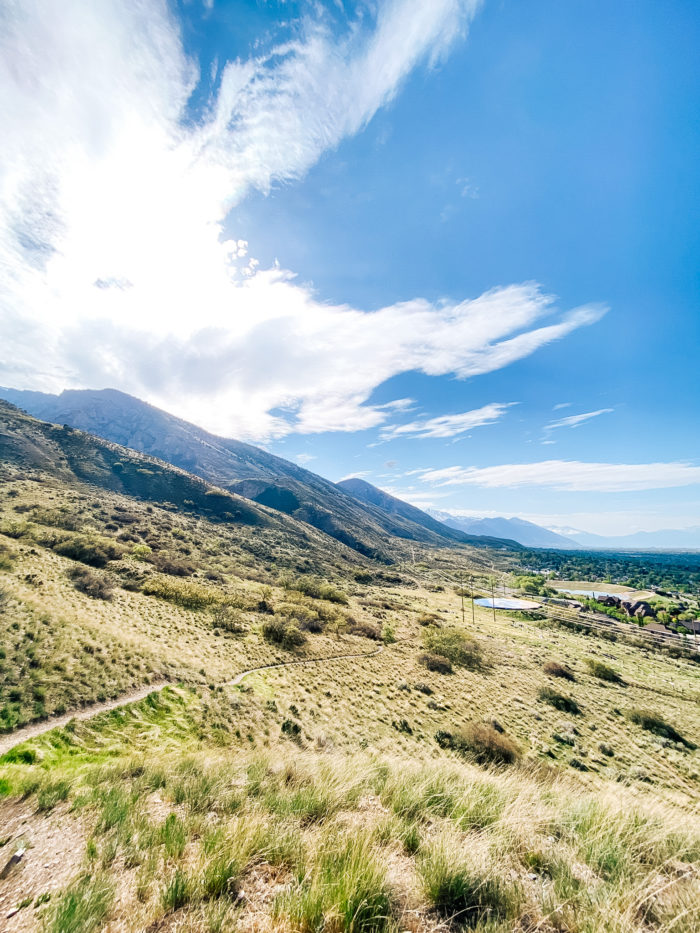 What's a good starter bike? I want something good quality that won't break the bank. Fezzari has a bike on their website called the Murdock. I've never tried it, but it looks like a great starter bike! You can get bikes for less than that, but the quality will be so much different. I would say it's worth it to get one that you can customize. My sister-in-law bought one for $100 and it hurts her joints and hips. Fezzari is worth it in my mind! My other bike was a Trek and around $700. It was a great bike, but I found my left hip was starting to hurt. The nice thing with a customizable bike is that you can take your bike into a bike shop and get it altered to fit your body dimensions if you are having any pain!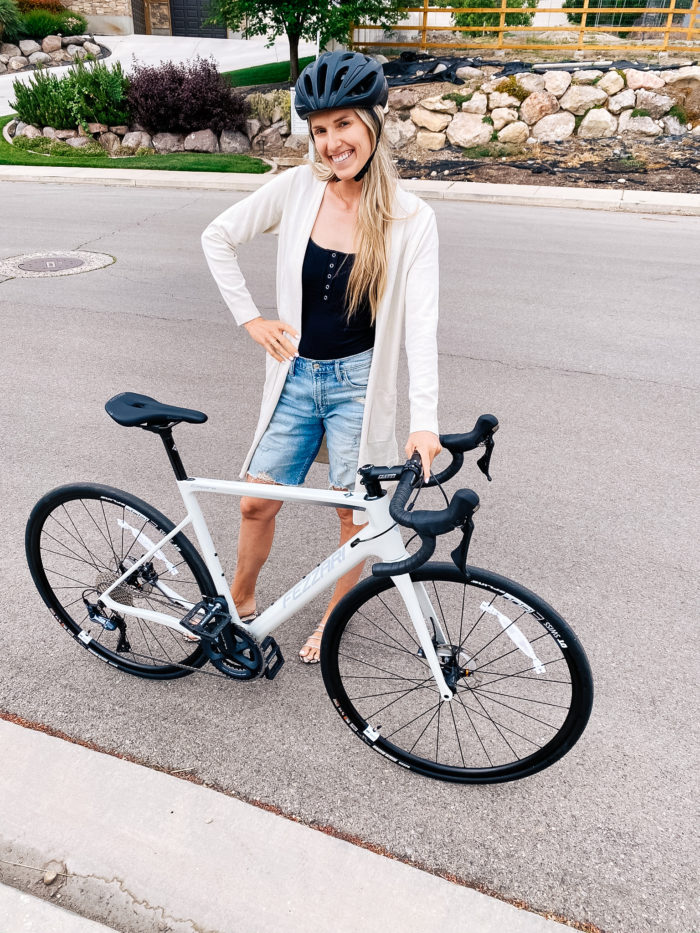 Do you strive for miles or time? What is a typical distance/time ride for you? I go for about an hour, which is usually 13.5 miles for me!
Do you listen to things while biking? If so, what? Yes I do! Here is my work out playlist on Apple Music. I also love listening to podcasts! My four favorite podcasts right now are Awesome with Alison, How I Built This, Better Than Happy by Jody Moore, and Mind your Business. I will be sharing more podcast recommendations soon🙂
Suggestions for hybrid bikes in different price ranges? The only ones I have are Trek and Fezzari. I'm blown away by how great the Fezzari is. I did a bunch of PRs with my Fezzari without even trying. Those are the two I recommend!
Helmet suggestion? Women's and toddler! I use this Bontrager helmet and I love it. It's comfortable to wear and also really high quality, so I feel safe with it on! I love the Bontrager kids helmet as well! Just make sure you choose a helmet that has MIPS – it helps protect your brain if you fall! Here is a link to the Bontrager one, and here's a kid's one with MIPS you can find on Amazon. Here's a great adult one from Amazon as well!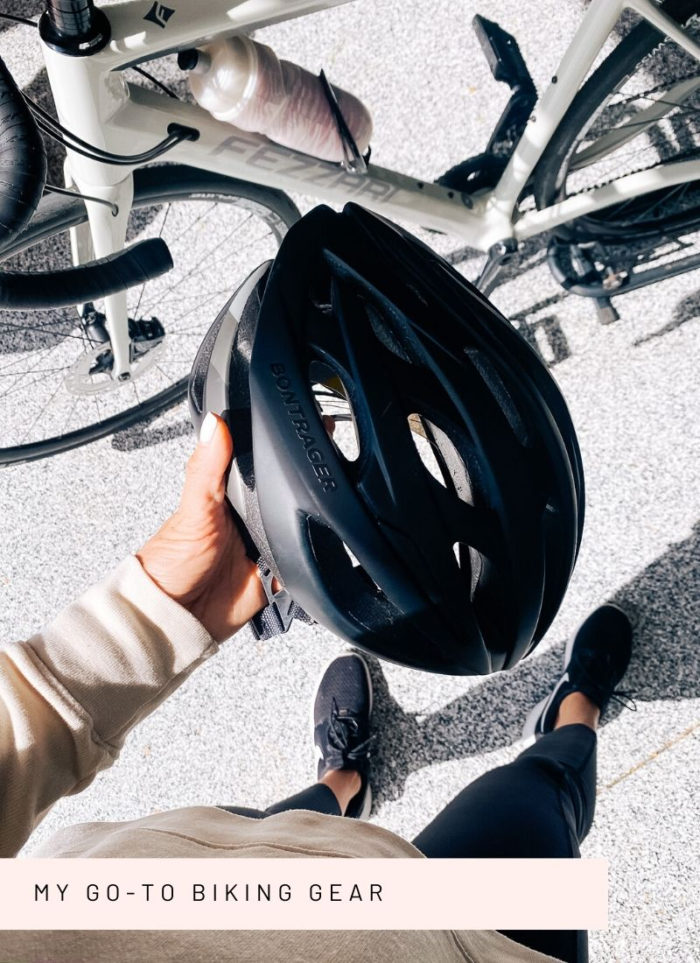 Best bike shorts? I actually don't ride in shorts because if I crash I don't want to get my legs all scraped up. I crashed about 10 years ago and I still have a scar on my knee from it. So I prefer to wear leggings! You can check out this post on my favorite affordable Lululemon dupes. I do really like these bike shorts if I were to wear them biking!
Favorite biking clothes? Like I mentioned earlier, I typically just wear my normal workout clothes and shoes! I wouldn't recommend going out and investing a ton into special biking clothes, especially if you are a beginner. Just start with what you have, make sure you like biking, and then go from there! These are my favorite leggings to wear biking, and I just wear simple Nikes like these! I love my IVL sports bras for biking as well!

Where did you find your glasses you bike with? You can get them on Amazon! The brand is called 100 percent. My husband and I love them. They are on the pricier end, but totally worth it in my opinion! You can find them here. I love wearing glasses while I bike, and another thing I highly recommend for sun protection while biking is this Supergoop facial sunscreen! It's not heavy and it doesn't have a strong smell, but it's still SPF 40 and is totally amazing.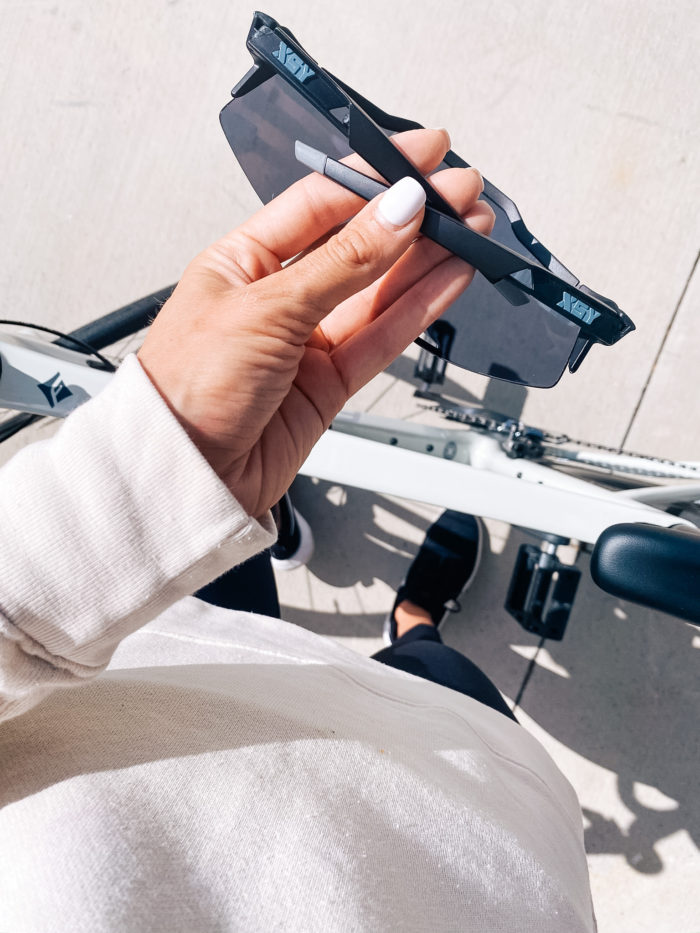 What types of things to look for in a bike when buying one? I would go into the store and ask questions based on what type of biking you want to do/where you want to bike! For me, I knew I would be biking on a paved trail so I based my purchase off of that. They can also help you get the right size bike!
Good places to bike in Davis County? I've never biked in Davis County, but there is an app called AllTrails where you can find hiking/biking trails in your area!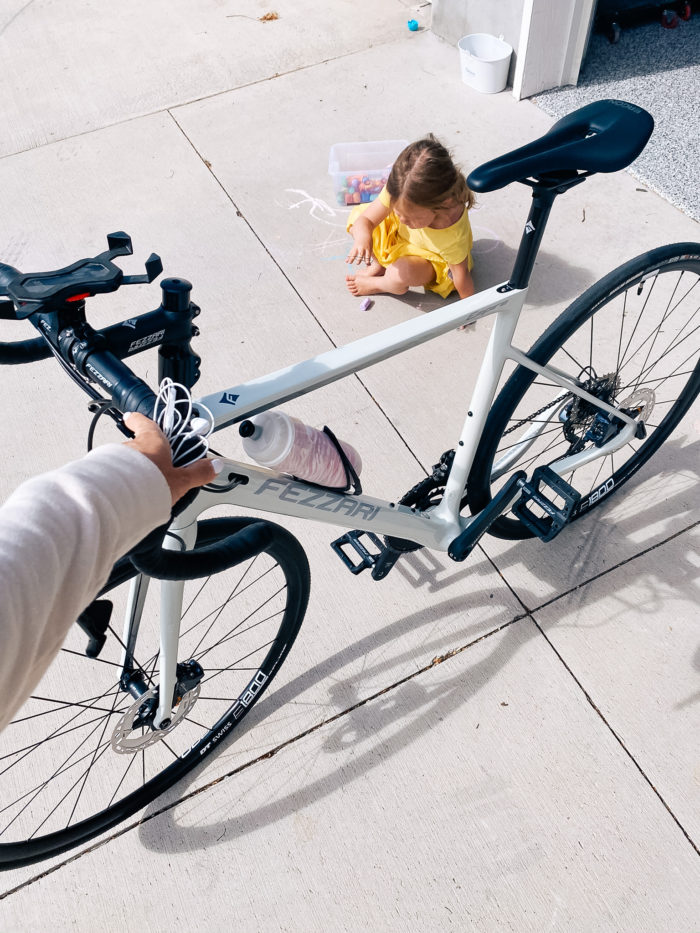 Do you have a trailer for the kids? Yes, I added id to my Kids Favorites page on Amazon! You can find it here. We have the instep blue trailer. We've loved it because it's such a fun activity for the summer time! This one holds up to 2 kids.
Have you ever tried a bike with a baby seat? I haven't! I just have this trailer that you can find on my Amazon favorites page. I typically bike for my own personal exercise verses leisure rides with my kids. I have a separate bike to pull the trailer behind without much effort!
Are you going to do any races? I absolutely love biking for fun, so I'm not planning on doing it competitively at this point. But we'll see what happens in the future!
Are you doing the Goldilocks race in September? I did it last year and it was a lot of fun! I loved it. I haven't decided yet if I will do it this year!
How far do you go and how many times a week? I bike for about1 hour a day, 4-5 days a week. It's always a great way to start my morning!
Do your hands ever tingle and go numb?? Mine do every time I go for a longer ride! Mine have never done that before, but I would suggest taking your bike in to make sure that your bike is aligned with the proper dimensions of your body!
Is biking a solid way to get your cardio in? Absolutely! Biking gets my heart rate up, and I burn 350-500 calories every time I go for a 1 hour ride.

SHOP ALL MY Favorite Lululemon Dupes HERE