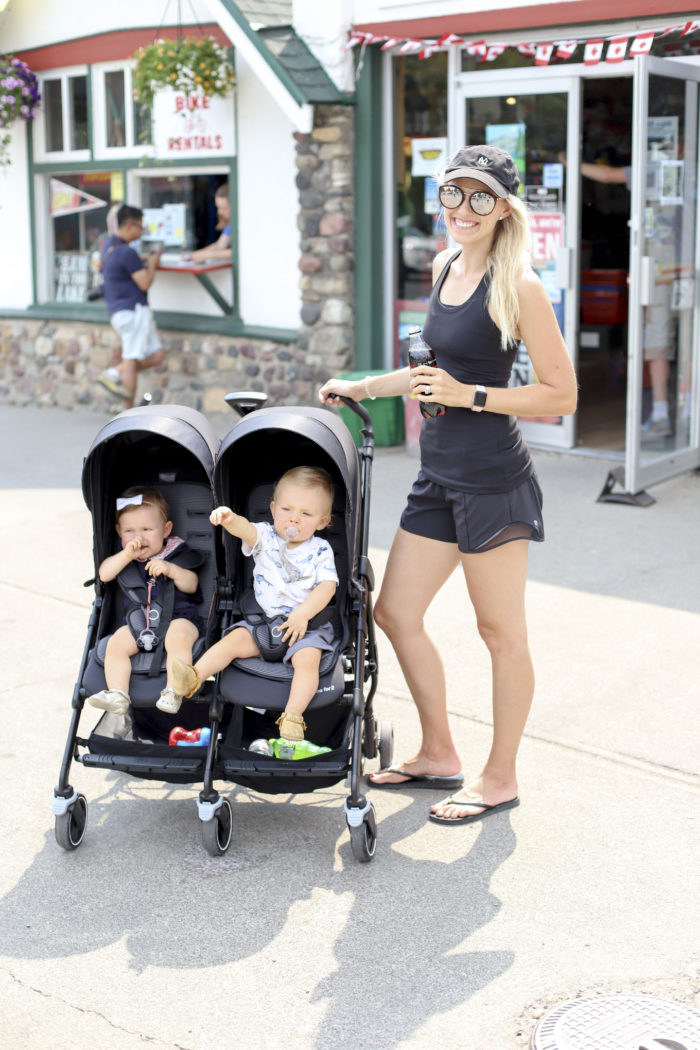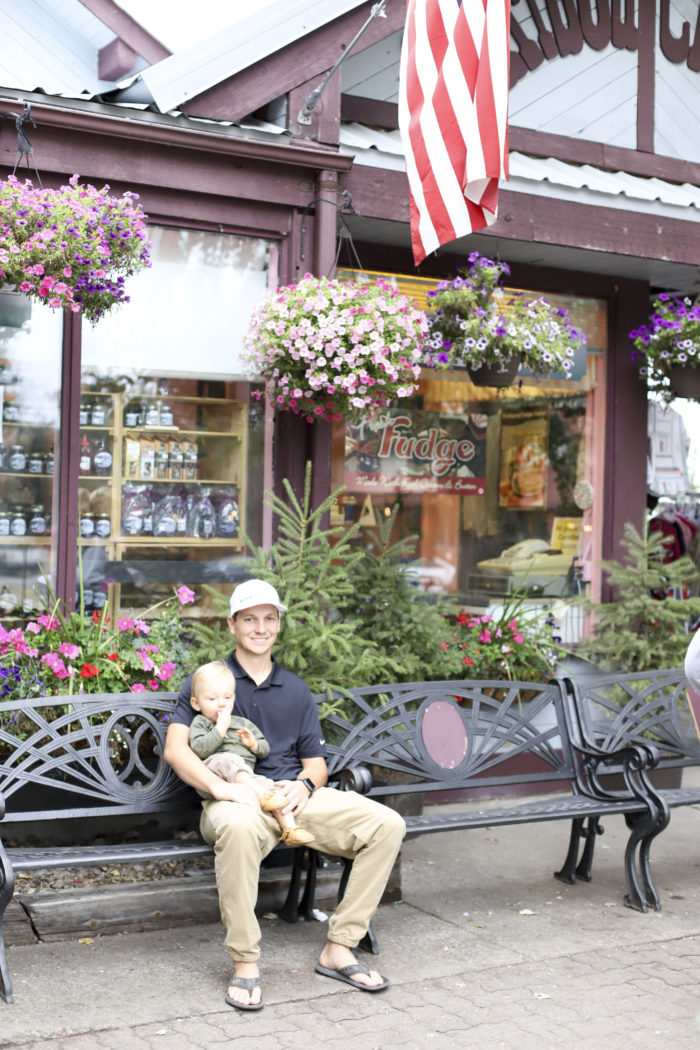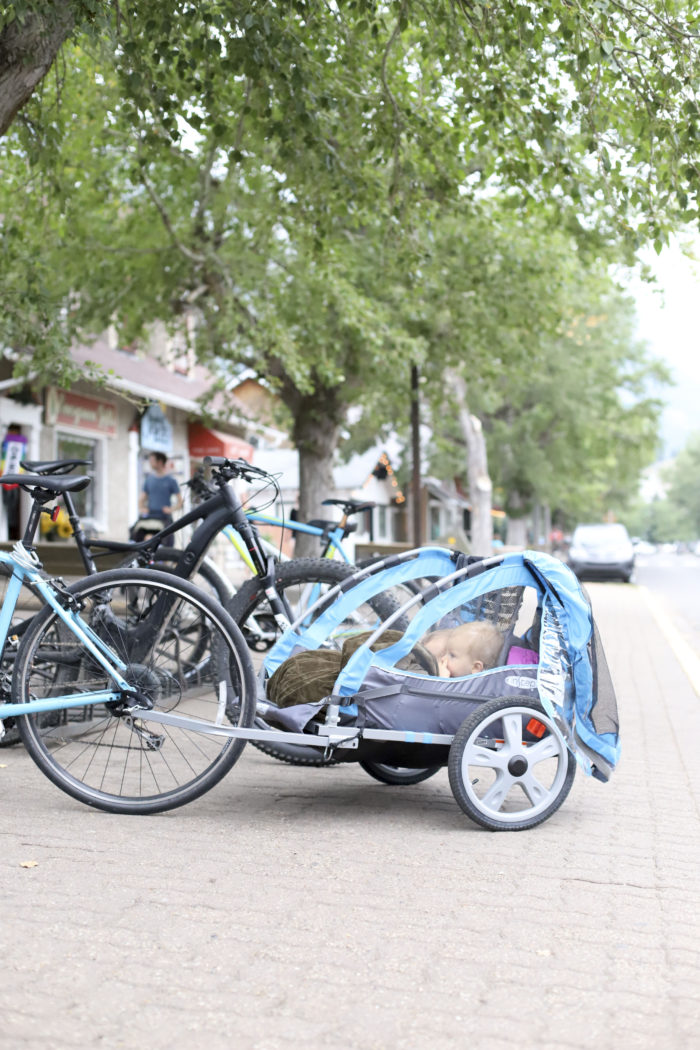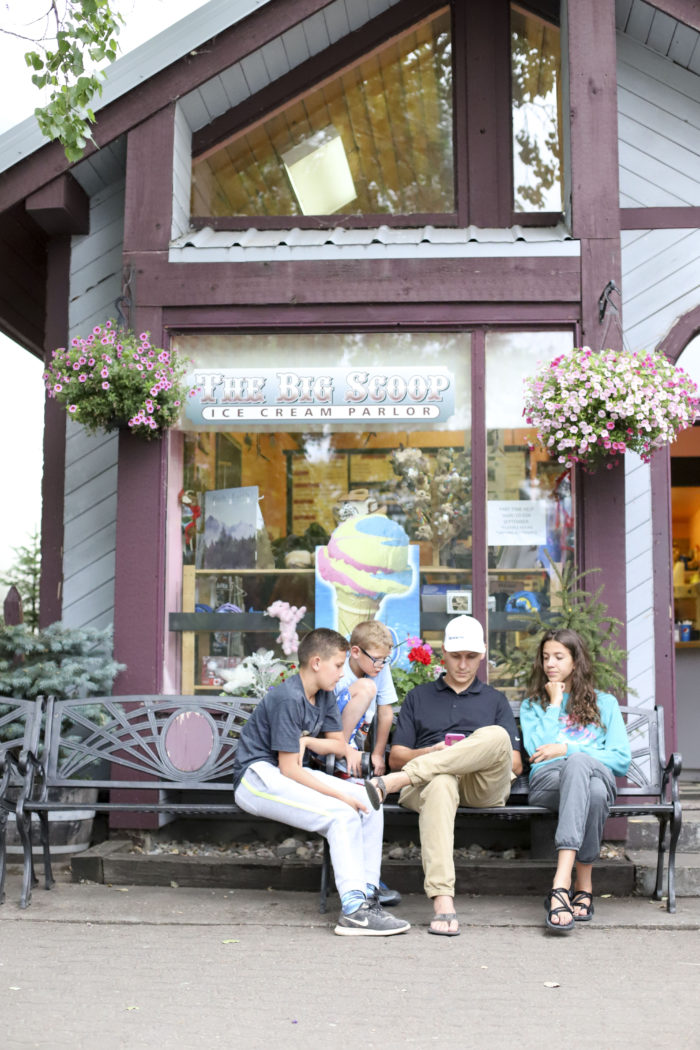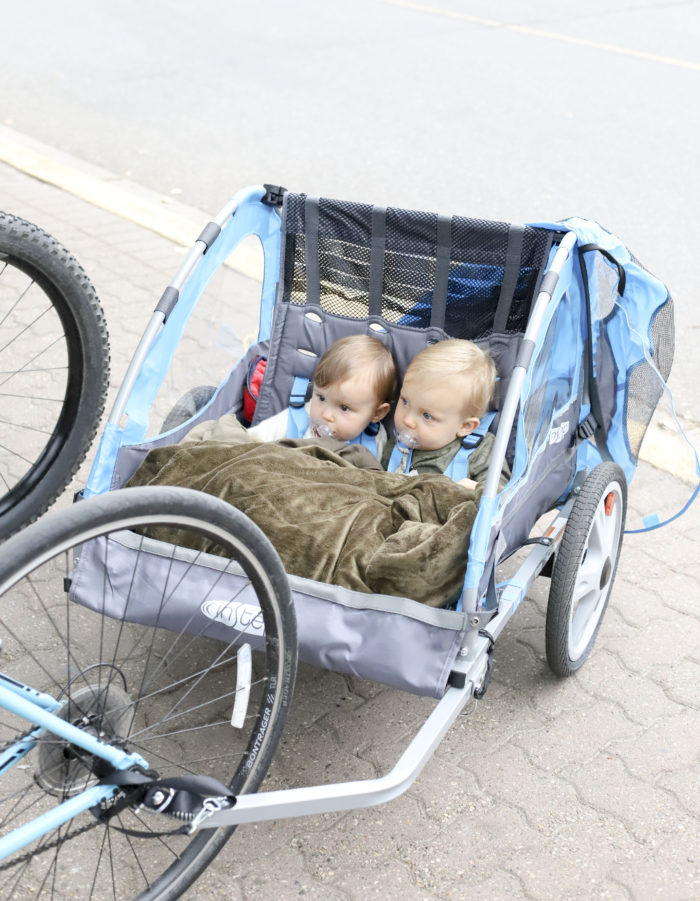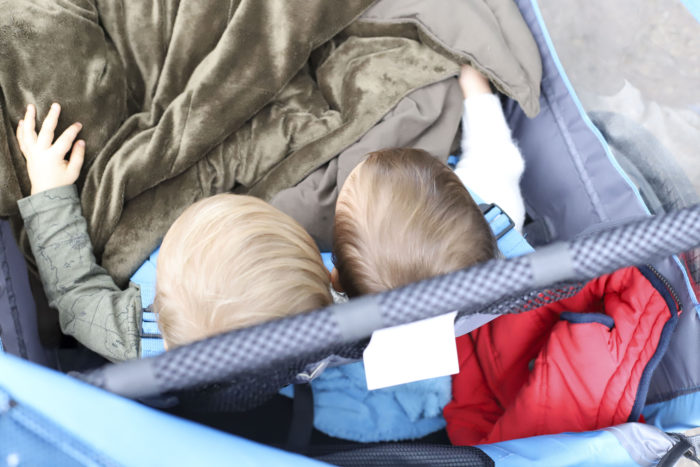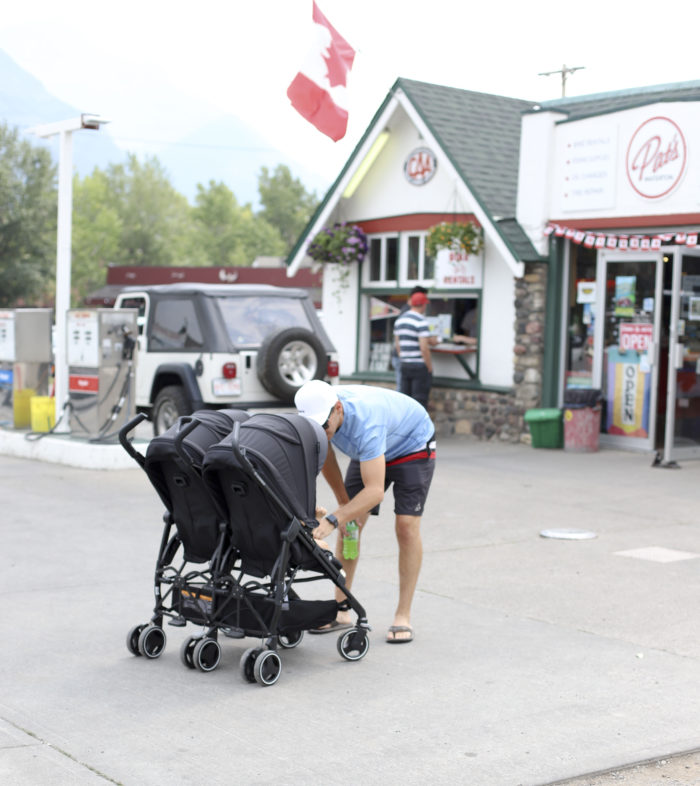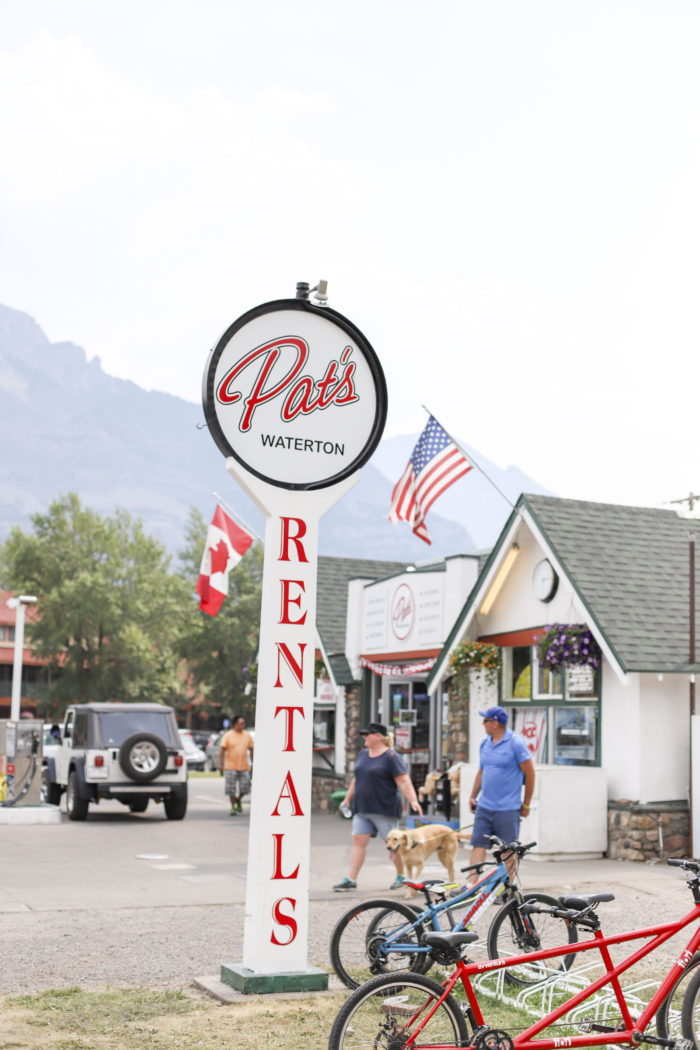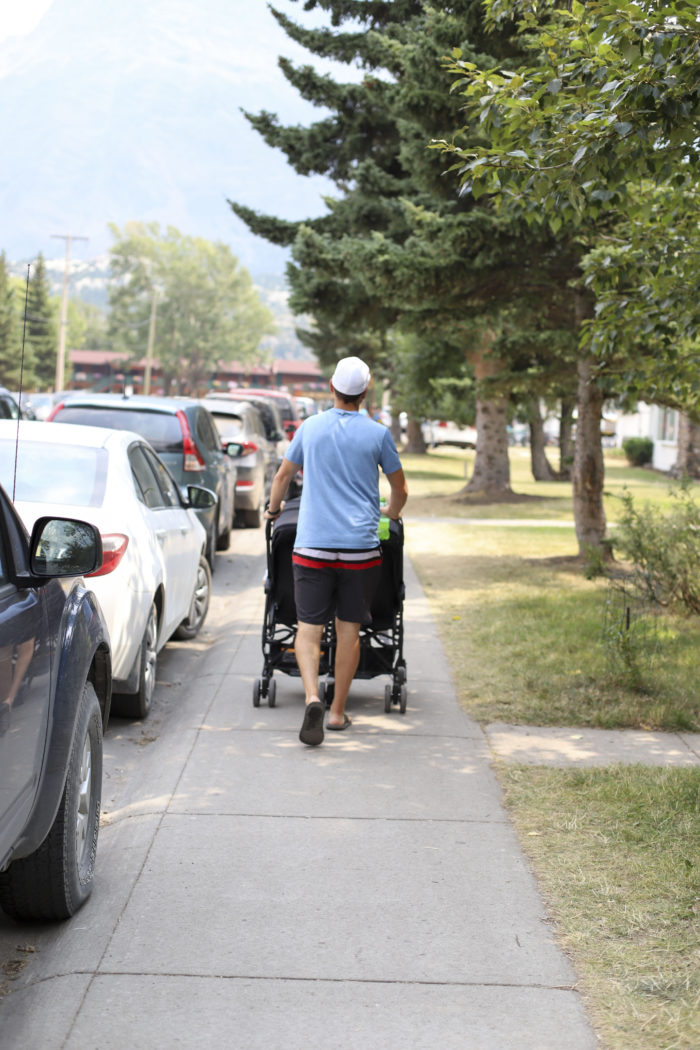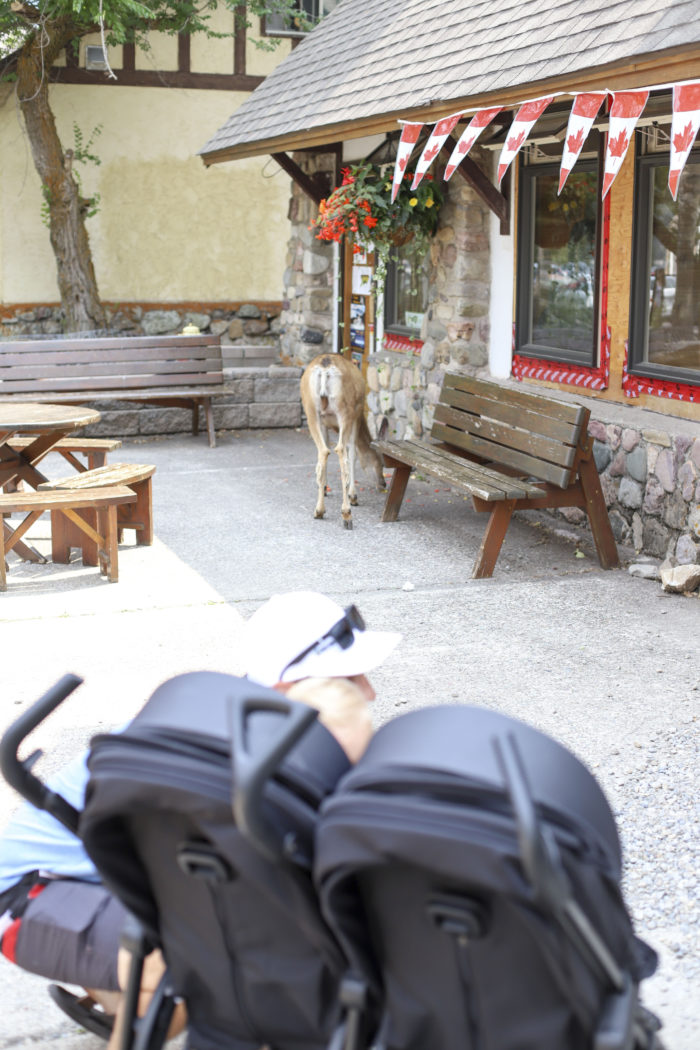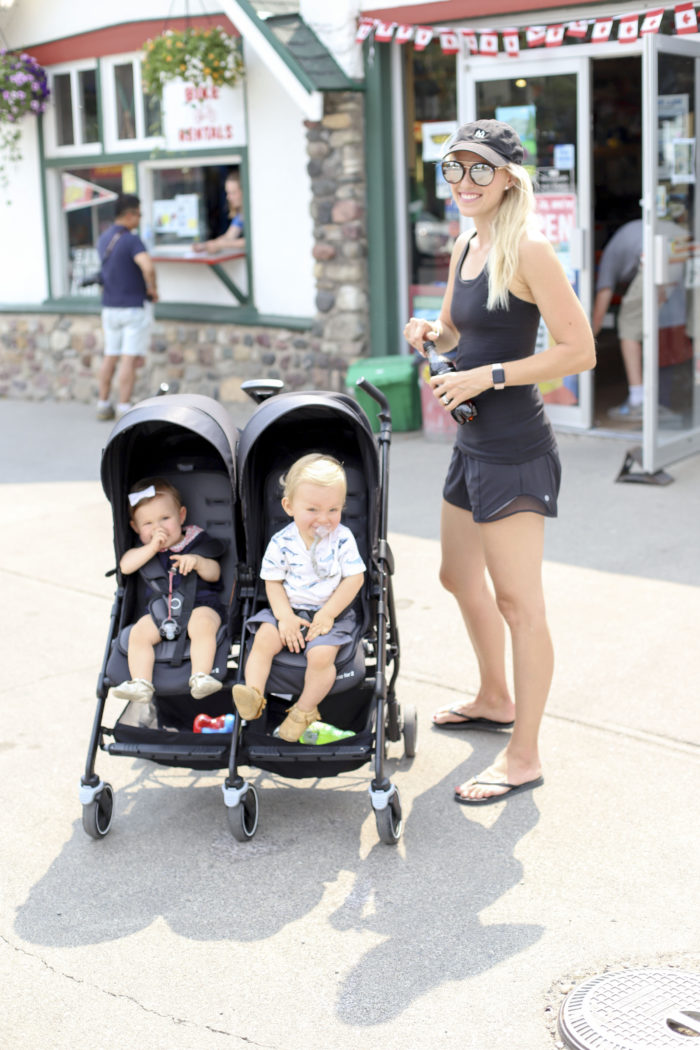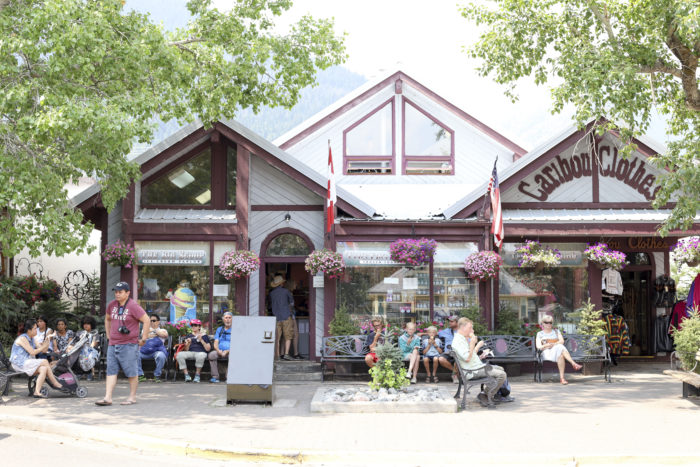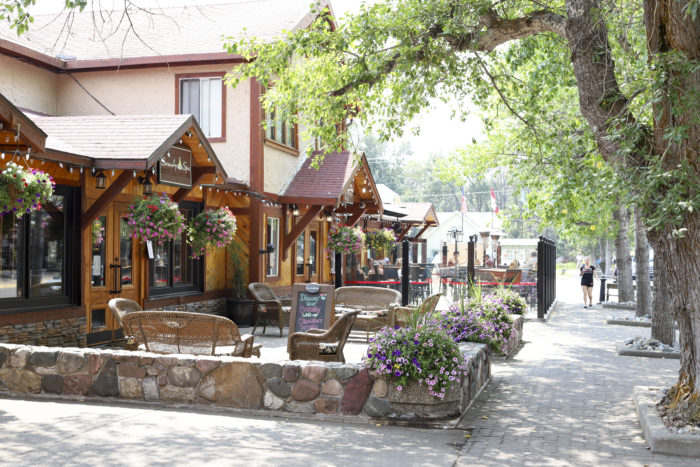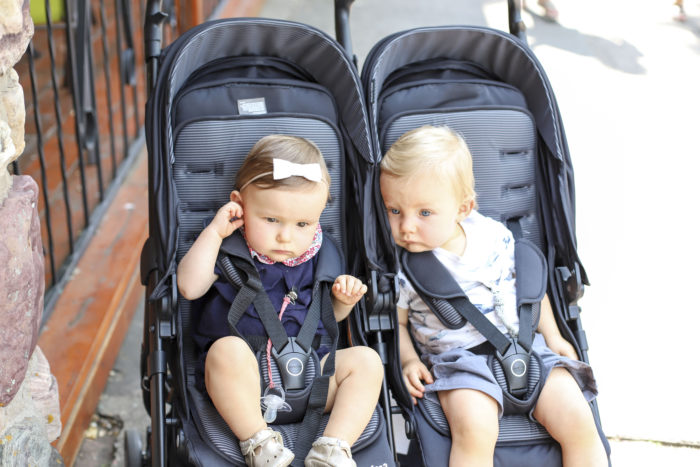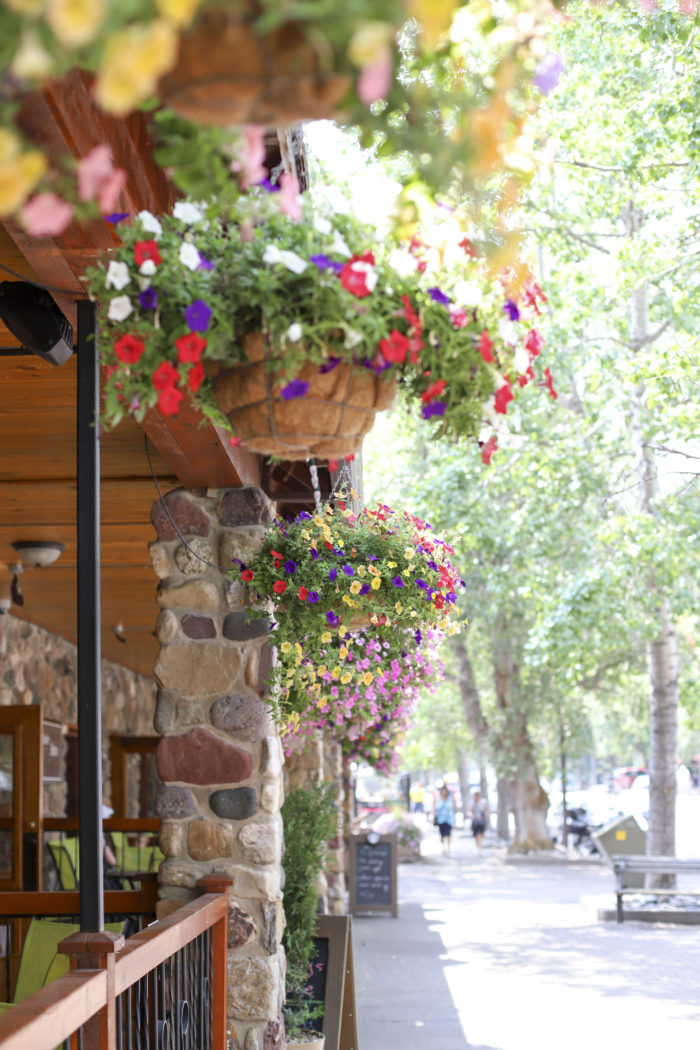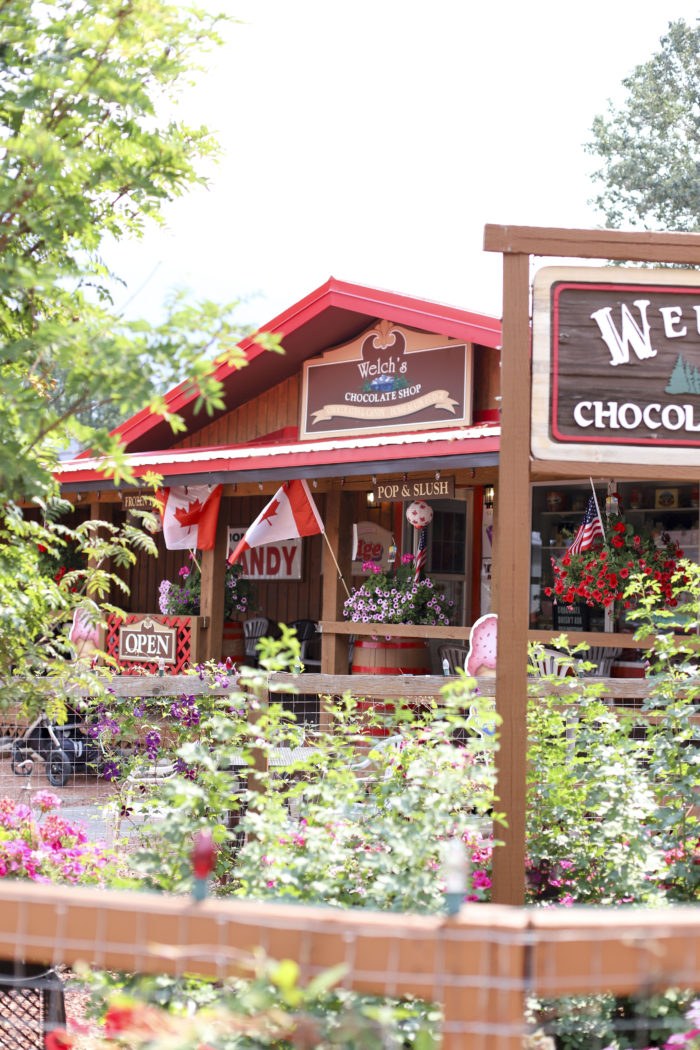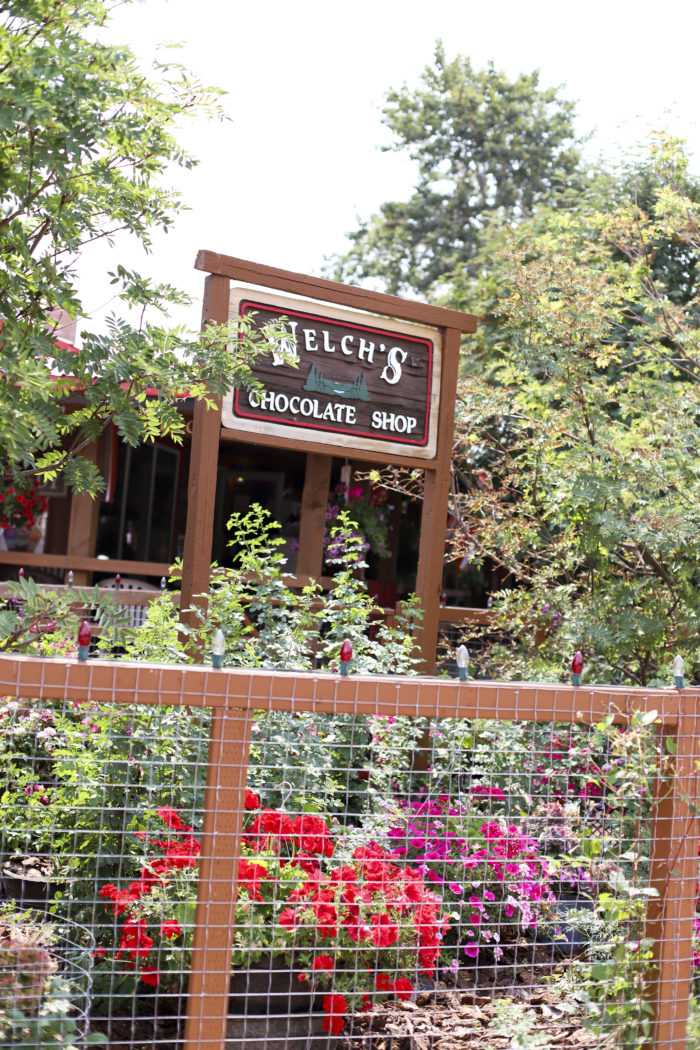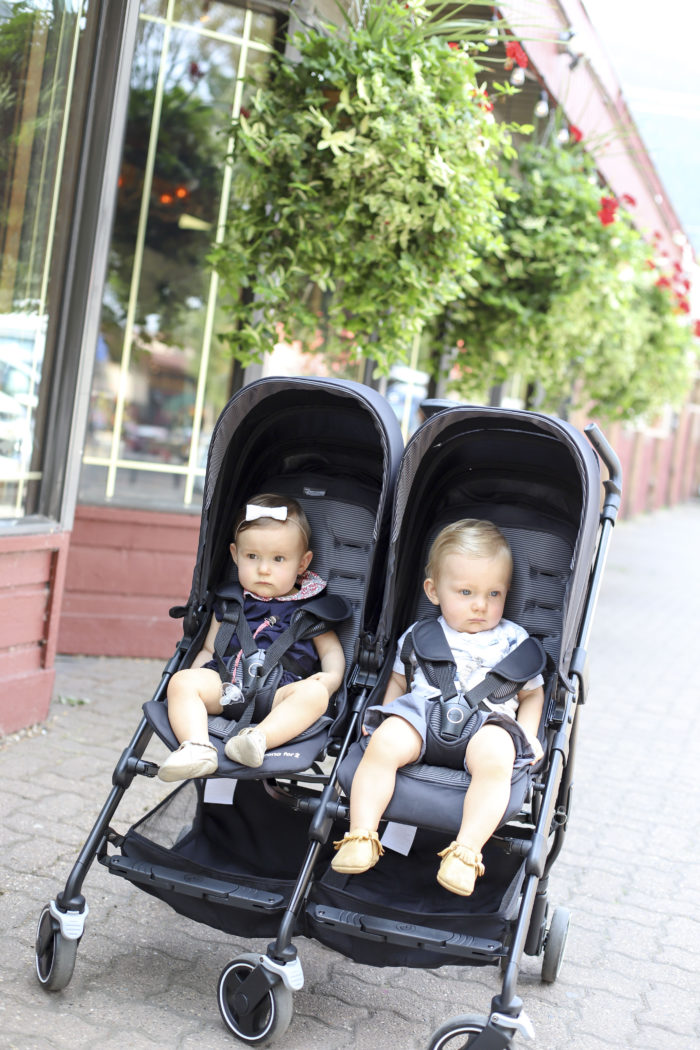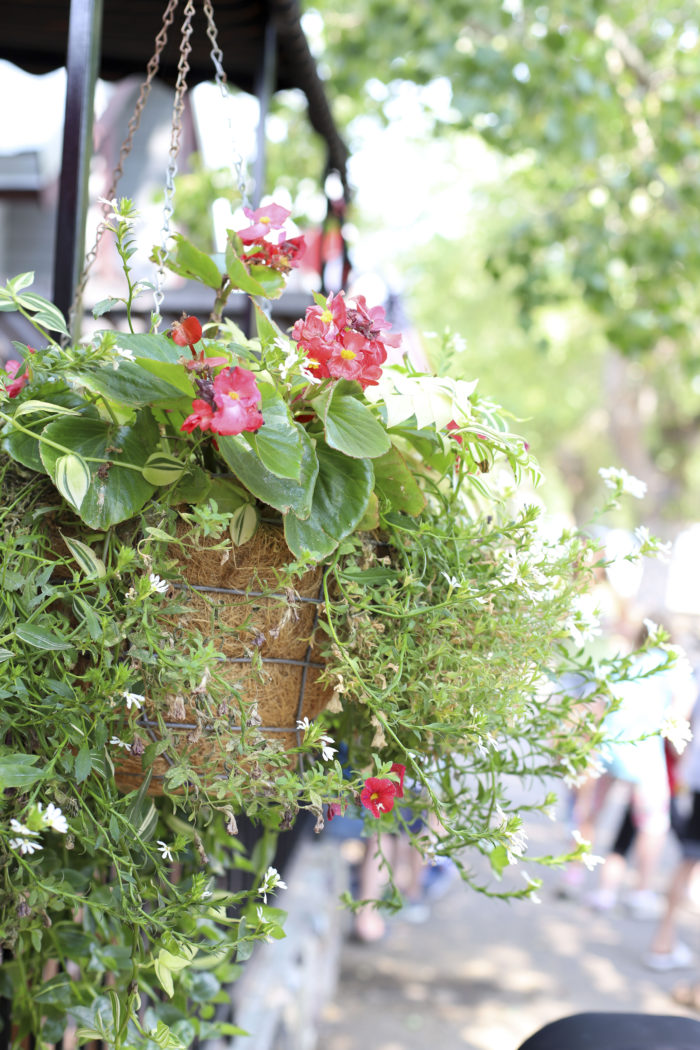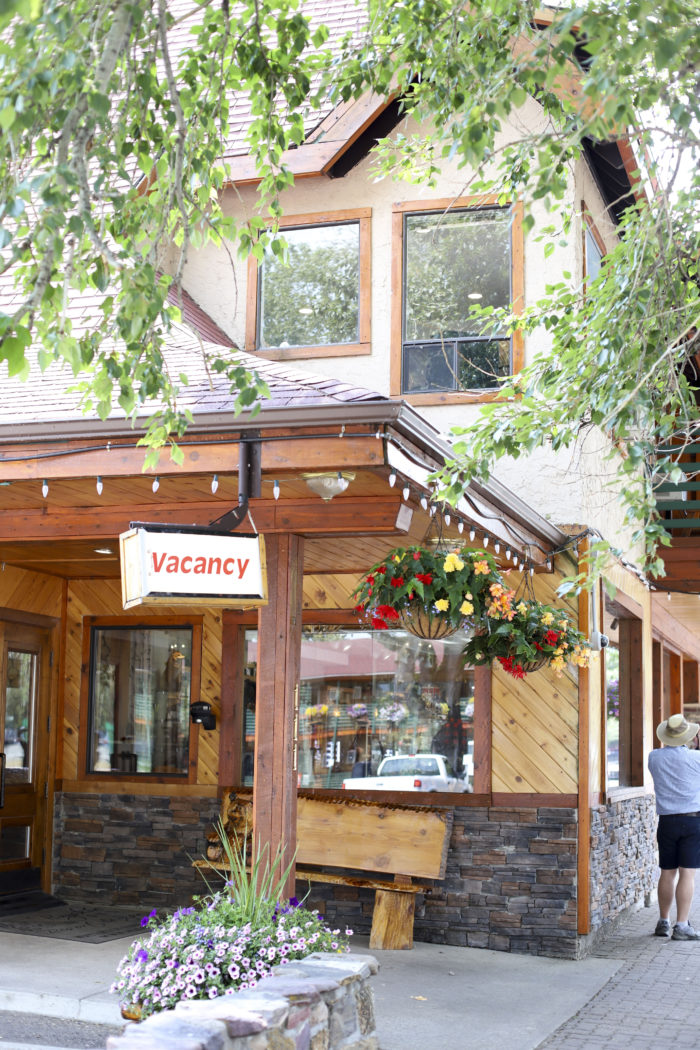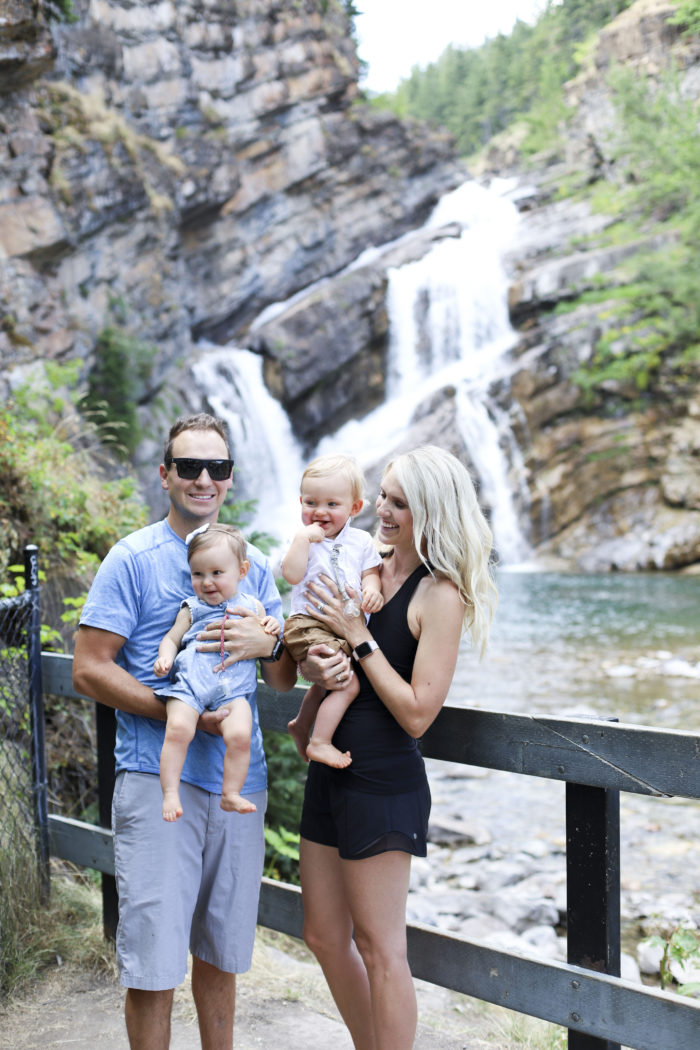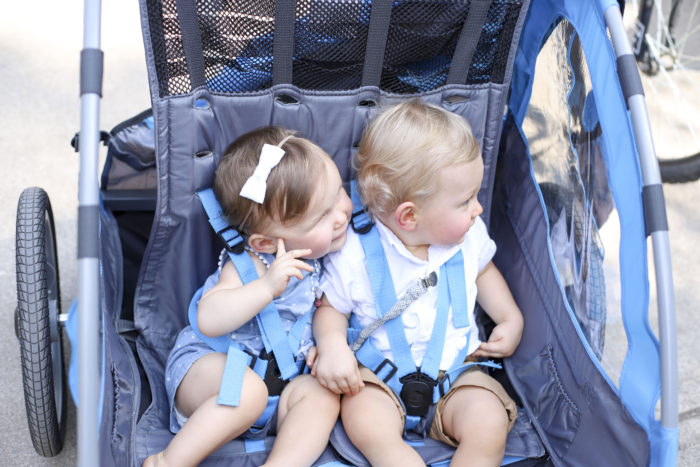 Shorts | Tank | Shoes | Sunglasses (only $12!) | Hat – similar and I LOVE this one | Baby bike trailer

Tyler went on a fun mountain bike ride on one of the days on our family vacation in Canada, so after the twins woke up from their naps, we walked around Waterton. It's the most charming little city. If you've been to Park City, it's a bit reminiscent of that. Small, quaint little shops selling teas, mugs, tee-shirts and souvenirs. There are a few ice cream shops, the main one called "The Big Scoop." All of the shops have hanging floral baskets hanging along their storefronts. The weather was nice at about 75 degrees. Harris and Goldie smiled and waved at everyone they saw. People traveling from all over the world stopped to say hello. I think that's one of the things that I love about having twins; we get to have easy conversations with so many people. The babies love dogs, so we stopped to see the dogs and talk to their owners.
On a couple of the other days, we went on little walks around town with Tyler. I loved the slow pace. It's so easy to get caught up in fast-paced schedules every day, always checking things off of the to-do list. Taking a break and living slow for a week is always good for my soul. That's what a family vacation should be; it gives me a chance to reset and rest. We got caught in the rain on of our walks, and the babies thought it was funny that the rain drops were falling on their legs. It's a great way to look at it; it just made me think that it's easy to get upset when you're not expecting something. Rain wasn't on the forecast, but it didn't bother them. They thought it was funny. I learn so much from those two precious souls.
I recently discovered some new workout clothes that I love, so since we went hiking so much in Canada, I figured I would share my favorites with you that I wore. I love these shorts a lot. They're long enough; mama doesn't need booty shorts, thanks but no thanks. K, bye. I also love these pants from Lululemon because you can hold your phone in the side pockets, for one. Just slip it right in and it's snug. This was nice on my hikes in Canada, and I love putting my phone or keys in there when I am heading to the gym. I have this weird pet peeve where I seriously hate carrying too many things at one time. It stresses me out. Keys, phone, water bottle, earphones…if I can slip them into my pants it prevents a mental breakdown, which is basically all I'm trying to accomplish in life. I have worn these or these workout pants for years and I love them. They don't compare to Lululemon (once you try Lulu, you save up your money and you buy Lulu because they're the best of the best…they are ridiculously expensive but last for years), but they are really high quality and literally a fraction of the price.
ALL MY FAVORITES IN ONE SPOT:

Click here and here to see other pictures from our trip to Canada. I hope you have a wonderful day! I love connecting with you and I really appreciate the incredible people that reach out to me daily. You are a light to me!