To my beautiful child,
I mean, here's the thing. The fact that we are here about to do a frozen embryo transfer is a miracle because after my sister left our house for Christmas with her husband and her 5-month-old twin baby girls, your dad and I were like, "WHOA. Remember how hard that was? We're gonna tap out, please." (p.s. I'll never get over the fact that they have the same birthday as your twin siblings Harris and Goldie and that she even has twins at all without fertility treatments. It's hilarious!) It brought us back! Not only the entire infertility process and being pregnant when you (me) are seriously worried that your ankles are going to have stretch marks on your ANKLES (see exhibit A), plus raising the actual humans…I mean, it's a lot. I have had doubts for the past 3 years about having another baby for so many reasons and they mostly just come down to the fact that it's all HARD. Like literally every part of it was hard for me last time. Getting pregnant (I'm looking at you 3 IUI's and 3 rounds of IVF), twin pregnancy, preeclampsia, delivering at 32 weeks, NICU time with baby twins, and recovering from Epstein Barr virus after all of the trauma. I mean…who would do that again?! Not this girl. Except I am. I'm doing a frozen embryo transfer to try to conceive you. I mean, it's not the exact same thing over again because we are hoping to not have twins again although I'm glad we have one set. So that's what's helping me move forward. I'm hoping that you're one baby, I'm hoping that I don't get preeclampsia. I'm hoping that you go full term. I mean, the rest is in God's hands, but for now I get to picture whatever I want, and that's the future I'm predicting. And it's giving me peace.
Not only is the fact that we are doing IVF again (specifically the frozen embryo transfer since we have frozen embryos already) is honestly surprising us, it's also surprising literally every human we are close with because I basically told everyone a week prior that I just didn't think it was in the cards for us. Surprise! Welcome to being my friend. I'm gonna give you whiplash. At least I'm not boring! If you're looking for consistency in this decision though, I'm not your girl for that. I'm sure you could find a friend like that somewhere, though! There's hope for you.
Fast forward and I feel peaceful! Oddly peaceful. It's like after FINALLY making the decision to move forward with a frozen embryo transfer after several years, God is granting me that peace and I feel oddly peaceful about right here and now. I think a lot of it has to do with all that I have learned in becoming certified as a life coach because I have the tools now to understand my brain and how to feel how I want to feel. I've also accepted (at least for today), that God's will is better than my will and I kind of need to relax a bit. I'm still doing everything I can, but the next step when it comes to actually conceiving isn't up to me. I do what I can, and then I embrace my life as it should be. I embrace the experiences that refine me. God has been so good to me that I think it's only fair to both of that I trust Him. Give Him the credit in this beautiful plan He has for me with His whole big picture when I have such a small, narrow vision. It's kinda nice to not have to control it all. I'm kind of liking that.
To summarize, last July when I was going to move forward then found the cysts on my ovaries, I pressed pause. For me, I love summer. I love holidays. I especially love the fun that I get to have with Harris and Goldie who are now 5 and I was like, "I don't want to feel like crap during the holidays" then proceeded to have the best summer and the best time during the holidays with the kids and then January came and January sucks anyway so why not add in a few infertility shots to grow the fam?! That was basically my thought process and if I do say so myself, I'm a genius. But then January came and it was a rough start (WHY IS IT 30 DEGREES?! How is this okay?!) and then the inversion came (crappy air quality because the smog gets trapped in the valley) and I was like, WHAT AM I EVEN DOING IN MY LIFE? It all sucks! But then I started some self care (like getting Vitamin D in Scottsdale on a last minute trip with the fam) and going on walks and laying out on my back porch in the sun even though it's 30-degrees to get some Vit D on my face) and I feel like the decision, was, indeed, a good one. So I started the Estradiol Valerate shots a couple weeks ago as well as a baby aspirin every night. And here we are! With friends and family that have whiplash and all. (Heck, I have whiplash).
What helped me make my decision, you ask? Two things:
I asked my future self if she would regret not trying for one more baby and she said yes so I listened to her. I asked her multiple times and she was a little indecisive and hard to work with but I sat her down one day and said, "You have got to give me an answer" and she finally did. She pulled through which is a relief to both of us.
I talked to my mom and complained about how traumatized I was after remember how awful the last conception/pregnancy/birth was and she said, "But this time it won't be twins!" so I'm really banking on that. If she's wrong, I'll give you her address and we can all gang up on her and egg her house.
I actually feel pretty darn good right now! I'm trying to take care of myself as always (this helps) and just learning every day how to give myself the love and care that I need. I'm proud of me.
Transfer day is schedule for February 18th which feels crazy soon and I'm glad that I don't have to do another egg retrieval. It feels so much less invasive this time because it is! God is good.
I'll update you soon! Your big sister (Goldie, little Gold, G) is beyond thrilled to have you here. Oh, I guess I should say that's one reason I decided to move forward, too. I won't actually be your mom. She will be. You okay with that?
She has been the SWEETEST. She sat next to me during my first shot while we were in Scottsdale and protectively put her little hand on my arm and her other arm around my back as I Googled how to give myself the injections for the frozen embryo transfer (probably should have looked that up earlier but we made it work. Thank you, internet). She told me, "If you ever need to do a shot again I will be right beside you." I mean, COME ON. This was especially appreciated as the boys played basketball in the garbage can behind us…
We also got back to the hotel room the next night and I told Tyler to not turn on the football game because I couldn't handle that awful background noise of the crowd for 4 hours straight (talk about nails on a chalkboard x1,000), and she said, "Have you had too much excitement for the night?" Ha ha ha I love that little human. Yes, Goldie! I had.
So, needless to say, she'll be the best big sis and I'm not planning to parent you at all so that's a win/win. 😉
Love you!!
xx
Mama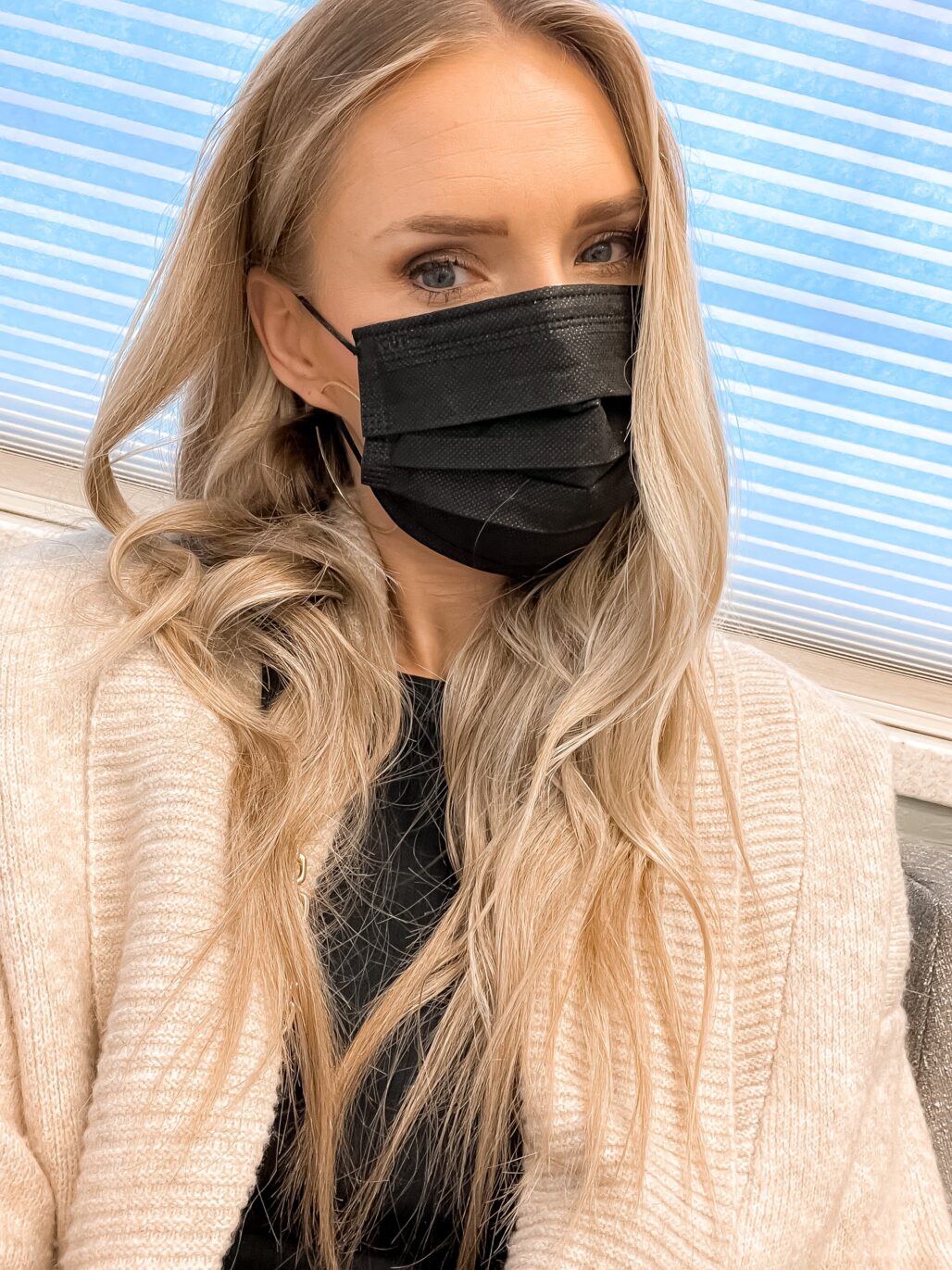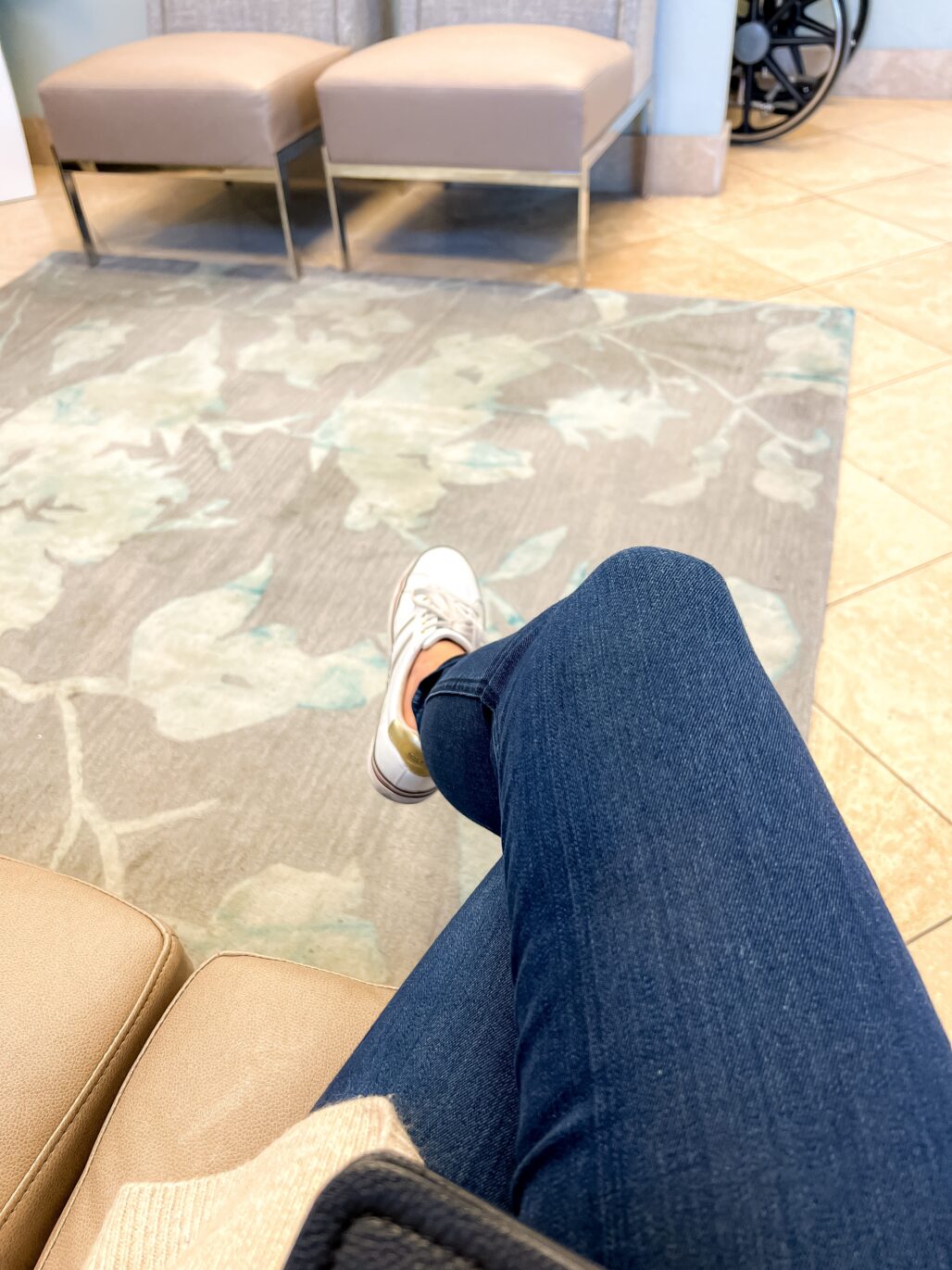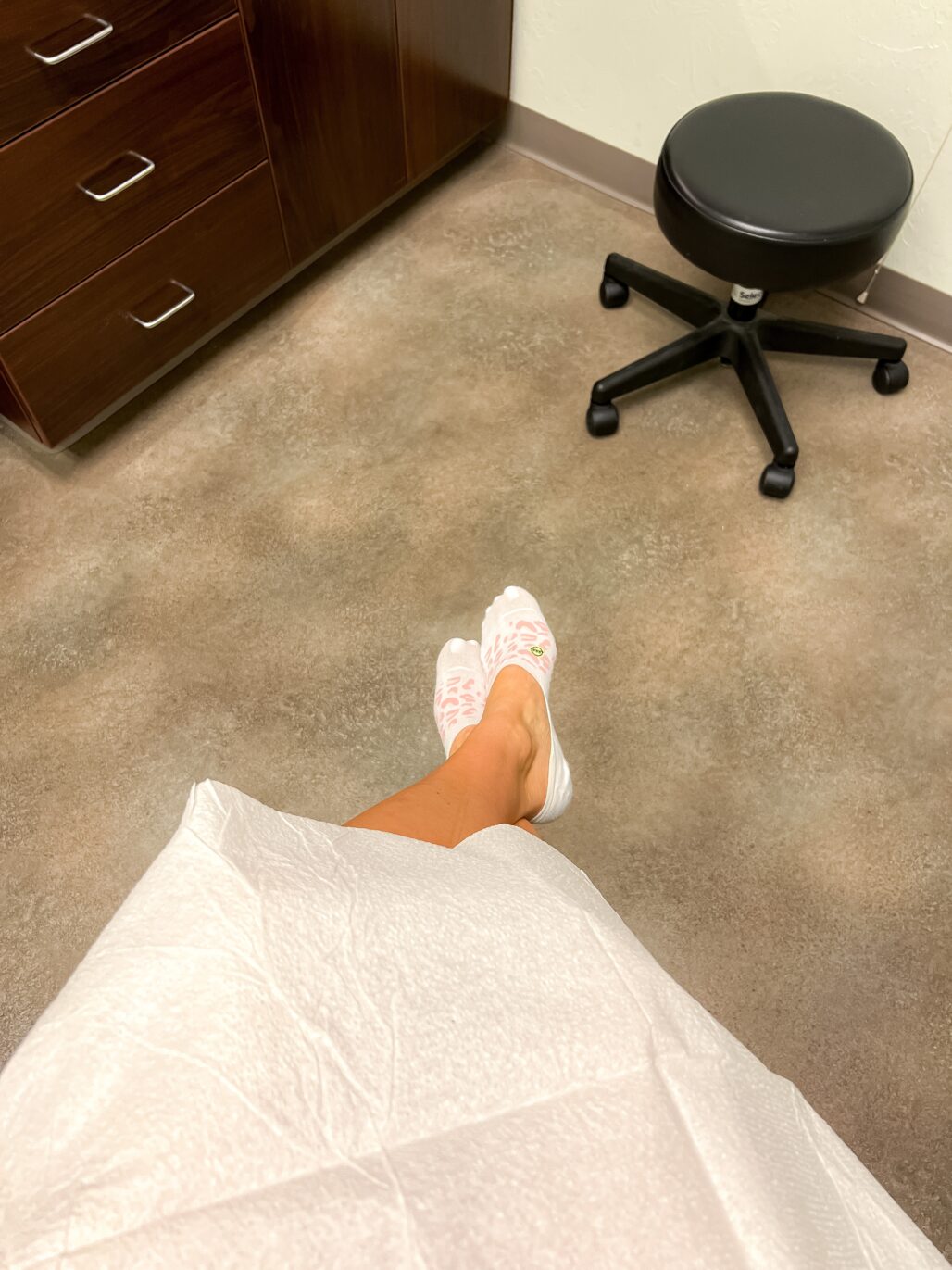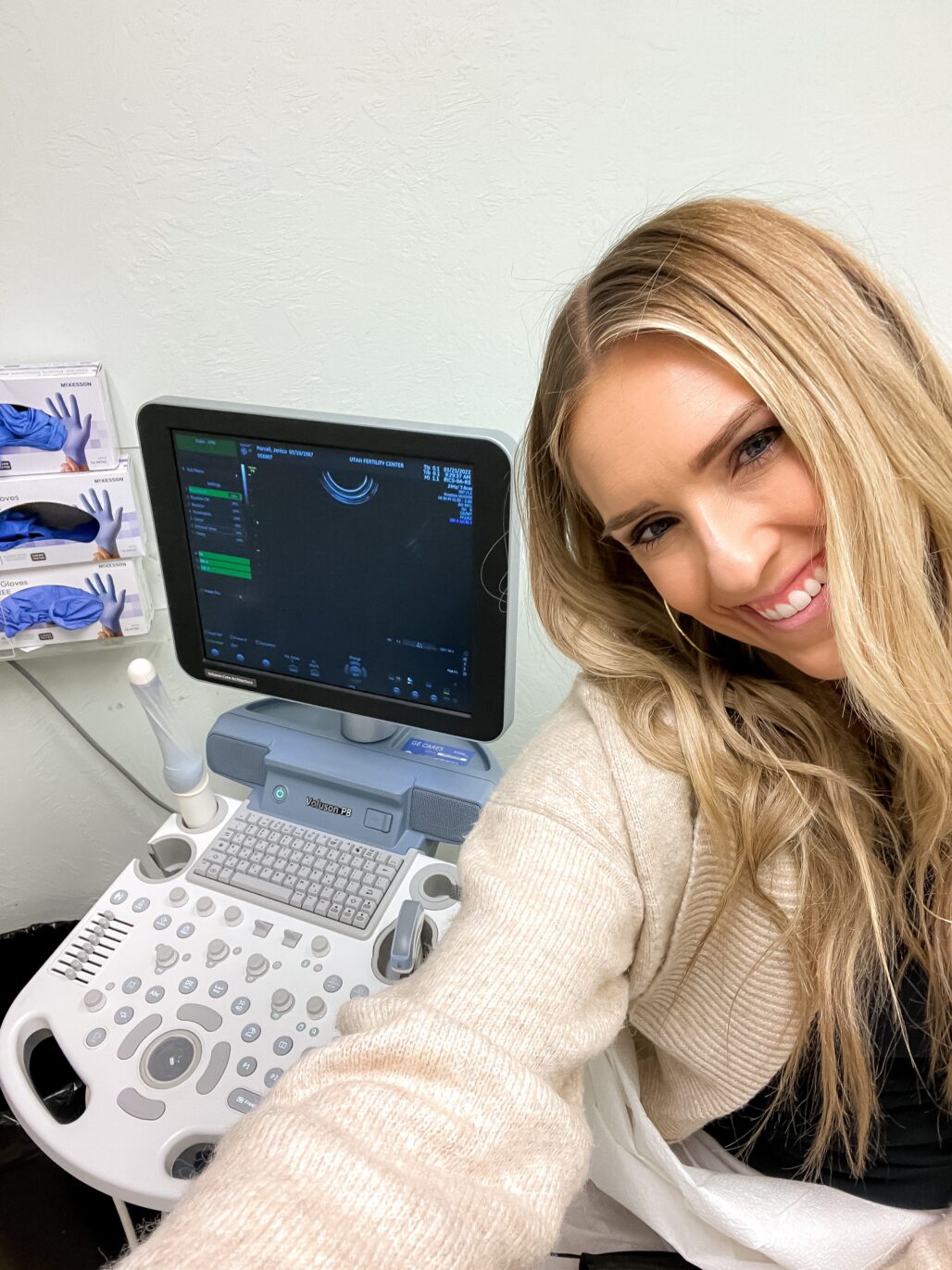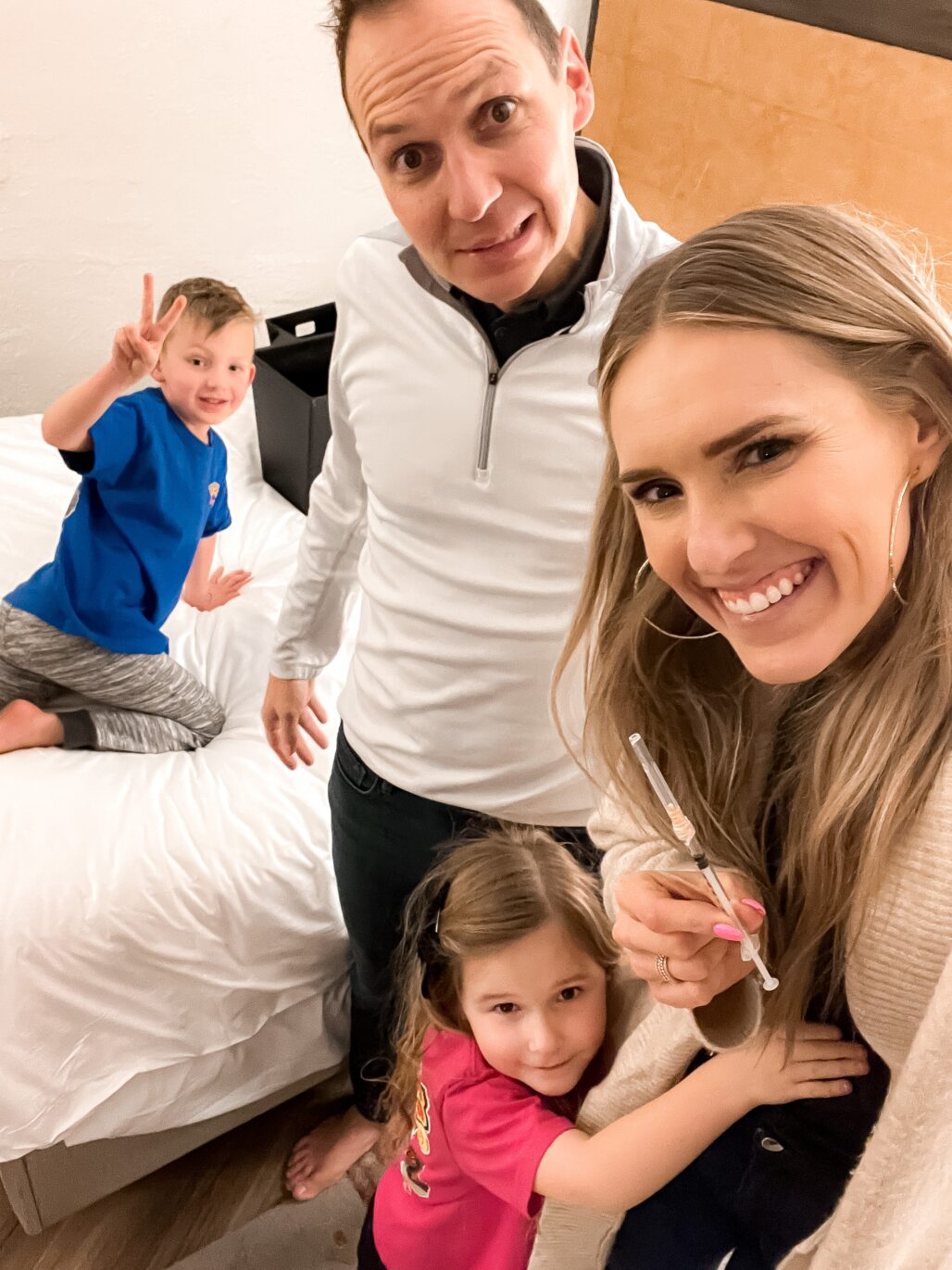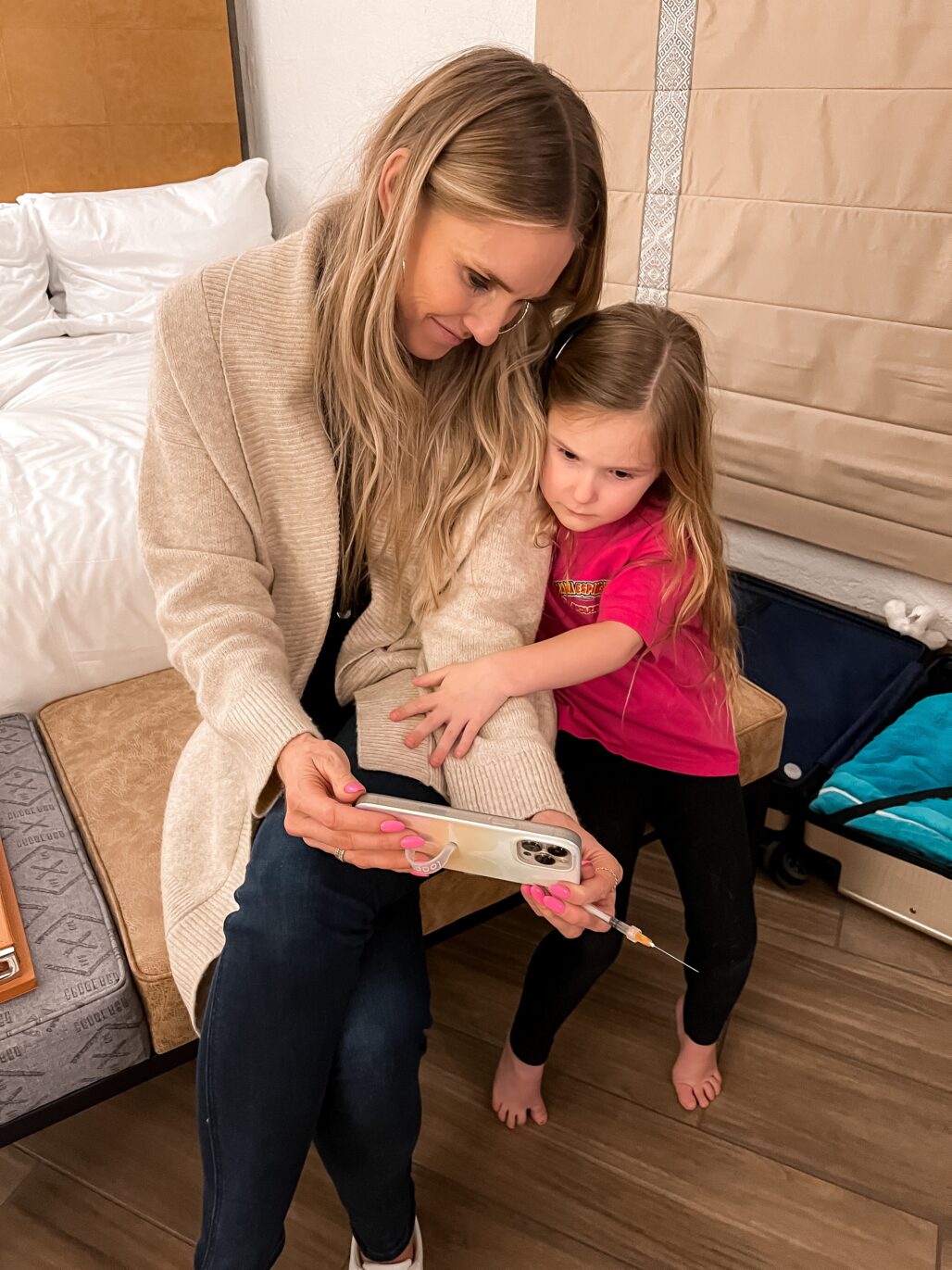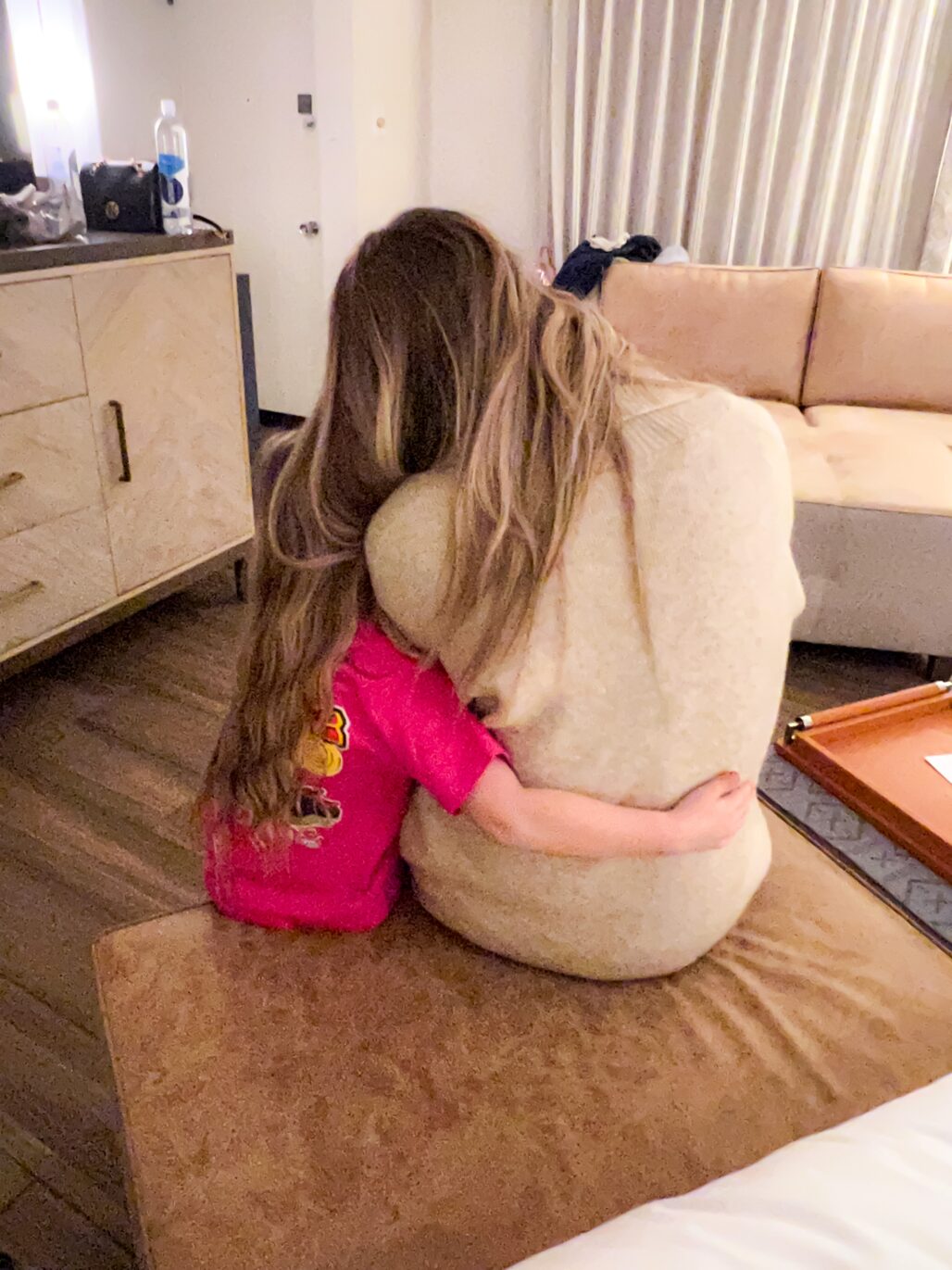 I texted my IVF coordinator to ask her if I did it right! This is on the plane on the way to Scottsdale. She had sent me with a note to show the airport security to allow me to bring a needle onto the plane.