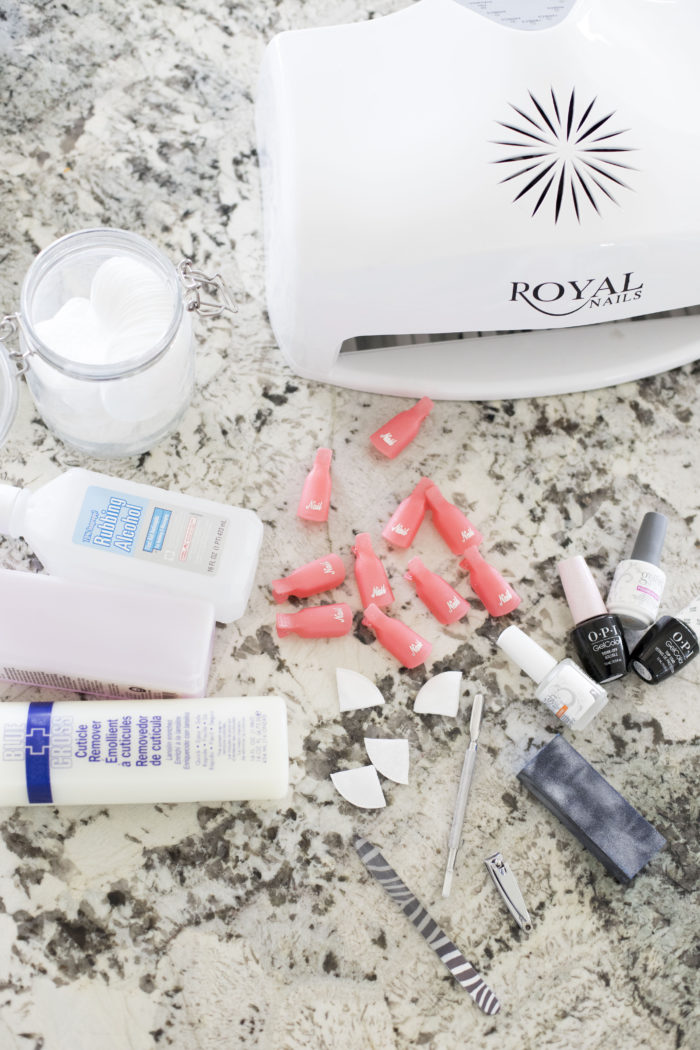 So, there's a little back story to this gel nails at home tutorial. I bought some of these products almost 3 years ago because I thought I was going to start doing gel nails at home. I tried twice…and wanted to punch a hole in the wall each time. I did not know what I was doing, and even when I followed tutorials, they didn't work for me!
The past year and a half I have gone to the salon at least once a month to get my gel nails done. I have paid a lot of attention to what products they were using, but I still didn't have the desire to do my nails at home. There were a couple things that bothered me though – 1) Getting my nails done was so time consuming! I had to drive to and from the nail salon (typically 20 minutes each way) and then I was there for an hour, and 2) I couldn't find anyone that I absolutely loved going to. The last time I went, the man doing my nails was not very nice, to say the least. I accidentally bumped my nail on the nail drier and he looked at me and proceeded to lecture me on why I should hold my hand still, be more careful, and then rolled his eyes at me.
Sooooo….that leads me here today! These two factors motivated me to give doing my gel nails at home another shot. I had learned a few things over the years. It's nice, because now I can sit down and watch a show on TV (who has time for that?! I do now) AND do my nails at home while saving money. It's a win/win. Oh, and no one rolls their eyes at me.
First things first, you will need the supplies to get gel nails at home. Keep in mind that it's an initial investment but it will pay off over several times, and then be significantly less expensive then going to the salon each month. The supplies that you buy will either make or break your success, and like I said, I have been watching what to use and I think that a big reason why I got so incredibly frustrated the first few times I did my own gel nails is because I didn't have the correct supplies for success.
THE SUPPLIES YOU'LL NEED FOR GEL NAILS AT HOME:
Nail lamp. The one that I got a few years ago is no longer for sale, but I did my research and this one is a great option. It has hundreds of great reviews and is about 1/4 the price that I paid for mine.
Acetone to remove the polish. This is the kind that I bought that I love (it hadn't arrived by the time I took these pictures which is why it's not pictured).
Nail polish soak off clips (these make it soooooo much easier to remove the polish)
Nail file – I HIGHLY recommend a glass nail file. This one is a great option!
Steel cuticle remover and cutter – I got this one and love it but this is a great combo for cuticle clippers AND cuticle remover
Nail clippers
Rubbing alcohol
PH bond, base coat and top coat – this is a great package right here. My favorite brands of gel nail polish are Gelish and OPI
Gel nail polish – search here for some favorite colors. I love this color, this color and this color a lot.
DOING YOUR OWN GEL NAILS AT HOME: A COMPLETE GUIDE
STEP 1:
If you have gel polish on already, you need to cut your cotton pads into 4 pieces, and soak each of them with acetone. Buff the top of each nail, then cover your nail with the cotton pad and then apply the nail polish soak off clip to hold it in place. Keep it there for 15 minutes. This is a great time to watch a good show on TV!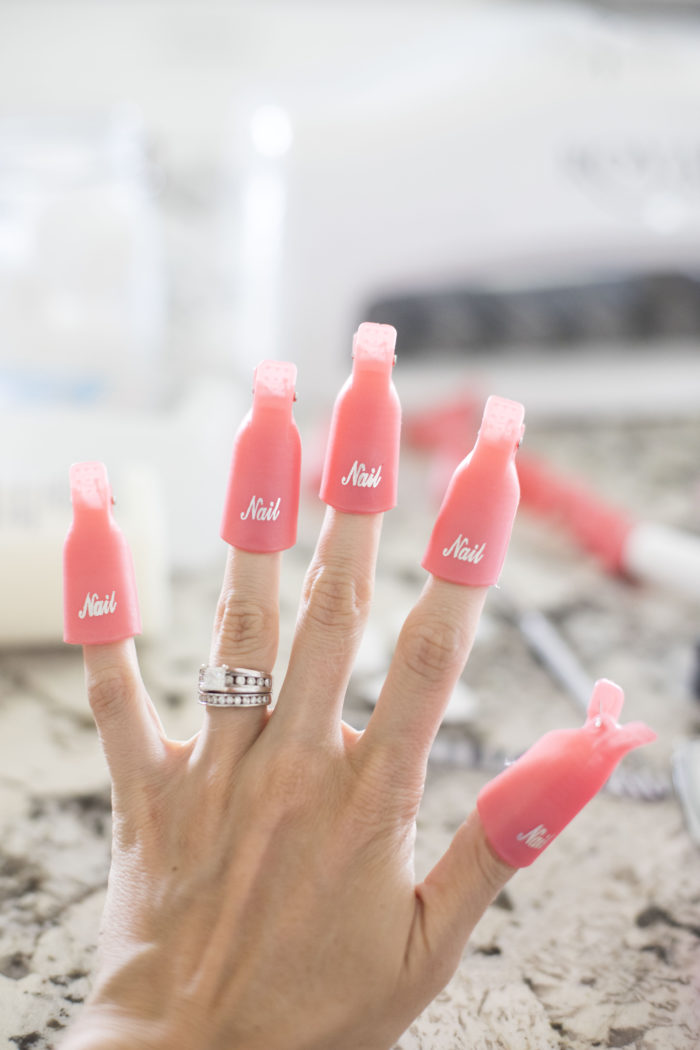 STEP 2:
Remove the clips and begin scraping off the gel polish with the steel cuticle remover and scraper. The polish should be lifting up and it shouldn't be too difficult to remove at this point. If it is, apply another cotton pad with acetone for a bit longer.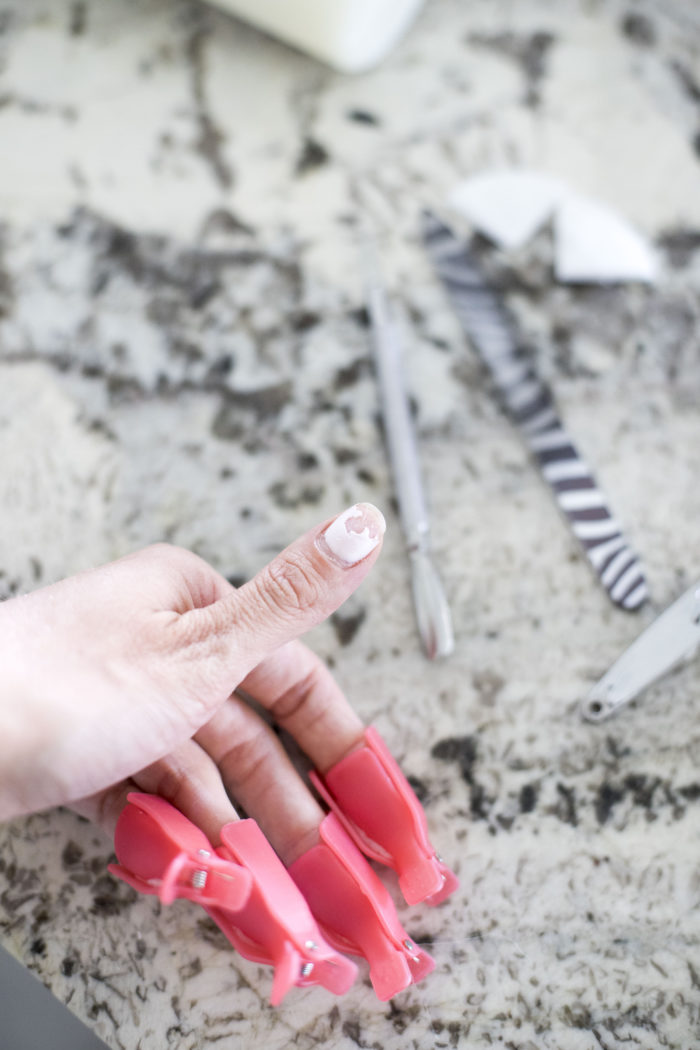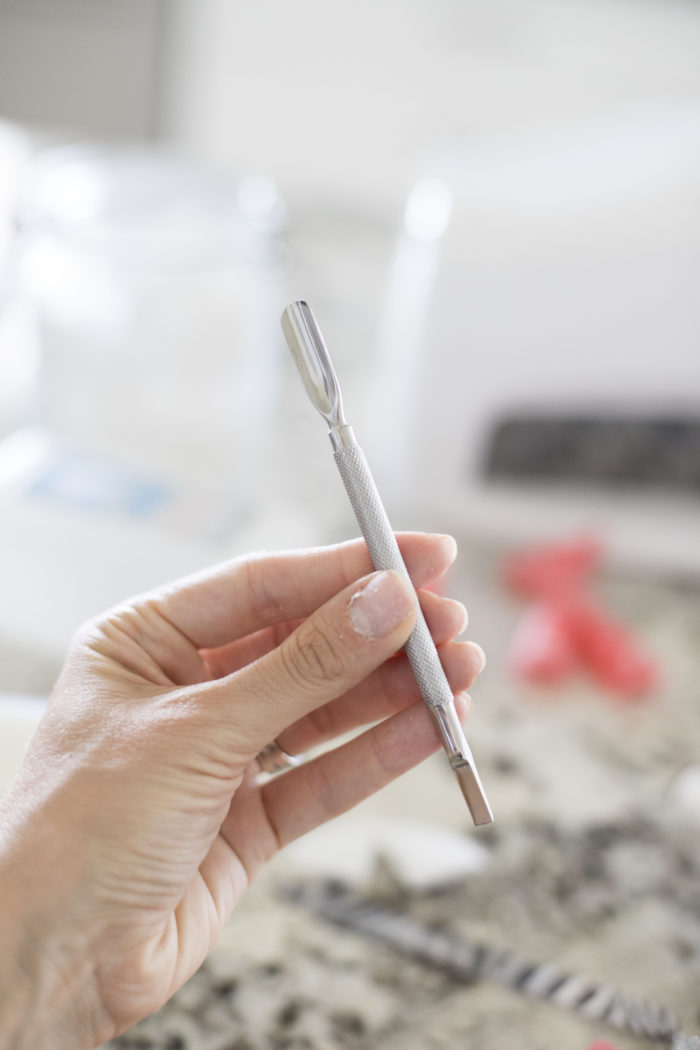 STEP 3:
Apply the cuticle remover liquid onto your cuticles and rub in. Use the the steel cuticle remover and scraper to push down your cuticles and scrape them off your nail. Use the cuticle clipper to cut off the cuticles from your nail.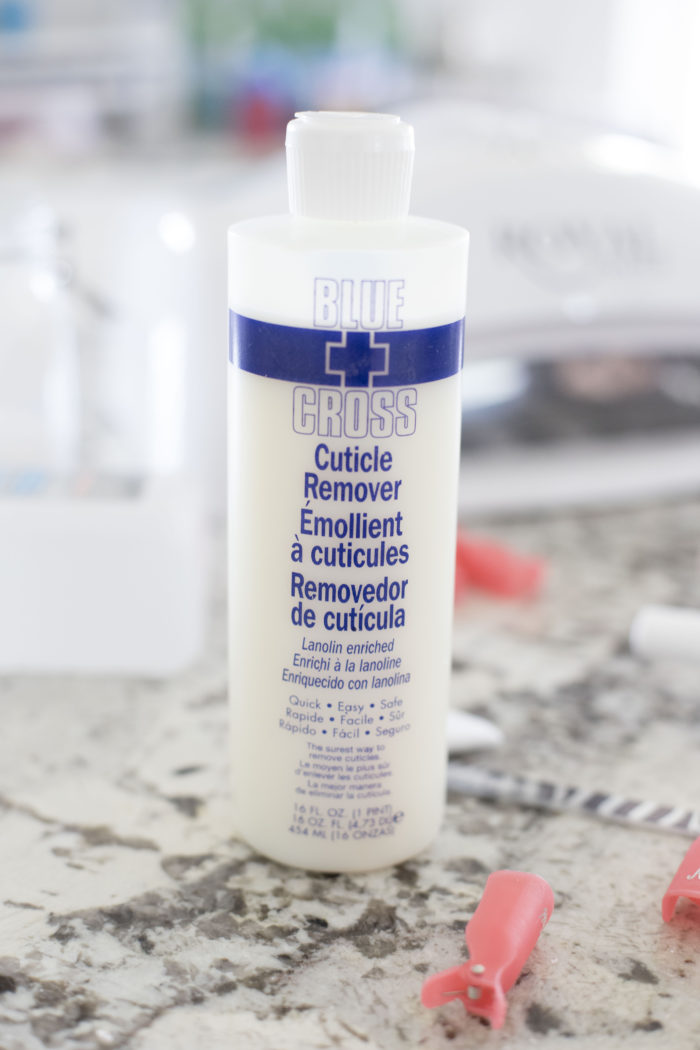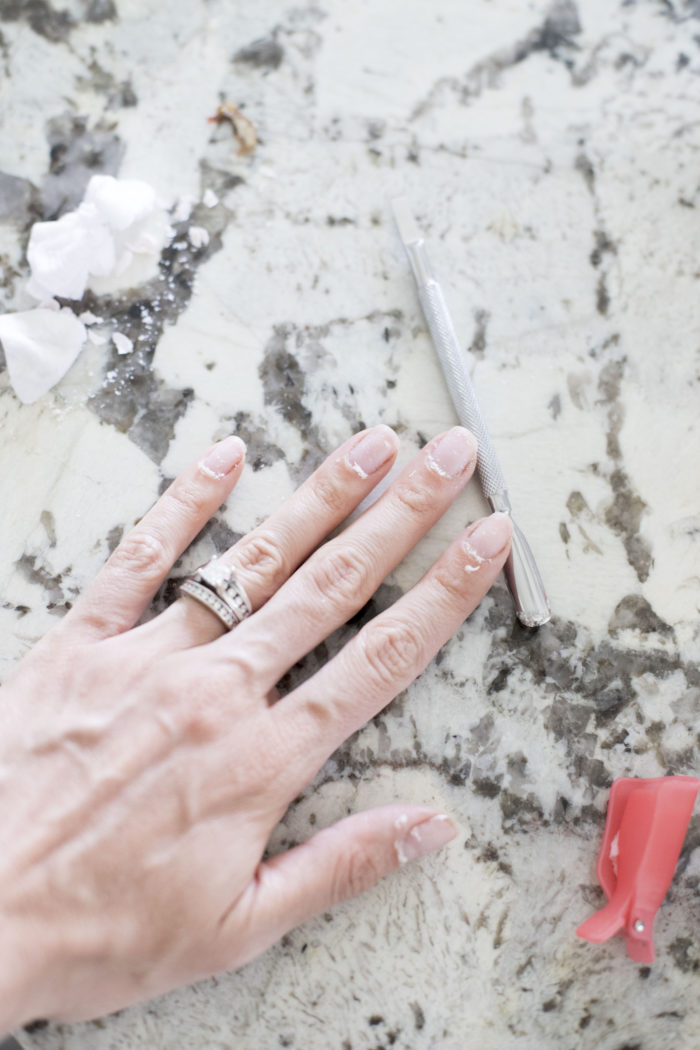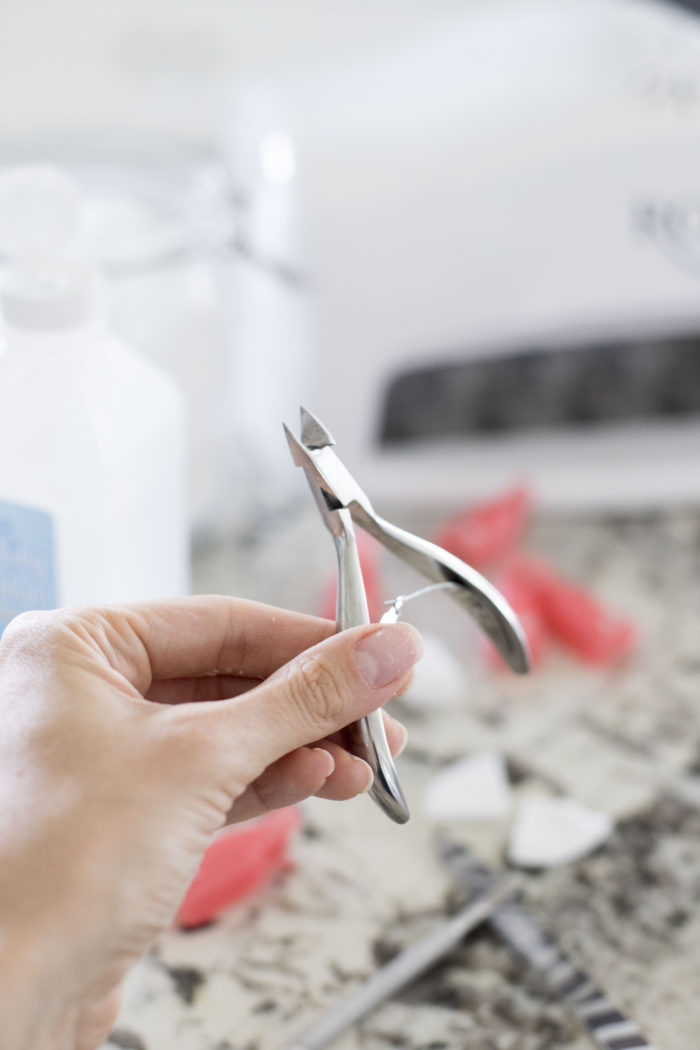 STEP 4:
Clip your nails to the length that you want them, use the nail file to shape them, and buff the tops of your nails to take off a bit of the top layer of your nail. This will help the gel polish to adhere to your nails better.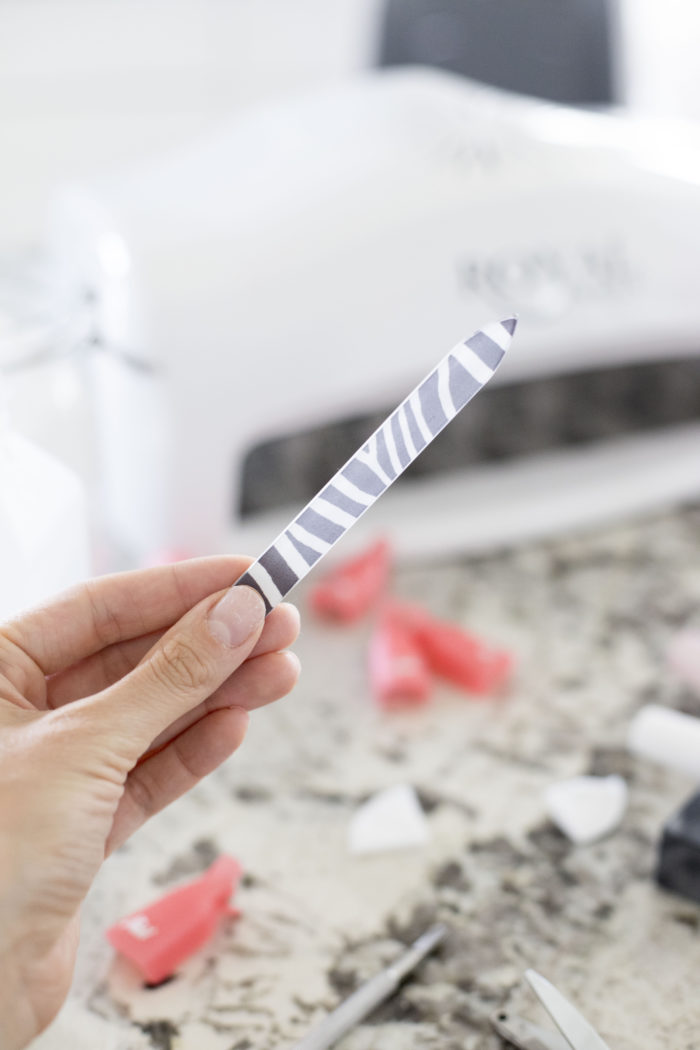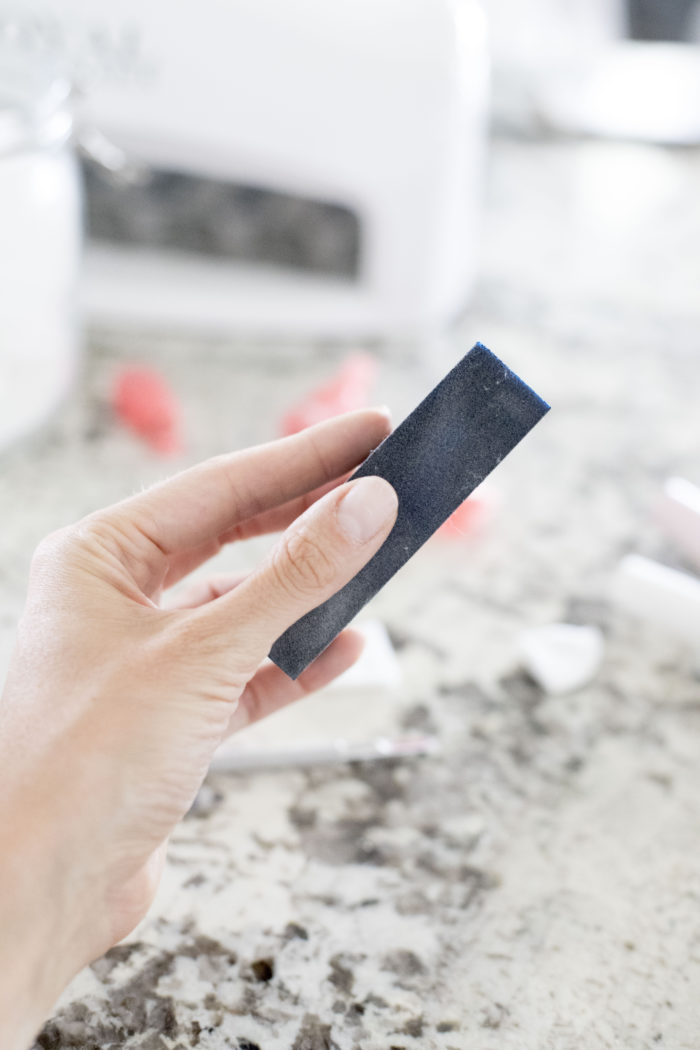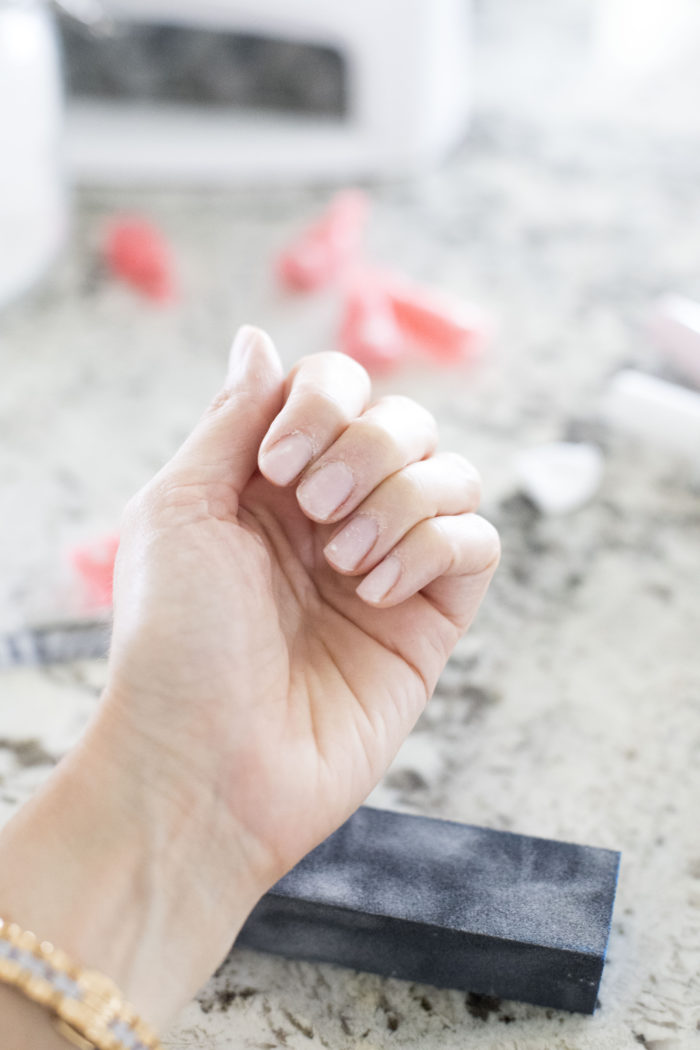 STEP 5:
Rinse your hands with water (no soap) and remove all of the dead skin and dry well. Make sure the nails are completely clean. Paint on the PH Bond to help dry out of your nails.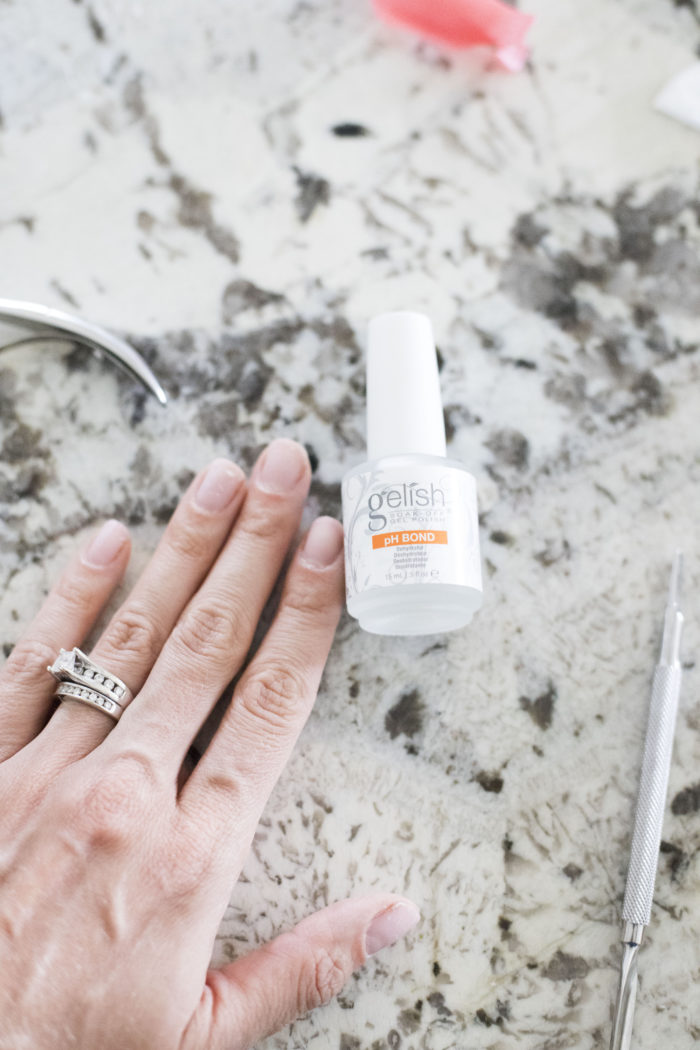 STEP 6:
Apply an extremely thin layer of the base coat gel polish onto your nails then cure under the light for 120 seconds. Remember, make the layer as THIN as possible! This was my huge downfall when I wasn't able to do gel nails at home well. It started to build up into a big mess. Not anymore, sister! I learned my lesson.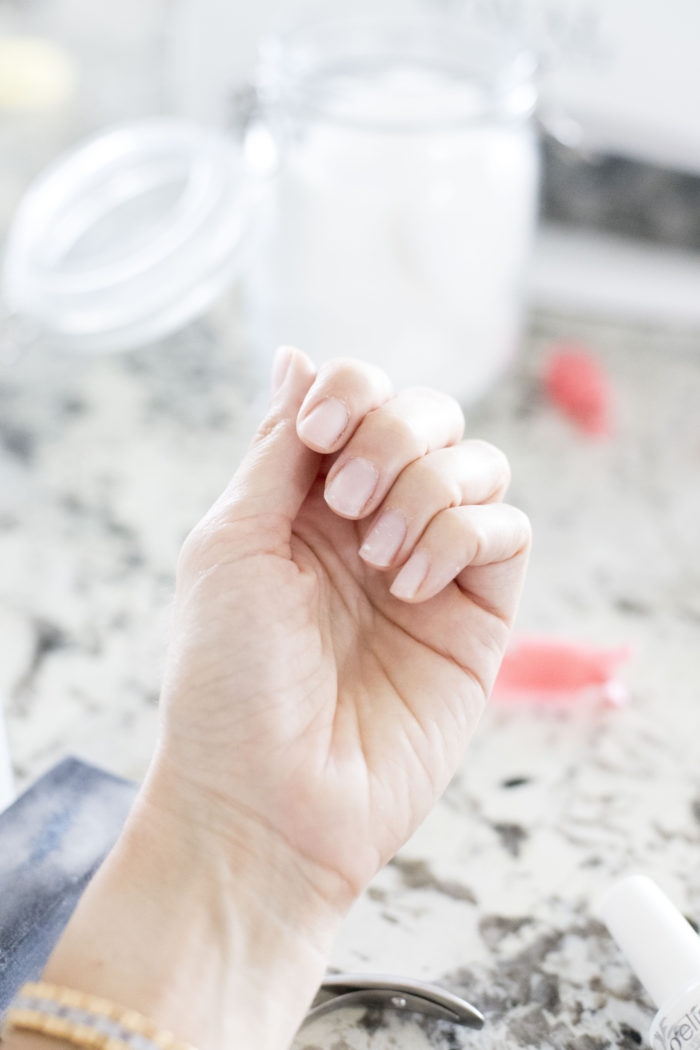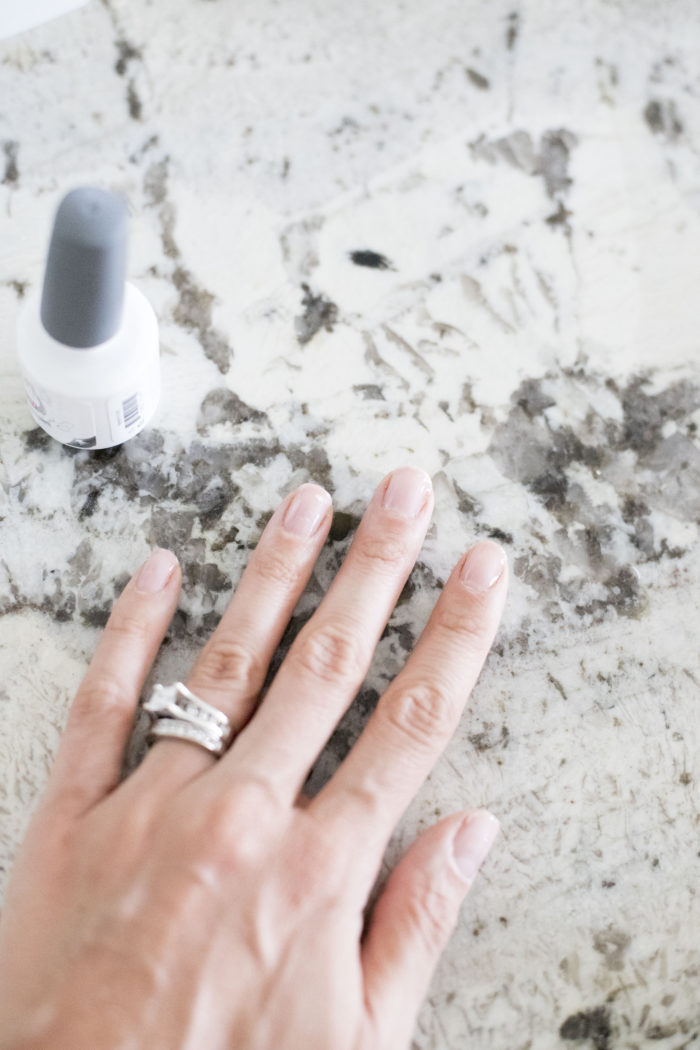 STEP 7:
Apply one coat of gel polish (remember, as thin as you possibly can!) If you get the polish on your skin, use some acetone to wipe it away before putting your hand under the lamp again. I also like to use toothpicks to wipe away small amounts from my cuticles if I happen to get polish there. They key is not get any polish on your cuticles or they will start to peel much, much faster. Let the polish cure under the lamp for 120 seconds, then do another layer and cure for another 120 seconds. Some lighter polish needs a 3rd layer, and if so, do a 3rd layer of polish then cure for 120 seconds.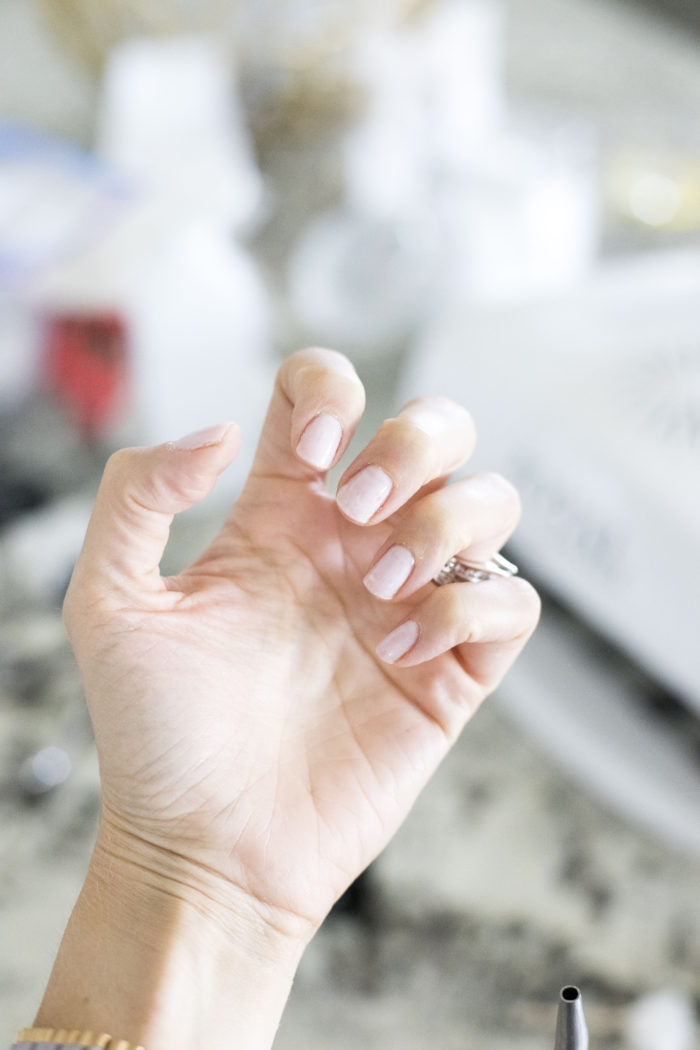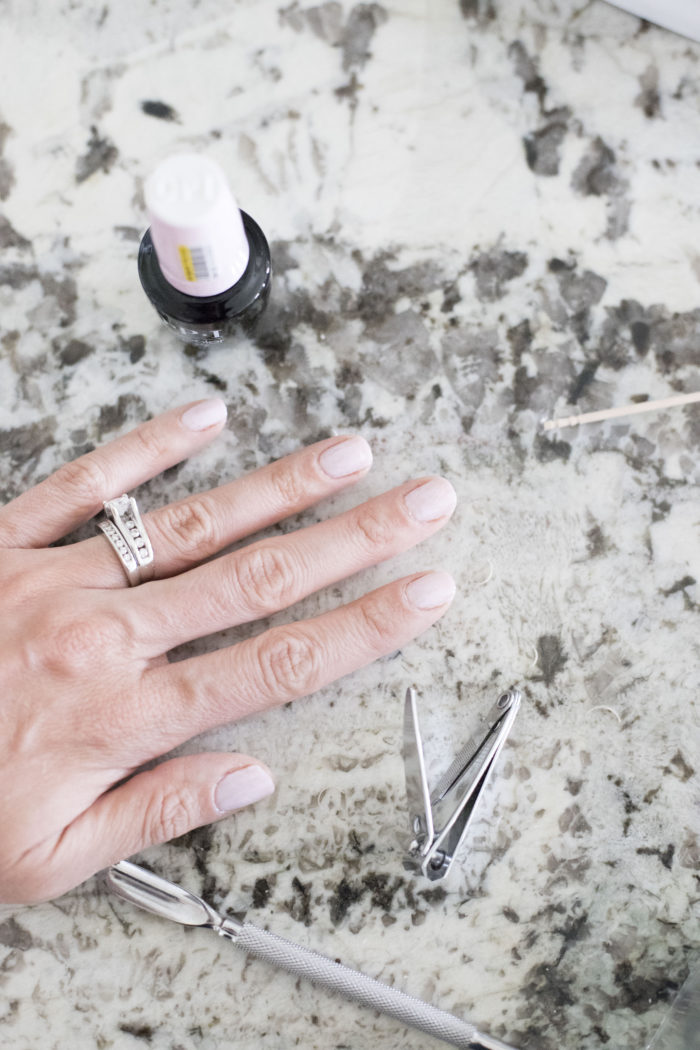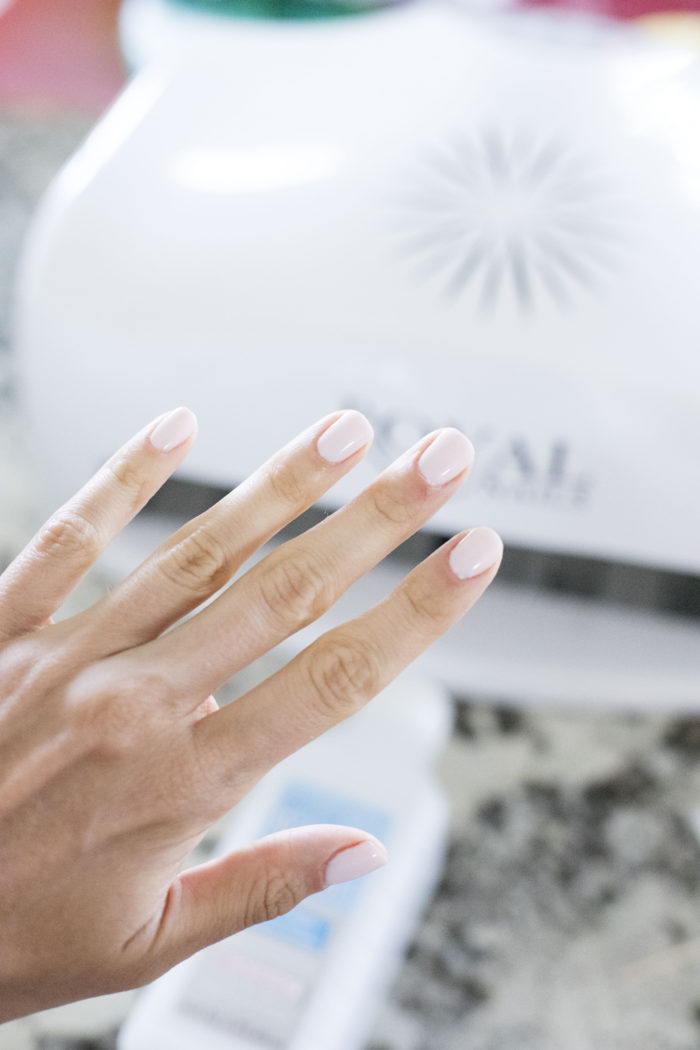 STEP 8:
Apply the top coat then cure it under the lamp for 120 seconds.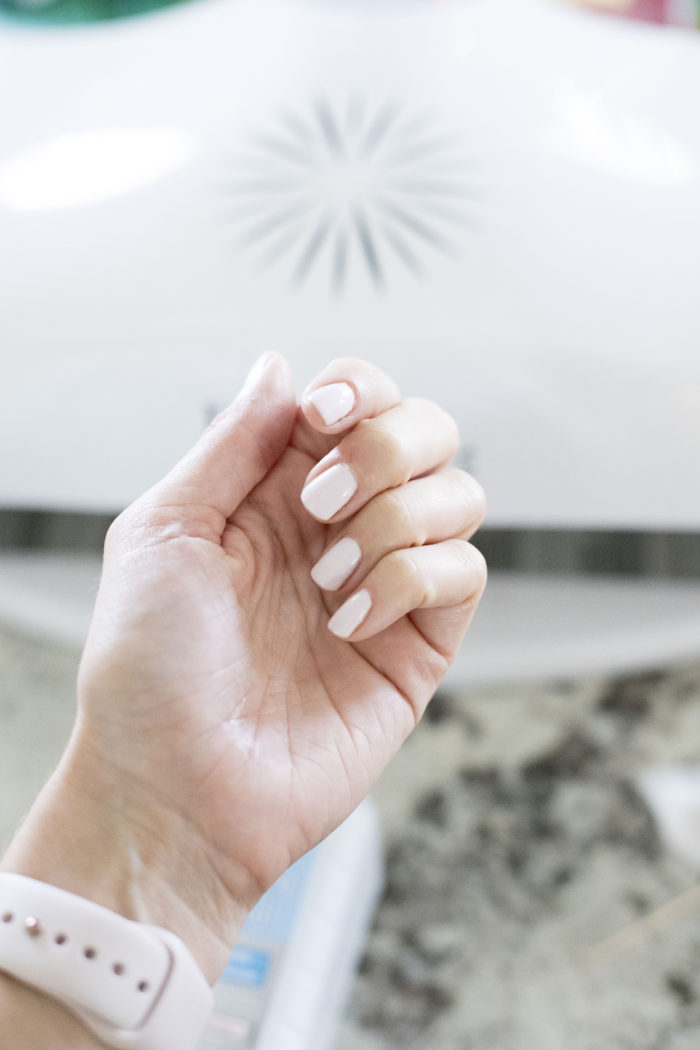 STEP 9:
Soak a cotton pad in rubbing alcohol and rub each nail well. You're done! You don't have to wait for it to dry and you can touch anything without ruining your manicure. This is why I love gel polish!!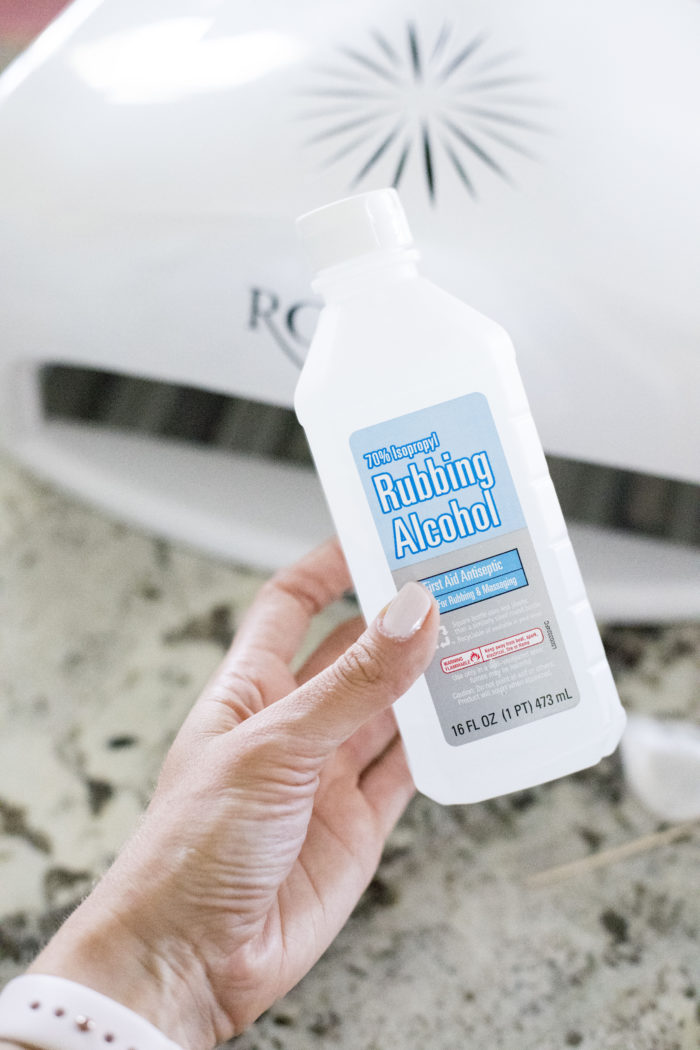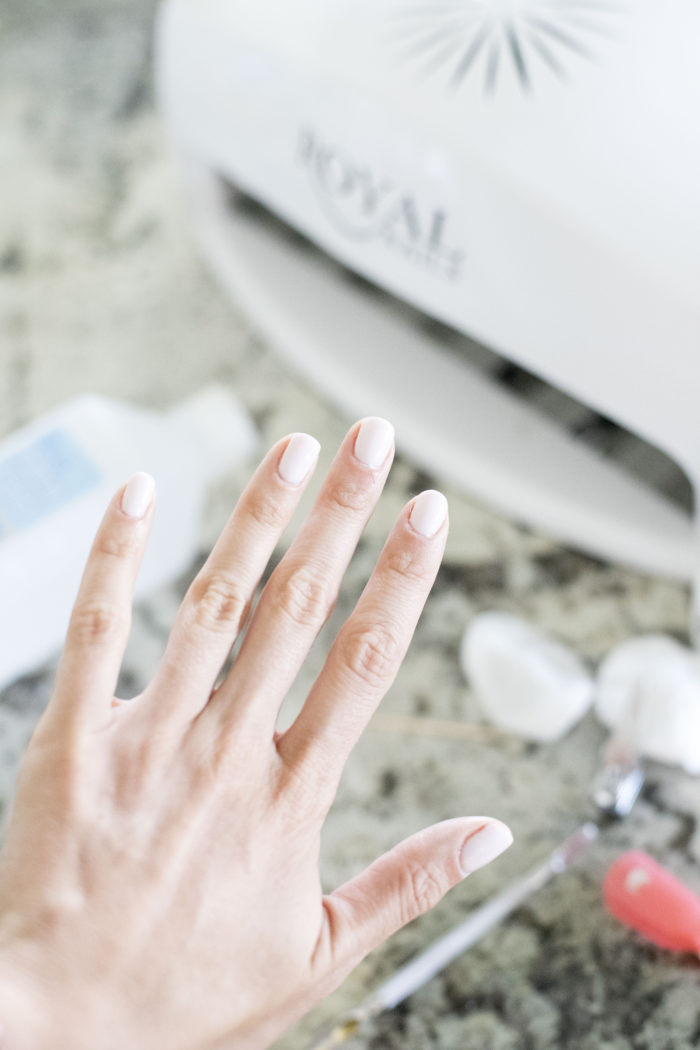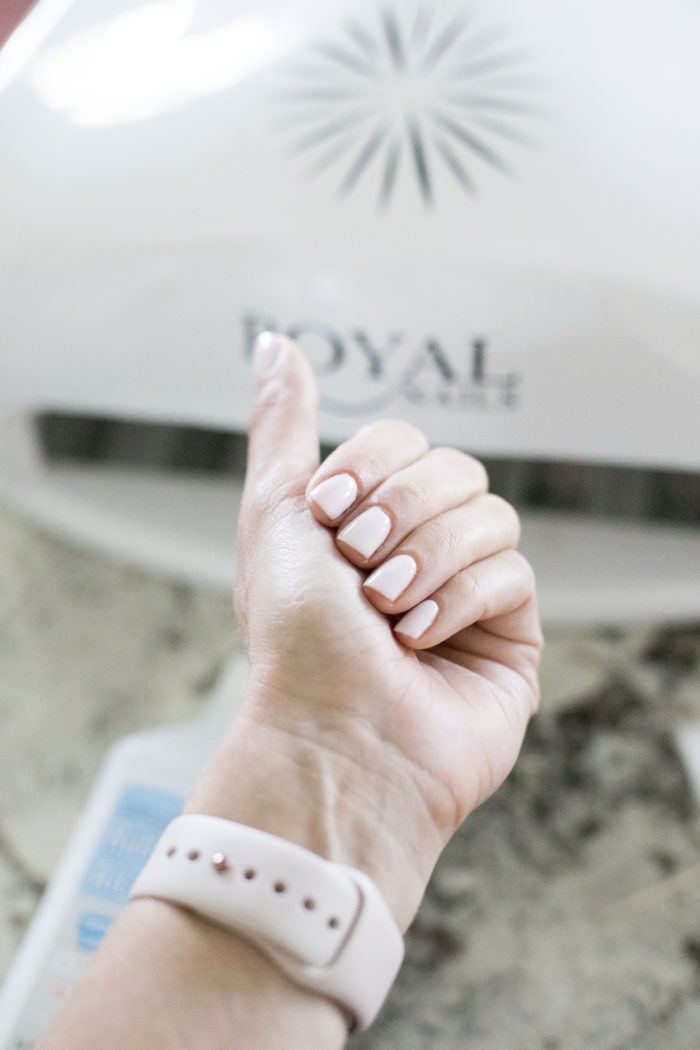 THINGS TO REMEMBER WHEN DOING GEL NAILS AT HOME:
You are not going to be perfect at doing gel nails at home the first time! Practice makes perfect. Be patient and let yourself learn by doing it many times.
Your nails may peel quickly the first few times because, again, you are not going to be perfect at this right from the start. Remember, I quit and didn't do it for 3 years because I thought I wasn't cut out for it! With the tools above and practice, you will be an at home gel nail queen in no time.
If you love this gel nails at home tutorial, you will also love these posts:
How to Curl Long Hair FAST and Keep Hair Healthy
My Absolute Favorite Skincare That has Changed my Skin
The 4 Best Eye Makeup Products you Need!!