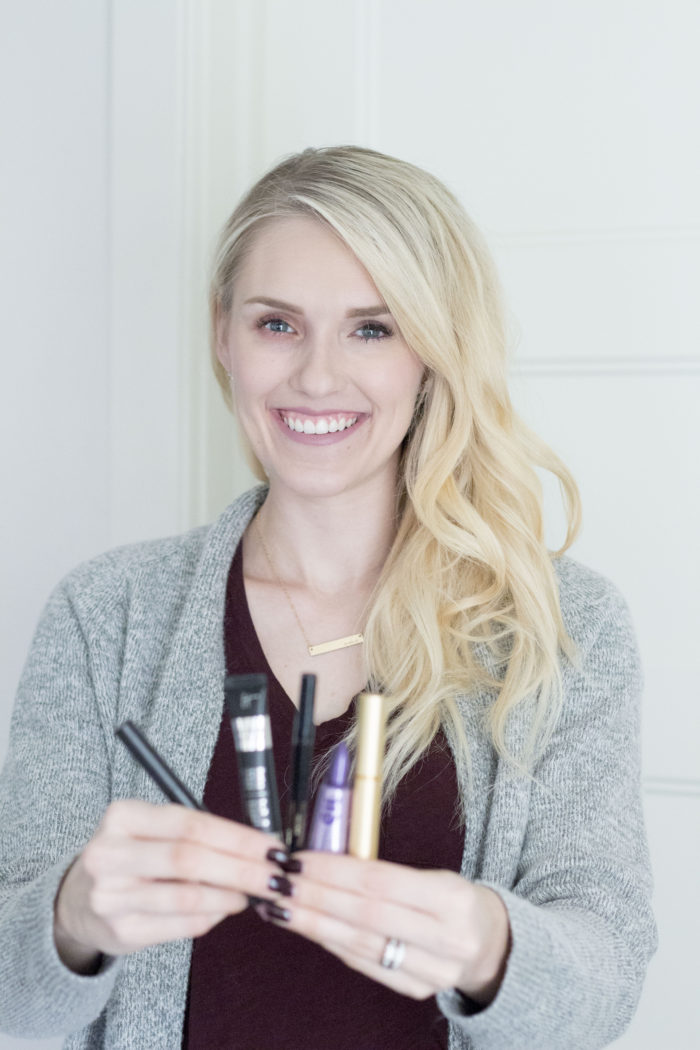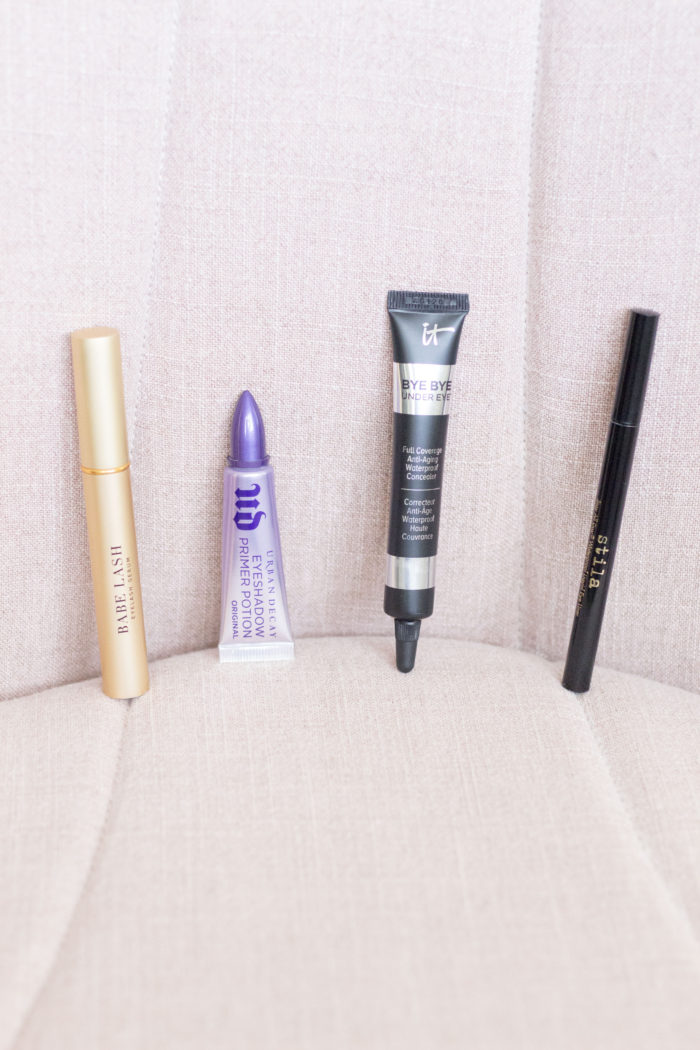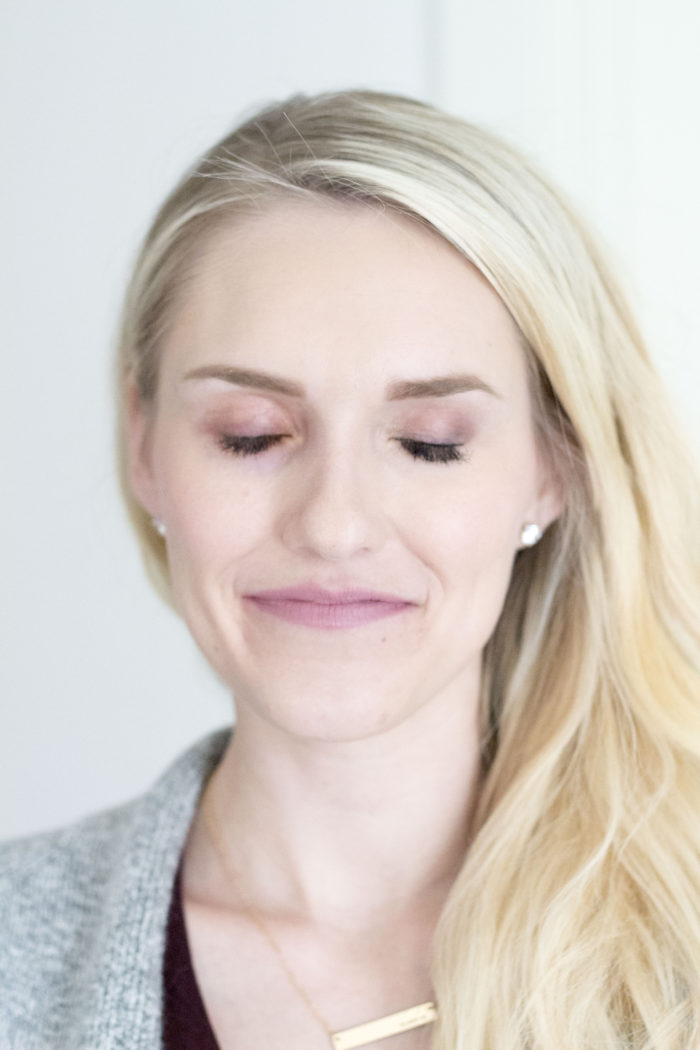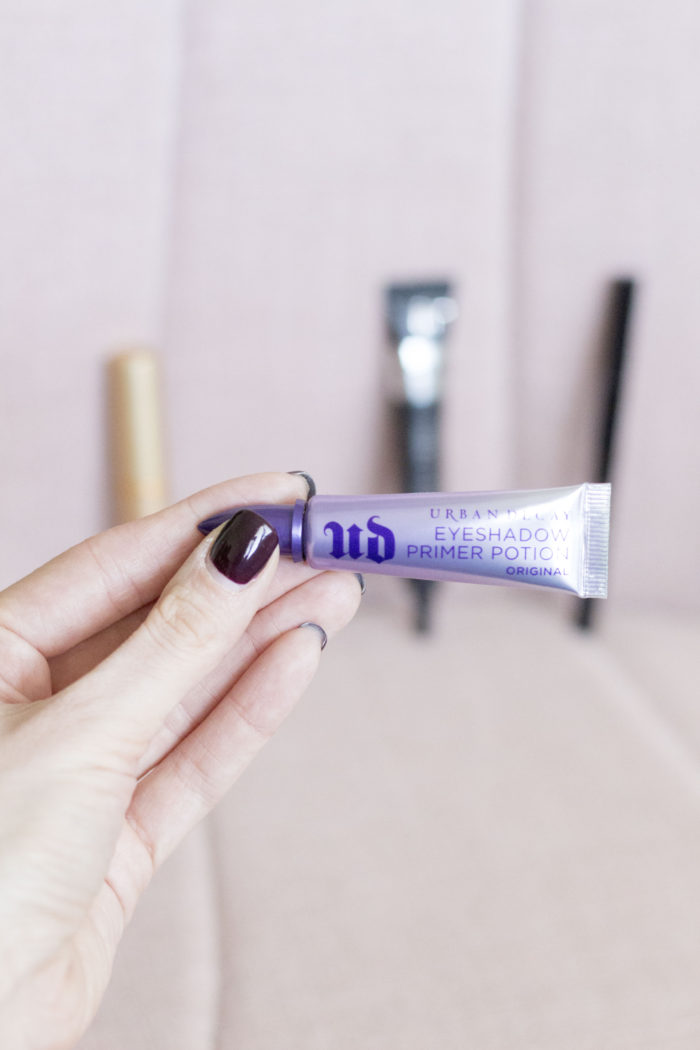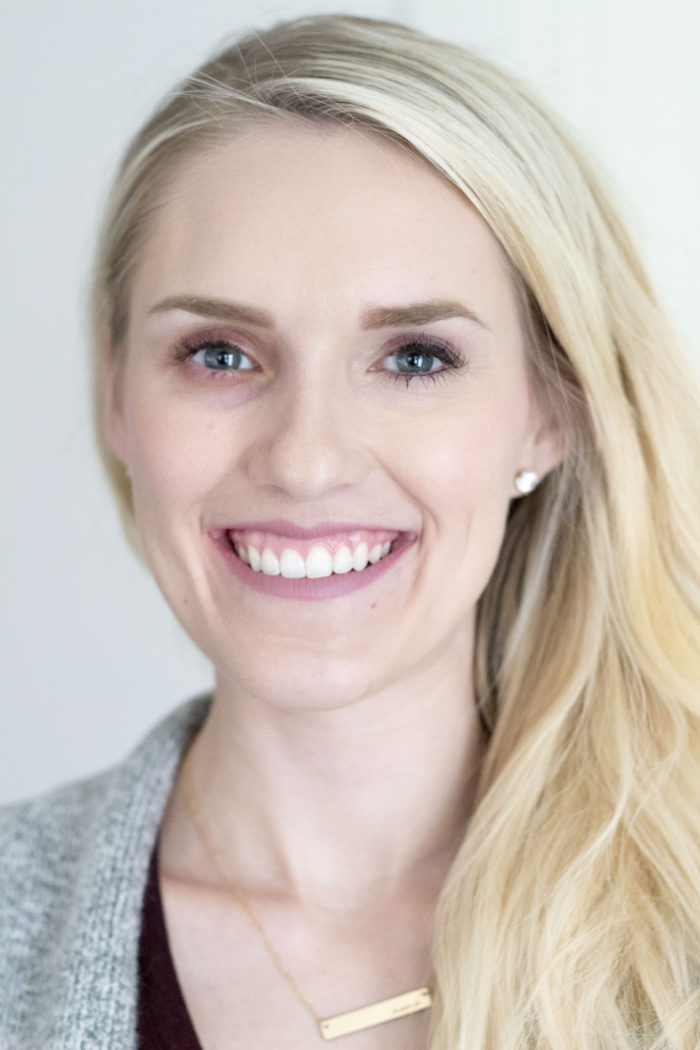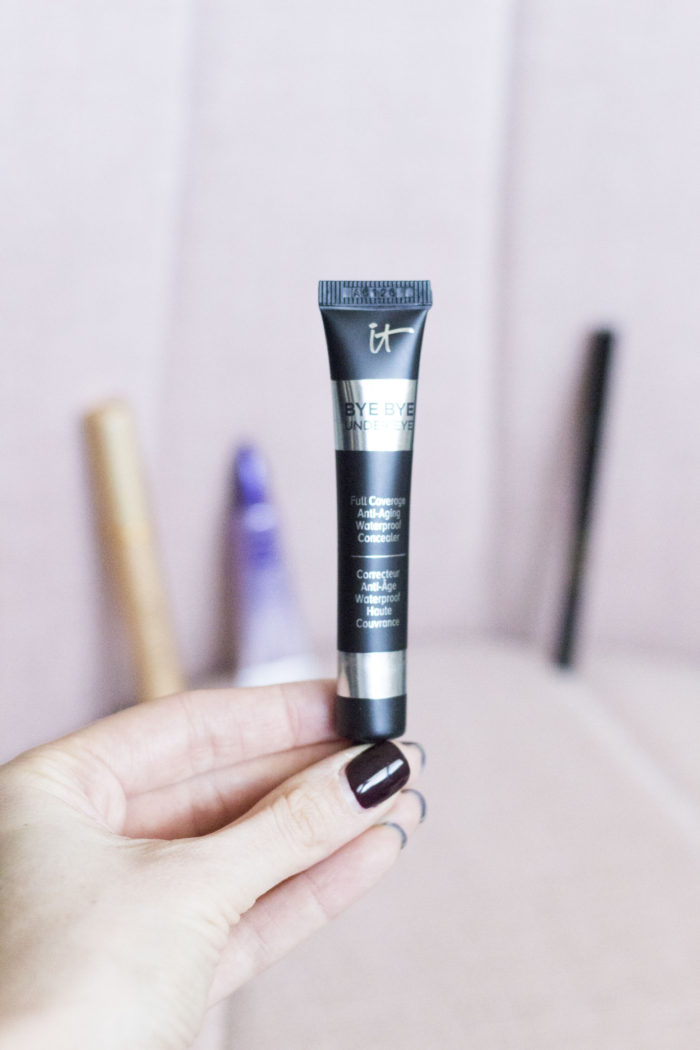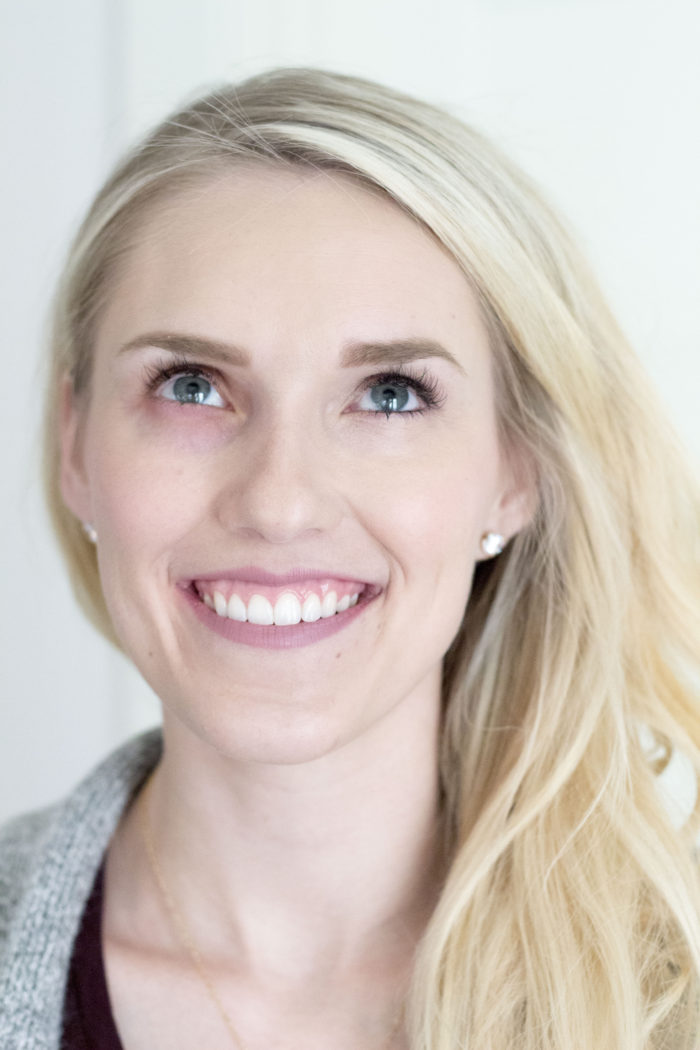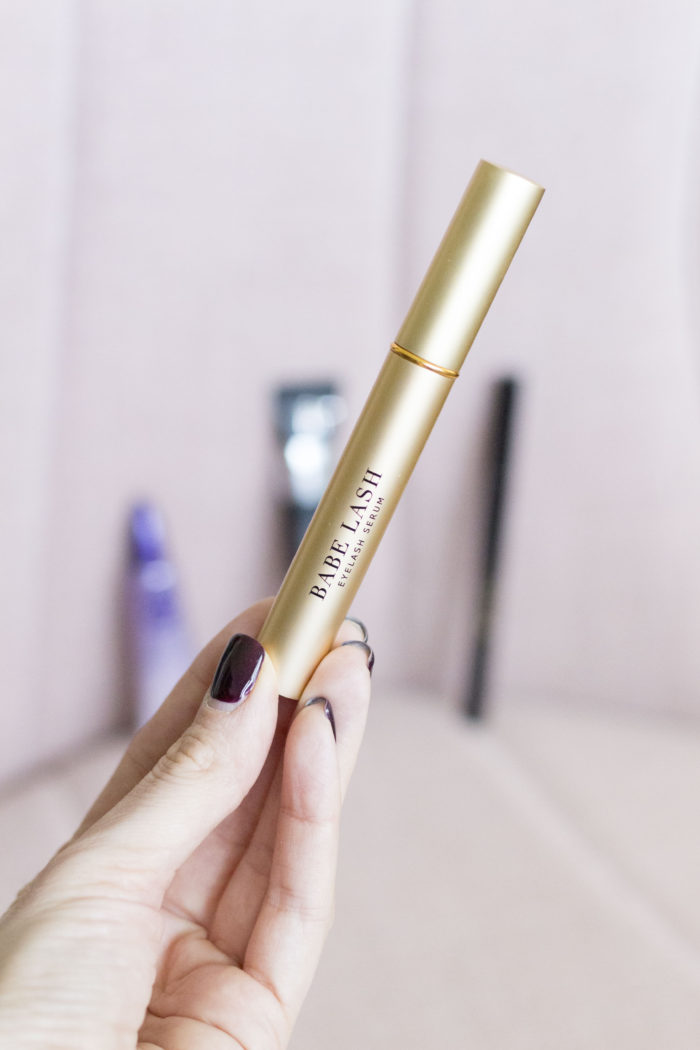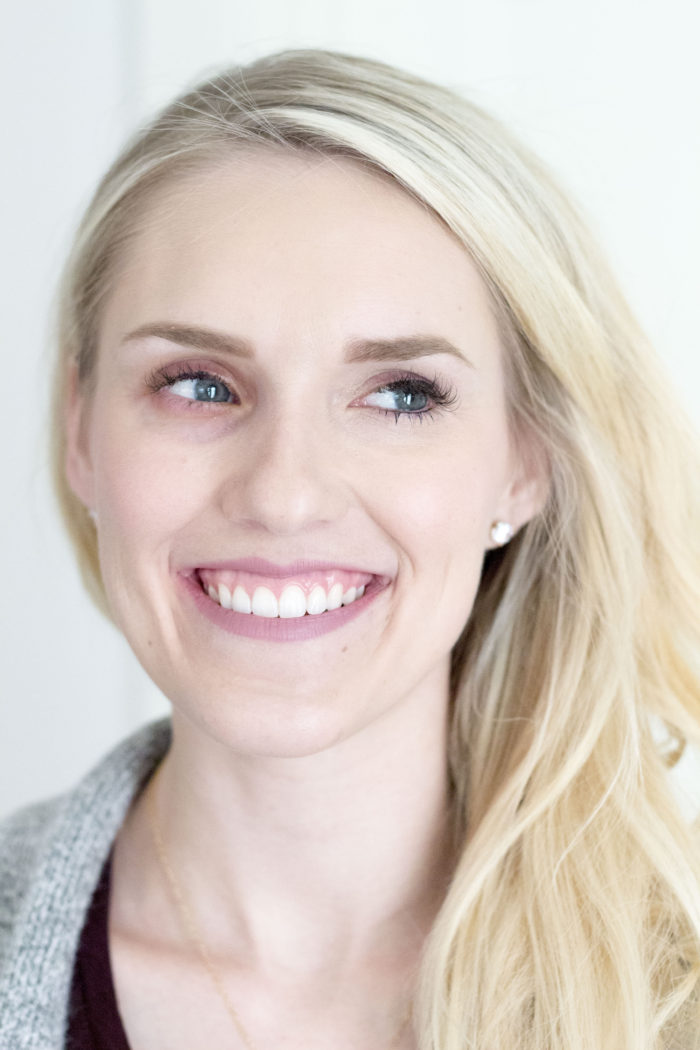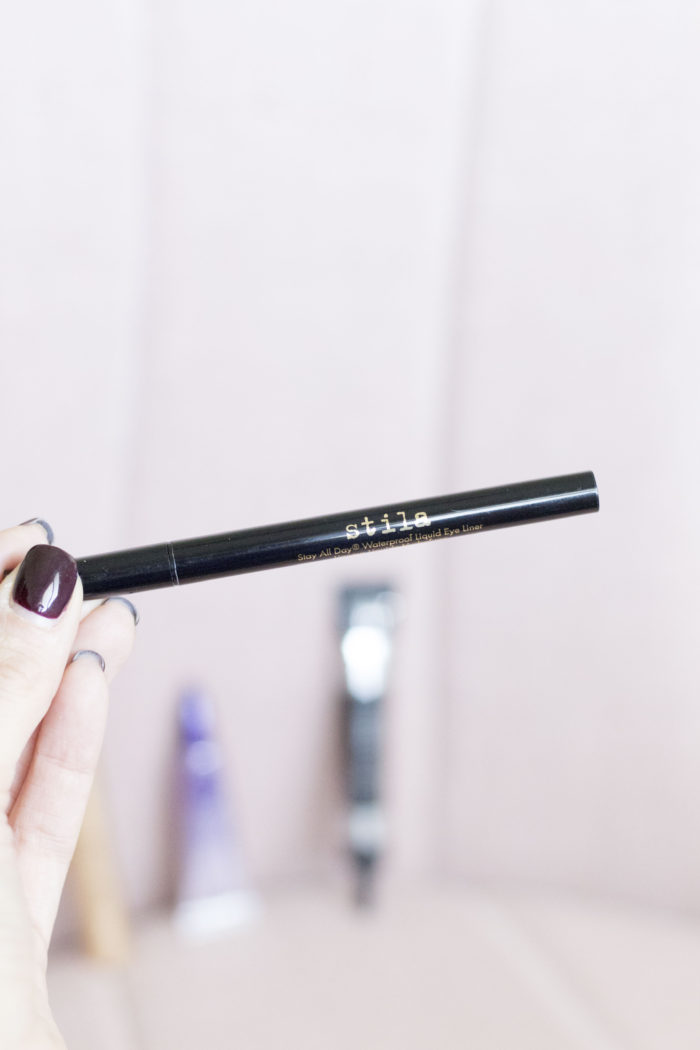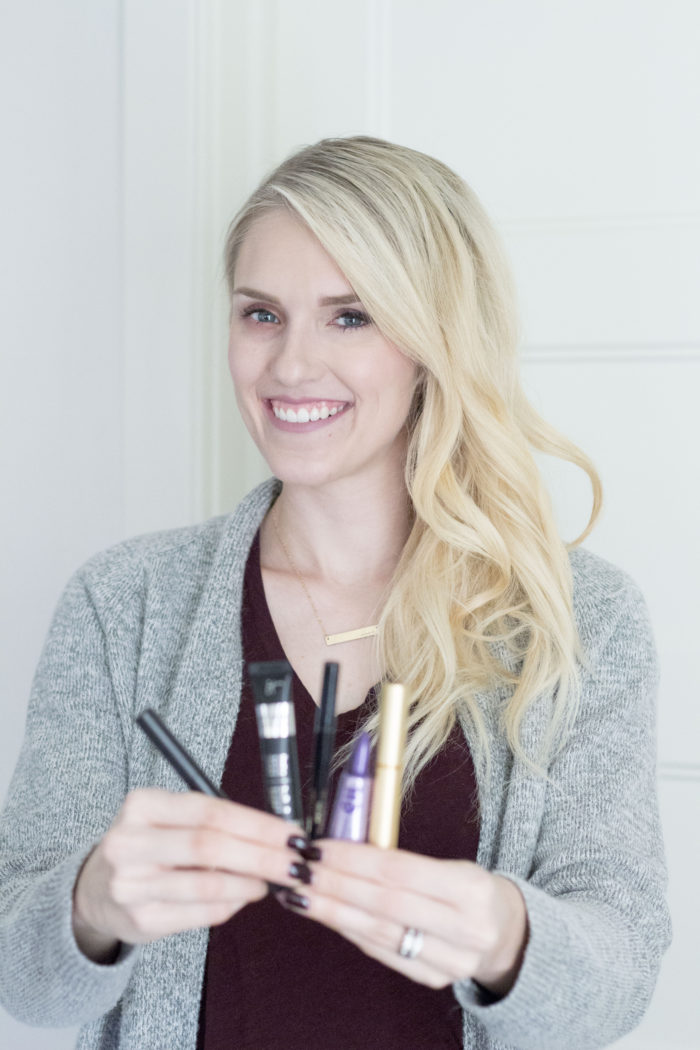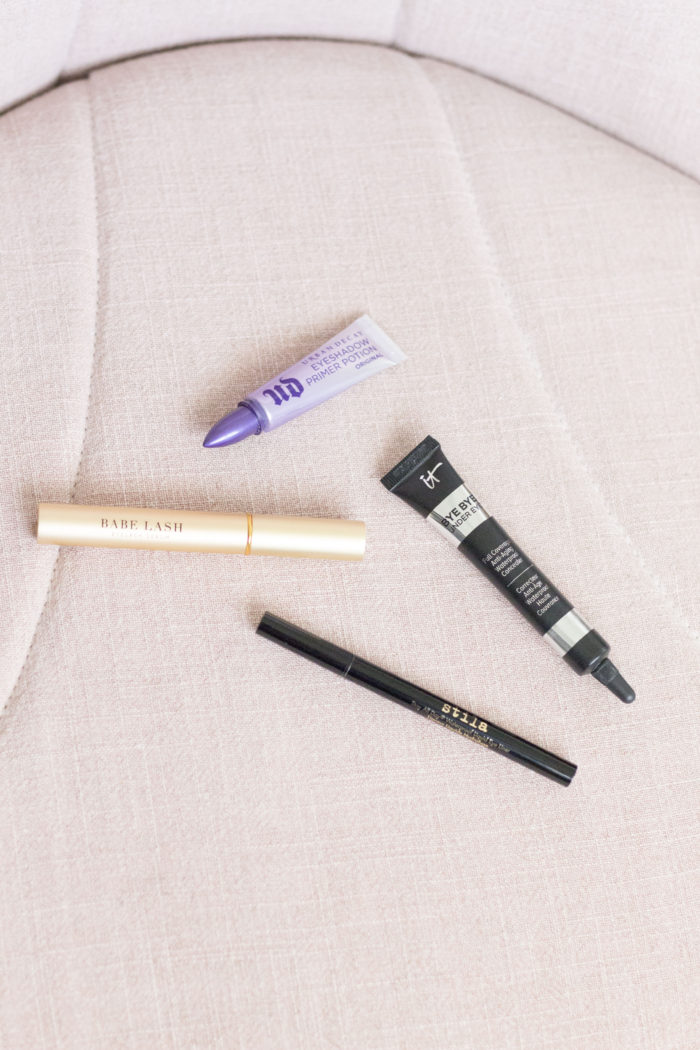 Sweater: Nordstrom (SO soft and doesn't pill) | Mama Necklace: Made by Mary | Tee: Madewell | Earrings: Nordstrom
Today I am getting up close and personal…literally. Hello, Jenica's face! Maybe you wanted to get this close to me and maybe you didn't. Either way…you just did.
Today is the second week that I'm sharing my favorite things! You can see my first post HERE. I LOVE Wednesdays where I share my favorite items that have made my life more happy, joyful, easier…you name it.
This week I am focusing on the four best eye products that have been serious game changers in my makeup routine. I put these products on my left eye and let my right eye stay makeup-free so you could see the difference. And without further adieu, here are the game changers themselves:
1.First, this Bye Bye Under Eye concealer has seriously solved some major woes in the "I have dark circles under my eyes" department. But even more, the other under eye concealer I was using was too oily and my lower lash mascara would always be underneath my eyes. I tried mascara after mascara thinking that was the problem, and I would still have mascara under my eyes within a couple of hours of putting it on. I tried everything from Maybeline to Chanel! Then this magical tube of miracles appeared out of the darkness and I have been a new woman ever since. I LOVE it!! For reference, I am wearing the color "medium."
2. This Urban Decay Eye Shadow Primer Potion is my new favorite find of 2016. I still remember the dreary day when I was sitting at my desk, upset at the fact that everyone's eye shadow looked good but mine. Okay, the day wasn't dreary, but I was kind of bugged that my eye shadow ALWAYS had creases and basically looked terrible by the afternoon. My friend Jen said, "I have something for you to try." What a friend! She saved the day and she saved my life. (Okay, fine. Someone is feeling a little dramatic right now). She brought this primer to work the following day and told me to bring it home and us it the next morning. I did, and my eye shadow looked perfect the entire day. Like, I kind of felt like the world's best makeup artist because who can honestly have eye shadow that looks this great all day?! Okay…we all can. YOU can!! I will never wear eye shadow without this primer again. My eye shadow goes on smooth and literally looks just as perfect at 11 pm at night as it did at 8 in the morning (or noon which is pretty much when I always get ready these days).
3. This Stila Waterproof Eyeliner has been a true love of mine for about 2 years now, I think. I know it sounds like I'm talking about my husband, but I'm not. I love him too, though. And he's been a true love of mine for a lot longer and has been very consistent and loving…like this eyeliner. This eyeliner goes on smooth and doesn't smudge, and I think my favorite part is that you can draw a really thin line on your lower lash line and it will stay and really brighten up your eyes. I will never use another eyeliner. And you can quote me on that.
4. Holy crap, this Babe Lash Eyelash Serum is a dream! I notice people's eyelashes, and the people who I have asked, "How are your eyelashes so long and beautiful?!" always say, "I use Babe Lash!" I love it so much that even though I have eyelash extensions, I still use it because it prevents your eyelashes from falling out. The girl that does my eyelashes says that some of my natural lashes are even longer than my extensions. They actually recommend using an eyelash serum here! I put the serum on every night for the first 3-4 weeks, then you only need to put it on every 3-4 days to maintain the length once they are long. You will love winking at your bad self in the mirror with these lashes.
Oh, and as a bonus, I cannot believe that I'm saying that this $3 e.l.f. matte lip color is the best matte lip color I have used, but it is!! It's the absolute best. I actually bought a Kylie Lip Kit a few weeks ago to see what all the fuss was about, and although I like the look of them, they dried out my lips in about 5 minutes. This matte lip color is really moisturizing and lasts SO LONG! I almost feel like someone is tricking us, because a good quality lip color shouldn't be this cheap…and yet it is. And it's so good. Like, it has 885 reviews and almost all of them are positive. The color I'm wearing above is Tea Rose. Hey, at $3, you can try all of the colors!

I hope you guys love these products as much as I love them!! I sincerely would buy them all for you myself because that's how much I love them, but my name isn't Bill Gates.
Thank you so much for stopping by! See you back here on Friday!!
If you love this post, you will also love these posts:
The BEST Way to Clean Makeup Brushes!