It's been super nice to have a list of healthy snacks for kids since we are always so busy playing and running from one activity to the next! See my favorite healthy snacks here!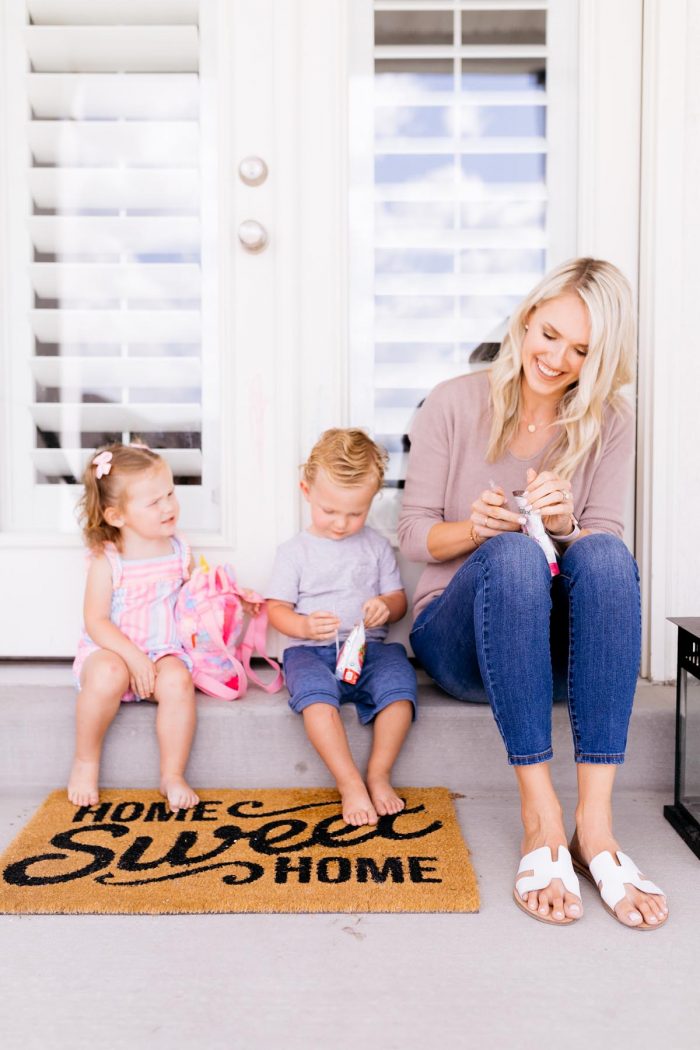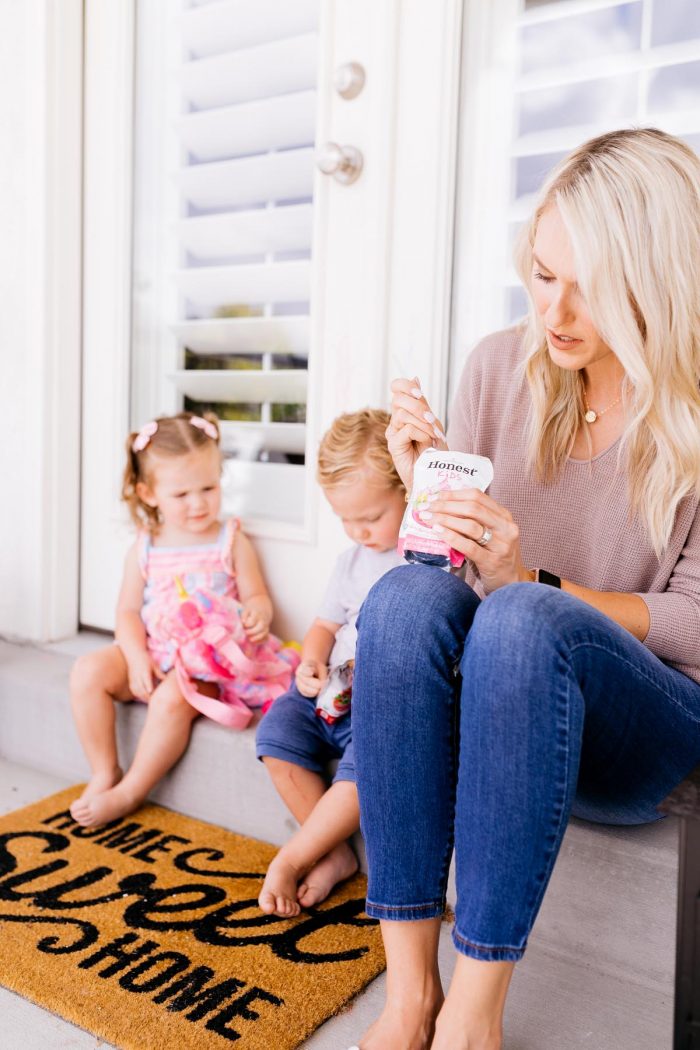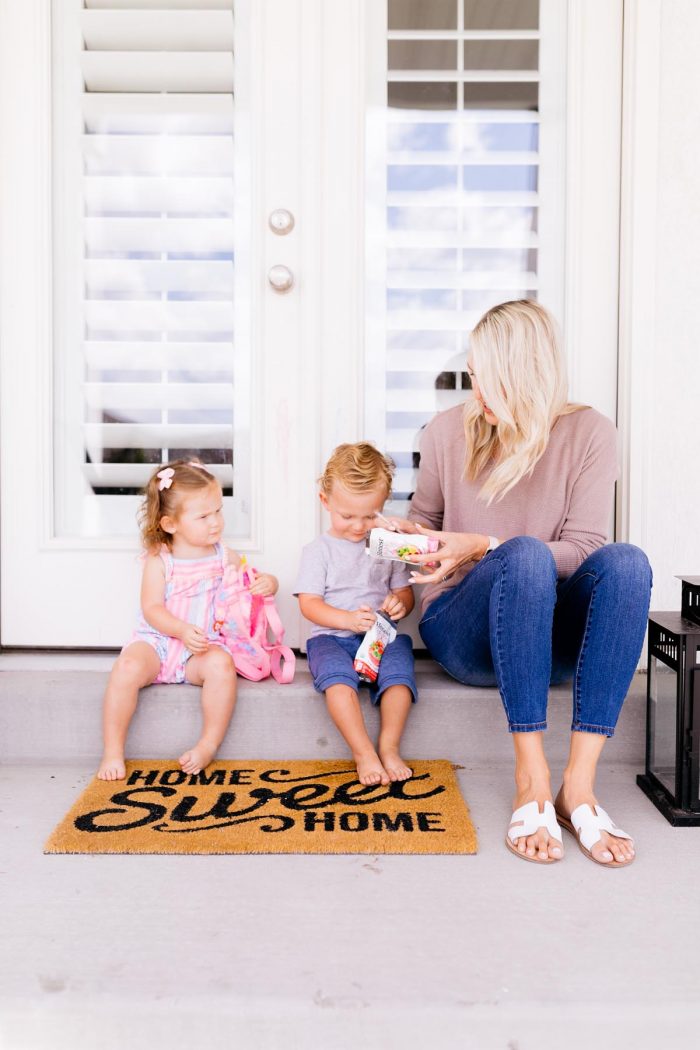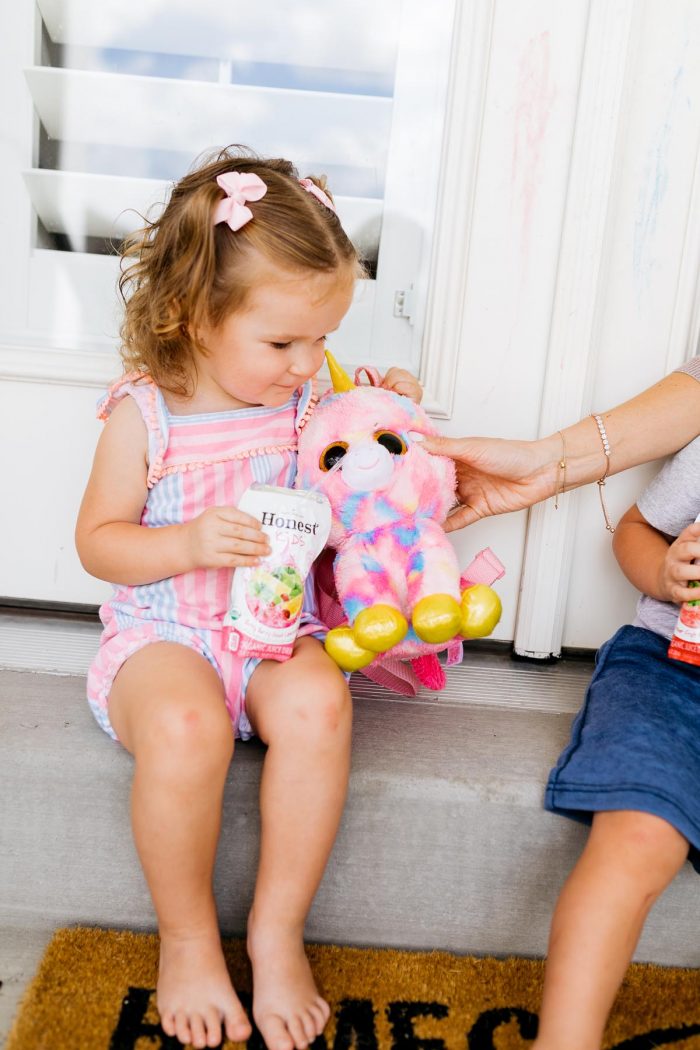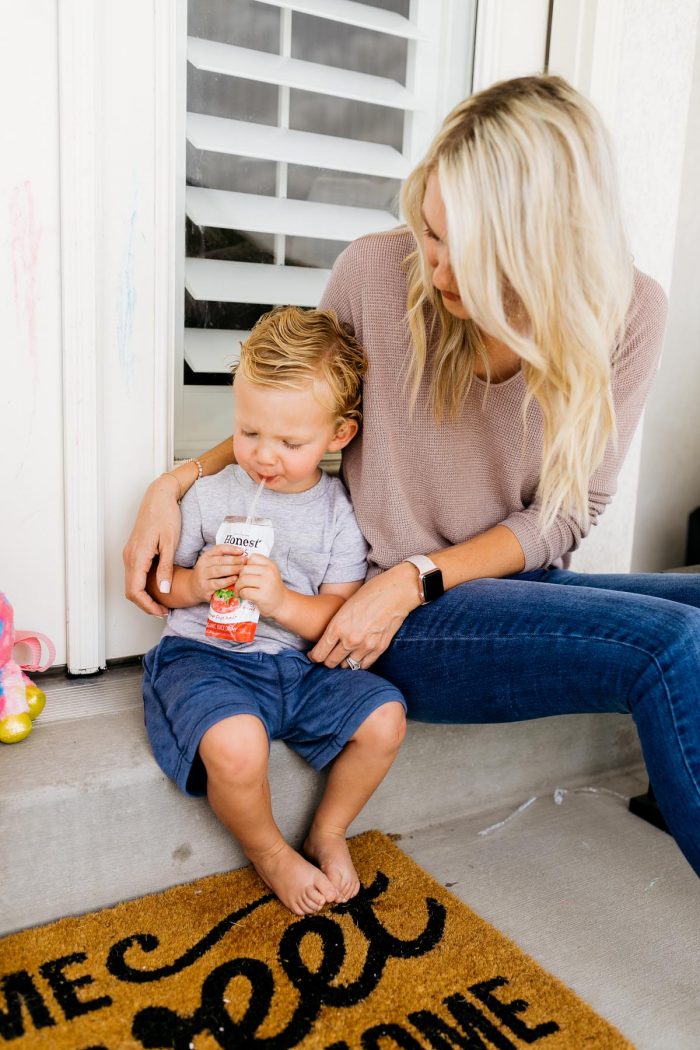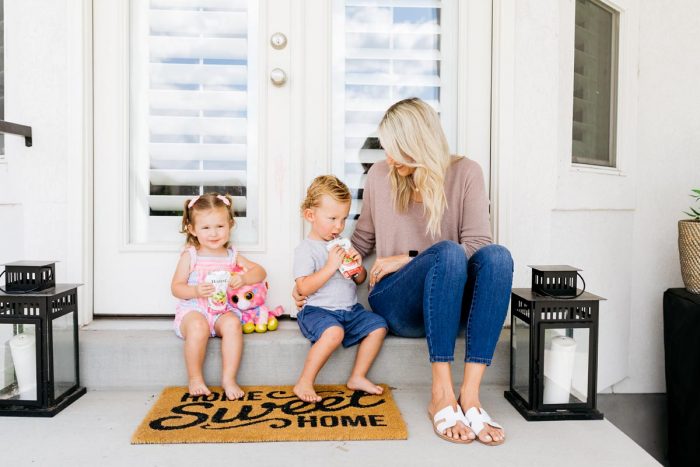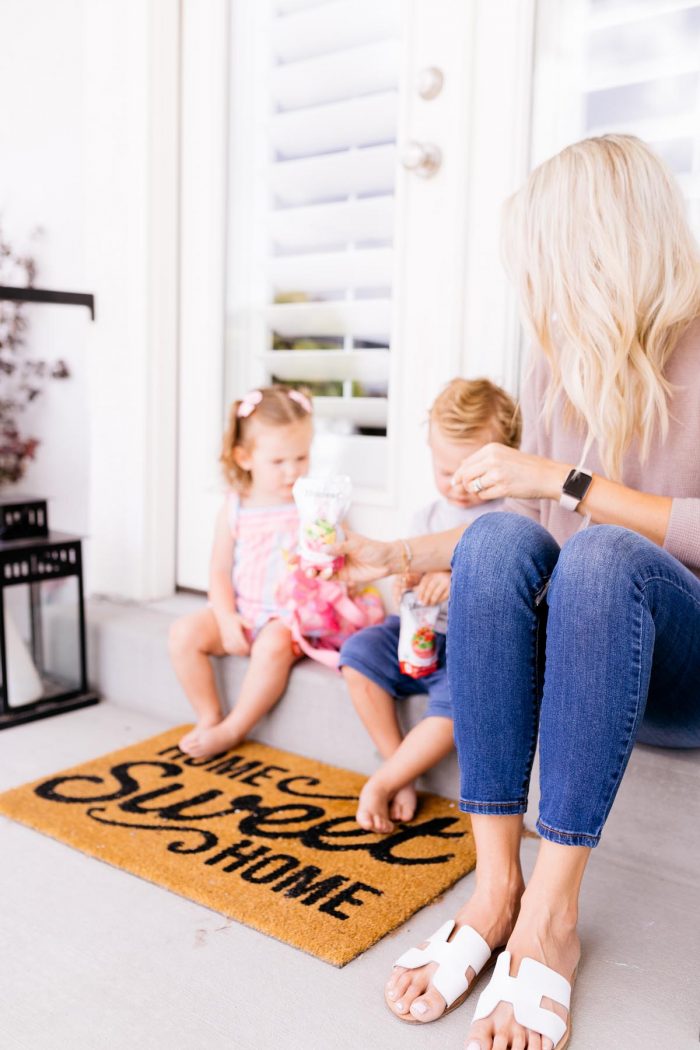 Jeans | Sweater | Sandals | Doormat
Something that has always been important to me is having healthy snacks for my kids to easily eat when we are in the car or playing. Since we arealways so busy and on-the-go, healthy snacks for kids is a must for us! We don't sit still long around here 😉 Harris and Goldie are loving juice these days which is why I knew they would love Honest Kids juice drinks. They taste delicious, they are easy to throw in my diaper bag to go as we are headed out the door, and they contain 1/2 the sugar of the leading kids' juice drinks* which is a HUGE win in my book. Harris and Goldie get really excited when they get to drink their Honest Kids juice pouches because although they have less sugar since they are sweetened only with fruit juice, they taste better than other juice brands that we have tried. They have the most delicious flavors! Flavors including Super Fruit Punch, Appley Ever After, Berry Berry Good Lemonade, Goodness Grapeness, Cherry Go Round, and Twisted Tropical Tango.
Below is a list that you'll want to copy to easily reference when you get in a healthy snack rut! They great thing about all of these foods on this list is that I like to eat them, too, so it saves me time in packing healthy snacks for myself when I can pack the same snacks for all of us.
*Honest Facts: Honest Kids contains 8g of sugar/6 fl oz serving. The average of the leading brand kids' 100% fruit juice drinks contains approximately 17g of sugar/6 fl oz.
---
HEALTHY SNACKS FOR KIDS
---
Snap pea crisps
Cheese sticks, cubes or string cheese cut into little pieces
Fruit and veggie squeeze packs (I like the Go Go Squeeze packets from Costco + Kirkland Signature applesauce)
Blueberries
Strawberries
Peanut butter sandwich (my kids like it with honey, not jam lol)
Pretzel sticks
Apple slices
Clementines
Grapes
Greek yogurt
Goldfish
Crackers (mini club crackers are a good idea)
Lara Bars
Clif Z Bars
Fig bars (my kids love the fig bars from Costco!)
Granola bars
Graham crackers
Cereal bars
Yogurt drops
Trader Joe's apple sticks
Veggie sticks (my kids LOVE these…I buy the big bag at Costco)
Cheese curls
Marshmallows
Raspberries
Egg cups (these ones look good! Leave out anything you don't think your toddler would like)
Hard boiled eggs (Goldie especially LOVES these)
Hummus and cucumbers
Banana
Belvita biscuits
Diced ham or turkey
Frozen peas out of the freezer
Yogurt raisins
Mini wheats
Muffins (Combine in a blender spinach, kale, peanut butter, banana, egg and some oats and cook in mini muffin tins at 350)
Freeze dried fruit (blueberries, apples, bananas)
Nuts
Bagel and cream cheese
Peanut butter crackers
Fruit leathers
Vanilla wafers
Bread
Graham cracker sandwich (Put yogurt in the middle and put in freezer until frozen!)
This post is sponsored by Honest Tea, a brand that my kids and I both love!
If you like this post, you'll probably like this post on 3 easy ways to add more peace into your life!