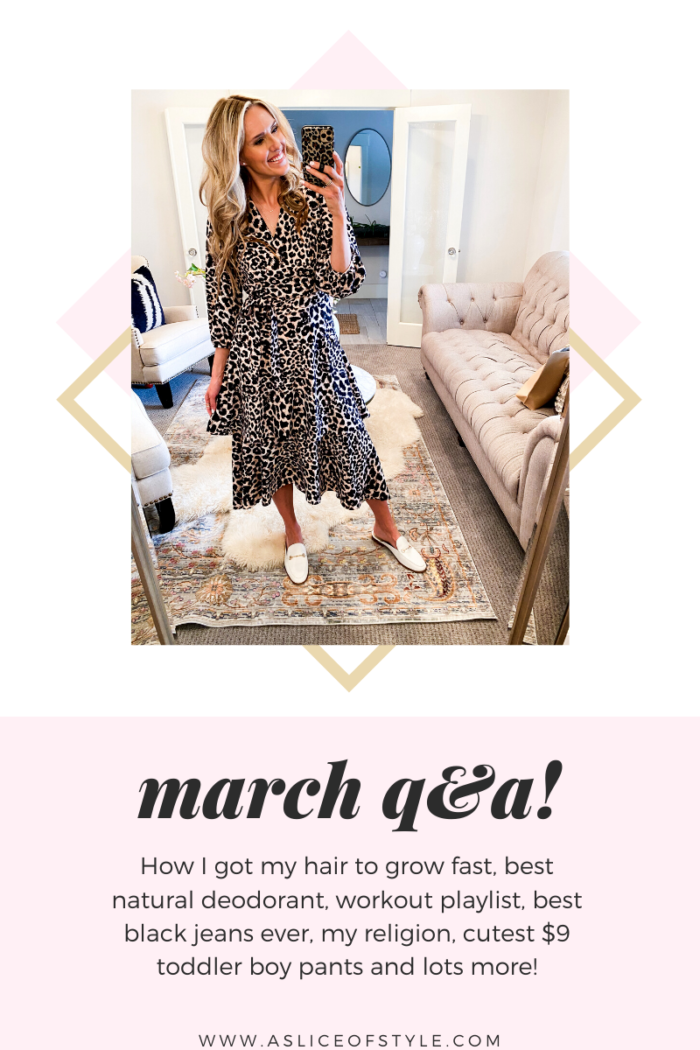 SHOP:
My leopard dress, diamond stud earrings, and white Gucci loafer look alikes all linked!
Since I don't get to respond to all of my DM's on Instagram, I thought a good way to get back to your questions would be a monthly Meet the Blogger questions with a Q&A where I can get to the most commonly asked questions! I'll put up a question story each month so you can ask anything that hasn't been answered. I sincerely love interacting with you and I have been touched so many times by how generous you are with your words, with your kindness and your love. What a gift that this blog has been to me, especially in a time where we could feel so disconnected but it's the exact opposite.
Meet the Blogger Questions: March Q&A!
Can you do a tutorial on how to do your messy bun? You always make it look soo cute!
Yes! I'll plan to do that and post it next Wednesday here on the blog. It's so easy!
What teeth whitening do you use? 
I used to a use a different kind but I can't recommend it any more because they changed the formula and it now burns my gums. Ouch! I go to Dr. Jeppson in Provo, Utah and LOVE him and his staff. They are so honest and good at what they do. I love them so much, in fact, that I asked them to give you a deal if you started going to him and his office. If you go in and mention my name, you get a free tooth whitening kit when you come in for a new patient appointment (exam days and cleaning) or free consult on clear aligners/ortho or cosmetic services! So kind of them. Another thing that I use every single night after using my automatic toothbrush is this. Food comes out of my teeth every single time and a lot of it, and it's shocking honestly because I will have just brushed my teeth thoroughly. It's a million times easier and more thorough than flossing!
Do you have a relationship with your biological father? 
Yes! I don't post about him a lot but I adore him and my step mom. He got married last year and they live a few hours away so we don't see them much because of the distance.
Childcare. How often do you have a nanny/babysitter? 
Well, normally I have a babysitter come over for 2 hours on 2 days each week to get work done and run errands, and then again for a date night for Tyler and I. Right now we don't have anyone coming over so we are getting creative with date night. We planned a "date" with our friends on Saturday night and Facetimed them and just talked for an hour! If you have any other great ideas, let me know!
In your infertility Q&A you mentioned poor quality eggs. What does that mean exactly?
Here is the Q&A if you haven't read it yet. Poor quality eggs means just that…the quality is awful and they aren't made well enough to make a child. They don't fertilize when sperm get to them. This is why IVF ended up being our option (that and other reasons like
What's the best natural deodorant?
 Just Ingredients HANDS DOWN. I've tried most of the other popular deodorants and they either gave me a rash or made me smell like BO. Neither is an option for me!
Your hair oil? 
I LOVE this hair oil. It doesn't make your hair greasy at all. I've tried a lot of hair oils and this is the best! I like to put it on the ends of my hair before bed (Utah is SO dry so I get so frizzy!) and after I style my hair on the ends if my ends are frizzy or need extra moisture. If you use code JENICA you can buy 2 hair oils and get free shipping!
Fun kids activities to do in Utah County? 
I love Thanksgiving Point (there are multiple museums to choose from), indoor swimming pools like the Springville Rec Center and Provo Rec Center and the aquarium in Draper. We are obviously not doing any of those activities right now! Here's a list of ideas of what we are doing currently.
Where did you get your dining room chairs? 
Here's the link right here! You can see all of my kitchen furniture and bedroom furniture by clicking HERE and HERE.
Where are your black button front jeans from? 
The brand is Madewell and I just found them for 45% off here!!! THIS IS INSANE! I've NEVER seen them this inexpensive before!!! MAKE SURE TO ORDER 1 size DOWN. I'm NEVER a 26, regularly a 27, and they run big. They are SO comfortable and high waisted I never want to take them off.  Legitimately some of my favorite jeans of all time!
Are you dieting? If so, what are you eating or not eating? 
I don't diet, I live a healthy lifestyle that doesn't change much honestly! I always like sugar and make sure to include a small treat every day like a half of a cookie or some candy, but my main thing that I do is make sure to eat a vegetable with EVERY meal. That can include spinach in my shake in the morning, a salad for lunch and some vegetables like green beans, brussel sprouts or another salad as a side with the rest of my dinner. I also try to fill up on lots of protein like plain greek yogurt with stevia mixed in, cottage cheese, chicken and protein shakes. I LOVE this protein; it's clean and tastes really good blended with water or mixed in with other ingredients like frozen bananas and almond milk.
Can you re-share your workout playlist? I love clean lyrics. 
Yes! Nothing pumps me up more than a good song. It's a long list so I don't get sick of any of the songs!
Have you ever thought about trying for more kids? 
We may or may not. Haven't decided yet! We will take it as each year comes and if we feel impressed to add another child to the mix, we will tackle it at that point.
Tell us your fave swimsuits! 
American Eagle and J. Crew are my favorite places to shop! I like that J Crew has tall options here for my long torso when I'm buying a one piece, and AE has the best and most comfortable bikinis. I wear a small in the top and a medium in the bottom.
How often do you change out the PMD discs? What color do you use? 
I take a long time to change mine! Look at your disk and if it's getting worn down, you can see if you needs to switch it. You'll be able to tell when the exfoliating part starts to wear off. I use the blue and green disks with this device!
Where did you grow up?
 I was born in Provo, Utah, we moved around a lot in Utah Valley until I was in 3rd grade, moved to Springville 3rd-5th grade then moved near Dallas, Texas 6th-12th!
How did you get your hair to grow so fast? 
I only wash it once every 4 days or so, I massage my scalp with a good shampoo (right now I'm using this scalp treatment when I wash it then use shampoo and conditioner after), I love this hair mask (it's SO inexpensive and high quality), and I use this hair oil every day to keep it smooth, and I brush my hair before bed every night. I use this dry shampoo because it's clean and smells good.
Post-birth tips? 
Have the hospital give you extra mesh panties (you'll be wearing those for a few weeks!), use a warm water bottle after you use the restroom instead of having to wipe, use this oil on your legs and torso. I also used this belly band and it helped support me, bring my hips back together and helped my back not to hurt.
What is your morning and night routine? 
Morning – wake up, get out of bed and DON'T look at my phone, get dressed in my workout clothes and work out! THEN look at my phone once I've had a good, positive experience. You can read my habits for being happy HERE.  I have a green smoothie, get my kids dressed, make my bed and get dressed! Night time – kids in bed, clean the kitchen, get some work done, read my scriptures, hang out with Tyler, bed time!
Are you Mormon?
 I'm a member of the Church of Jesus Christ of Latter-day Saints, formerly referenced as Mormons. Our president has really emphasized that we don't use the term "Mormon" any more because it takes out the most important part of our belief which is Jesus Christ. Our entire church is based on the gospel of Jesus Christ and the knowledge of His life and His example, and my personal relationship with Him and my Heavenly Father is my single greatest gift. I literally don't know how I would make it through this life without that direction.
Have you had a tummy tuck after twins? 
No. I've never had any plastic surgery.
What would you be doing if it weren't for blogging? 
I can't imagine doing anything else! It allows me to stay home and raise my kids while also giving me an incredible creative outlet and connect with incredible women. I think the connection and community is such a gift. I LOVE meeting you and learning from you. I'm also able to help women with infertility through The Slice of Sun which is an incredible gift to me!
What is your biggest strength and biggest weakness and how do the two co-exist? 
My biggest weakness is my lack of patience, and my biggest strength is how much I love people. I've had to learn how to be patient with myself mostly and taking time to pace myself when I want to accomplish things. Jody Moore has helped me a lot with that.
Do you and Tyler ever fight? 
Never. Ha! 😉 We honestly don't fight often, and when we do I would call it a discussion rather than a fight. We don't yell or raise our voices. We had a hard first few years of marriage getting used to how each of us responded to certain situations and learning to communicate, and we really have a good system now. We are good at communicating our needs and our expectations of each other. I think the key to any good relationship is communication. No one can read your mind.
What is the gospel podcast that you love? 
Click here. It's SO GOOD. It follows along Come Follow Me which is the home based gospel lesson system we study each day.
Where is your shirt from (the one you were wearing when you posted the question on your stories)? 
Right here! You can shop my Amazon Favorites List HERE. I update this list WEEKLY and am sending boxes back and forth from my home to Amazon to find the best of the best items to help save you hours.
Where are Harris' pants from? 
I've had these pants since he was one and I keep ordering them in bigger sizes as he grows out of them. They are my favorite because the are so inexepensive and so adorable! They are only $9! They're the Cat & Jack brand.
Where are your glasses from? 
I get asked this a lot! My prescription glasses are HERE and HERE, and my blue light glasses are HERE and HERE.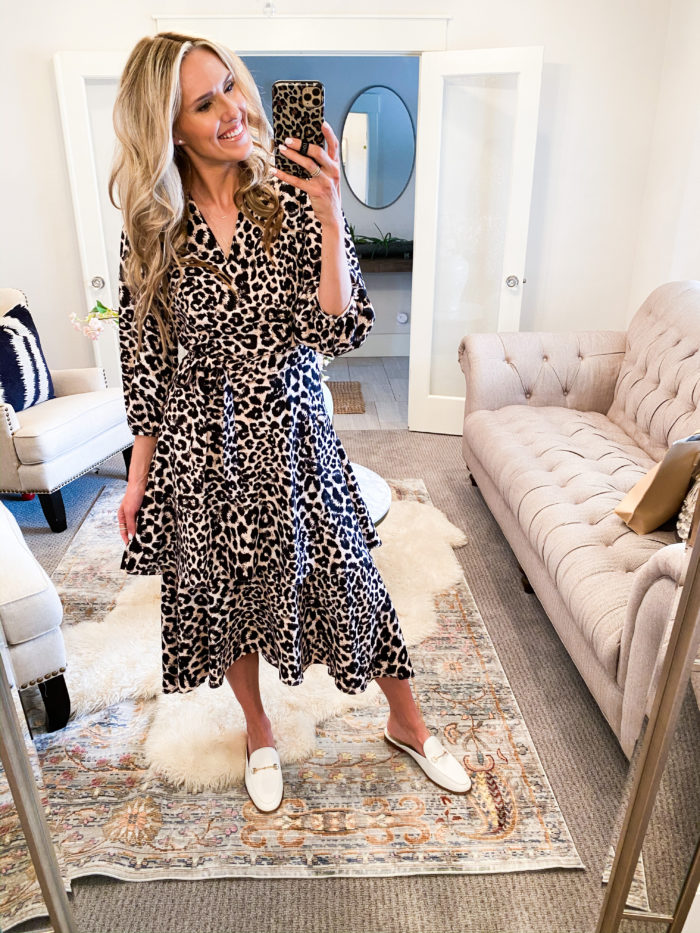 My leopard dress, diamond stud earrings, and white Gucci loafer look alikes all linked!
Stay tuned for more Meet the Blogger Questions next month!