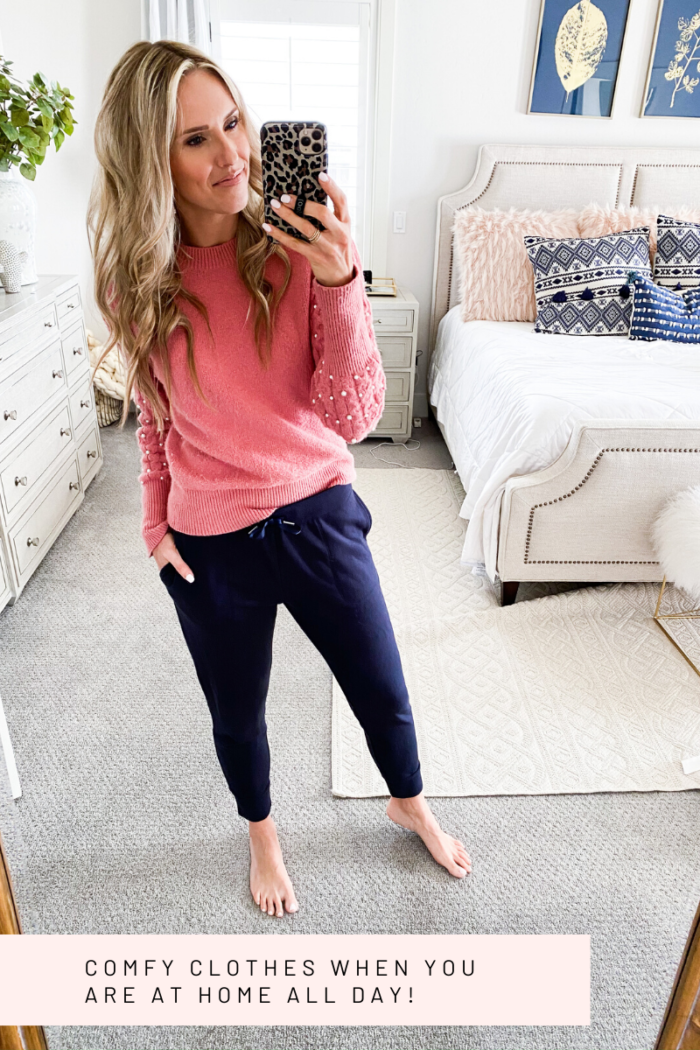 Hello my friends! We are all at home right now so I wanted to round up some of the best loungewear on Amazon that still makes you feel pulled together and cute, but that are appropriate for being in your home all day…every day 😉 It's an interesting time for sure, but I'm doing my best to embrace the extra time at home with my family. It's like we've been given the gift of a forced pause. I think in my everyday life, I tend to let the chaos take over more often than I'd like to admit. I get caught up in the hustle and bustle of life and I forget to stop and enjoy the little things. I don't want to undermine the pain and hard times of so many families right now, especially those whose jobs are affected and who work in healthcare. My heart goes out to them and if that's you, I love you, friend! You deserve to feel peace in this, too, and I hope by following along here and on Instagram, you can feel some of the joy and happiness that I try to spread in this space.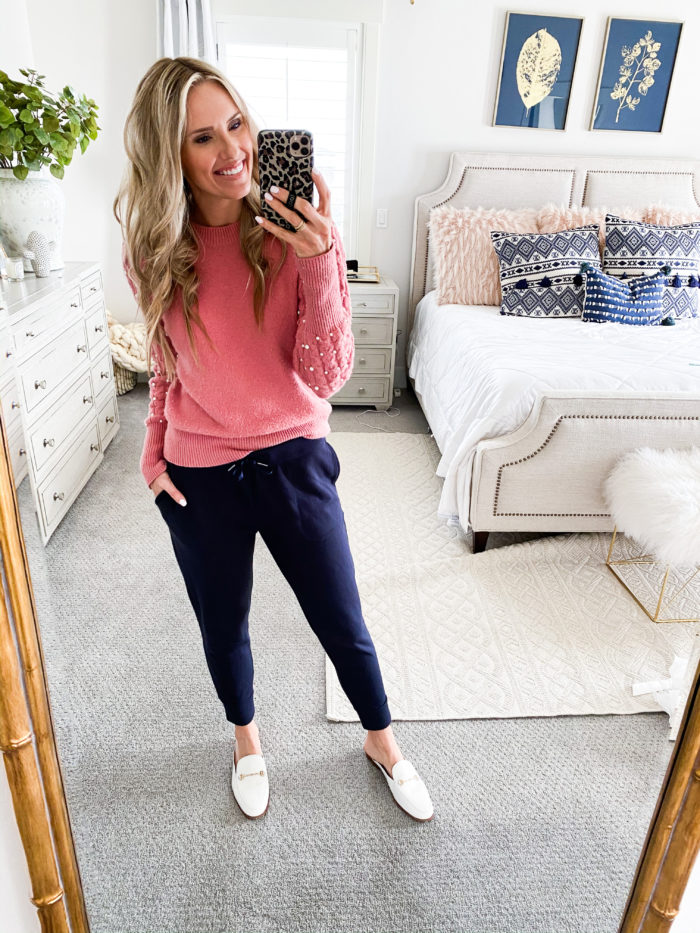 Best Loungewear on Amazon
These joggers have been game changers for me. To be honest, I'm not a huge lounger or jogger set type of girl normally during the DAY, because I reserve the comfy clothes for at night. These joggers are nice enough though that you can feel pulled together. They are structured and thick but also INCREDIBLY comfortable. I can't say enough good things about these joggers. They run true to size and I want them in every color.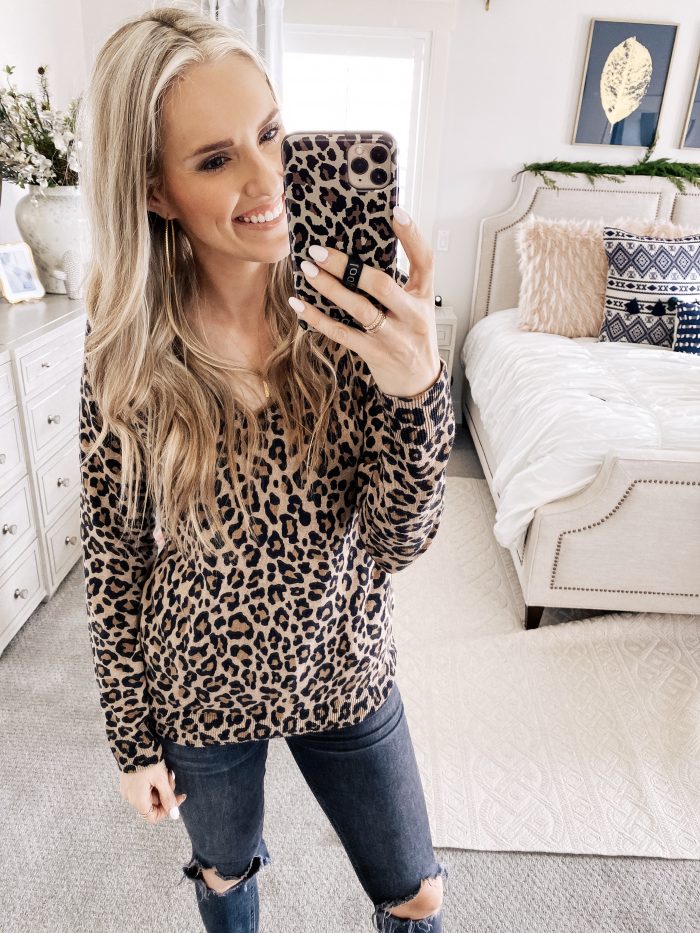 This comfy, cozy leopard long sleeve tee is definitely something I would recommend wearing when you are at staying at home because again, it makes you feel pulled together but it's soft and and really, really comfortable. This long sleeve tee comes in a TON of colors, including a cute heart print. I wish I would have gotten that for Valentine's Day!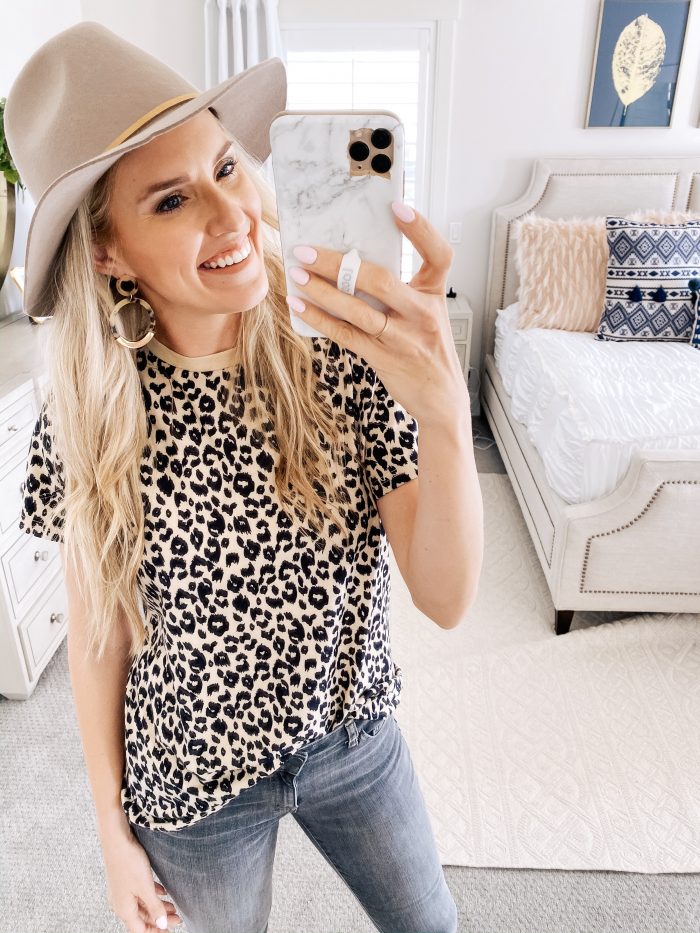 This is a tee shirt that I wear a LOT, and in the winter I've layered it with a cardigan. EVERY SINGLE TIME I wear it I get compliments on it. I love the neckline. I'm wearing a small.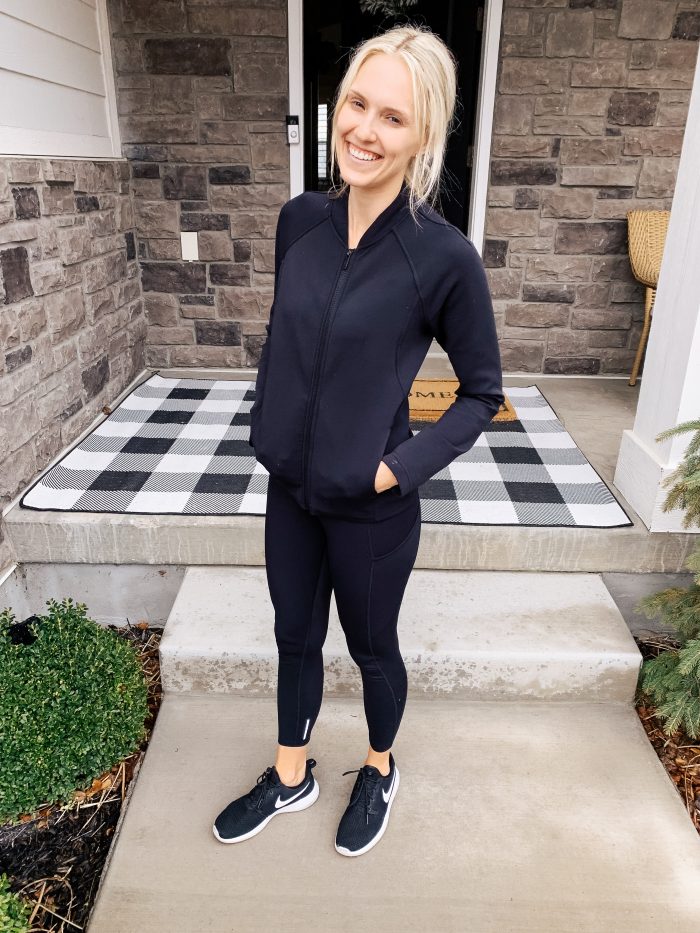 I still go biking when the weather is nice, and I know a lot of you are working out at home too. I love these leggings! They have pockets in them for holding things like your cell phone which is completely needed for me when I'm on my bike rides. You can see my favorite Lululemon dupes here. These are about 1/5th of the price the Lululemon leggings I used to buy!!
This jogger set is actually not a set…they are two different brands but the same fabric and color! My top is sold out in that color, but this top is the same and just has a hood. These are super, super soft and cozy, definitely great for when you want to wind down for the night. The joggers are SO COMFORTABLE! They come in other colors, too.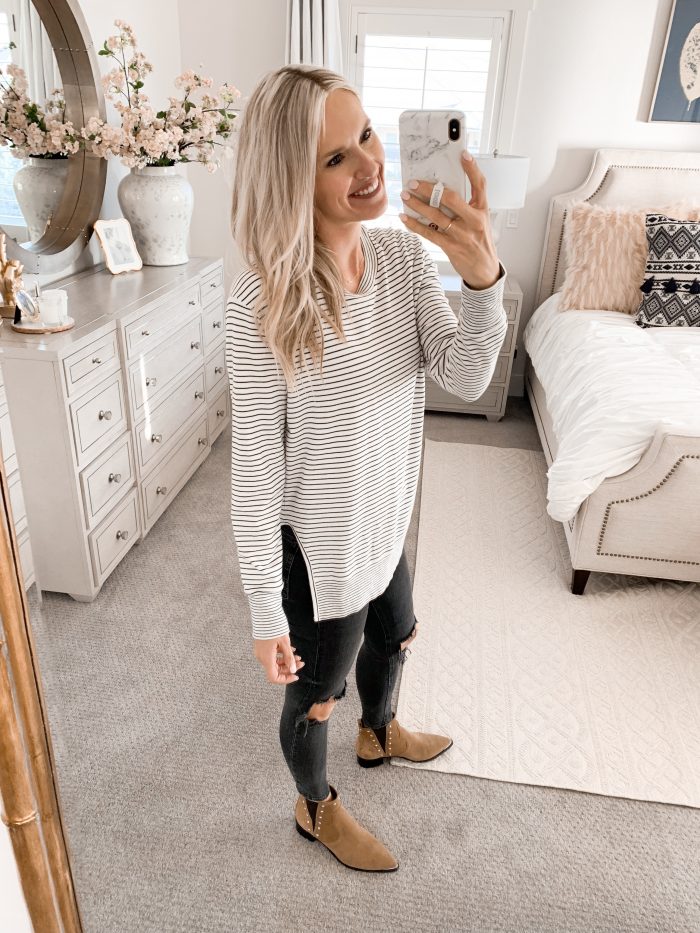 I've had this split hem shirt for about a year and I have it in several colors. It would also be great to wear with leggings!
other posts you might like while you are staying at home
Best Activities for Kids When you Can't Leave the House!
Easy Crusty No Knead Artisan Bread Recipe
Your Step by Step Potty Training Guide!
5 Essential Tips for Your Pantry Organization
What do you think is the best loungewear on Amazon?  Let me know in a comment below!