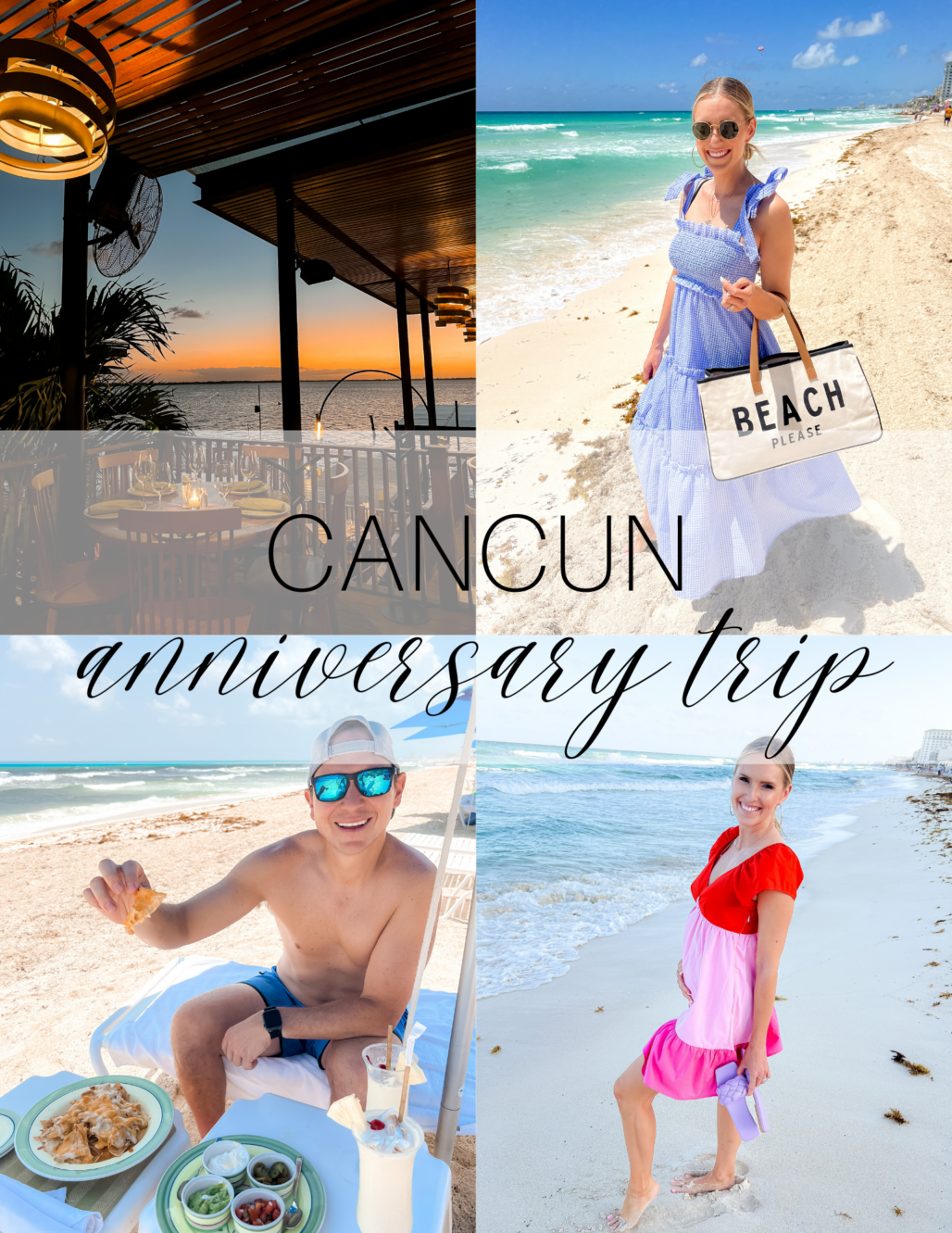 We decided to take off for Cancun this year as we celebrated 14 years of marriage! 14 years of wedded bliss and some ups and downs with my man. I sure love him and love that we were able to sneak away! I also missed our kids. It's hard to leave them but I think so healthy for a marriage! I was starting to get stressed as the time to our trip came closer because I wasn't able to find a babysitter. My mother-in-law said that she would take the kids and I was so grateful! Luckily they were in school so it made it a little easier.
We have never taken an anniversary trip before! I was so glad that I was able to spend time with Tyler. I wanted to share our trip, what we did, where we ate, what I wore and where we stayed so you can get some ideas for an upcoming Cancun trip if you have one!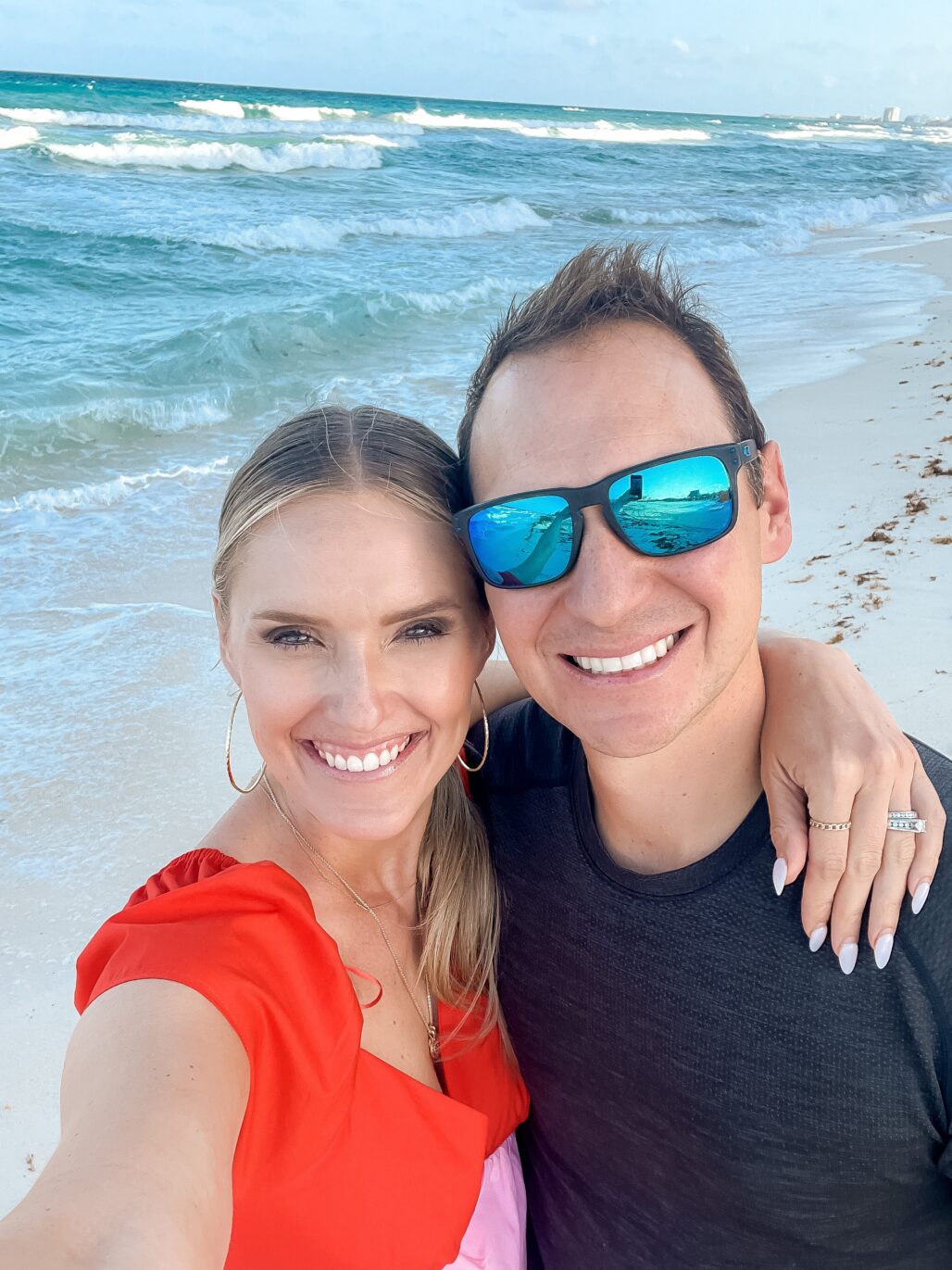 what i wore in cancun
I was really excited about the fun dresses that I wore in Cancun! So many fun colors and great summer prints and silouettes. Also very affordable, as always! I always update my LTK page here, so if you want to see what affordable finds I have, that is a great place to go. I also update my Amazon favs page weekly, so this is a great place to look when you're shopping for affordable finds as well! I'll list off what I wore below:
Lavender sandals HERE
Color block dress HERE
Blue Amazon dress HERE (this was a best seller when I posted about it! It's super high quality!)
Initial necklaces HERE (I bought two – one for each of my kids!)
Gold slides HERE (I have these in multiple colors!)
Hoop earrings that I wear almost every day HERE
Beach Please bag HERE (and on sale! I LOVE this bag!)
All nighter setting spray that I use over my makeup every day and I love it HERE
Off the shoulder colorful dress HERE
Cotton dress that's under $15 and comes in lots of colors HERE
Sun visor HERE (I've had this for a few years in two colors and LOVE them! The perfect hat because you can lean back in a chair and rest your head and it also rolls up really well to travel with!)
Floral dress HERE
Sunglasses HERE (my sister and I both have them and love them!
Sun hat HERE
Beige and white striped dress HERE
Best sunless tanning lotion EVER HERE!
what we did in cancun
We literally sat on the beach almost the entire time while we were in Cancun! We flew in on a Monday and flew out on a Thursday so we really only had two full days. Normally when I'm not pregnant, I like to do more adventurous things but since I'm pregnant and don't have my normal energy, and we weren't there for very long, we sat on the beach and relaxed! Tyler actually ended up working quite a bit as he took client calls on the beach to help them with their insurance! He loves his job and loves helping people so it was totally fine. He's the best insurance agent in Utah! 🙂 But really, though. He is actually amazing so if you happen to live in Utah, my man will take care of you. You can see our last trip to Cancun HERE when we took our babies when they were a year old!
Anyway, back to Cancun! We took a walk one night on the beach over to the mall to grab some ice cream. It was actually a little eerie because most of the stores were closed down. We went to Haagen Dazs in the middle of the mall, but most of the stores were permanently closed. It made me so sad! Covid has hit tourist towns really hard. Other than that, we stayed at the resort until we went to dinner at night! More on that below.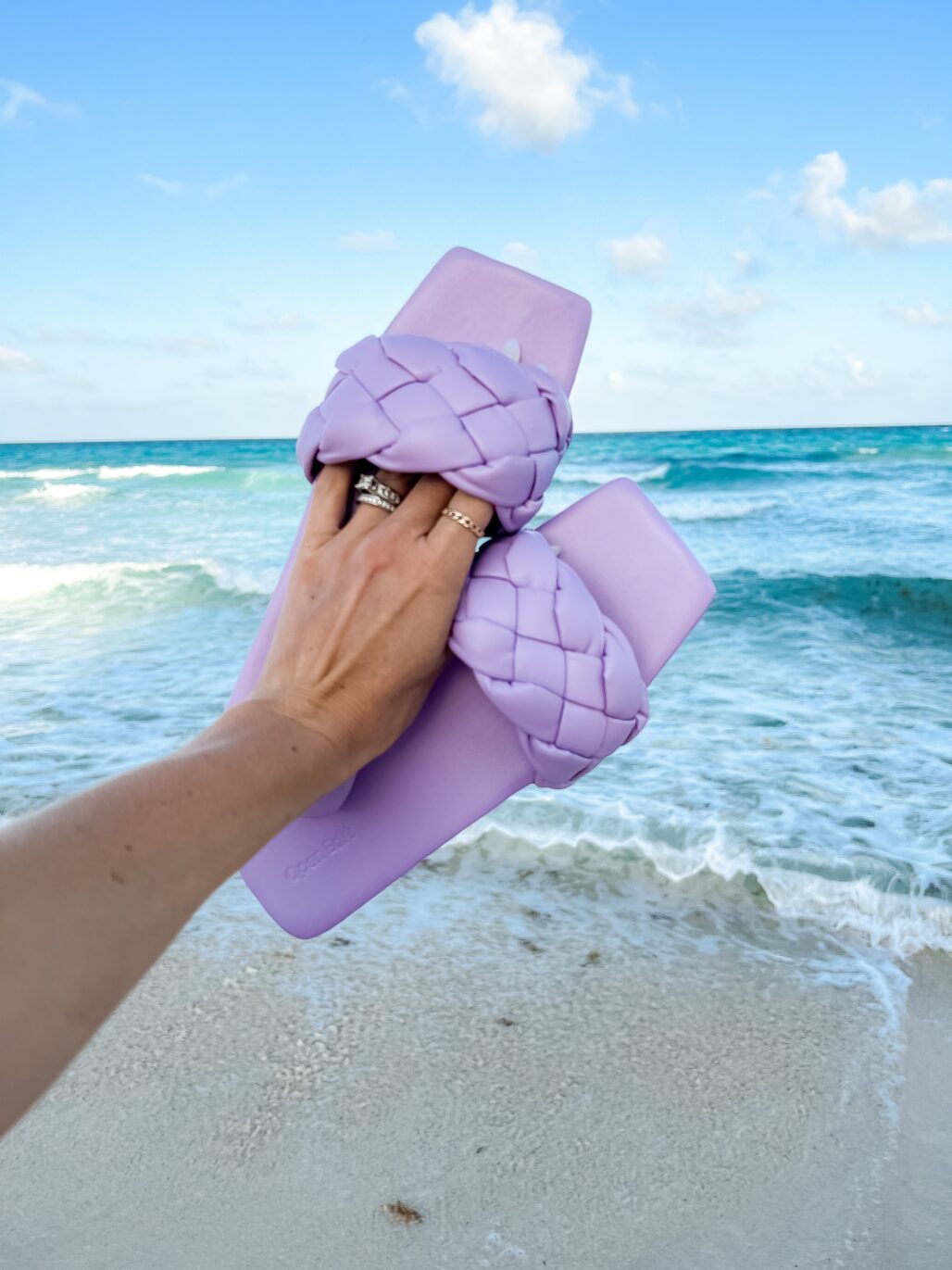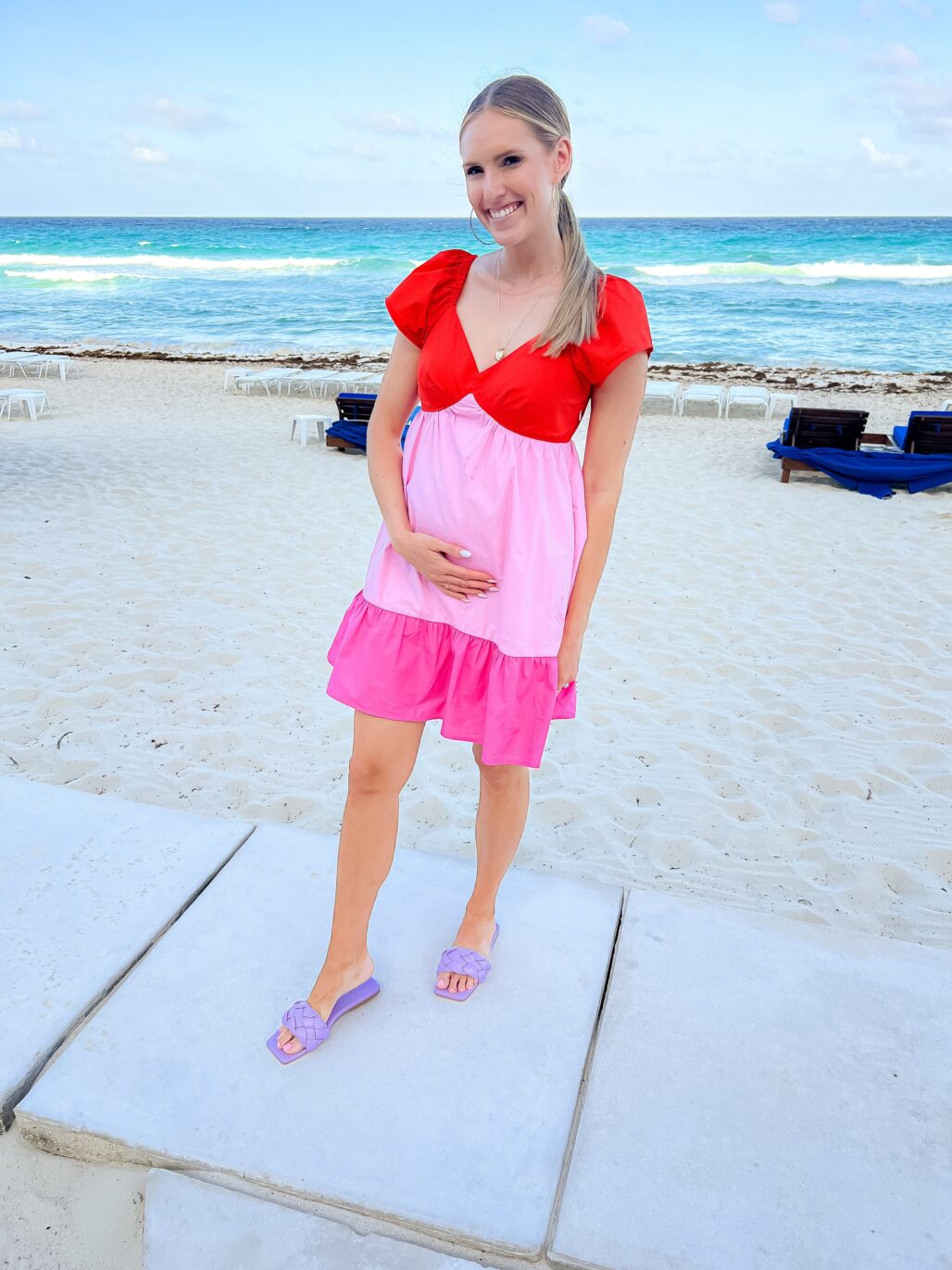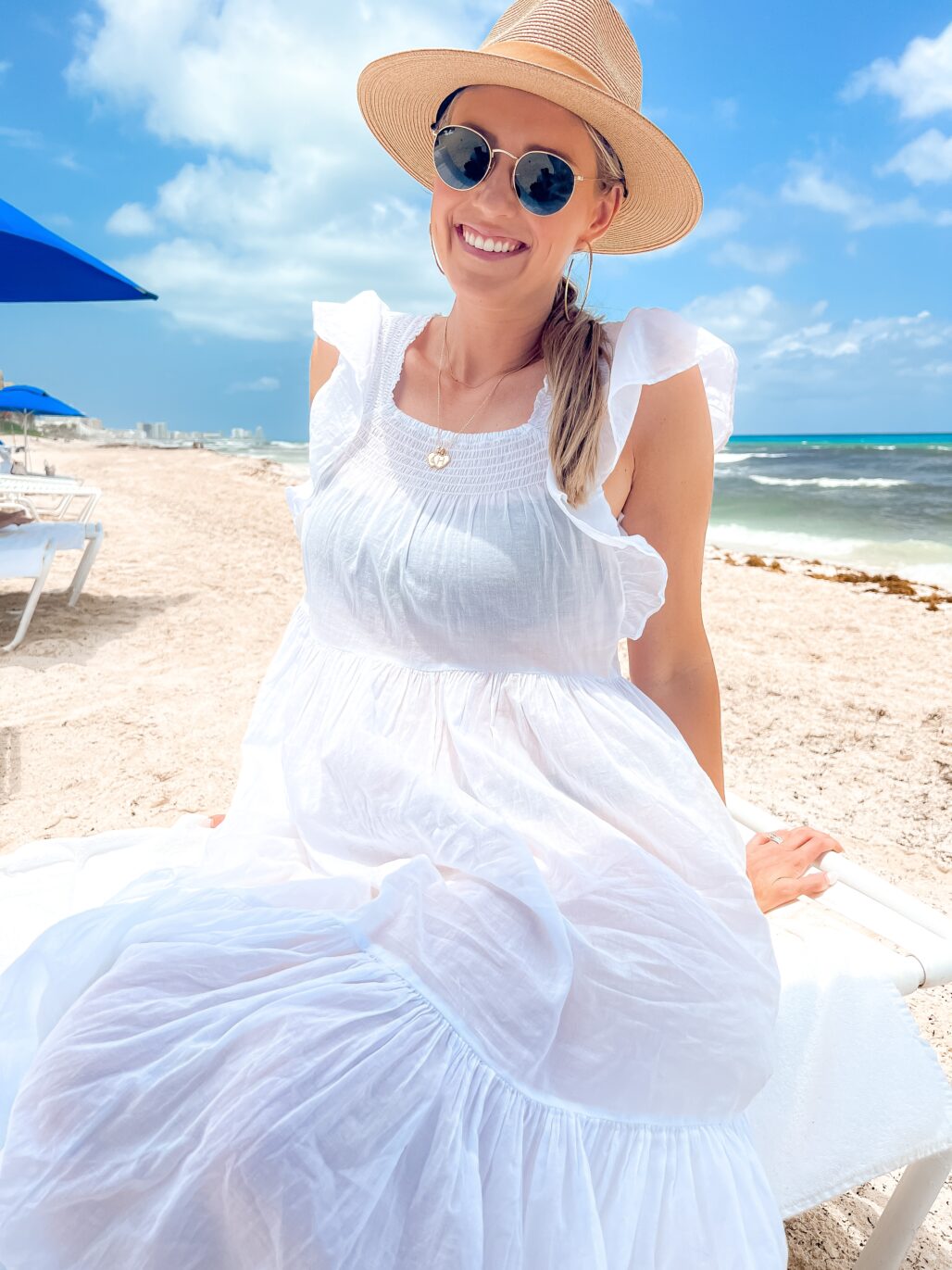 where we stayed in cancun
We stayed at the Ritz-Carlton Cancun! It was absolutely beautiful and we loved the property. I have to tell you that we have a family member who has invested in some of the Marriott hotels, and because of that, we were able to get a really great discount! It's expensive but it was amazing. The pools were great, the service was great, and the food was great! We had chicken nachos and virgin pina coladas on the beach and it was incredible. I would recommend it!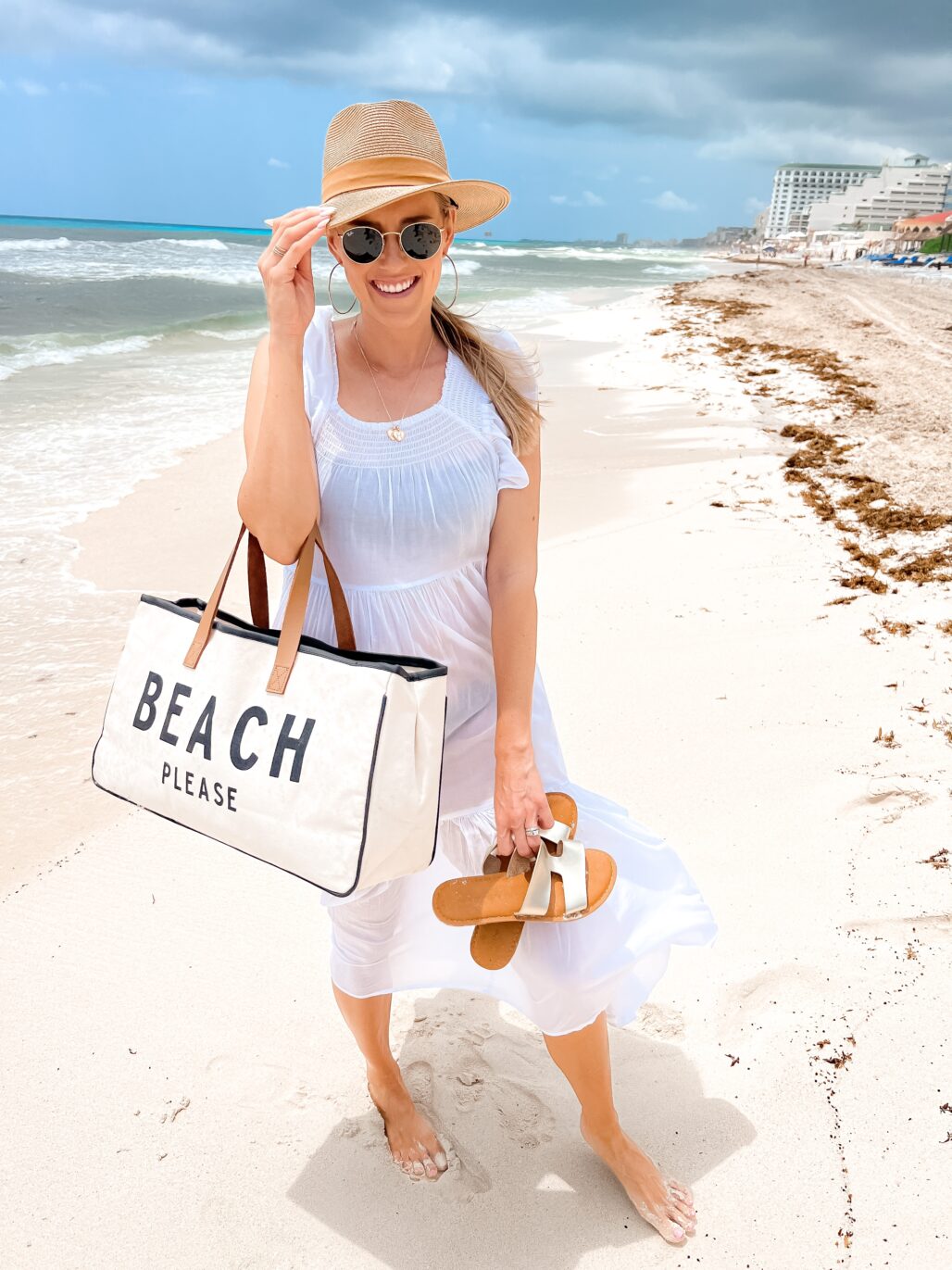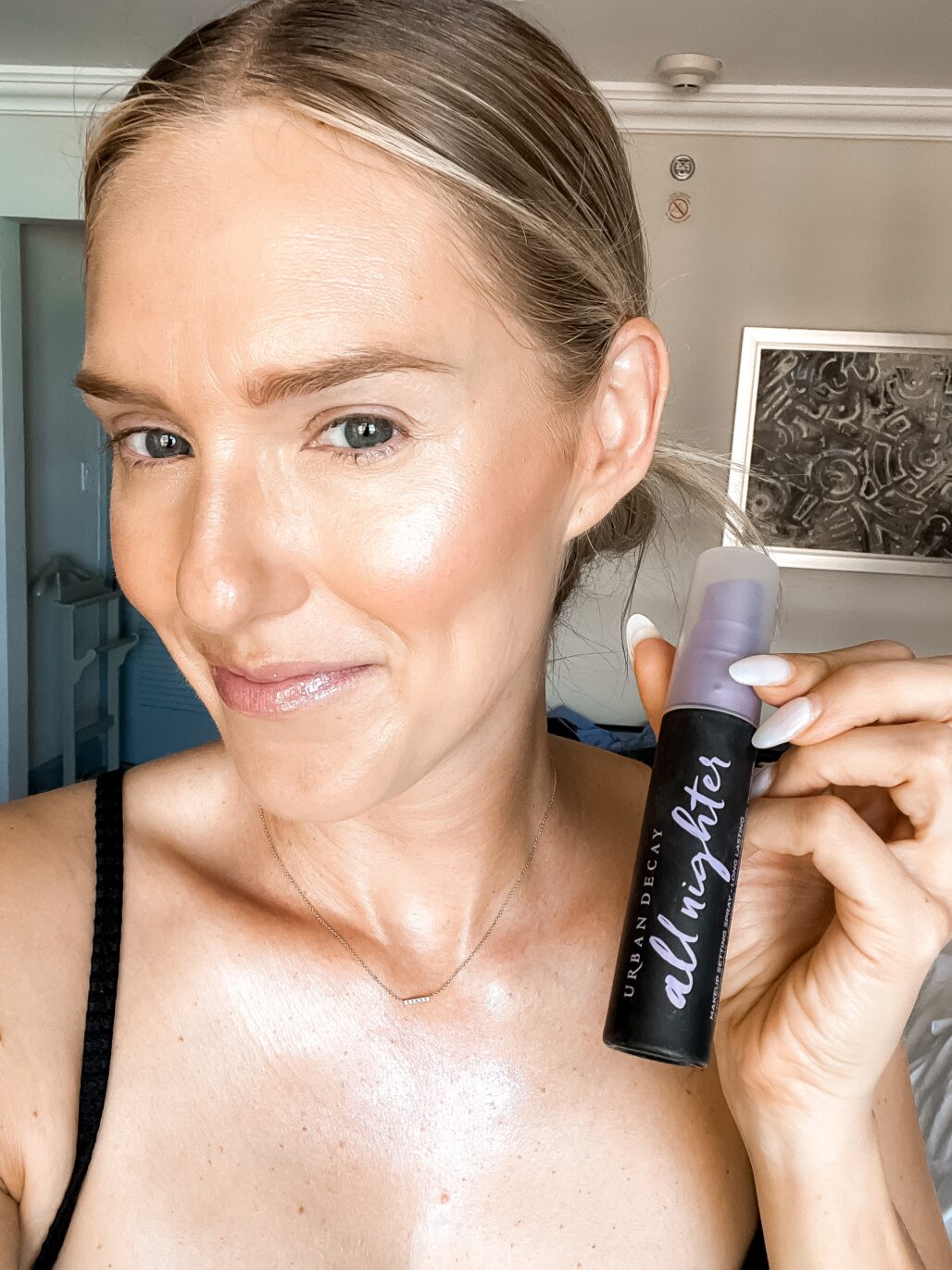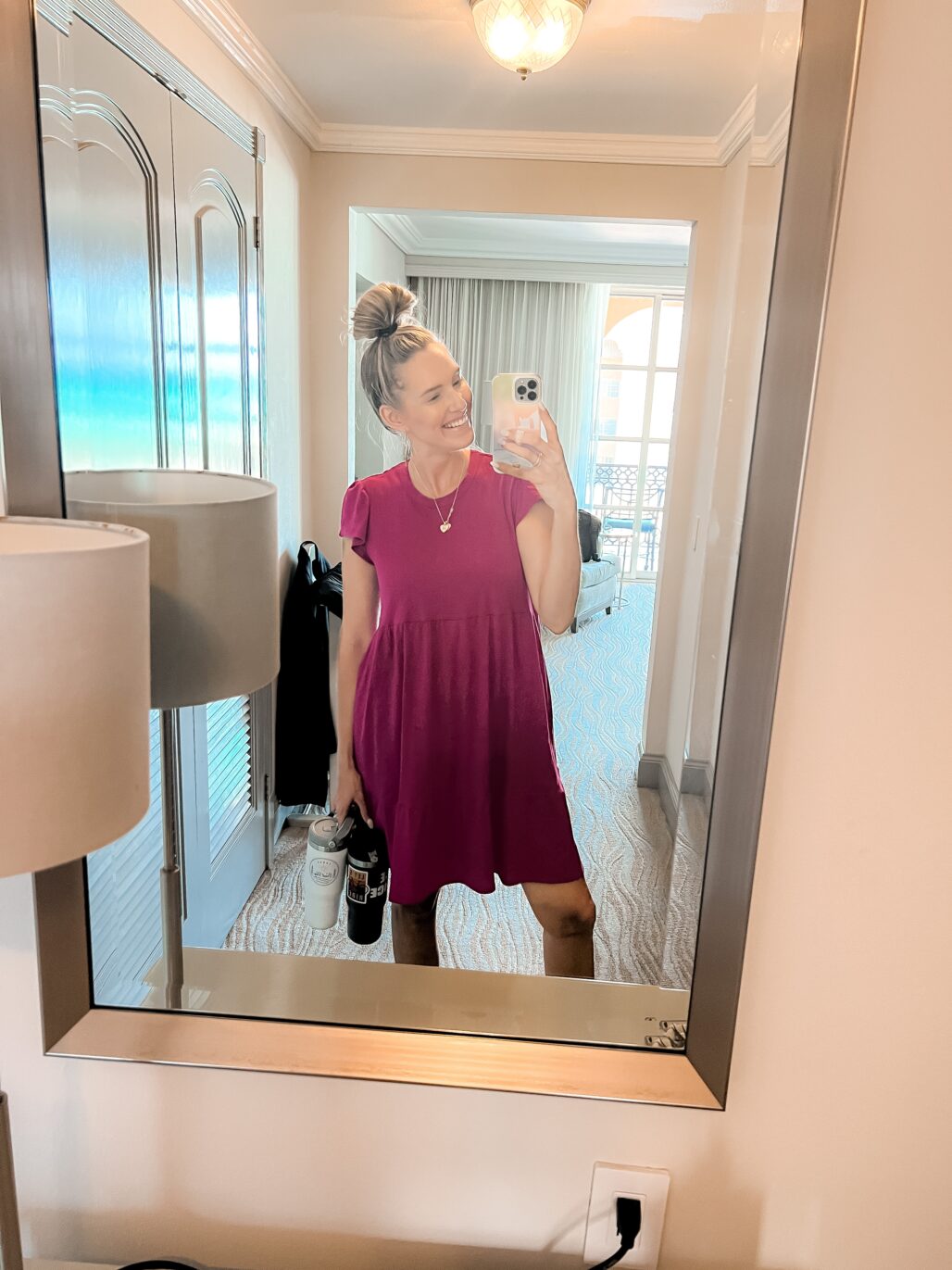 what we ate in cancun
Since we were there all day relaxing on the beach on the Marriott's property, we wanted to head off property for the two nights we were there! Well, the first night we ate at the Ritz-Carlton's restaurant on the patio and it was great. I got the shrimp tacos and Tyler got the quesadillas and we loved it! The second night we went to the Funky Geisha and it was CRAZY and SO GOOD! We did not know what to expect! It was an Asian Fusion restaurant with really cool (and loud lol!) entertainment!! We were blown away. They are drummers come out and dancers, and lots of loud music. They have cool drinks with all sorts of lights and fire and we were amazed! It would definitely recommend it. The decor and the atmosphere was really, really cool. It's a bit out of the water past and through some swamps it looked like. They have done a great job! The next night we went to Rosa Negra! It's a family of restaurants close to each other. This was the same idea with big entertainment (as you can see below!) but not quite as loud. I loved them both!