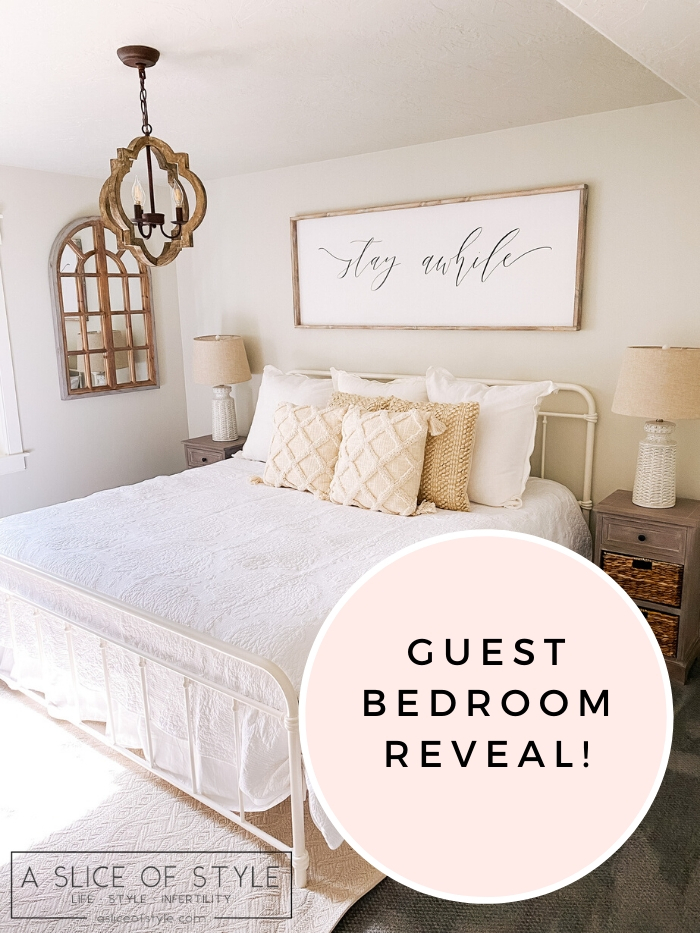 SHOP OUR FARMHOUSE GUEST BEDROOM FURNITURE AND DECOR:

It is completely DONE! If you've been following my Instagram stories for the past month, you know I've been working on the guest bedroom. I am SO excited to finally share the finished product! I love this room because it was very affordable, but it still looks really put together and high quality. I love the white, farmhouse feel; it is just so cozy, and I think I could stay in here all day! I literally feel like this room is my third child. I'm so proud and so excited to share the details with you guys!
OUR WHITE FARMHOUSE GUEST BEDROOM: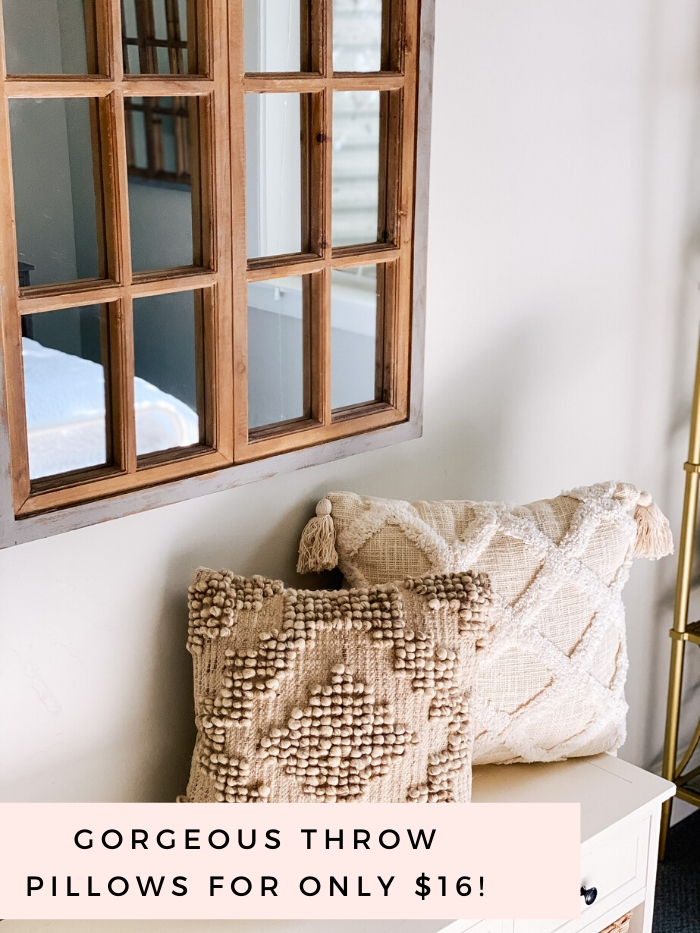 Would you believe me if I told you these throw pillows are only $16?! I keep ordering more of them because they are so cozy and high quality. They look cute in so many different areas of the room! They literally look and feel to me like $60 pillows for a fraction of the price. They come in such great neutral colors, and they have this one in a beautiful coral color as well! They are so darling. Here are the beige ones and here are the cream ones!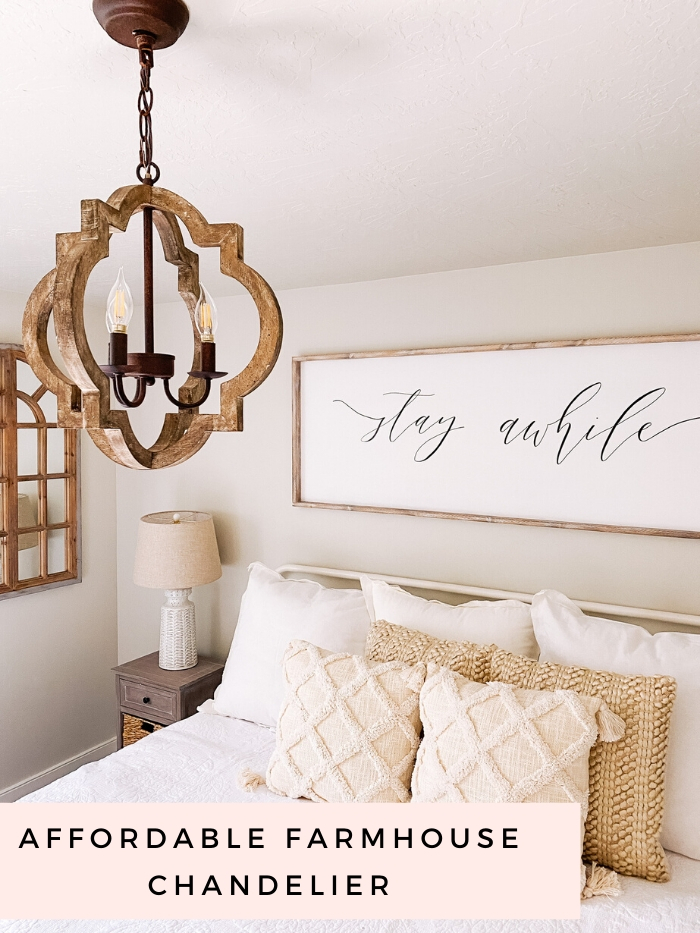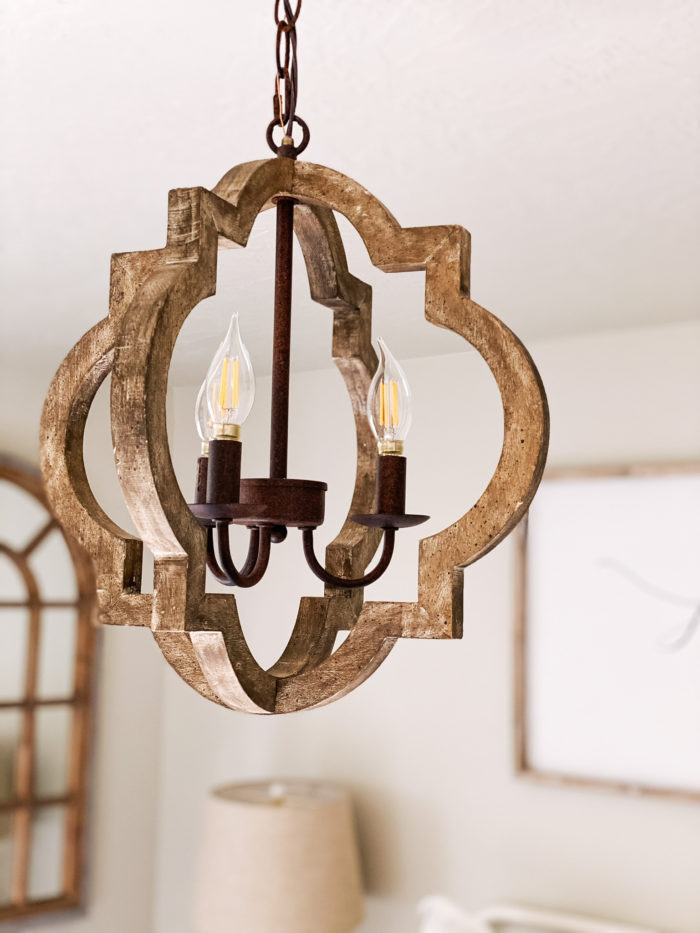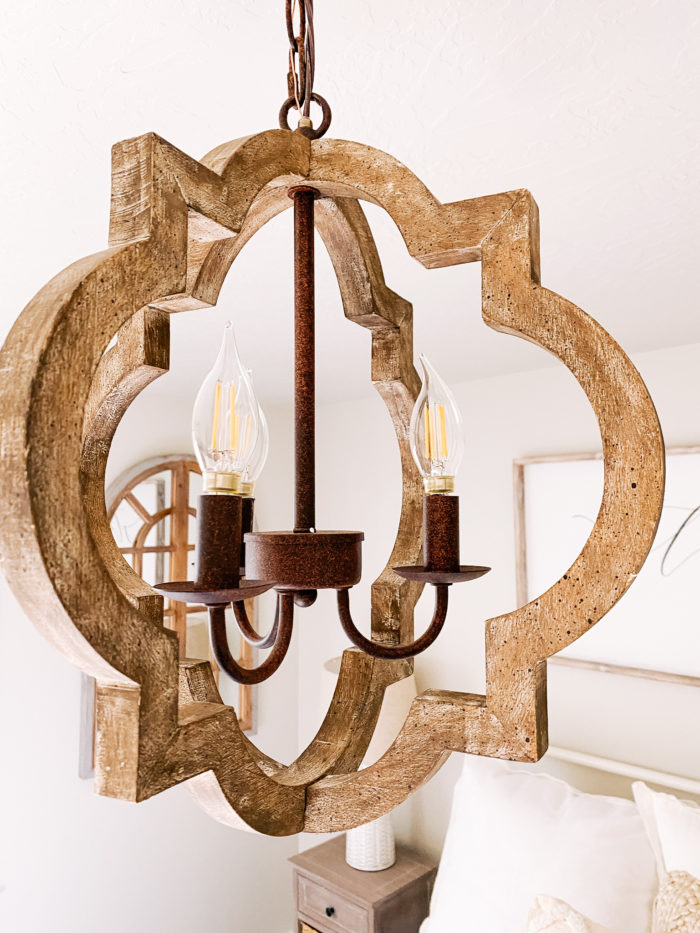 The farmhouse style chandelier is another high-quality item at a great price. The height is adjustable, so you can change it to fit your space! It's perfect for this bedroom, and I think it would be so cute in a living room or dining room as well!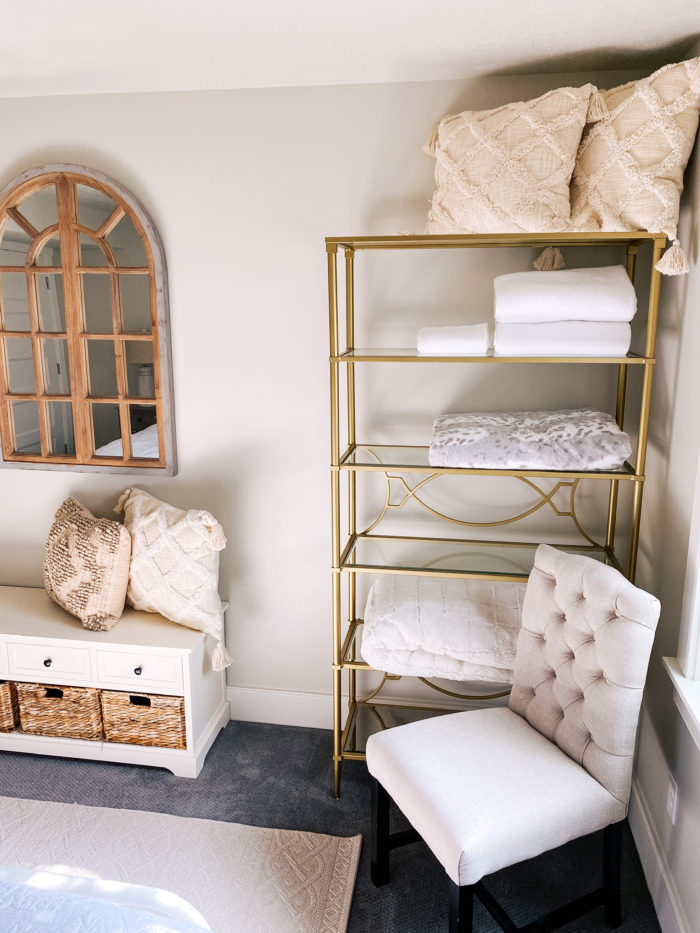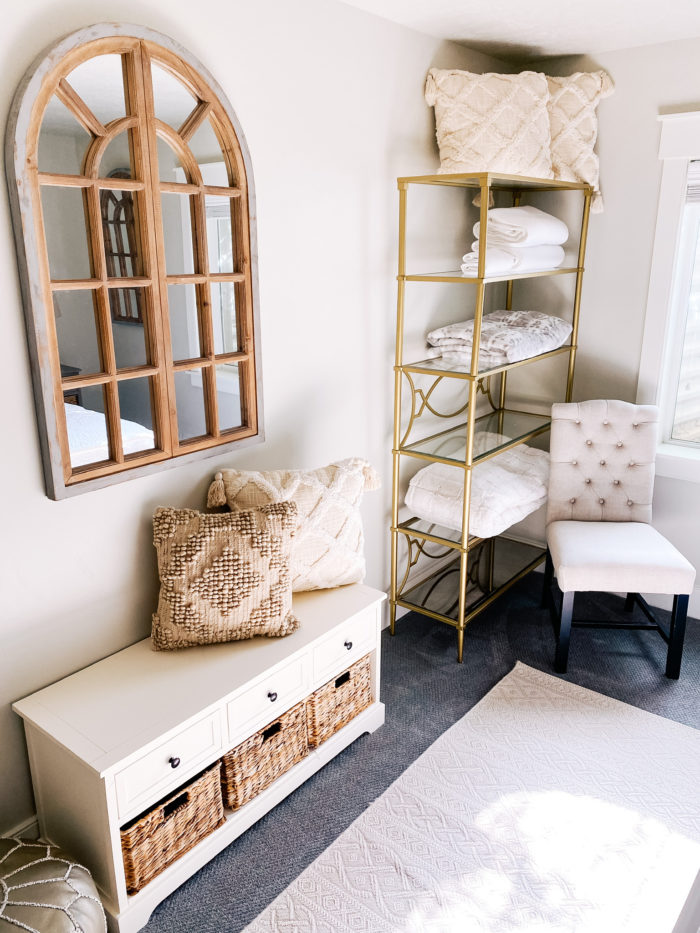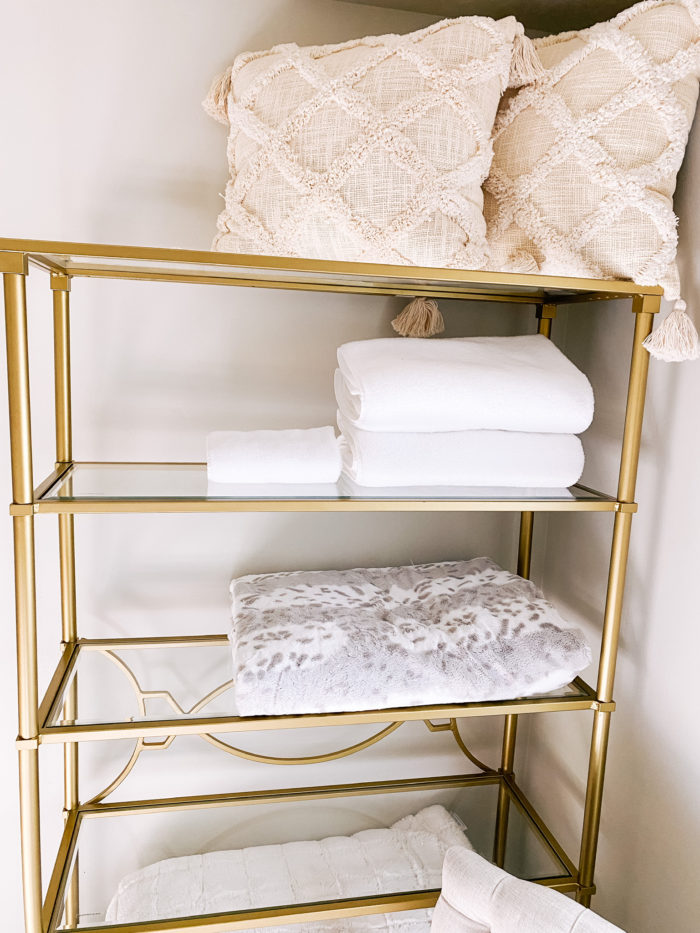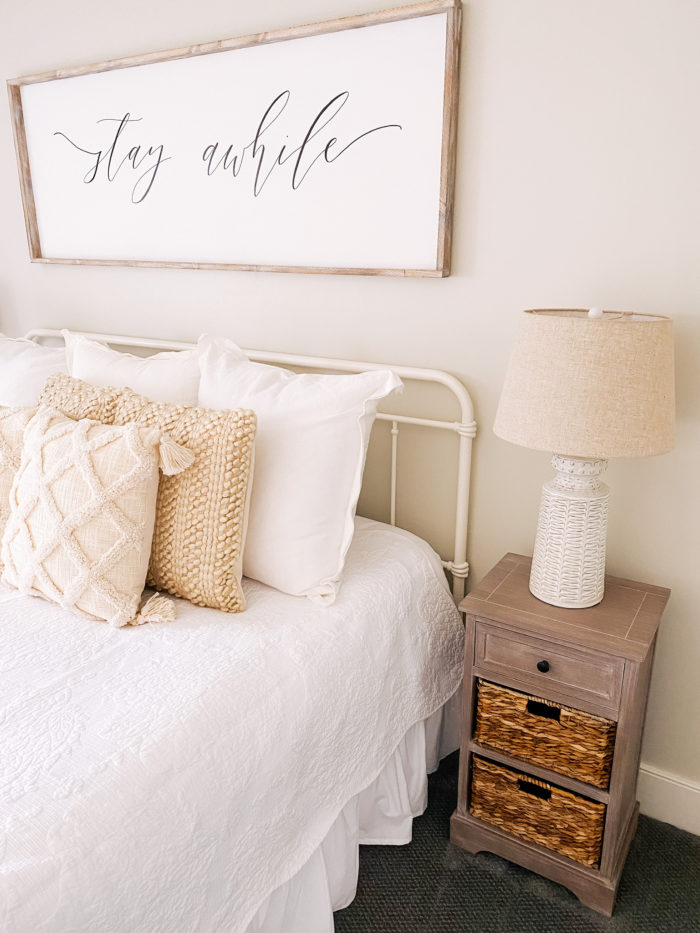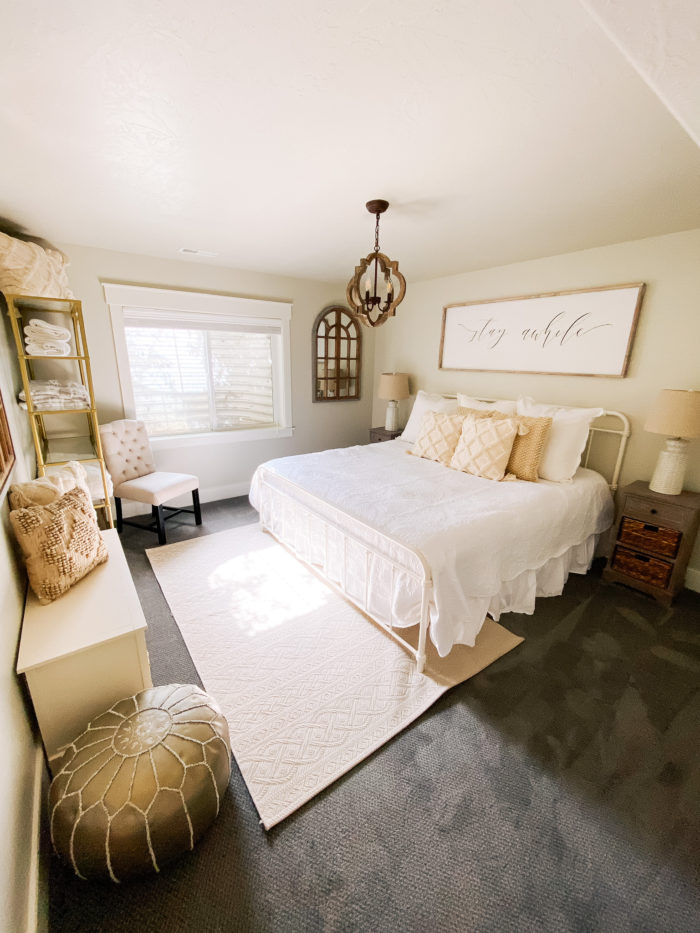 Where do I even start?! There are so many good deals in this farmhouse guest bedroom. The bed frame was $200 for a King, and it's even less expensive if you get a smaller size! It also comes in multiple finishes. I love how it looks with the rest of the decor, and that price is unbeatable!
The leather ottoman is one of my favorite finds. It does come unstuffed, so you need to stuff it yourself. The stitching detail makes it look so much more expensive than it is! I love this because it's beautiful and also has many uses.
The shelf in the corner of the room is the perfect combination of elegance and function. It would be a great display shelf as well! I'm using it to store extra bedding and pillows, and I love having a piece that makes storage look cute!!
The beautiful ruffled bed skirt was only $22! A bed skirt seems like such a simple and unimportant element, but I really think it added so much to this room. It looks classy and just makes the room that much more inviting!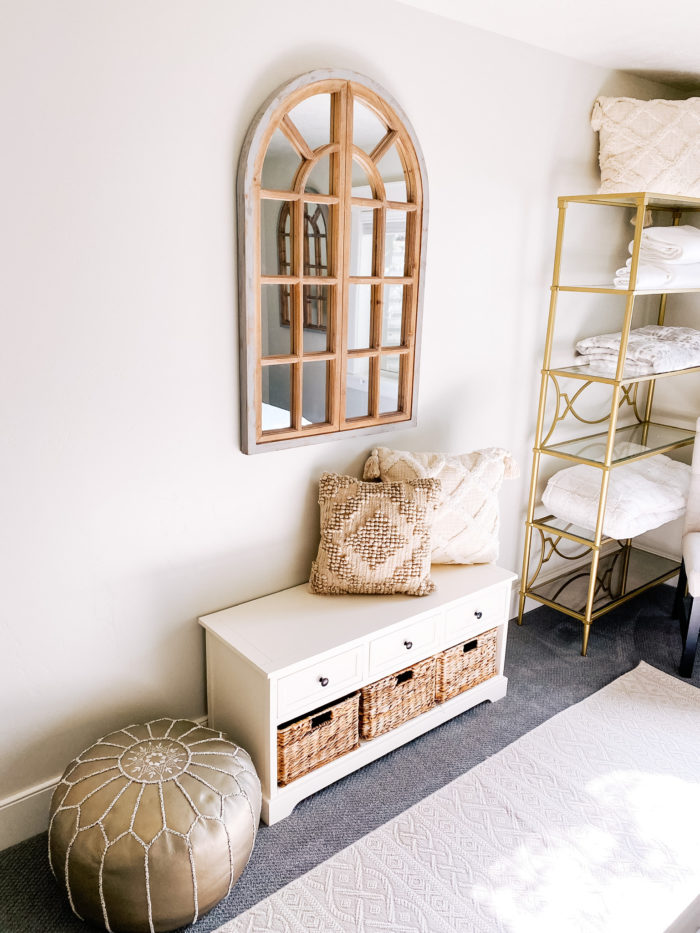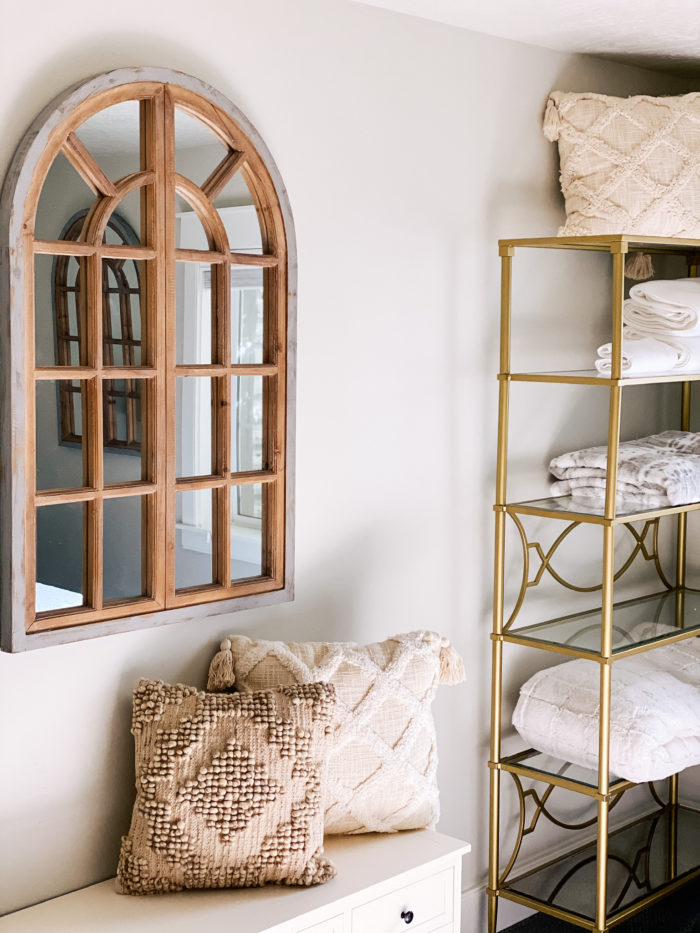 SHOP OUR FARMHOUSE GUEST BEDROOM FURNITURE AND DECOR: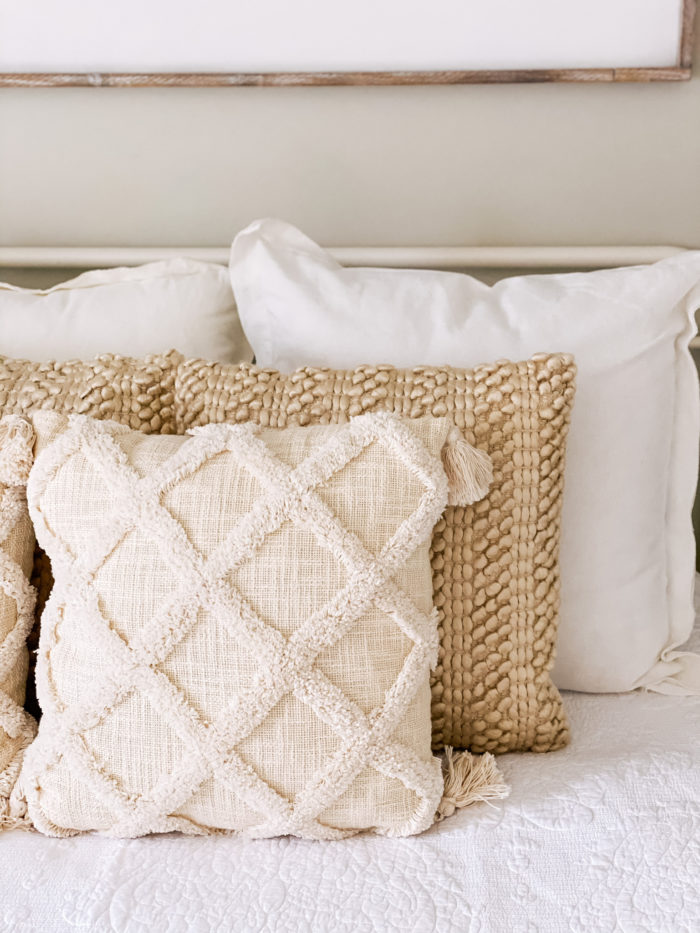 Here are the beige pillows and here are the cream ones! Only $36 and $16. I literally cannot have enough of these pillows!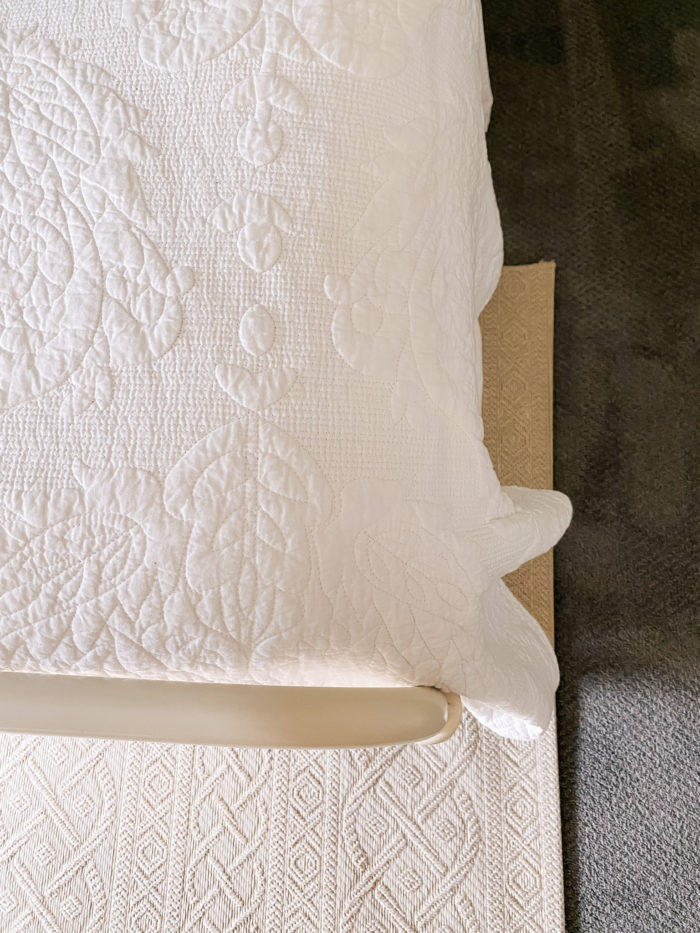 I'm realizing that most of this farmhouse guest bedroom is composed of pieces that are simple while at the same time beautifully detailed. This quilt is no exception! I'm in love with the paisley design and the scalloped edges. Also, can you believe it's from Walmart and only $54 for a King?! I highly recommend this one for the price. It also comes with these beautiful matching shams!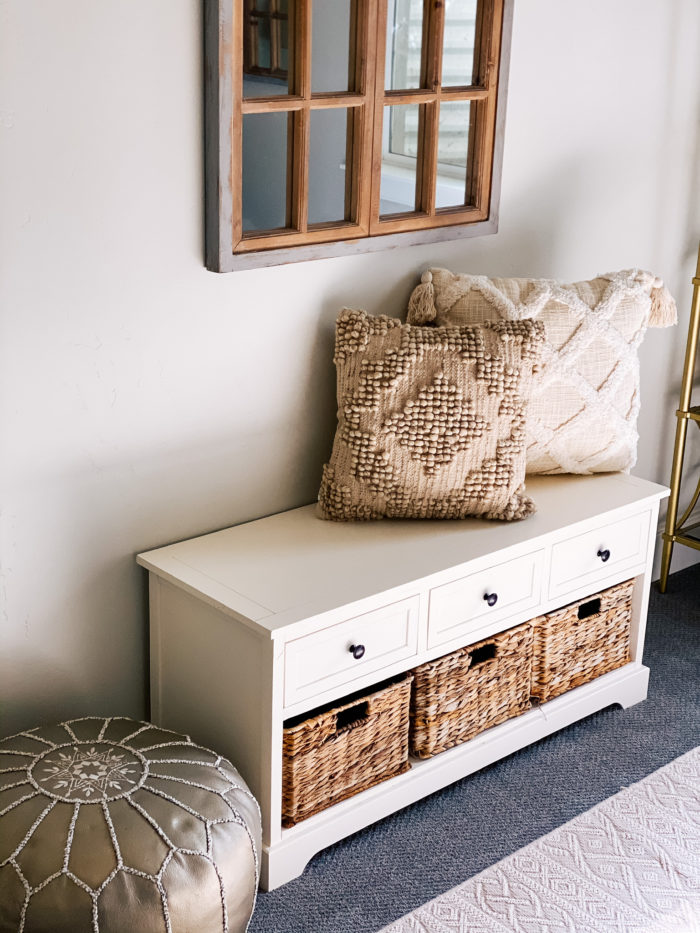 This is a similar design as the night stands, and it comes with the baskets! I love that it can easily hide any clutter. It's also a great way to display those beautiful throw pillows (have I mentioned how much I love those?)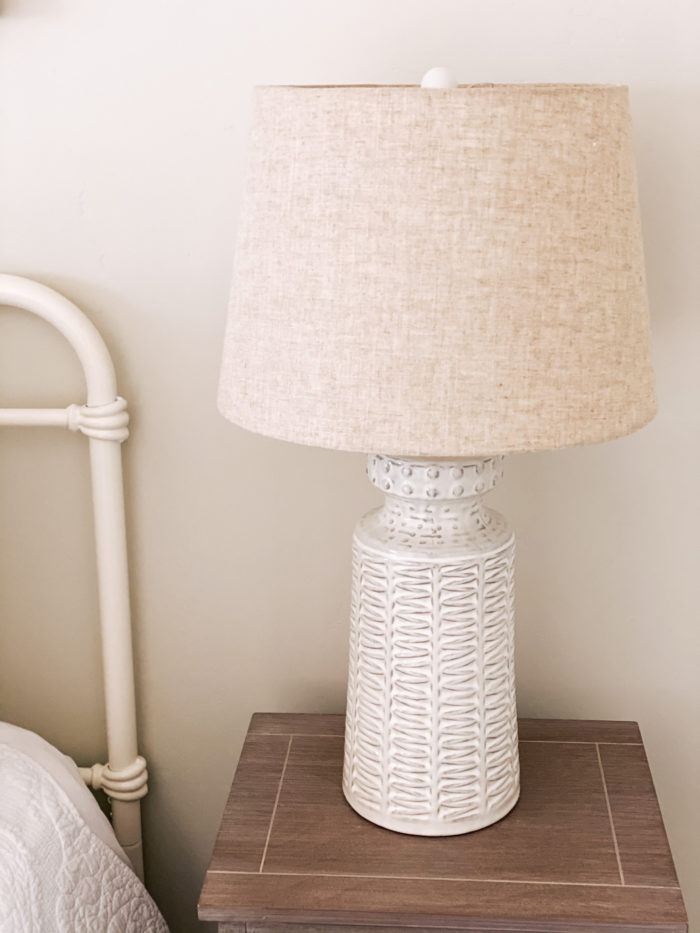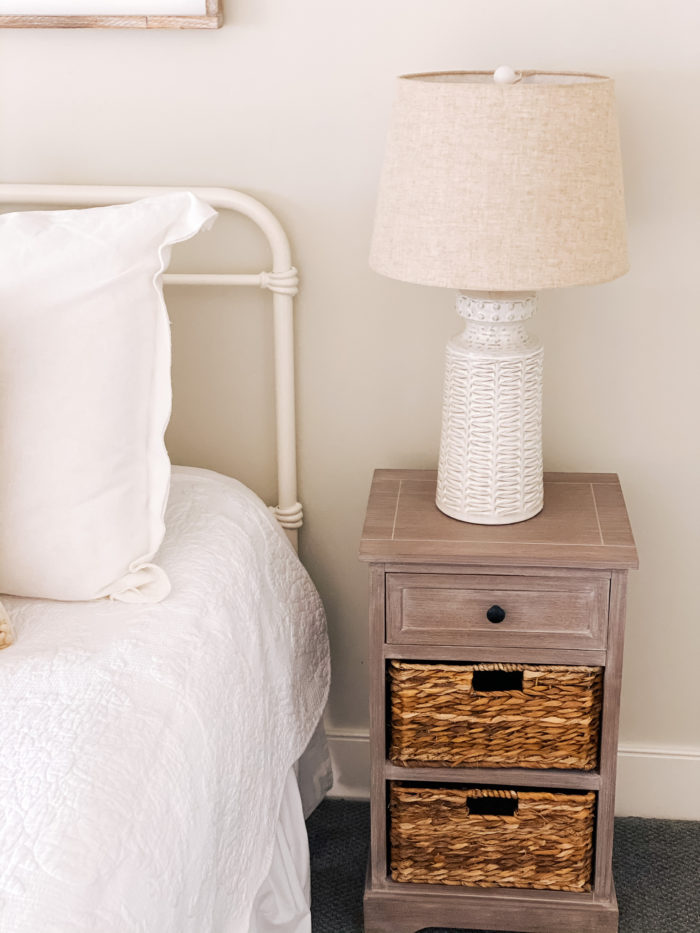 I'm in love with these nightstands. They come in a few different finishes, and they come with the baskets! They're beautiful and also very functional; they look so clean and elegant while also providing a lot of storage space!
The lamps are neutral colored and I love glazed finish and the detail on the base. It's also the perfect size! Even though it's very simple, I feel like it adds so much to the room.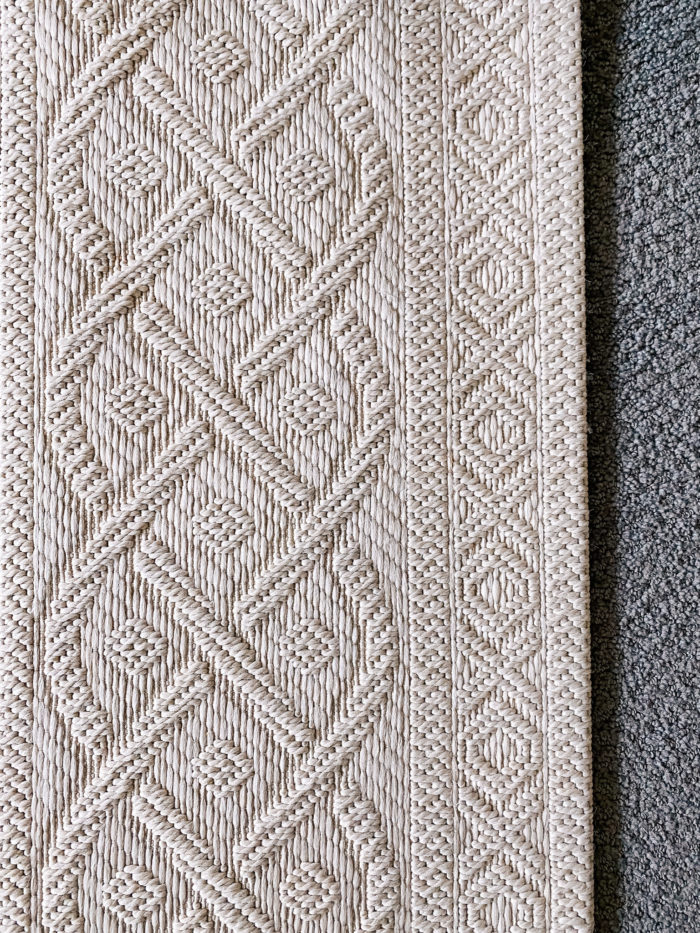 I am convinced that this is the most perfect rug I could have found for our farmhouse guest bedroom. It's the perfect neutral color with the most beautiful braided detail! It's also stain resistant and doesn't shed. A beautiful rug that is also low maintenance is a win for me!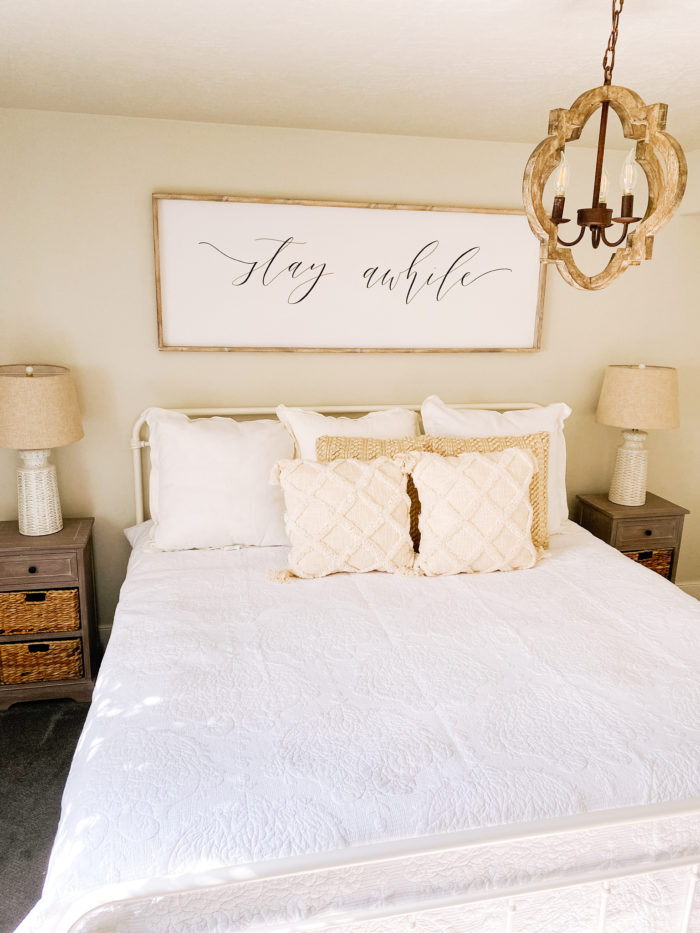 I had this beautiful sign custom made for me by @madebyjen_. It's exactly what I was picturing and I love it so much! It makes the room so cozy and welcoming. This is a great option if you are local to Utah, but for anyone who isn't local, I found this similar sign on Etsy!
SHOP OUR FARMHOUSE GUEST BEDROOM FURNITURE AND DECOR: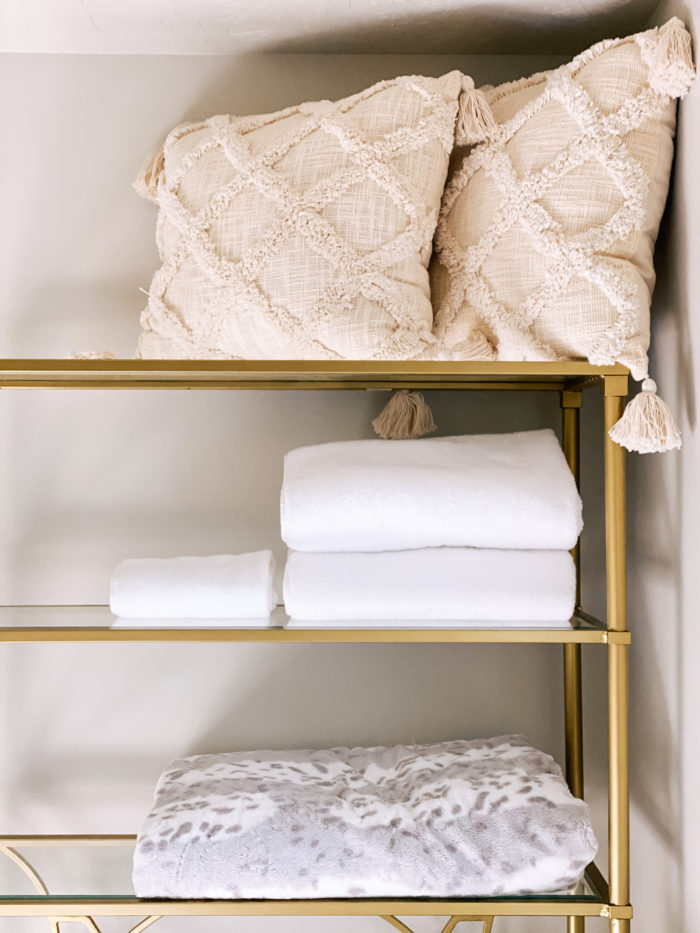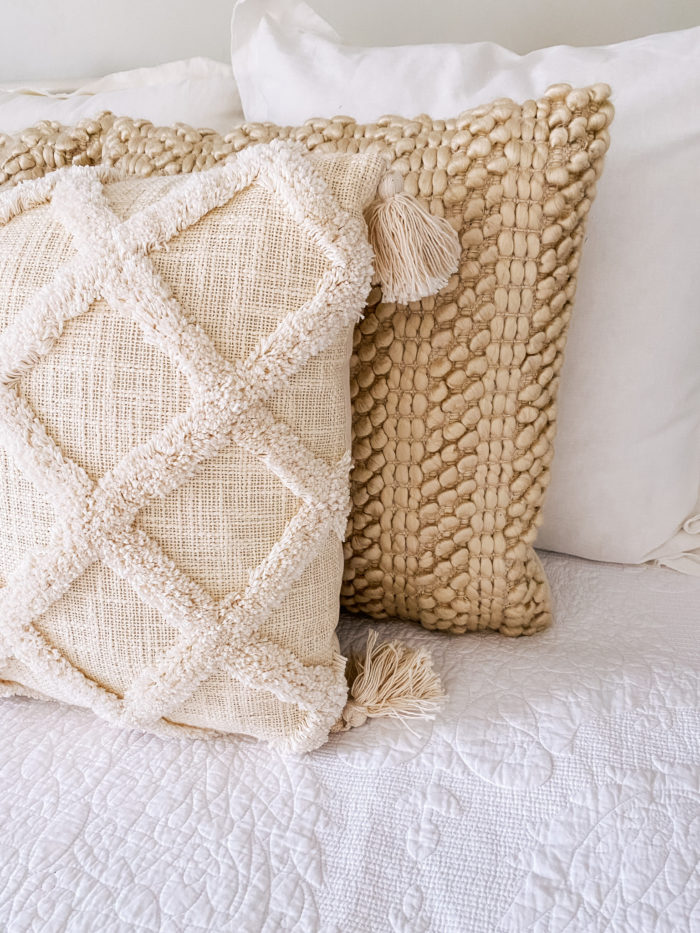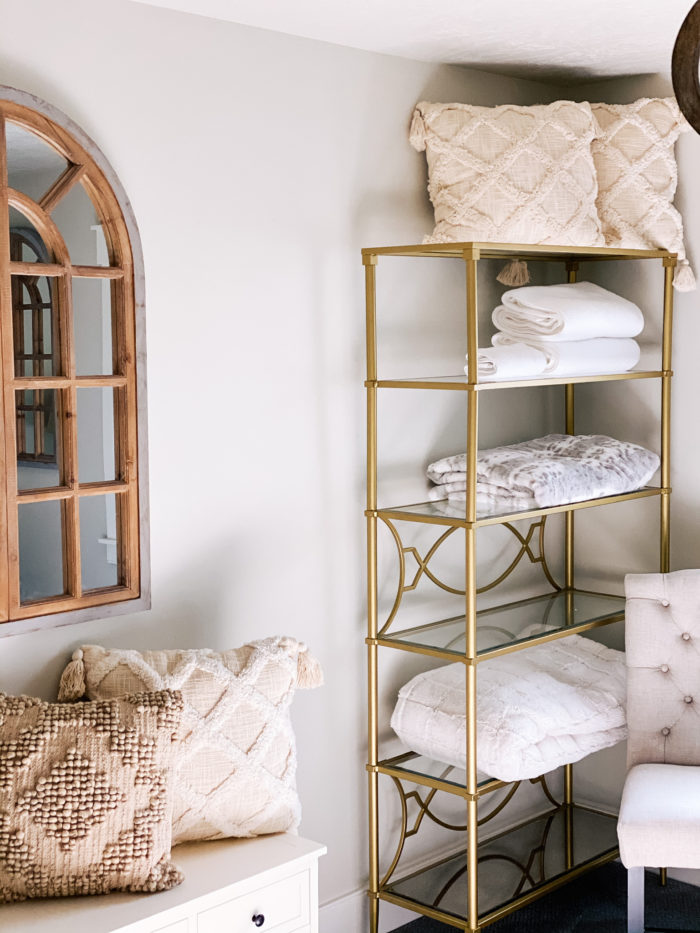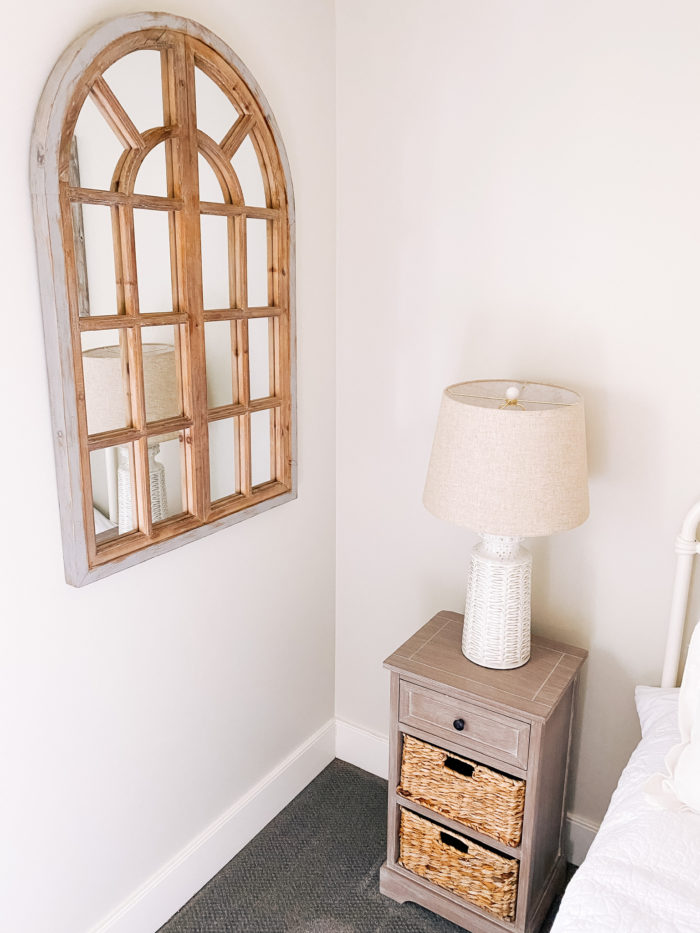 How do you say no to a farmhouse arch window mirror? The frame is solid wood, so it's very good quality. It also comes with the hardware you need to hang it! I think it's a great focal point for the room without taking away from all the other beautiful pieces!
Check out my kitchen decor HERE and other cozy decorating ideas HERE!
SHOP OUR FARMHOUSE GUEST BEDROOM FURNITURE AND DECOR: