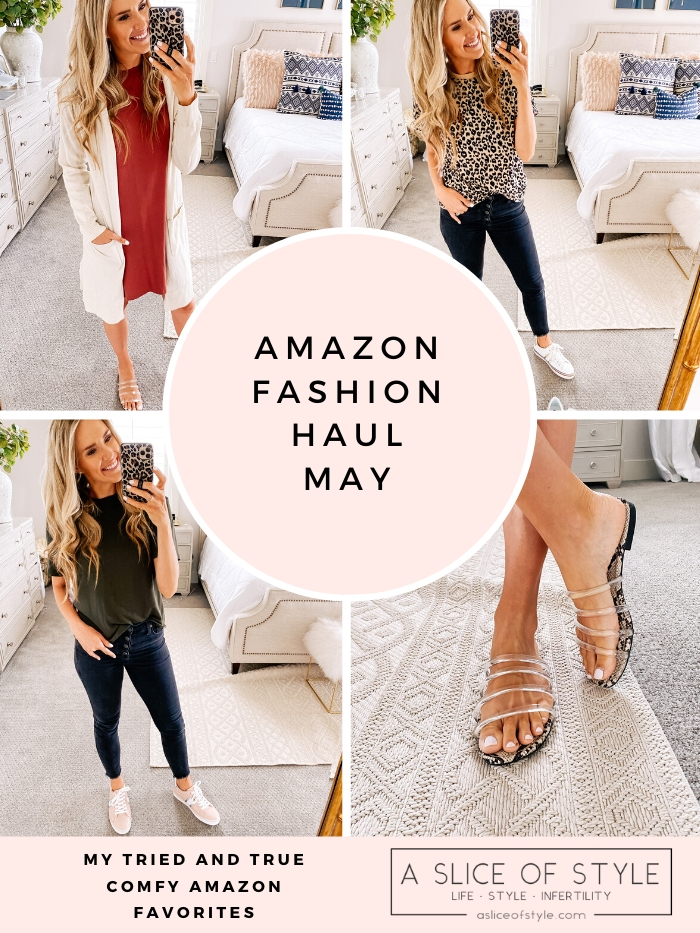 Click here to see all of my Amazon haul for women finds!
I love to be able to easily mix and match with the items in my closet, and I LOVE this month's Amazon fashion haul for women pieces because they come in great basic colors and can be dressed up or down. So many possibilities!! Most of these pieces I have had for months, and they are seriously some of my favorite things in my closet! They are all so comfy, which is a huge plus for me. You can check out all of my Amazon favorites HERE. I am always updating this list!🙂
May Amazon Fashion Haul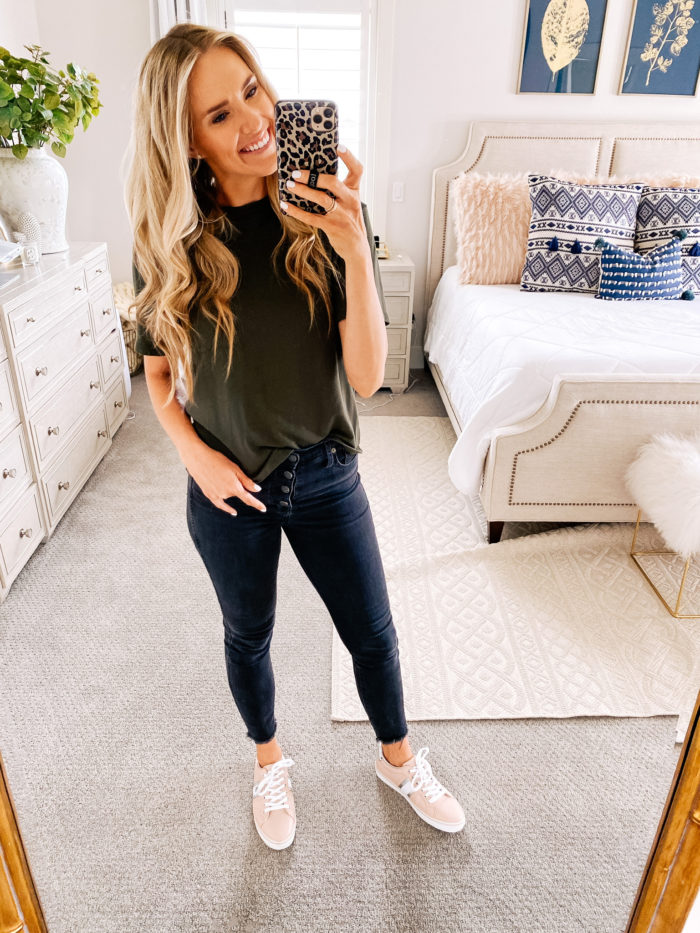 I have this tee in multiple colors. I've had them for over a year, and I think I have 5 colors?! They're my favorite crew neck tee I've ever had because they're thick, soft, not see through, comfortable… what more could you ask for! They're seriously so good.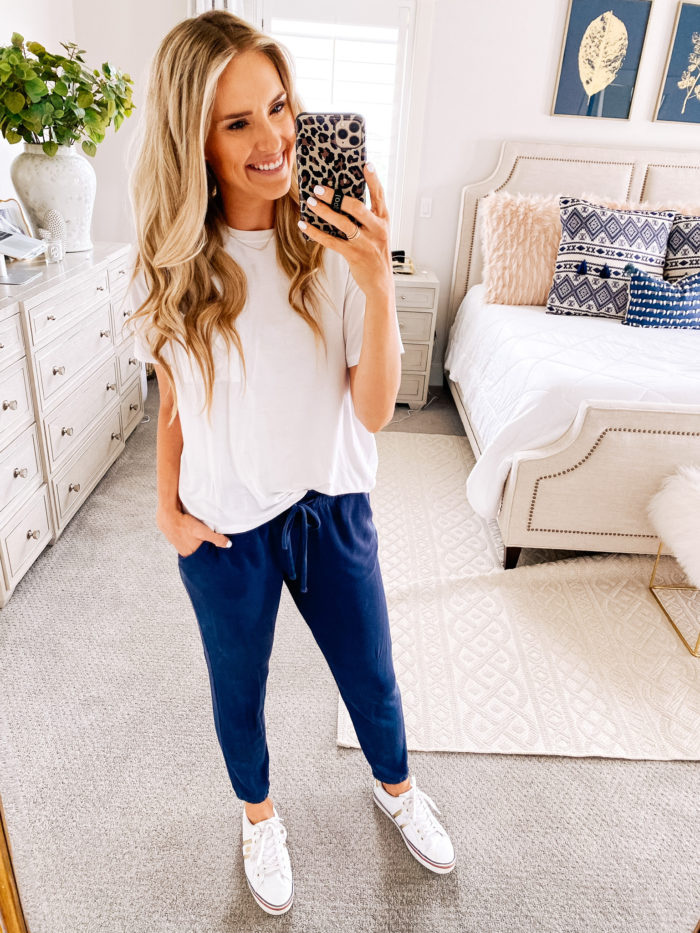 Next up in my Amazon fashion haul for women, here is the same tee in white – it's nice and thick so it's not see through. I love tucking it into jeans or joggers. I will order this in every color they have, thank you very much!
I have really narrow feet, but for some reason I still have a hard time finding white sneakers that don't squeeze my toes! These ones are amazing and so comfy!! They are Tommy Hilfiger brand. The price changes depending on what size you get – mine were only $30! You can also plug in a discount through Amazon at checkout. LOVE the pink ones as well!
Love these joggers! They are definitely thinner than others I've shared with you, which is nice as the weather gets warmer. I love the high waist and pockets. They look nice and could be dressed up, but they are also comfy enough to sleep in!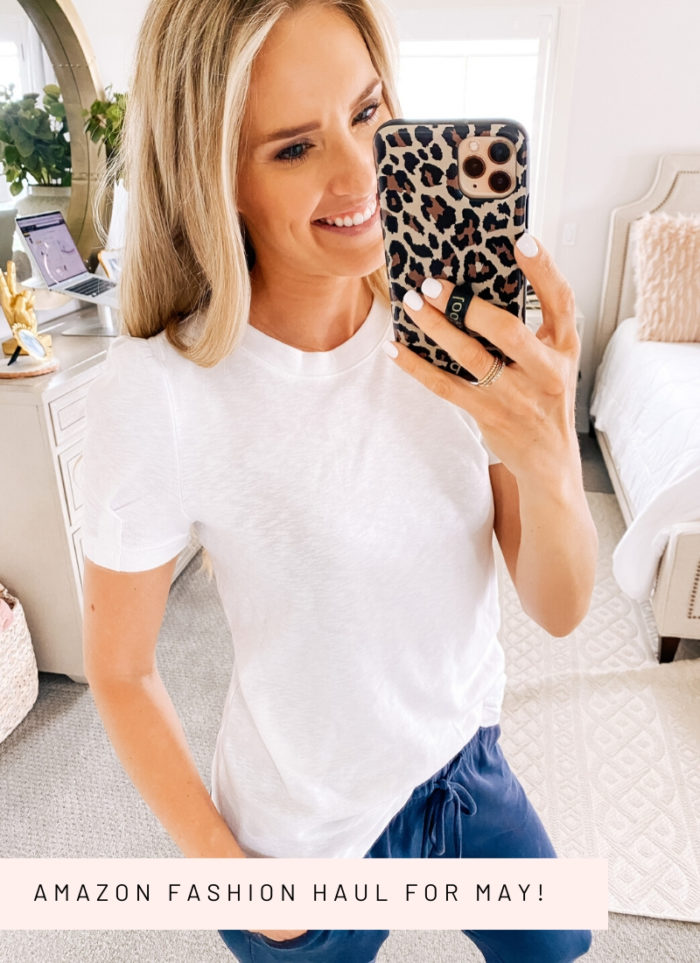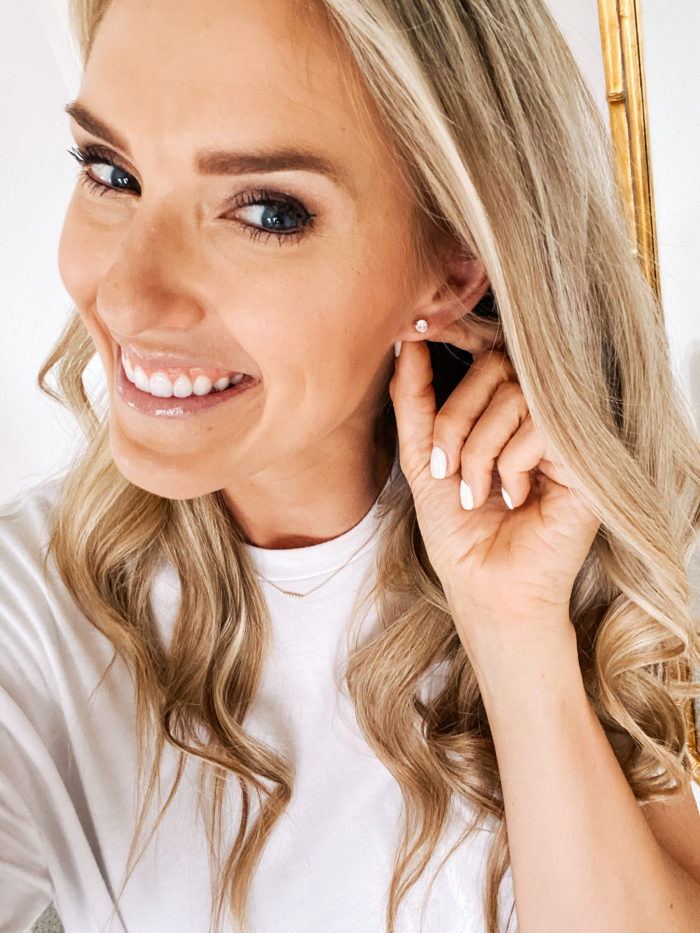 This shirt is a small and I would for sure order one size down. I like to tuck this type of tee into jeans, but it's a little too loose to do that. I'm ordering another one in XS! This is a great basic everyday wear t-shirt with lots of cute color options!
I feel like at this point I'm kind of an expert when it comes to faux diamond studs. Ever since my kids were born, I switched from wearing dangly earrings to studs! I've tried them from lots of different stores and at lots of different price points. These are hands down the best combination of high quality and good price! They stand up on your ears really well and they have different sizing options. They really are the best and I am beyond impressed!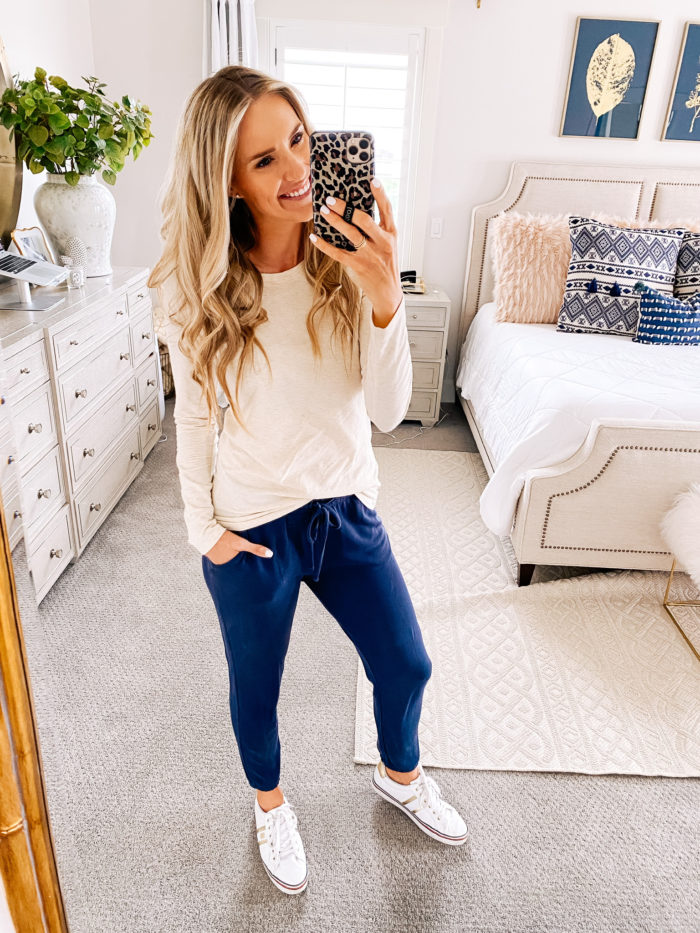 I really appreciate sleeping in a long sleeved tee. For some reason I love my arms to be snug. But I also don't want to sweat! This is a great long sleeved tee that I love! Obviously you don't have to just wear it to bed, because it's super cute along with being comfy. It comes in some really great basic colors and is only $12.50!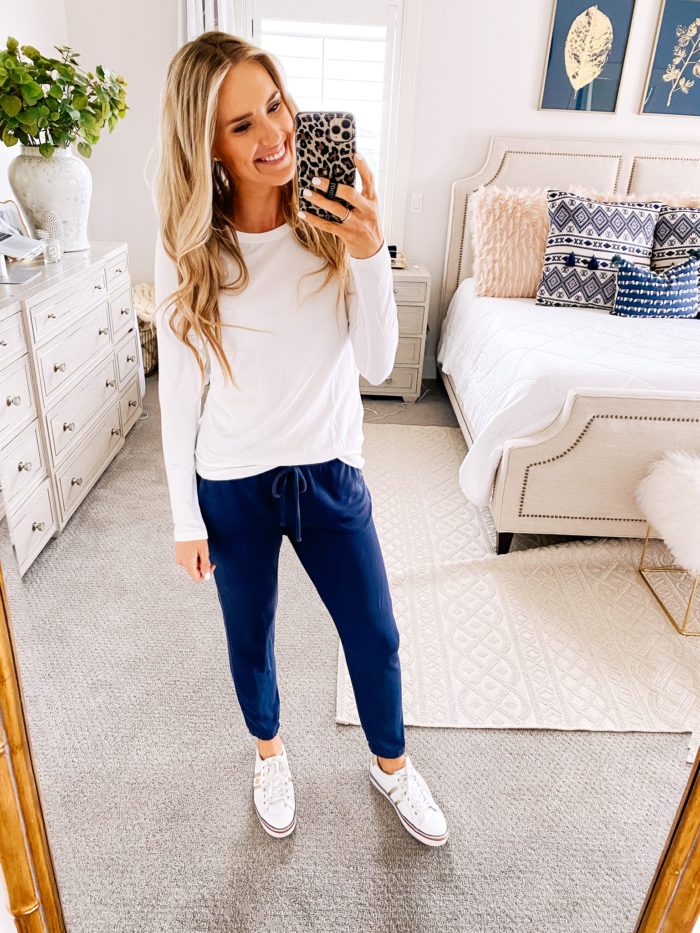 Here is the shirt in white! It's such a good price for such a cute basic top. Stretchy, comfy, and true to size! I'm wearing a size small. It's so cute with joggers or jeans. You could style these in so many different ways!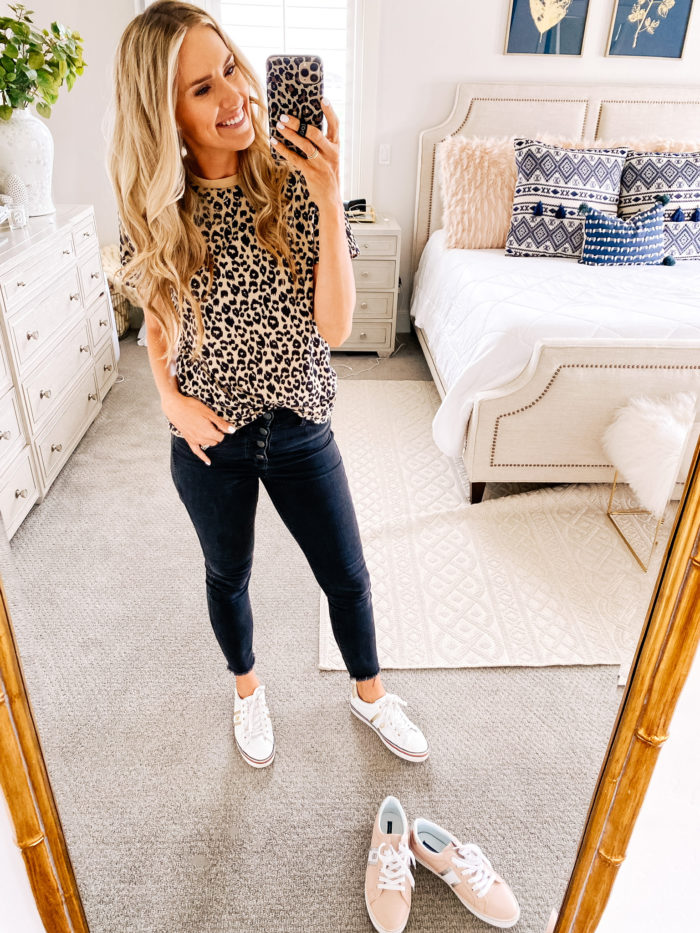 I've had this leopard tee for several months. You know I had to include it again in my Amazon fashion haul for women because I love a good basic! My friend Santanna had it on and when I saw it I knew I had to have one too! I've washed it so many times and it's held up so well! I'm wearing a size medium for a little bit of a looser fit. I've loved it, and it's on sale for $19.99 right now!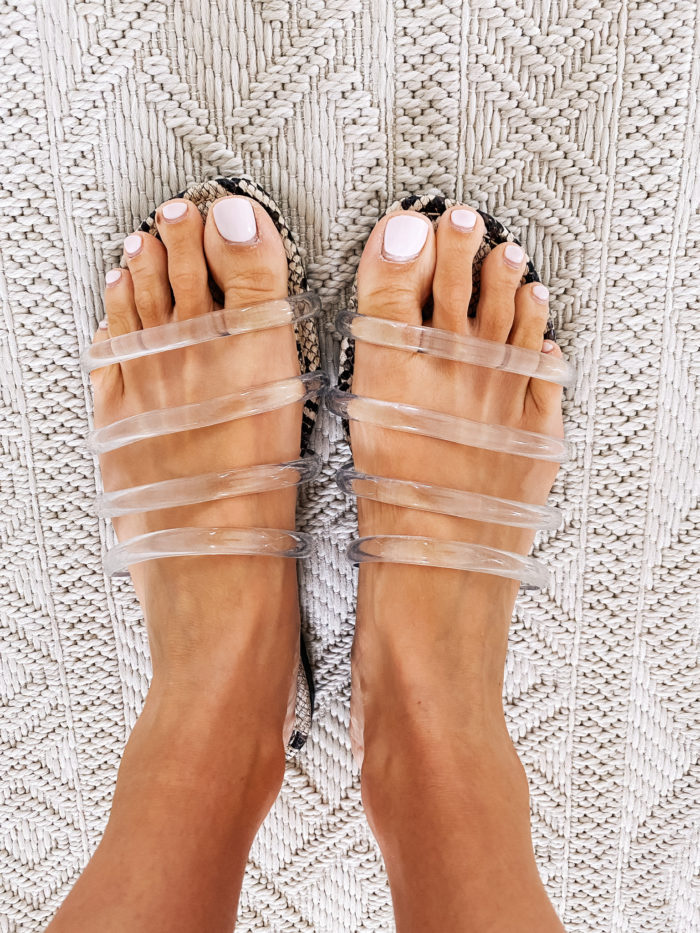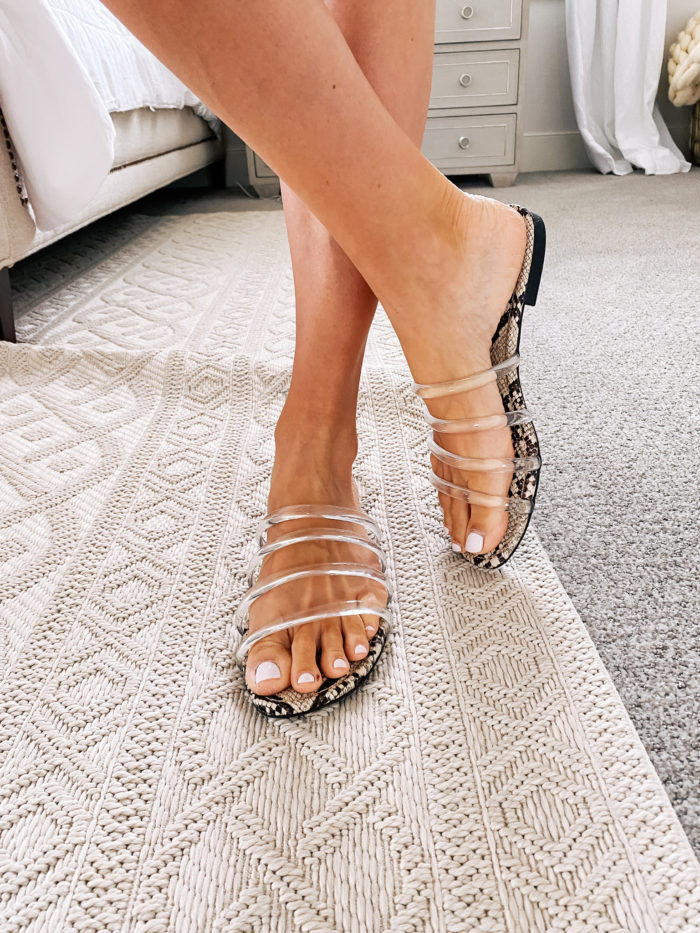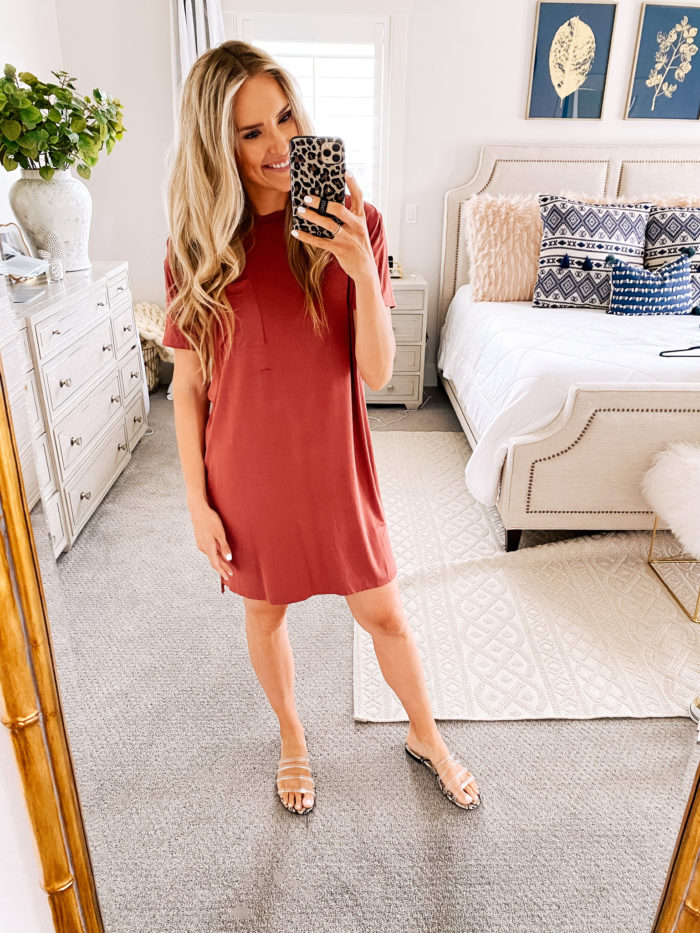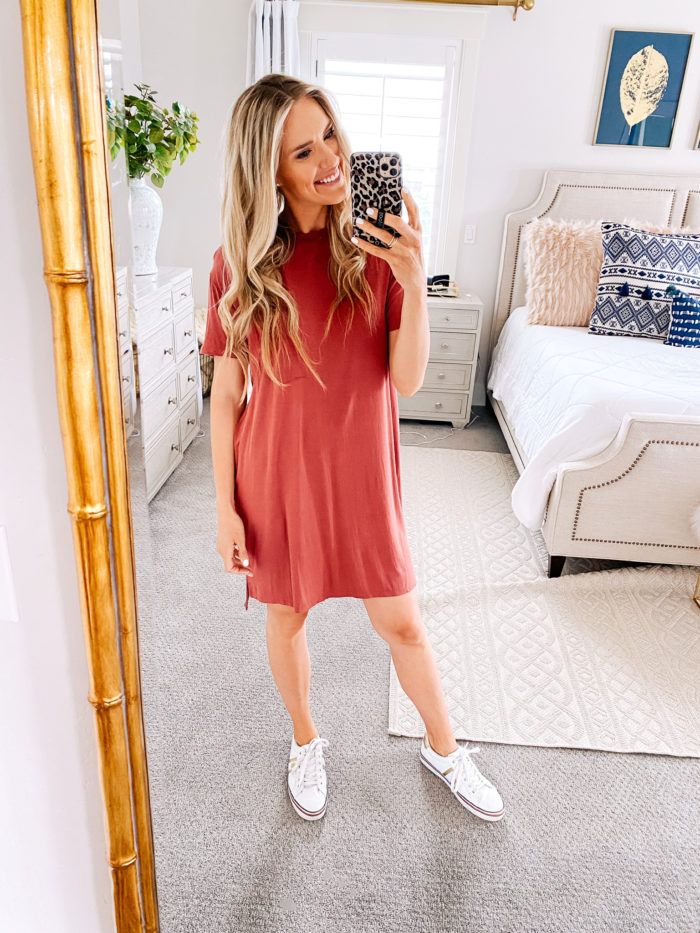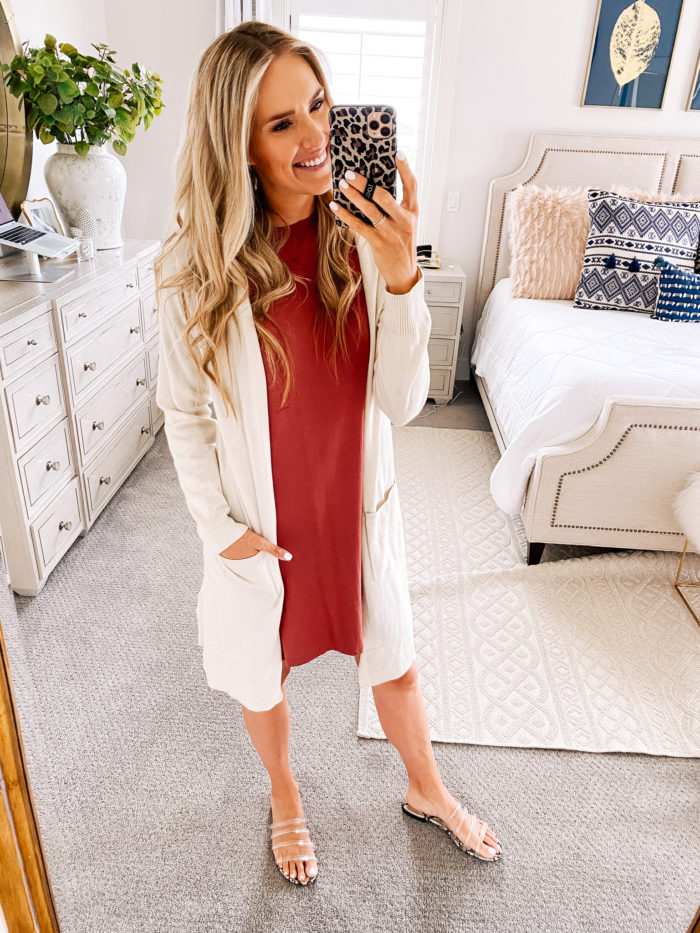 I'm so excited about these sandals because I love shoes that are acrylic and clear – I just feel like they make your feet look more dainty. They're SO cute! Mine were $29.99 for the size I got. They run true to size and come in two other great prints. I love these, and they're definitely a must by in my opinion! They could easily be dressed up or down.
This jersey dress is super comfy and cute. It's only $18.50 and comes in great basic colors. I'm 5'9 and it's a little shorter on me, so I would probably use it as a pool cover. Very very impressed by this one, especially for the price!
Last (but certainly not least!) in my Amazon fashion haul for women is this lightweight cardigan! It's really awesome to layer over dresses. I wore it over my swimsuit and shorts the other day and it looked super cute with that too! It comes in great colors that can be easily paired with anything! I think this is such a great basic to have in your closet.
Click HERE to access my Amazon fashion haul for women for April, and HERE for March!
Which Amazon fashion haul item do you like most?  Let me know in a comment below!