Thank you to Colleen Rothschild, a brand I love, for sponsoring this anti-aging skincare post!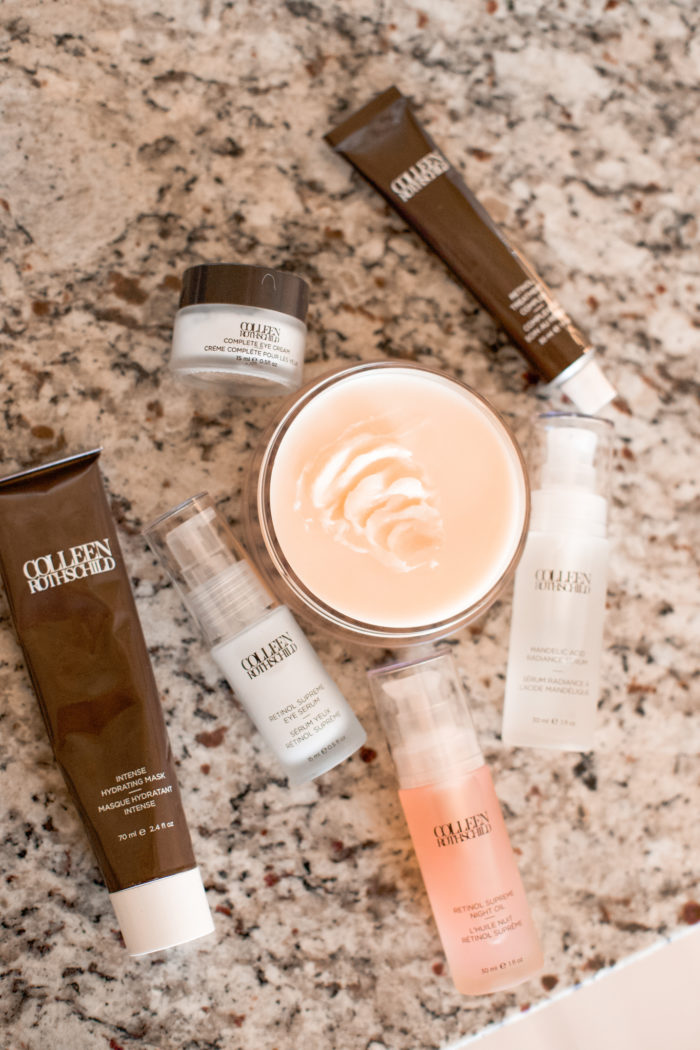 Hey, friends! I am SO EXCITED about today's blog post and I think you will be too if you are anywhere near my age or older. But shhh….I'll keep the secret. Just kidding. I actually think that aging is a true gift and we are all so incredibly lucky to get to take another turn around the sun! Think of all the incredible things you are able to experience and all of the good that you are able to do!! Our skin, however, might show some signs of the time you've been here so today's post is all about anti-aging products from Colleen Rothschild, a brand I've used for the past 2 years. I talked about some other favorite products here!
Shop proven anti-aging skincare

Colleen Rothschild anti-aging skincare i've used for years and love!
The Colleen Rothschild skincare line is incredible, and I think one of the products they are most well-known for is their cleansing balm. I went to a conference a few years ago where Colleen was at, and she gave me some after my friend had raved about it to me!! She has over 20 years of expertise in the skincare industry and I was so impressed with her thorough knowledge. THEN, a year later when I went back to the conference, I was experiencing texture issues with my skin. My jawline and cheeks were rough! She gave me the mandelic acid radiance serum and after using it for a month, my skin was smooth again. This is after I had used so many other products that didn't work!
The cleanser you never you knew you needed. Creamy, luxurious and incredibly moisturizing. Doesn't strip the oils from your skin!
The holy grail of fixing texture issues with your skin. I wouldn't have believed it would work this well if I hadn't personally used it and been absolutely blown away! After a month of nightly use, the texture issues on my skin were gone. Smooth skin where bumpy skin had once been!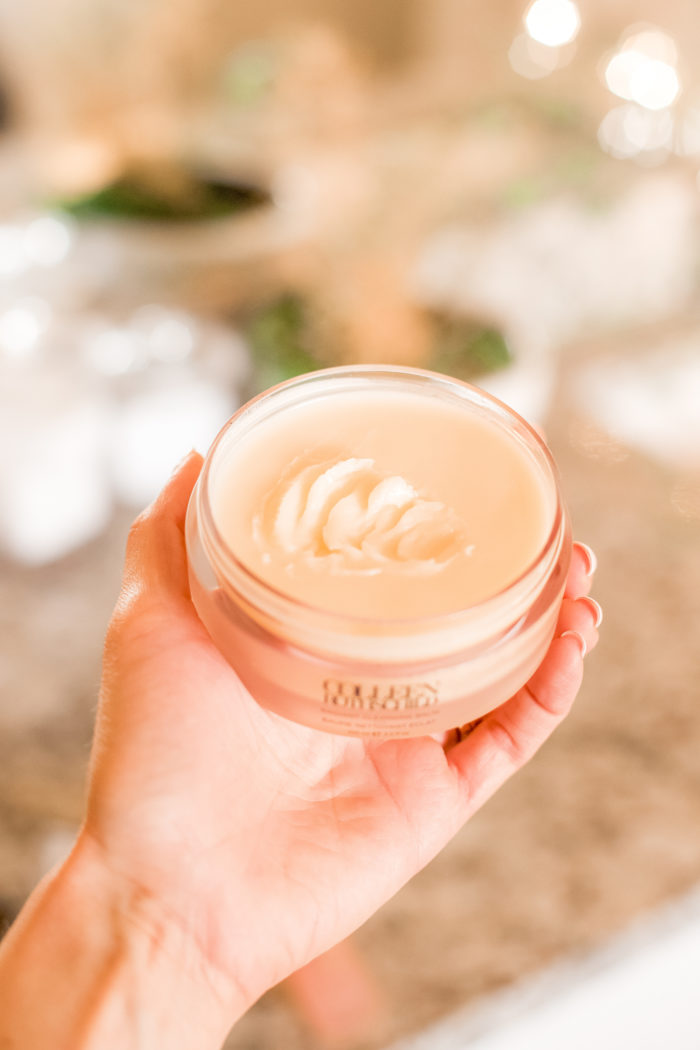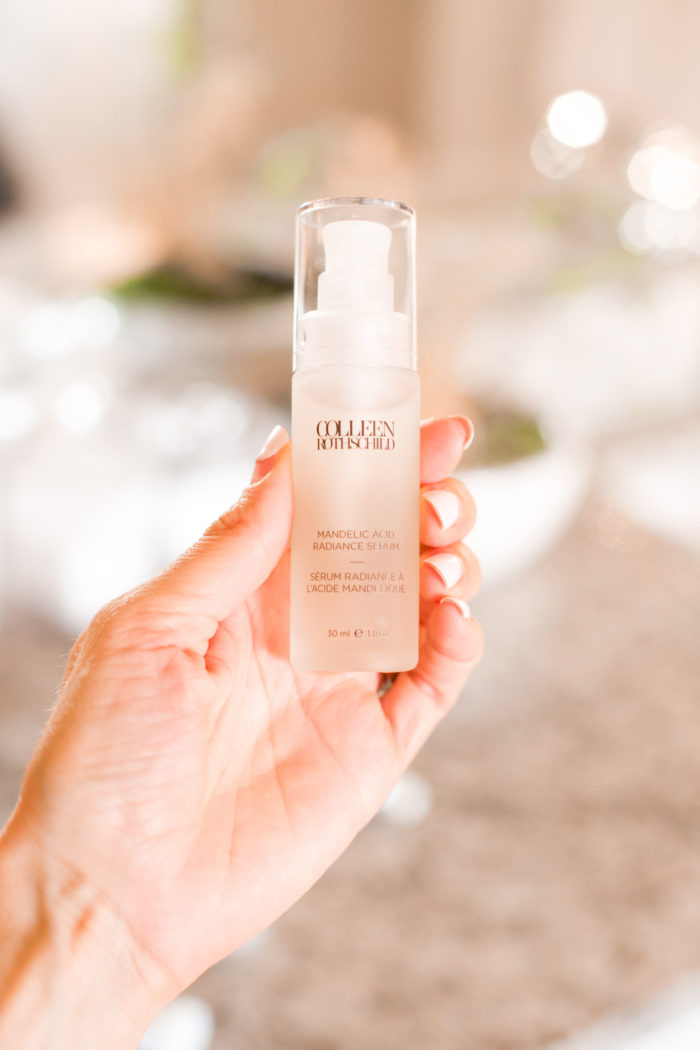 Shop proven anti-aging skincare

new (to me) anti-aging SKINCARE i'm excited about!
I'm 33, but when I was about 27 I started noticing some fine lines on my forehead. They slowly creep in a little more and more as the years go by, so recently I decided I needed to up my skincare game with retinol! Every skincare provider I've talked to says that we should all be using retinol. My mom went to the dermatologist a few months ago, and they were shocked she wasn't using it. We all need it!! I just started using these beautiful anti-aging retinol products last week and I'm LOVING them so far. I'll report back how my skin changes over the next few months. It's already a lot smoother!
I smooth this all over my skin after cleansing with cleansing balm. It smells heavenly! It has the highest concentration of stabilized retinol, which encourages healthy skin renewal, highly potent Vitamin C to counteract the damage to your skin brought upon by free radicals and environmental toxins and nine plant-based oils which replenish moisture and help prevent irritation and flaking. I am ON BOARD!
I pat this around my eyes (the eye bone) every night after cleansing. The blend of retinol and vitamin C help revitalize the delicate skin around the eyes, and the addition of Saloprine 8 helps lock in moisture and has been clinically proven to increase moisture levels an astounding 6000% after 28 days of continued use. That is INCREDIBLE. YES PLEASE!
I've noticed the majority of my fine lines on my forehead and between my eyes from furrowing my brow. I got this treatment to use specifically on my forehead because it needs an extra boost! This formula targets the five primary causes of visible aging and helps to minimize wrinkles, pores are cleared, and dull skin is improved. Micro-encapsulated Retinol and Retinol-like botanicals result in a brighter looking complexion and I'm SO excited to see the changes this makes in my skin!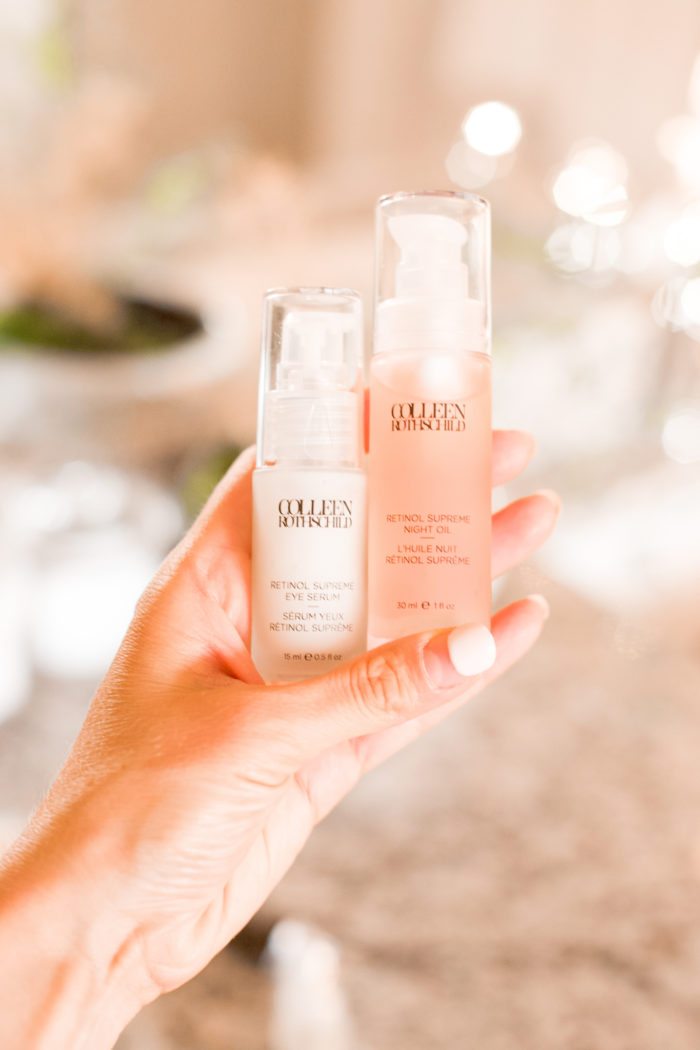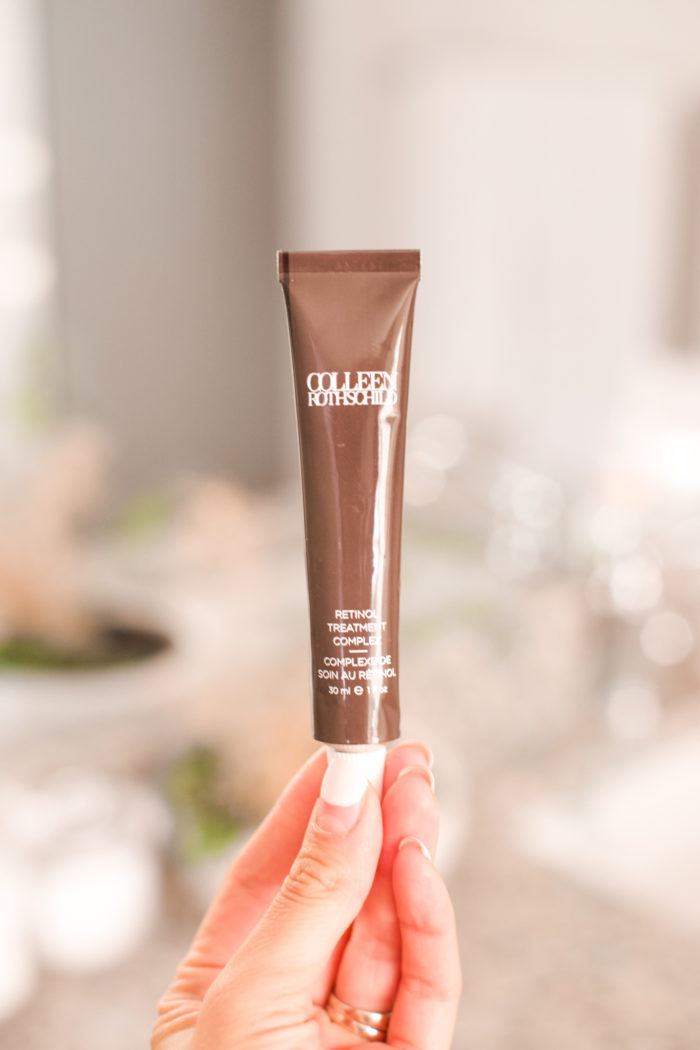 Shop proven anti-aging skincare

Colleen Rothschild sale on anti-aging skincare
You know I wouldn't leave you without a discount code or sale when I'm able, so if you're looking to up your game when it comes to your anti-aging skincare routine and want to try these products, you can save!
Through this Friday, 4/17 (Tyler's birthday!), Colleen Rothchild is offering their Reap Your Reward Sale:
Save $25 off your purchase of $100+ with code: REWARD25
Save $50 off your purchase of $200+ with code: REWARD50
Save $75 off your purchase of $300+ with code: REWARD75
CLICK HERE to check out their full line of INCREDIBLE, proven skincare products that I LOVE!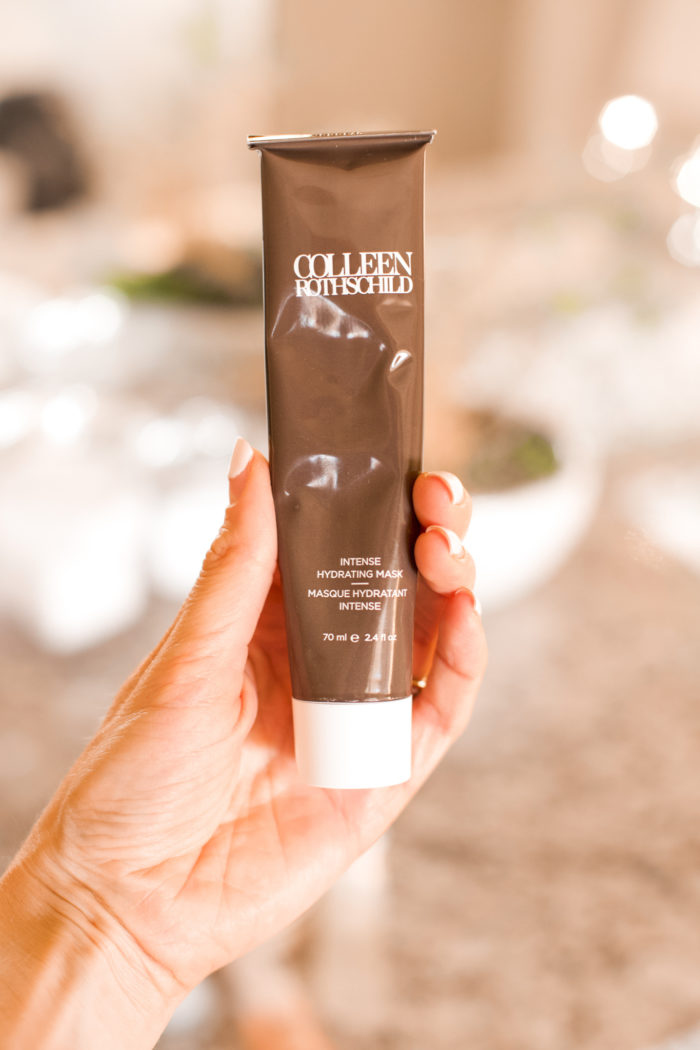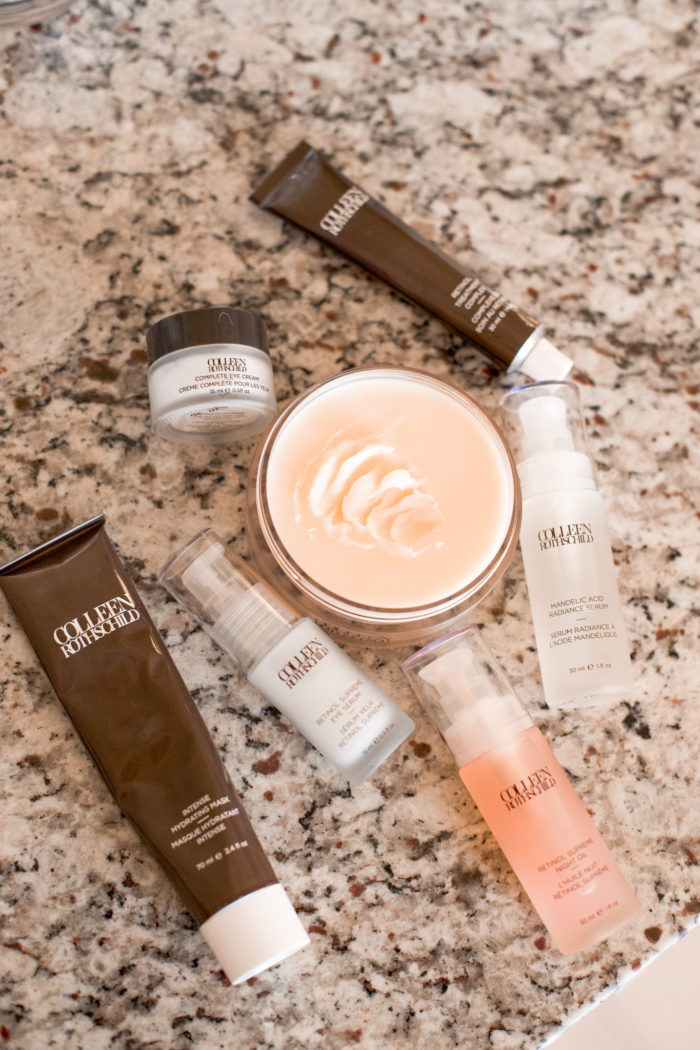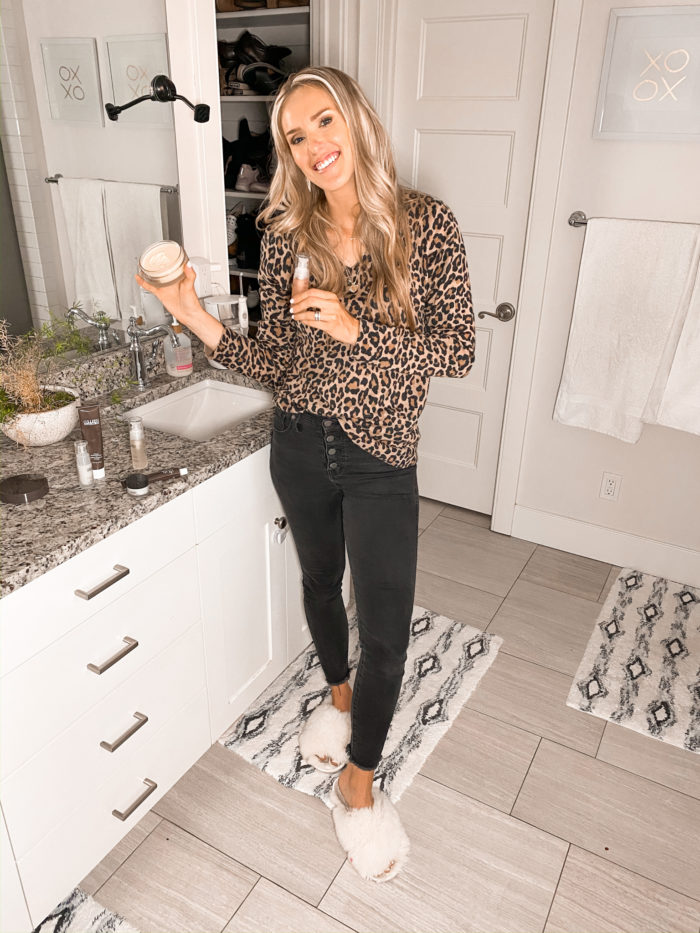 Shop proven anti-aging skincare

Have you used Colleen Rothschild products before? Let me know in a comment below!