This pretzel jello salad makes the perfect sweet and savory treat that can be served as a dessert or side dish!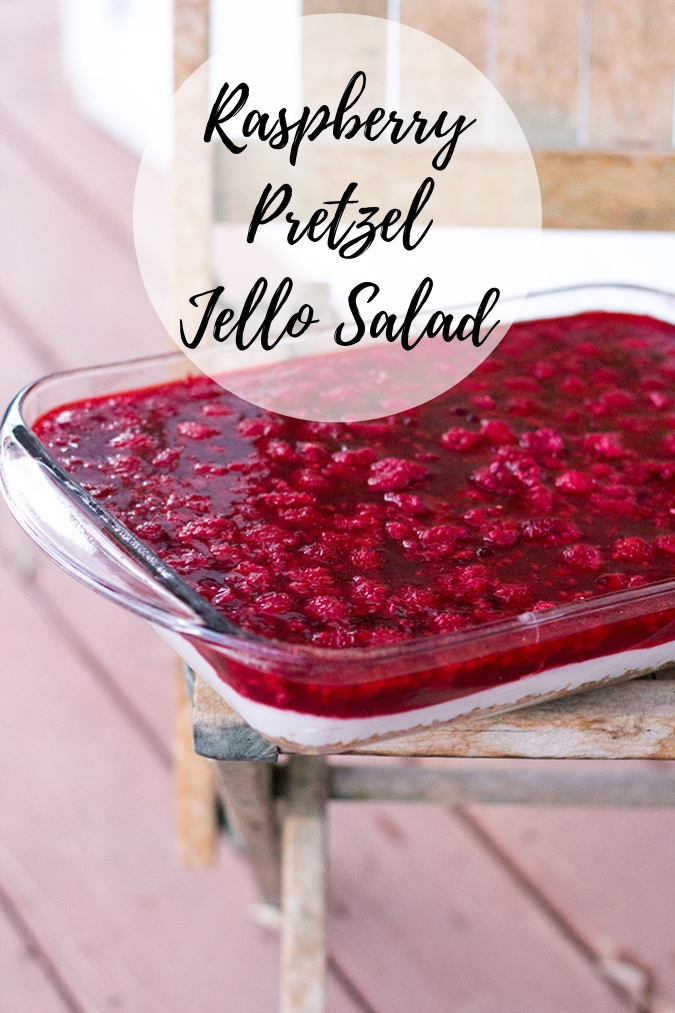 This pretzel salad recipe has been a family staple at special events and holidays my entire life thanks to my mom, so I wanted to share it again today with Thanksgiving coming up next week! You will definitely want to include this at your dinner this year. I remember it most at Thanksgiving and it's a staple every year at our table; if there isn't raspberry pretzel jello salad, then it isn't Thanksgiving! We also like to make it for our Christmas eve dinner. We serve it with dinner as a side dish but let's be honest, it's dessert. If you serve your pretzel jello salad with dinner though, you don't have to feel bad about having your "real dessert" afterward. Bring on ten desserts.
This pretzel jello salad has a buttery and savory base layer, topped with a cream cheese and whipped cream middle, finished with raspberry jello and raspberries. It's so perfect that literally anyone that has ever tasted it loves it. When you first hear "raspberry pretzel jello salad," it does sound interesting I must admit. I have received a few smirks in my day when I talk about it, and then the smirk suddenly turns into a big grin when people actually try it.
Plus, this pretzel jello salad looks fancy.
This dessert/side dish isn't hard to make at all, but it does take a bit of time in waiting for each layer to be ready. The main things to keep in mind are :
*The bottom layer must cool completely before you layer it with the cream cheese mixture.
*Set out the cream cheese and make sure it's completely room temperature before you mix it with the cool whip and sugar so it's not lumpy. Also make sure you spread it completely over the top of the pretzel mixture so the edges are sealed around the pan so the jello doesn't seep through to the bottom layer and make the pretzels soggy.
*THIS IS THE MOST IMPORTANT – make sure the top jello and raspberry layer is cooled and at an egg white-like consistency before you put it on top of the cream cheese layer. If it's still boiling hot, it will heat through the cream cheese layer and make the pretzels soggy…not that I did this last month when I made it or anything…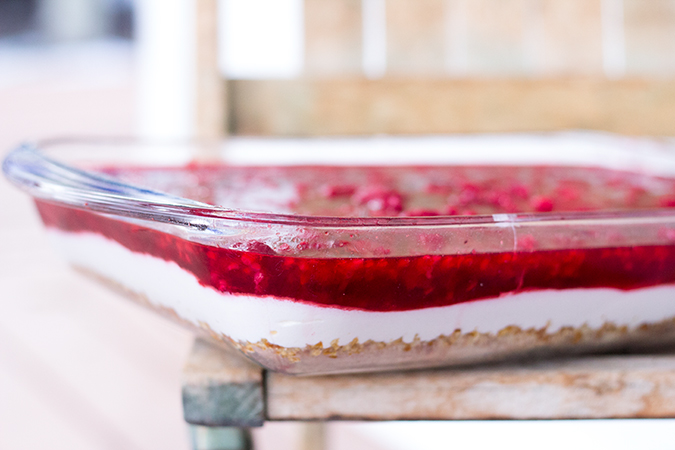 Raspberry Pretzel Jello Salad Recipe
Ingredients for your Pretzel Jello Salad:
2 cups crushed pretzels (2 cups after crushed)
1 8 oz package cream cheese, room temperature (I use neufchatel which is just 33% less fat and will be right by the regular cream cheese in the store)
1 8 oz container frozen whipped topping (I used the less fat version of this as well)
2 cups water
1 6 oz package raspberry flavored jello
2 packages frozen raspberries
Directions for your Pretzel Jello Salad:
1.

Preheat oven to 400 degrees F

 
2. Stir together crushed pretzels, melted butter and 3 tablespoons sugar; mix well and press mixture into the bottom of a 9×13 inch baking dish with a spatula. To crush the pretzels, I recommend putting them in a gallon plastic bag, seal it, then roll it over with your rolling pin. I like the pretzel to be completely finely crushed.
3. Bake 8 to 10 minutes, until set. Set aside to cool.
4. In a large mixing bowl, cream together cream cheese and 1 cup sugar. Fold in whipped topping. Spread mixture onto cooled crust.
5. Bring 2 cups of water to boil then dissolve jello into it. Stir in still frozen raspberries and allow to set briefly. When mixture is about the consistency of egg whites, pour and spread over cream cheese layer. Refrigerate your pretzel jello salad until set.
I hope you love this pretzel jello salad recipe as much as my family loves it! It's so festive and tasty 🙂