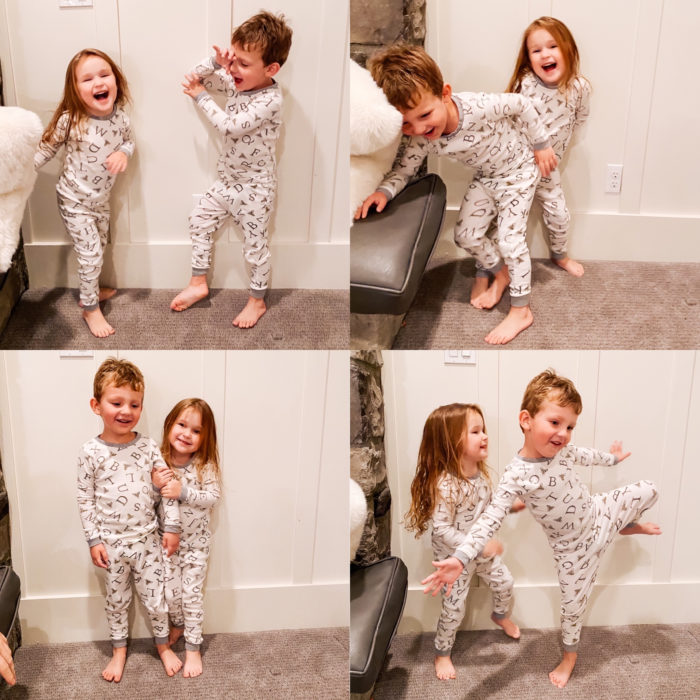 To my beautiful children, Harris and Goldie,
Remember when I used to write to you when you were in heaven? Those letters where I dreamed of you. Back then, it was only "child." I didn't know there were two. What a gift!
I'm thinking we need to pick this back up again. I enjoy writing. Slowing down for a minute. I tend to rush through my day…but I'm starting to wonder…what's the point? I think the joy is in the everyday details of life. The cup of hot cocoa on the couch. Recapping my day with your dad. I want to accomplish so much, that I think I miss it sometimes. I tend to gravitate toward the thought that there's never enough time. But I think I'm wrong. I think there's all the right time for the things I love.
Your dad has been out of town for a bit so it's just been us 3. The 3 musketeers? Or 3 survivors? Depends on the minute I guess. I'm so grateful for his presence in our home. We've all missed him. Goldie – you asked, "is dad going to be home at 6:30 tonight?" which made me laugh. How did you know about time? You two are growing so fast!
Sometimes when I'm exhausted, I think it could be impossible that I could want these hectic years back. Things just seem so crazy most of the time! I feel like it's a whirlwind of trying to keep you two from not destroying the whole house. Nothing seems safe. You ask me for one thing, then the other one asks me for something, and before I've even gotten the first thing for the first kid, and definitely not for the second kid, the first one is already asking for something else. It's mass chaos! The amount of energy it takes is unreal. You two LOVE to make messes. It actually astounds me how good you are at it! It's like a little tornado running through the house. But then I get on your level. And I look in your precious eyes. And I hold your little bodies and I close my eyes and soak in your smell and kiss your arms and your face and cheeks. Because I know I'll miss it. The innocence and smiles and the way that I walk out of the room, you immediately say, "mom?!" because you love being by me so much. How you cuddle your whole weight into me when you're hurt, and how you know I'll be there to hold you, and that's all it takes to feel better. There will be a time when you don't live here and I'll close my eyes and pretend you're small again.
We were down in the basement today setting up the air mattress, and you found so much JOY in the moments together. You live right here and now! What an example to me. See the good in the very moment you are in. You were running back and forth across the air mattress, and when it blew up, you bounced and bounced! Your sweet little bodies bounced so high and you gave it your all! I asked you both to come sit on my lap for a minute, one at a time, and you did. I felt your precious bodies sitting on mine and kissed those precious faces. Thank you for loving me like you do. Thank you for trusting your mama. She sure loves you.
I love how much you love each other. I was sitting in Goldie's room a few nights ago when Harris walked in. I told him to go to his bed and I would be right in. Goldie yelled down the hall, "I love you, Harris!" He said, "I love you Goldie!" She looked at me with a sweet smile and said, "He loves me. And I love him. And I love you. And we are a family." Your soul was filled up, Gold! Today when you came in from the backyard, Harris asked me to take off his boots but I was doing the dishes so he said, "Can you take off my boots, Goldie?" She said, "Sure!" After she helped you, you helped her, Harris. It was so sweet! You two are BEST friends. I love that you adore each other and have each other.
I'm just so so glad you're mine. I don't think you'll be able to tell how much I love you until you have your own children, and even then, I don't know if it's possible because my love for you feels bigger, more forgiving and unconditional than any other love I've know. You are GIFTS to me. Thank you for teaching me to a better mama and human.
xo, always and always,
Mama
Harris and Goldie's pajamas can be found HERE! They're my favorite pajamas for them. SO soft and so many great prints!